It's tempting to look at Eduardo Rodriguez's 3.94 FIP in 2019, nearly identical the 3.97 FIP he has for his career, and think that nothing has substantively changed. His strikeout, walk, and homer numbers are all similarly in line with his career rates too, while his BABIP allowed and HR/FB rates are actually up a tick or two from what you'd typically expect from him. Pick a surface stat, any surface stat, and you'll say, "yep, that sure is an Eduardo Rodriguez season, alright." And yet, it's not a typical Eduardo Rodriguez season. It's something better.
Now, I'll confess, my timing for this story is a little off. Rodriguez's most recent game line is an ugly one, as he allowed the Rangers to score seven runs on 11 hits against him on Tuesday. The seven runs allowed were his most since giving up seven runs to the Orioles on June 1, 2017, and the 11 hits allowed were a career high. That's a bad outing by any measure, but it was severely exacerbated by some goofy BABIP luck. In five innings, Rodriguez struck out six and walked three while allowing one homer — not great, but not necessarily numbers that would make you think he was about to give up seven runs. Opponents hit .556 on balls in play, however, which is how he ultimately ended up with a line as bad as this.
Why am I bothering to try and meekly defend an unarguably terrible outing in a game played by two teams out of the playoff race in the final week of the season? Because I need you to believe me when I tell you that before Tuesday's debacle, Rodgriguez had been very, very good over this final quarter of the season. In his previous seven starts, he had allowed a mere five earned runs in 45 innings, striking out 54 while walking 14 and allowing just one home run. His 1.00 ERA in that stretch led all of MLB, while his 2.24 FIP ranked fourth. After Tuesday, his ERA dropped to the 11th best in baseball since August 17, but his FIP remains seventh.
That was the most singularly dominant stretch of pitching we've seen from Rodriguez this season, but his ERA has been melting away for quite a while now. He finished the month of June with a 4.79 ERA in 17 starts. Since the beginning of July, however, he's made 16 starts with an ERA of 2.74. For about half the year, Rodriguez has been one of the best pitchers in the game, and before Tuesday, his improvement had been pretty linear.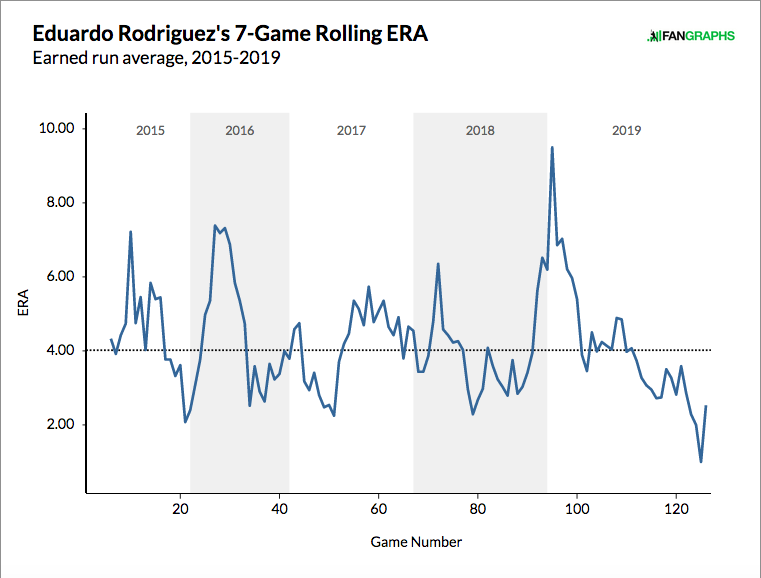 The reason you might not have heard about Rodriguez performing this well over the past three months or so may have something to do with how he's doing it and the situation he find himself in. He hasn't put a team on his back and pitched them into the playoffs the way Jack Flaherty has in St. Louis, and he isn't putting up gaudy strikeout numbers the way Gerrit Cole is in Houston. Boston quietly petered out of the postseason chase, while Rodriguez has actually seen his strikeout numbers gradually fall along with his ERA this season, with his walk rates being somewhat inconsistent.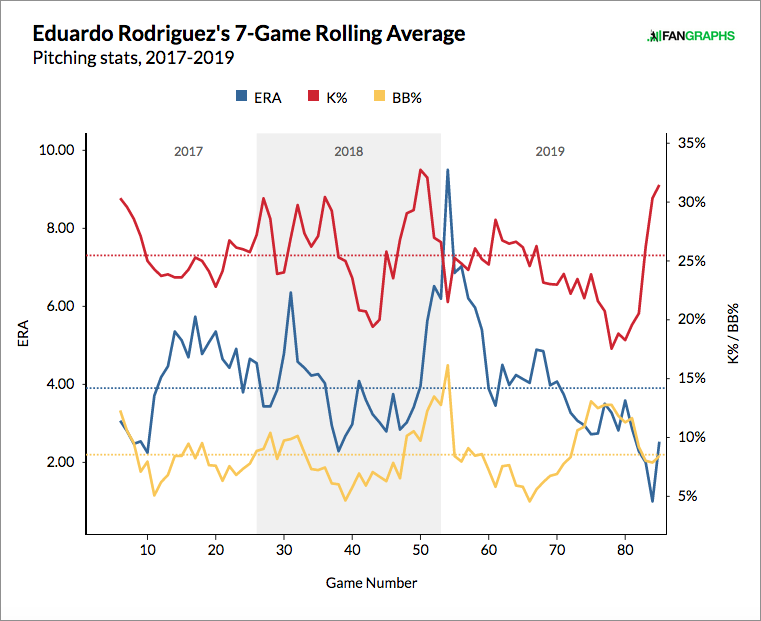 That's a sign of danger, right? More free passes plus more balls in play typically equals an unfavorable outcome for a pitcher. Is this just evidence that Rodriguez has gotten extremely lucky over the second half of the season and that Red Sox fans shouldn't expect this performance to hold up over time? Perhaps, but there's one more key development I haven't told you about yet that might make this run of success for Rodriguez make a bit more sense.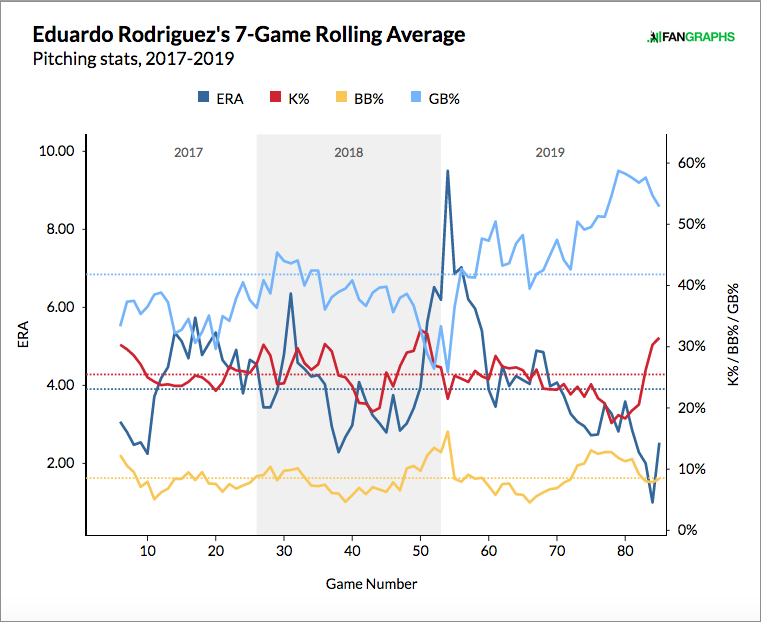 Behold! Eduardo Rodriguez, groundball master. Over the first four seasons of his career, the 26-year-old lefty had achieved a groundball rate above 40% just once and finished the 2018 season at just 38.7%. That percentage ranked 92nd out of 116 pitchers who threw at least 120 innings. This season, Rodriguez owns a groundball percentage of 48.6% — all the way up to 19th in baseball. No pitcher who has thrown at least 100 innings in both the 2018 and 2019 seasons has seen a bigger leap in that category, and few are even in the same ballpark.
Year-to-Year GB% increase, 2018-19
With such a dramatic leap in groundball rate, it won't surprise you to learn that a sinker's role has something to do with it. In Rodriguez's case though, the secret isn't in the frequency with which he uses the sinker, but in how he uses it. According to Pitch Info, Rodriguez is using the sinker about 14.6% of the time this season, up 5% from last year. That's a noticeable jump for sure, but it still places the sinker at just his fourth-most utilized pitch, behind the four-seamer, changeup, and cutter. Last year, the sinker had one job: It was a weapon for use almost exclusively against right-handed hitters, and it was deployed as a front-door option to dart from a hitter's belt back over the inside corner of the plate.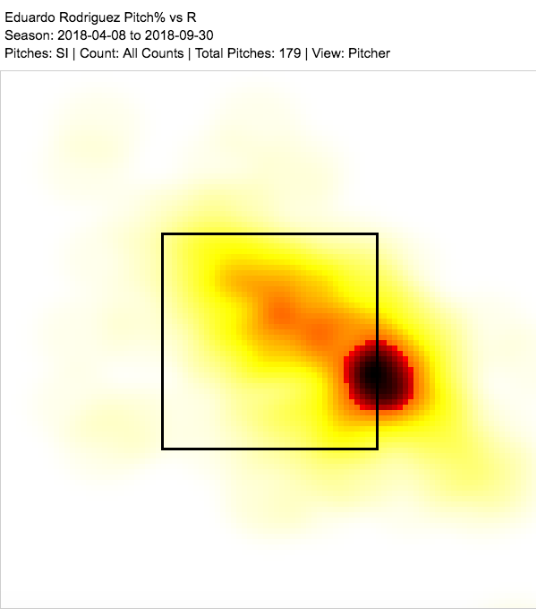 The pitch didn't perform that well, with opponents putting together a 122 wRC+ against it. Statcast, however, happened to love the pitch. According to data at Baseball Savant, Rodriguez's sinker resulted in an xwOBA of .257 in 2018, hinting at its potential as a soft-contact-inducing pitch. Rodriguez and the Red Sox must have bought into similar data, because in 2019, he's expanded its usage significantly to retire lefties as well. After left-handed hitters saw just 12.7% of all sinkers thrown by Rodriguez in 2018, they've seen 46.8% of sinkers thrown in 2019. And instead of starting the pitch off the plate and trying to work it back onto the corner, the way he did last season, he's spent this season starting the pitch in the middle of the zone and allowing it to tail inside at the knees.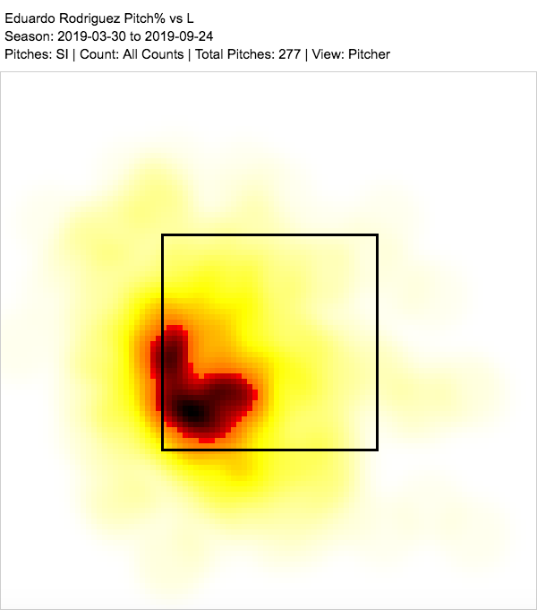 The result has been an incredibly effective pitch. Rodriguez's sinker has allowed a .257 wOBA from opponents this season — exactly what Statcast said its expected results were last year — with an even better .248 xwOBA. Its effects on Rodriguez's ability to get groundballs are obvious: The sinker's groundball rate has doubled from 29% in 2018 to 58% this season. And as impressive as the sinker has been, it still isn't even his best pitch at getting grounders. Rodriguez's changeup induces an astounding 67.3% groundball rate — also up significantly from last year, though it's less clear how, given that its movement patterns and location are similar.
Rodriguez's progress isn't limited to how well he's converted his pitches into groundball-getting machines, either. He's introduced a curveball this season, according to Statcast, and even though he's thrown it just 3.2% of the time, the results have been excellent — a matching .223 wOBA and .223 xwOBA — and give him a possible option to replace his often embattled slider going forward. He's also improved the location of his four-seamer, elevating it more in 2019 than he previously has in his career.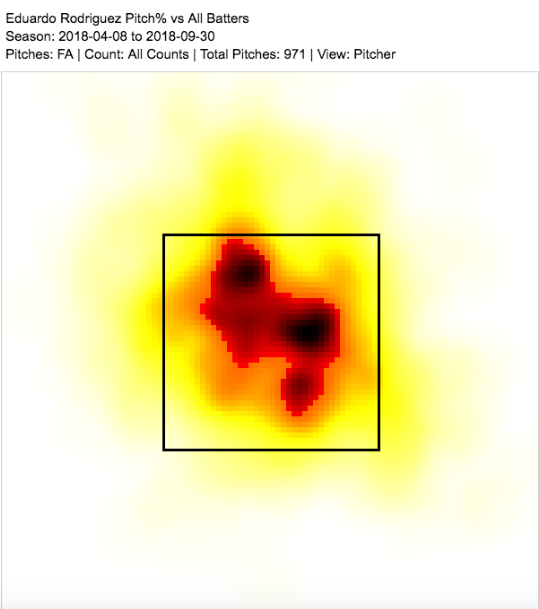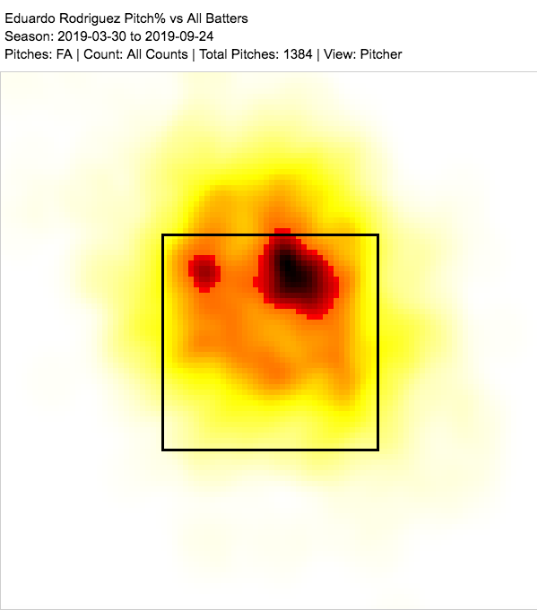 You might see Rodriguez's overall numbers for the season and feel he hasn't made any strides beyond the pitcher he already was coming into the season, but I really don't think that's true. Opponents are chasing more pitches against him than ever and making less contact than ever. He's also showing sure signs of a plan for how to beat hitters, sporting a career-high first-pitch-strike rate while throwing a career-low percentage of pitches in the strike zone. He's pitching smarter than ever, and maximizing his arsenal in a way he never has before.
That's no small thing for the Red Sox, whose once-menacing rotation has now begun to face durability concerns with its two frontline members Chris Sale and David Price as well as a world of struggles with Rick Porcello. Rodriguez himself, of course, has battled injury issues throughout his career, but he is finally slated to polish off a 200-inning season this weekend. Given his age, he's someone the Red Sox would love to be able to count on to step into a No. 2-starter-type role for years to come, should he be able to make that next step. If these last couple of months are any indication, that next step is already here.
Tony is a contributor for FanGraphs. He began writing for Red Reporter in 2016, and has also covered prep sports for the Times West Virginian and college sports for Ohio University's The Post. He can be found on Twitter at @_TonyWolfe_.