In 2017, Shane Greene appeared to have turned a corner. He was coming off his first season as a near-full time reliever, one he'd finished with an ugly ERA (5.82) but a pretty nifty FIP (3.13). The latter mark, as is typically the case, proved to be the more predictive number, as he finished the 2017 season with a 2.66 ERA, though it came with a slightly higher 3.84 FIP. The following season, the wheels came off again, as he posted a 5.12 ERA and a 4.61 FIP. All told, Greene entered 2019 with a career 4.89 ERA and 4.14 FIP in five seasons split between the Yankees and the Tigers. What's he up to now? Pretty much what you'd guess: leading all major league pitchers with an ERA of 1.06 in 34 innings.
It may seem surprising, but Greene has been around for some time now. He's already 30, has been both a starter and a reliever for extended periods of time, and has been given a prominent role on a few lost Tigers teams over the years. Yet because of the drastic swings in his performance from year to year, we seem to know very little about him. Even if we focus solely on this year, there is still conflicting information. His ERA is obviously fantastic, but it comes with a 3.65 FIP and a 4.04 xFIP. To put the last number in context, his xFIP during his forgettable 2018 season was 4.05. Considering his contract status (he'll be a free agent after 2020) and his role as closer for a 29-61 team, Greene is going to be a popular name in trade conversations for the rest of the month. It seems pertinent to ask, then: What exactly do we make of him?
Let's get a few underwhelming facts about him out of the way first. His opponents' BABIP of .179 this season is well below his career average of .304, and his strand rate is 86.1%, well above his career average of 69%. Those stats depend a lot upon luck, and 34 innings is a minuscule sample size for luck-based metrics. The fact that Greene is performing so well in them — seventh in the majors in BABIP, 32nd in LOB%, among all pitchers with at least 20 IP — gives us good reason to be suspicious of Greene's suddenly elite ERA.
It's easy enough to look at those measures and declare Greene as the beneficiary of unsustainable luck, and a clear candidate for regression — in fact, it's too easy. Because while he may appear lucky at first glance, there are reasons to believe Greene really is a notably better pitcher than he's ever been.
Let's start with his ground-ball rate. Greene had a ground-ball rate of 47.4% when he was good in 2017, and a 40.7% rate during a difficult 2018. This year, it's 53.4%. That's the highest mark of his career, and it's coincided with a sharp drop in his line-drive rate.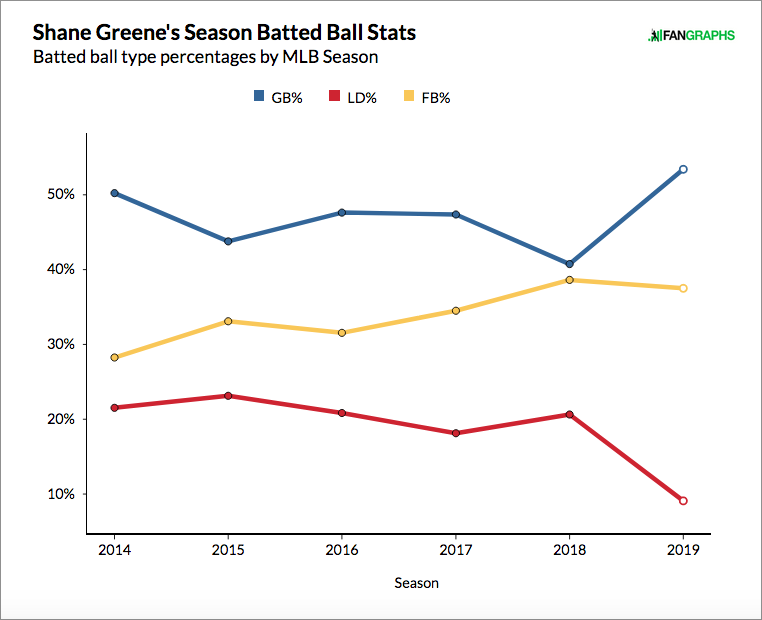 Already we begin to see some evidence for the way Greene's batted ball luck has improved. Line drives are the type of batted ball least likely to be caught in play, and Greene is allowing them at a lower rate than anyone in baseball. Pair that with a hard-hit rate that is 16th-best in the majors, and it's easy to see how hitters would have a difficult time getting hits to fall.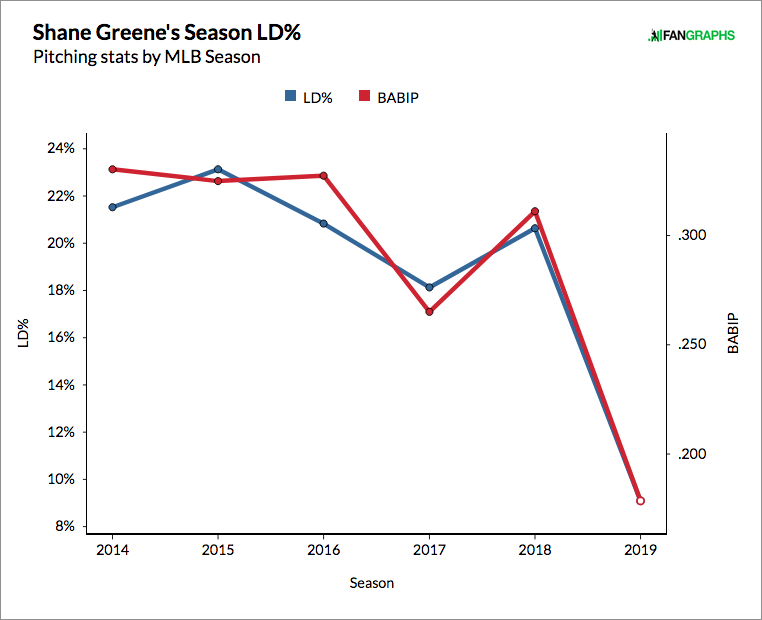 Greene's Statcast data is in agreement with him being tougher to hit than ever before. His xBA of .206 and xwOBA of .282 are in the 86th and 80th percentiles in baseball, respectively, and both represent career bests.
These results have come in a season that has seen Greene pitch differently than he has in the past. For three years, Greene has relied primarily upon three pitches: A sinker, a cutter, and a slider. In each of those seasons, the cutter and slider have gotten good results, while the sinker has lagged behind. This year, the sinker has finally caught up. After posting a career wOBA of .356 and a ground-ball rate of 52.2% with his sinker, he's improved those numbers to spectacular marks of .177 and 73%.
The sinker's improvement could come from a couple of different areas. One area to look at is its location, which has improved somewhat year-to-year.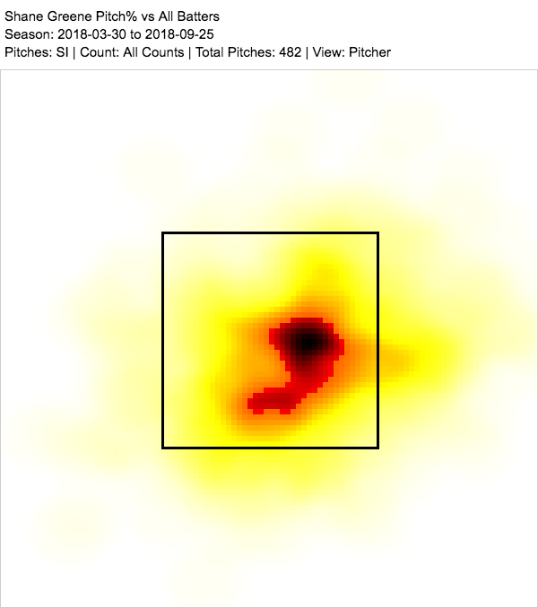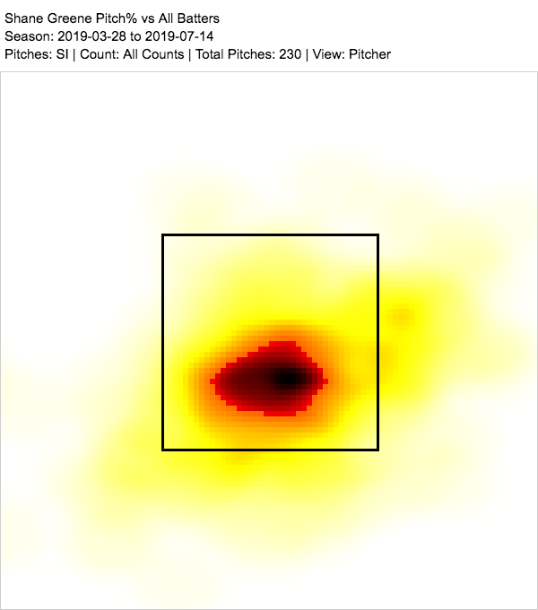 Its positioning in the center of the plate is less than ideal, but he's clearly been able to locate it lower in the zone than he used to. That's obviously important, especially when we're talking about ground-ball rates, but it still doesn't tell the whole story.
This year, Greene is throwing twice as many cutters as he did in 2017, narrowing the gap in how frequently he uses his two fastballs by a considerable margin — 45.6% sinkers and 29.8% cutters. And though they're five miles per hour apart in terms of velocity, the fact that the two pitches move so differently could be having a positive effect on both.
Consider this recent plate appearance against All-Star catcher James McCann. After missing away with a sinker and a cutter to start the at-bat 2-0, Greene jams McCann with a sinker that starts over the middle and breaks away from the barrel:
Then he throws a cutter that starts in a similar spot, but it stays over the plate at the knees:
Then, on 2-2, Greene starts a third straight fastball in the same spot, and he gets McCann to miss it completely:
That's an 88-mph cutter center cut, but McCann is late to it, forced to wait too long to see which way the pitch is going to move. Here's another recent strikeout of Greene's, this time against Kansas City's Adalberto Mondesi, who also guesses wrong, this time on a sinker:
The volatility of relievers and the small sample sizes they operate under by nature make it more difficult to tell when they've truly turned a corner than it is for other players. When a reliever's FIP is more than triple his ERA, the knee-jerk reaction is that the run prevention is a mirage. But when you look at the way Greene's FIP is constructed, there aren't any alarm bells. He's striking out more than a batter per inning, walking less than three per nine, and allowing about one homer per nine. Those strikeout and walk numbers have been consistent for the past two years, and his HR/FB is right in line with his career average.
Luck is playing a role in Greene's season. Of course it is. It does for everybody. But the thing about good luck is that good pitchers can often create it for themselves. By steeply increasing his ground-ball rate, adding deception to his fastballs, and maintaining the other positive aspects of his game he's always had, Greene is doing that. This time, it seems he might be positioned to do it for the long haul.
Tony is a contributor for FanGraphs. He began writing for Red Reporter in 2016, and has also covered prep sports for the Times West Virginian and college sports for Ohio University's The Post. He can be found on Twitter at @_TonyWolfe_.