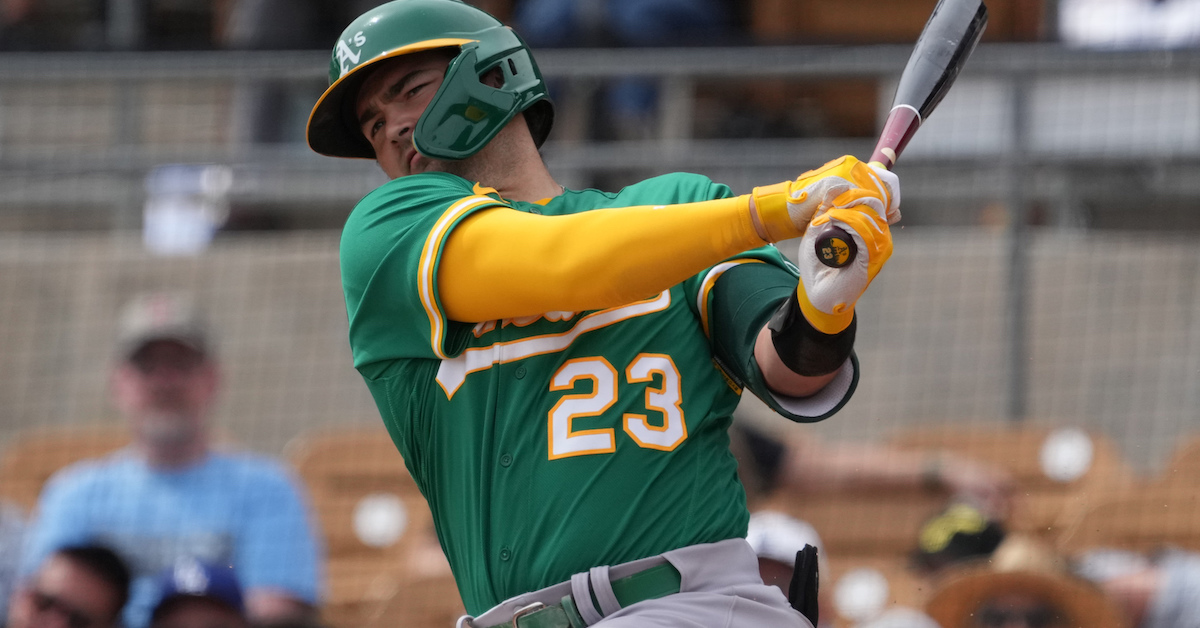 The cradle of major league baseball in the spring is in the Phoenix metro area, where every February the league rises from the ashes of the previous season like, well, you know. Unlike their Grapefruit League counterparts, the Cactus League teams are fairly closely concentrated in the suburbs of Phoenix; a motivated fan could go to two spring training games a day without breaking a sweat.
The Athletics and Angels are spring training neighbors, with their training camps about 10 miles apart in Mesa and Tempe, respectively. And while these division rivals are on different trajectories — the Angels are desperately trying to get back to the playoffs before Mike Trout gets old and Shohei Ohtani peaces out; the A's are in year two of an indefinite rebuild — "break in the young catcher" is near the top of both teams' to-do list.
Logan O'Hoppe and Shea Langeliers were both traded to California from NL East teams in the past 13 months. Both got their first taste of big league action in 2022 and showed the potential to be that preciously rare species of ballplayer: a genuine two-way threat at catcher. O'Hoppe was the no. 51 prospect on the FanGraphs Top 100; Langeliers was no. 70 last offseason before he graduated out of prospect status.
O'Hoppe had only five games in the majors in 2022, but to a rookie trying to break into his first big league starting job, any experience is useful.
"Getting a taste of what it was like last year lit a fire in me," he said. "I don't want to go back to anything else."
It's an opportunity he might not have had under different circumstances. O'Hoppe grew up on Long Island and was a 23rd-round pick of the Phillies in 2018. Third-day high school draft picks usually have a long road to the majors, and O'Hoppe intended to play college ball at East Carolina until that call came. (East Carolina has a history of losing northeastern recruits to the draft, most notably Trout.)
"I really felt like I was taking a risk with it," O'Hoppe said. "I was really pretty settled on school on draft day. Then my name was called and a switch flipped in my head and I realized I needed to do this. I'm happy with the decision so far, but it definitely was not an easy one."
He should be. O'Hoppe progressed through the levels steadily, reaching the precipice of the majors last year at age 22. Only he was a catcher on a team that not only had J.T. Realmuto in year two of a five-year contract but also a well-established backup in Garrett Stubbs. There's blocked, and then there's O'Hoppe's situation in the Phillies organization.
With the Angels, O'Hoppe isn't exactly walking into the starting lineup every day. Max Stassi will handle a significant portion of the Angels' catching duties, and even then O'Hoppe is in competition with former first-round pick Matt Thaiss, who's had a strong spring. But after being traded for Brandon Marsh last summer, he's now the no. 1 prospect in the organization, with an easier path to a regular role — a competition for playing time that he tries not to think about.
"If I'm worried about somewhere else that I'm not, then it's going to take energy away from the moment," he says. "I'm just trying to keep blinders on and not look at too much of that outside stuff."
O'Hoppe did say that switching organizations gave him the opportunity to build relationships with new pitchers. As technology advances, catchers might not have to coach pitchers as much as they would have a generation ago. But it's still a unique position in the game; in addition to offense and defense, catchers are still responsible for managing a teammate. It's a big responsibility for a young player.
"It's a challenge I love," O'Hoppe says. "I feel like the more guys you learn, the easier it is to deal with guys as you go. One thing I've found is that everyone's different, but you do find guys who are similar. So coming over here, I had learned about a few of the guys and had some ideas in my head that helped me relate back to similar guys I caught when I was with the Phillies. So I'm trying to get as much experience under my belt as I can and soak it all in."
Langeliers has also had to learn a new set of pitchers quickly. He's coming off his first full offseason in the A's system after moving west in the Matt Olson trade on the eve of last year's spring training.
"There's an adjustment," Langeliers says of switching organizations. "As far as the development side goes, every organization is a little bit different, but they're both great organizations. You're working hard, you're trying to be the best version of yourself regardless. So it was a shock, but I was excited to come over, excited for the opportunity here."
At first, Langeliers had the inverse experience as O'Hoppe; when the A's acquired him, they already had a young, established star catcher in Sean Murphy. Langeliers made an awkward roster fit as a backup; Oakland would frequently use one of the two as a DH to get both in the lineup, even though on a competitive team both would provide lots of defensive value. But the six weeks they spent on the roster together provided a valuable learning experience.
"It was nice to be behind Murph the last month and a half of the season," Langeliers says. "To just kind of pay attention to how he prepares, how he game plans with the pitching staff. To get that under my belt, understanding the philosophy and how to attack guys."
Murphy, obviously, has since taken the eastbound lane of the Oakland-Atlanta highway. (The Braves are currently in the midst of what I'd describe as an extended multi-year pirate raid of the Athletics' roster; Oakland pillaged the Kansas City Royals in much the same fashion at the turn of the century, so I guess all things are cyclical.) Langeliers says Murphy's absence specifically hasn't affected his preparation; knowing he's going to be on the big league roster has upped the intensity of training camp, specifically with regard to managing his pitching staff.
"It's a little more amplified, more detail-oriented, I guess," he says. "These guys really understand what they're trying to do. And the quicker you can get on the same page with them, the smoother it's going to go. As a catcher, it's kind of a servant mentality, you're back there to make the pitcher feel comfortable. We want him to attack the strike zone. So you just have a conversation with him. It's like, whatever you need me to do, I'll do it for you."
As important as the Bryan Adams of it all is, Langeliers also has to hit in order to stick. O'Hoppe was only up long enough to get fitted for a uniform and get the password for the clubhouse Wi-Fi, but Langeliers had 40 games in the majors, enough to get settled and figure out what he needs to work on.
"When I first got up, I thought it started off pretty good. Then I kind of hit that lull and got exposed," he says. "They found some weaknesses, and it's a game of adjustments. Toward the end, I feel like I adjusted, I battled, and the last week and a half, two weeks, I felt really comfortable with my approach. I felt like I was aggressive in the right spots, and now I'm just looking to build off it."
In his major league callup, Langeliers struggled a little against fastballs, but he doesn't anticipate that continuing in 2023.
"It's kind of a small sample. I've been good at hitting fastballs my whole career," he says. "But I think that's part of the adjustment period. At the time I was getting a lot of fastballs up in the zone or up out of the zone, and I was swinging at it. Then they were getting to the breaking stuff after that. The adjustment was, either I'm going to hit that fastball at the top of the zone, or I'm going to lay off it."
One reason pitchers would want to throw Langeliers fastballs is that a sinker would drop right into his bat path. His offensive game is built on power; he hits the ball hard, usually to the pull side, and gets it in the air.
"[The Braves'] big thing was just being on plane with your barrel and through the zone," he says. "That was the first thing I started working on. And over the years, three or four years now, I've been working on that and getting more and more comfortable. The biggest thing is understanding the situation, understanding the strike zone, what pitch you're looking for and how you're going to attack it. If you stick to that approach…" and here Langeliers remembered what his job was and caught himself. "Not more often than not because it's baseball, but you'll have some success."
Both O'Hoppe and Langeliers have promising futures because the two biggest parts of their job — hitting a baseball and playing sound defense at catcher — are two of the hardest things to do on a baseball diamond. Showing aptitude at the latter can often lead to a long major league career whether the player in question hits worth a damn or not. They're different styles of hitter; O'Hoppe has better contact skills and is more of a line drive guy, and Langeliers has more power. But in a sport where any sign of offensive life from a backstop is treated like a superpower, these two players have huge potential once they decamp from Arizona.
Michael is a writer at FanGraphs. Previously, he was a staff writer at The Ringer and D1Baseball, and his work has appeared at Grantland, Baseball Prospectus, The Atlantic, ESPN.com, and various ill-remembered Phillies blogs. Follow him on Twitter, if you must, @MichaelBaumann.