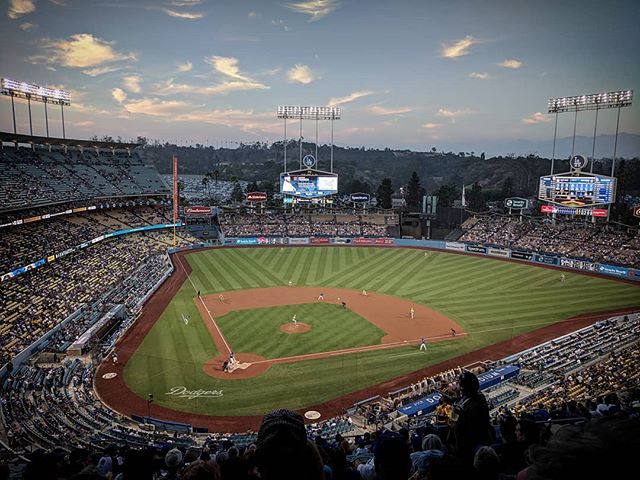 "This is an unfair thing about war: victory is claimed by all, failure to one alone." – Tacitus
Fair or not, among the general public, success in baseball means winning the World Series. The baseball-cultural definitions of dynasty and success have not evolved as the playoff system has grown larger and less designed to crown the best team. After seven consecutive division titles and no World Series championships, the Dodgers are perceived in large swathes of baseball fandom as being failures. As baseball is no fairer than the rest of life, the fact that the playoff system will naturally create a lot more failures than successes hasn't shielded the team from criticism.
So after winning 106 games, the Dodgers find themselves in the awkward position of having to explain to fans that there's no dark, underlying reason that caused them to win only two games in one particular five-game stretch in early October. There are no more key teaching moments in the NLDS loss any more than there were in any of the other 30 five-game stretches in 2019 during which the Dodgers won two or fewer games.
The Setup
By any measure other than World Series championships, the Dodgers have been an extraordinarily successful franchise in recent years. Since winning the first of their seven consecutive NL West titles in 2013, they've won 671 games, the most in baseball. The team with the second-most wins over that period, the Indians, trail by 33 wins, nearly five per season. In fact, none of the four teams with the most victories (Dodgers, Indians, Cardinals, Yankees) have won a World Series over this stretch!
The Dodgers lost the 2017 World Series to the Astros — and perhaps a garbage can — in a very exciting bout in which all but the final game were competitive. But in 2018, the Red Sox dispatched the Dodgers with comparative ease, ending that World Series defeat on a much more depressing note. As was the trend among baseball's large market teams, the Dodgers went into the offseason intending to keep the team's payroll under the luxury-tax-that-we're-still-not-calling-a-soft-salary-cap-for-some-perplexing-reason. The team made a bid on Bryce Harper and maybe a bid to bring back Manny Machado, although half-heartedly. Even if the team did truly make an offer to Manny, they were never really in the hunt, and the four-year, $180 million offer to Harper didn't strike any observer as being likely to result in a deal. That includes ZiPS, which projected that if Harper took that deal and hit free agency again in four years, he projected to cost himself about $35 million in career earnings.
In the end, the Dodgers signed A.J. Pollock for $60 million, Joe Kelly for $25 million, and brought back David Freese for a single season. Hyun-Jin Ryu returned to the Dodgers after accepting the team's qualifying offer. The team did make one gigantic trade, but one that was geared primarily towards their payroll goals, sending Yasiel Puig, Alex Wood, Matt Kemp, Kyle Farmer, and cash to the Reds for Jeter Downs, Josiah Gray, and what was left of Homer Bailey's contract. For Kemp, it was the second consecutive winter he was involved in a trade, mainly made for tax purposes, that involved a lot of guys who were good in 2014 or so.
The Projection
ZiPS projected the 2019 Dodgers as a slightly weaker team than the one that started 2018. The 2018 Dodgers projected as a 95-win team, and by the final game of the playoffs, on a roster that still had Manny, ZiPS had bumped that to 99 wins. For 2019, that projection was down to 93 wins as the computer did not think the return of Corey Seager and the addition of Pollock entirely balanced the losses elsewhere. The good news in that projection was that while the Dodgers saw their forecasted win total decline from 2018, so did every other team in the NL West, with the exception of the San Diego Padres. The Diamondbacks, Rockies, and Giants all projected to finish above .500 in 2018; none of them were prognosticated to do that in 2019. Though not quite to the extent of the Indians in the AL Central, the Dodgers weren't particularly pushed towards an aggressive offseason by their competition.
The Results
As regular seasons go, the Dodgers had about as little drama as one could hope. The 2018 team, despite superior projections, floundered below .500 for nearly two months and needed game 163 to take the NL West. In 2019, most things went about as expected. For a change of pace, the disabled list wasn't as long as a series of names as the appendix in a George R. R. Martin book. The team wasn't injury-free, as Pollock and Rich Hill missed large chunks of the season, but I think at this point, that's kind of the expectation for those two players. With the division wrapped up reasonably early, the Dodgers didn't work their rotation like draft horses and found plenty of playing time to use Julio Urias, Dustin May, and Tony Gonsolin in flexible roles.
In the lineup, the only real disappointment was behind the plate, as the combination of Austin Barnes and Russell Martin was a serious step down from Yasmani Grandal, the team's most significant winter departure. Originally from Louisville, Kentucky, born and raised, the Louisville Cardinals where he spent most of his days, the Dodgers aggressively promoted catcher and former first-round pick Will Smith. His .984 OPS for Triple-A Oklahoma City, more than 200 points of OPS better than his 2018 mark, was enough to get him a shot at playing time, and he seized permanent control of the catching job by mid-August. Smith finished his 2019 with a .253/.337/.571, 1.7-WAR line in just 54 games. If he had been called up for good in May instead of July, I would have had a tougher dilemma at the back of my Rookie of the Year ballot.
While the bullpen's struggles during the regular season were overrated — the relievers ranked sixth in FIP and ninth in WAR — this group never felt as deep as the 2017 team that took the Astros to seven games. Kenley Jansen had recovered from his offseason heart surgery, but his cutter just wasn't as nasty as it was in 2016-17. I'd argue that Jansen clearly dropped out of the elite tier of relievers, and it had an effect on the team's bullpen management in the playoffs. Game 5 was especially oddly managed, with the Dodgers going to the Clayton Kershaw-grand-entrance-as-reliever well once too often. Kershaw was the only Dodger warming up in the pen in the seventh, and after Anthony Rendon's leadoff homer the next inning, Adam Kolarek (career opposing OPS by LHB: .483) was nowhere to be found. By the time Jansen actually got into the game, the Dodgers were down by four with a leverage index of 0.08.
What Comes Next?
The Dodgers currently rank second in projected WAR per our Depth Charts, and that's after removing Ryu from the roster. The team has few offensive needs — every position is projected at three or more wins — but a replacement for Ryu and some additional relief depth would be reasonable, if unambitious, goals this winter. Accepting at face value that they intend to stay under the $208 million salary-plus-benefits luxury tax threshold, the team is still left with just under $30 million to play with. As terrific a player as Rendon is, adding him to the Dodgers probably improves them less than any other team in baseball, so despite the team reportedly having an interest, I don't really expect them to be one of the finalists for his services without a full-scale infield reshuffling. If they do sign one of the big free agents, I expect a swooping-in to sign Gerrit Cole or Stephen Strasburg at the last moment as more likely than Rendon.
In the end, my prediction is the Dodgers re-sign Ryu, sign Treinen and another reliever or two, and start 2020 under the luxury tax threshold. Justin Turner is a free agent after 2020, after all, and I think the Dodgers want to make sure they're well-equipped to extend him without going over the soft salary cap. Oops, I mean luxury tax threshold. I don't know how I keep doing that!
The long-term outlook for the Dodgers remains bullish. The team has been downright miserly when it comes to trading prospects, and they've had an impressive number graduate to the majors and contribute almost instantly. This conservatism has kept the Dodgers from the whittling-away of the farm system that teams tend to face during long, successful runs (see the Red Sox, Astros, Cubs, etc). In the updated 2019 report on THE BOARD, the Dodgers ranked third in future value from their prospects.
2020 ZiPS Projection – Gavin Lux
Very few players helped themselves, from a projection standpoint, more than Gavin Lux did in 2019. Coming into the season, ZiPS gave Lux a .237/.301/.385 line and 1.1 WAR if he played 120 games in the majors, a decent projection for a player with two months of Double-A experience but certainly not eye-popping in the way projections for Vladimir Guerrero Jr. or Fernando Tatis Jr. were. ZiPS saw Lux peaking in the mid-2020s as around a three-win player, hitting .250/.325/.450 with average-ish defense at short.
Lux's power surged in 2019, and unlike a lot of other minor leaguers, it can't be attributed to the sillyball coming to Triple-A that year. Lux went from 11 homers in 88 games in the hitter-friendly California League to 13 in 64 games for Double-A Tulsa, a circuit in which the ERA stayed right around four and teams fell short of averaging a home run per game. When Lux got the aforementioned sillyball, his numbers shot up as you'd expect an elite prospect's to, as he hit .392/.478/.719 for Oklahoma City. I'm not sure the Dodgers actually planned to give Lux much playing time in the majors (if any) when entering the season, but he made it practically impossible not to find a role for him on the roster in September.
ZiPS Projection – Gavin Lux
| Year | BA | OBP | SLG | AB | R | H | 2B | 3B | HR | RBI | BB | SO | SB | OPS+ | DR | WAR |
| --- | --- | --- | --- | --- | --- | --- | --- | --- | --- | --- | --- | --- | --- | --- | --- | --- |
| 2020 | .266 | .331 | .456 | 548 | 80 | 146 | 25 | 8 | 21 | 78 | 53 | 133 | 10 | 108 | -2 | 3.0 |
| 2021 | .277 | .343 | .499 | 535 | 82 | 148 | 27 | 10 | 24 | 84 | 54 | 126 | 9 | 122 | -1 | 3.9 |
| 2022 | .280 | .349 | .515 | 536 | 85 | 150 | 28 | 10 | 26 | 89 | 57 | 129 | 9 | 127 | -1 | 4.3 |
| 2023 | .277 | .349 | .513 | 534 | 85 | 148 | 28 | 10 | 26 | 88 | 59 | 133 | 9 | 127 | -1 | 4.3 |
| 2024 | .273 | .346 | .508 | 531 | 85 | 145 | 27 | 10 | 26 | 88 | 59 | 133 | 9 | 125 | -1 | 4.2 |
| 2025 | .273 | .348 | .511 | 521 | 84 | 142 | 26 | 10 | 26 | 87 | 60 | 133 | 9 | 126 | -1 | 4.2 |
Lux retains his rookie eligibility for 2020 and ought to enter the season as one of the Rookie of the Year favorites.
Dan Szymborski is a senior writer for FanGraphs and the developer of the ZiPS projection system. He was a writer for ESPN.com from 2010-2018, a regular guest on a number of radio shows and podcasts, and a voting BBWAA member. He also maintains a terrible Twitter account at @DSzymborski.