Pitchers learn and develop different pitches, and they do so at varying stages of their lives. It might be a curveball in high school, a cutter in college, or a changeup in A-ball. Sometimes the addition or refinement is a natural progression — graduating from Pitching 101 to advanced course work — and often it's a matter of necessity. In order to get hitters out as the quality of competition improves, a pitcher needs to optimize his repertoire.
In this installment of the series, we'll hear from three pitchers — Alex Cobb, Ryan O'Rourke, and Carl Willis — on how they learned and developed their splitters.
———
Alex Cobb, Baltimore Orioles
"I started throwing it in high school. When you're that age, you'll see things on TV and try to replicate them — kind of like Backyard Baseball. I thought a splitter sounded cool, so I split my fingers on the baseball, got some action on it, and got some good results with it.
"Up to that point I'd been fastball-curveball. I had a changeup, but it wasn't very good. The hardest pitch for young guys to throw — high school, travel ball, or even the minor leagues — is a changeup. So I started throwing the splitter.
"When I got to pro ball, [the Tampa Bay Rays] took it away from me — I think they were worried about the strain a split grip takes on your arm — so I started throwing a circle change. It was never very good. I had multiple conversations with pitching coaches. I remember Bill Moloney telling me that I needed to figure out a way to throw a changeup. This was back in 2008, when I was pitching in Columbus, Georgia.
"He showed me this split-change grip. It was basically a splitter, but I brought my other fingers up with it. I asked him, 'Am I allowed to throw this?' He was like, 'Yeah, you're allowed to throw it.' I was like, 'Well, the organization took it away from me.' He was like, 'No, you can throw this.' So I started throwing a splitter again. I threw it three times and had the best action I'd seen in a long time. I knew at that moment it was going to carry me to the big leagues."
Ryan O'Rourke, New York Mets
"I picked up my split-change in 2016, because I needed something that would go the other way to right-handed hitters. Eddie Guardado, who was our bullpen coach — this is when I was with the Twins — showed me a couple of grips. We kind of screwed around from there, playing catch in spring training, and I'd say it was toward the middle of 2016 when I really found a grip I could stick with.
'My fingers are about as wide as I can get them on the ball. My spin rate on it is 1,000 to 1,100 [rpm]. Nathan Eovaldi throws a true split, and I think he's gotten his as low as 850. His kind of sits around 1,000, so I try to mimic what he's done with his. The vertical break is what I care about the most. I want it to go straight down. My goal is to throw it right down the middle of the plate, and have it fall, and land right on top of the plate.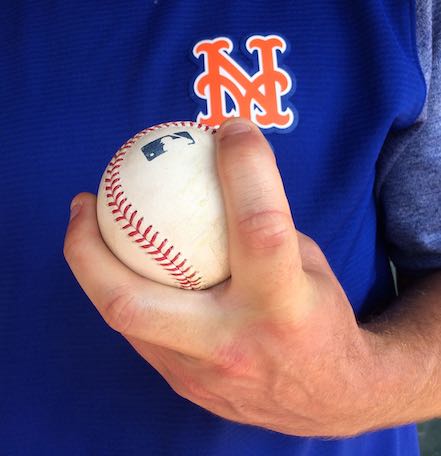 "The grip and release, paired, is obviously what impacts how it moves. What I look for on the Edgertronic is how my grip comes through at the end, and how the ball spins out of my hand. There are times I'll throw it and see on the camera that I got complete sidespin on it. I don't want that. I want more of that two-seam tumble. If I catch it with my middle finger, I'll spin it by accident and it will go too much side to side.
"[Guardado] told me that he changed his grip multiple times during his 17-year career. He told me he lived and died with his splitter, and that he had to change it due to the action he was getting. But at the end, he told me that whatever feels most comfortable in my hand, and whatever I could manipulate the easiest, is the splitter I want to throw. That's what's most important.
"There was a grip I tried where, if I caught it just right, it was un-hittable. Our catchers would say, 'Ryan, that's the best splitter I've ever seen.' The problem was that I would only hit on it two out of every 10 times. It was a pointless pitch for me, because I'm not about to ride an outing, or an inning, on a 20% pitch.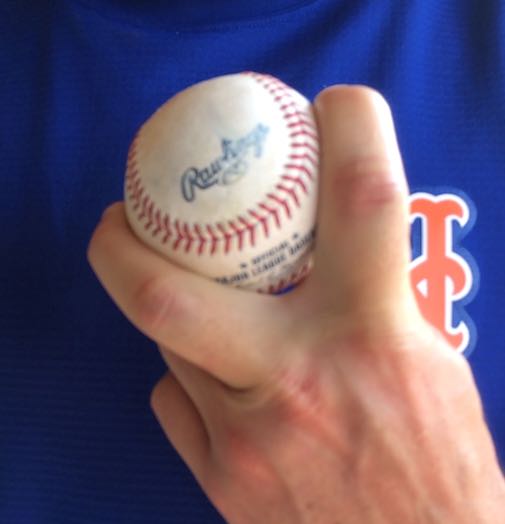 "The ball was basically divided in half, in my hand. My fingers were touching no laces. Right where it would say 'Major League Baseball' … I basically intersected that. I put my fingers there, my thumb underneath, and just threw it. Like I said, I knew that when I got it, it would basically be un-hittable. I tried hard to find consistency with it, but it seemed like an impossible venture for me. Ultimately, I had to settle on something I know I can trust."
Carl Willis, Cleveland Indians (pitching coach)
"The split was the pitch that made the biggest difference in my career. I was first introduced to it by Roger Craig, when I signed with the Tigers. It took me a long time to… not throw it in terms of using it, but throw it terms of arm speed and realizing, 'Hey, it's fastball where I'm spreading my fingers; I need to be ripping this pitch.'
"I was young at the time — I was 23 years old — and I happened to be around veteran pitchers like Jack Morris and Milt Wilcox, who threw the pitch. It was Roger Craig's 'thing,' so to speak, and it became a very prevalent pitch in the '80s. With a lot of the guys who threw it, there was maybe more forkball action than true splitter action.
"Roger is the one who showed me the grip, and talked to me about how to throw the pitch, although I remember asking Jack about it. When I got traded over to the Reds, Tom Hume would travel with a softball. I don't recall if he even threw a split, to be perfectly honest, but I remember him doing that. I was always jamming a softball between my fingers, so that the grip would come a little easier and I wouldn't be tipping the pitch as I was getting it, in the glove.
"I haven't worked with too many guys [who throw a splitter] at the major-league level. In the minors, there were guys we worked on giving a split to. But all in all, you don't really see the pitch that much anymore. Part of that might be some of the data showing that it's not all that great for the elbow. I suppose there are a few different factors."
——
The 2018 installments of this series can be found here.
David Laurila grew up in Michigan's Upper Peninsula and now writes about baseball from his home in Cambridge, Mass. He authored the Prospectus Q&A series at Baseball Prospectus from December 2006-May 2011 before being claimed off waivers by FanGraphs. He can be followed on Twitter @DavidLaurilaQA.