Pitchers learn and develop different pitches, and they do so at varying stages of their lives. It might be a curveball in high school, a cutter in college, or a changeup in A-ball. Sometimes the addition or refinement is a natural progression — graduating from Pitching 101 to advanced course work — and often it's a matter of necessity. In order to get hitters out as the quality of competition improves, a pitcher needs to optimize his repertoire.
In this installment of the series, we'll hear from three pitchers — Jose Leclerc, Evan Marshall, and Tony Watson — on how they learned and developed their changeups.
———
Jose Leclerc, Texas Rangers
"I was around 10 years old when I started throwing it — 10 or 12 — and I thought it was a regular changeup. When I was playing Little League, nobody told me that it wasn't really a changeup. I just kept throwing it, kept throwing it, and when I signed my contract with the Rangers, the pitching coach told me, 'That's not a changeup.' I said, 'That's how I hold my changeup.' He said, 'No, that's a slider.' But I kept throwing it, kept throwing it, and it was good.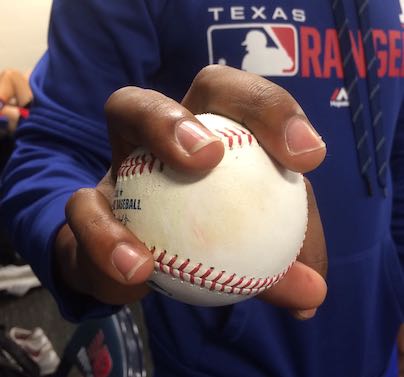 "It's a changeup grip, but I throw it like a football and it moves kind of like a slider. I don't know why. I've tried to show it to my compañeros — to my teammates — and they can't do it. Sam Dyson; he asked me to show it to him. A few others did, as well. Some of them could kind of throw it, but they couldn't command it like I do.
"I throw it the same now as when I was a kid. Everything is the same. It is better, though. I throw harder now, so there's more movement. But what it is … I call it a cut-change. It's just something natural that I have. I don't how I do it. For real." Read the rest of this entry »