Wednesday's four-player Brewers/Padres swap was largely about two teams recognizing that they could trade puzzle pieces with each other to better complete themselves, and probably also revealed San Diego's long-term pessimism regarding Luis Urías. Here's the deal:
Padres get:
OF Trent Grisham
RHP Zach Davies
Brewers get:
INF Luis Urías
LHP Eric Lauer
With Lauer, the Brewers get an inning-eating lefty whose 2019 innings total is a big reason he generated 2.3 WAR despite his pedestrian 4.77 xFIP. He gives the Brewers yet another unique mechanical look, and chucks in a lot of varied breaking stuff, working heavily off of a cutter, curveball, and a slider that Lauer doesn't use very much overall, but that he throws at a higher rate when opposing hitters have two strikes. That slider and cutter usage flipped last year (20% sliders and 6% cutters in 2018, with the inverse last year) and Lauer's glove-side command of the cutter seemed to enable him to jam righties, as right-handed batter wOBA against him dropped from .341 in 2018 to .300 last year.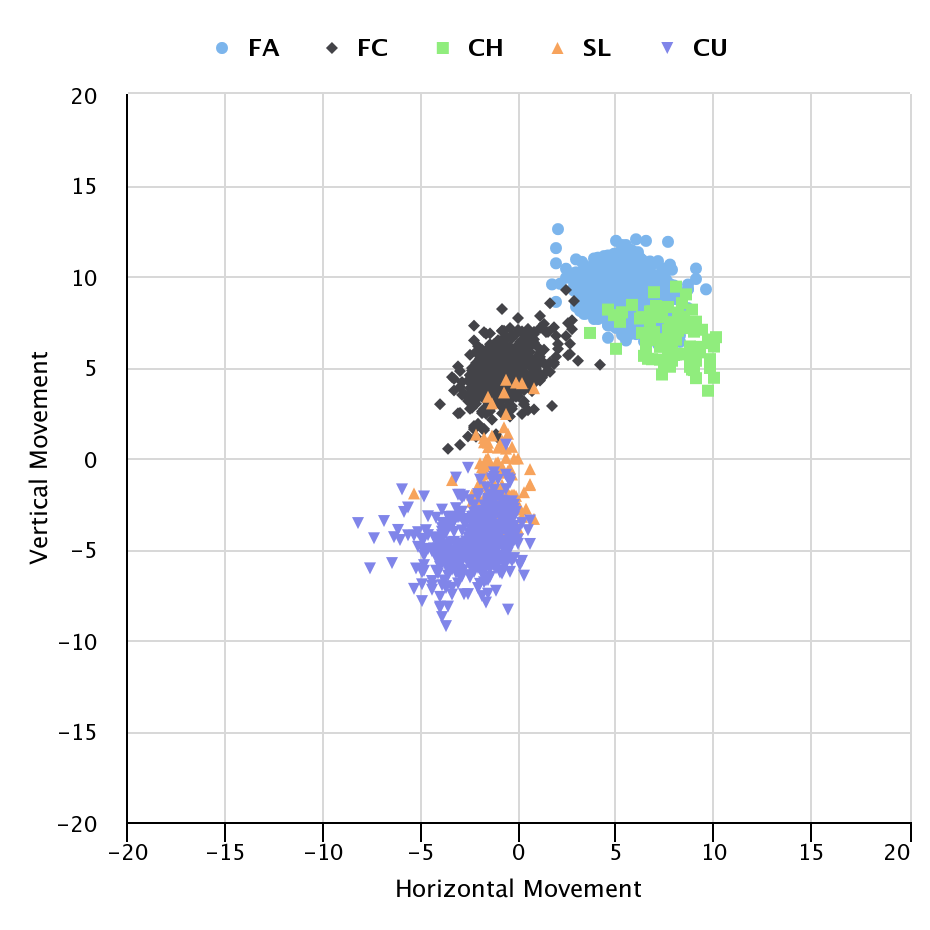 Lauer was still a little fly ball/homer prone last year, but PETCO has a fairly short porch to straightaway left field (334 feet down the line, 357 feed to left), and six of the 14 dingers he surrendered to righties last season were wall-scrapers, so Miller Park's dimensions (344 feet, 371 feet) might prove helpful in that regard.
Prior to the trade, Brent Suter was the only left-handed pitcher currently on Milwaukee's roster who could make a case to be in next year's Opening Day rotation, and he finished 2019 in a bullpen role as he came off of Tommy John rehab. (He has two option years left.)
The Brewers also flipped two years of Davies for four of Lauer in the deal, while the Grisham and Urías service time/team control is a wash.
In my opinion, players like Urías have traditionally been undervalued by public-facing prospect analysis, with Mookie Betts and José Ramírez the most glaring (and embarrassing) examples of our collective failure. Urías is of that ilk, at least statistically. He's a wee 5-foot-9 and he doesn't have loud tools, but he showed elite feel for contact early in his career before a swing change (he added a leg kick, which he retained with two strikes) attempted to trade off some of that contact for power. Urías was running a 7% strikeout rate during his first three pro seasons before it began to climb in 2017, and for the last two seasons it has been in the 20% range, which is just a bit better than big league average.

Nothing has really come from that because Urías just doesn't hit the ball hard. His average exit velos in the big leagues have been about 87 mph, just shy of big league average, while he maxed out at 105, which is a 40 on the scouting scale if we were to apply the 20-80 scale to max exit velo as a proxy for power. According to my league sources, the same is true of his Triple-A exit velos even though his numbers there were bonkers last year (.315/.398/.600). But Urías was the age of a college junior. If a college middle infielder had performed the way he has in pro ball and then was dropped into the draft, where does that guy go? Probably in the top five to 10 picks, at worst. It's possible Urías still has some filling out to do, and with it will come more power, which the natural feel for contact will allow to play as soon as it happens.
There's precedent for this. Urías is not the physical specimen that Ketel Marte is, but Marte didn't hit for power until last year when he was 25, and he hit more bombs in 2019 than he did in every one of his pro seasons combined up to that point. We don't have year-over-year exit velo data in the minors to see if there's additional precedent for late-blooming power by tracking eixt velo trends among young 20-somethings (yet), and even if we did, we'd have to make a subjective call as to whether or not it would apply to Urías based on his lack of physicality, because some bodies are just done filling out by that point.
The Brewers are going to let Urías play shortstop. I mentioned in my 40-man crunch piece last week that Milwaukee is about as shallow as a kiddie pool on the middle infield, so this addresses an immediate need while also giving the Brewers a shot to have an above-average everyday player on the roster for the next half decade if Urías becomes one. He's an offensive upgrade but a defensive downgrade from Orlando Arcia. His ceiling will be dictated by what kind of physicality he grows into in to his mid-20s, but I think it could be significant even though the initial trials haven't been great.
Trent Grisham also displayed an elite skill in the minors: plate discipline. He too was subject to some swing and approach changes during his time as a prospect, and he struggled. At times he could be described as passive rather than selective, but things seemed to click in 2019 as he retained that feel for the strike zone while also finally hitting for some power. Kiley and I 50 FV'd Grisham last summer, and we think he's a solid, everyday player. He has less ceiling than Urías, but more certainty now that his swing is dialed in.
San Diego has a massive logjam in their outfield now, and I have to imagine more deals are coming, ones that consolidate some of this talented, if frustrating, group. If they move Wil Myers they're going to need to eat salary. He has three years and $60 million left on his contract and has basically been a corner platoon guy for the first half of his deal. Unless the Padres want to have a very expensive timeshare at first base, which would risk pissing off a team leader in Eric Hosmer, Myers would seem to be the most likely piece to be dealt. The problem is that progressive teams won't want to take on that contract, and traditional ones don't like Myers' on-field makeup.
There's also tooled-up wild card Franchy Cordero, low-OBP thumper Hunter Renfroe, arguable DH Josh Naylor, platoon-y leatherwizard Manuel Margot, bad-gloved catcher Francisco Mejía, Myers, and Grisham. That's seven guys. It's possible the 26-man roster will allow for this kind of thing and San Diego has actually set up a pretty cool matchup situation in their outfield. Naylor, Grisham, and Cordero can play against righties, while Margot, Renfroe, and Myers play against lefties. Margot plays defense late in games; Mejia shares times with Hedges. There are ways the pieces might fit, but I think San Diego has more stuff to do. They have the prospect resources to trade with Myers to balance the money and still get something back if they want.
In losing Grisham, the Brewers now look to some combination of Corey Ray, Tyrone Taylor (who is a post-hype sleeper due to a 2018 swing change), and Ben Gamel to replace Grisham's at-bats and, probably, to lighten to load on an aging Lorenzo Cain.
Davies is an athletic, changeup-centric righty who has two years of control remaining. He fits on a big league staff in some capacity, probably as a fifth starter, and in my opinion, is a bit of a downgrade from Lauer, though you can make an argument Joey Lucchesi, Nick Margevicius, and Lauer were pretty redundant, and that San Diego needed to mix things up.
Eric Longenhagen is from Catasauqua, PA and currently lives in Tempe, AZ. He spent four years working for the Phillies Triple-A affiliate, two with Baseball Info Solutions and two contributing to prospect coverage at ESPN.com. Previous work can also be found at Sports On Earth, CrashburnAlley and Prospect Insider.