In 2017, The Ringer called Anthony Rendon baseball's "unknown superstar." A year later, at the conclusion of the 2018 season, Beyond the Box Score described Rendon as "constantly overlooked." I'm pretty sure there's a law somewhere that says that when you write about Rendon, you have to describe him using the word "underrated" or one like it. But rules were made to be broken, and this one has run its course. Rendon is too good to be underrated any more. He has a strong case as being the best third baseman in baseball — which is an incredibly deep field — and an even better case as one of the top 10 players in the game overall.
Let's start with the top-line figures and then get into the mechanics. Here are baseball's WAR leaders since 2013, when Rendon made his debut for the Nationals:
WAR Leaders, 2013-2019
| Player | wOBA | PA | WAR/100 PA | WAR |
| --- | --- | --- | --- | --- |
| Mike Trout | .424 | 4,499 | 1.39 | 62.6 |
| Josh Donaldson | .382 | 4,148 | 0.98 | 40.6 |
| Mookie Betts | .377 | 3,629 | 1.03 | 37.2 |
| Buster Posey | .348 | 3,898 | 0.95 | 36.9 |
| Paul Goldschmidt | .391 | 4,626 | 0.77 | 35.8 |
| Christian Yelich | .374 | 4,043 | 0.83 | 33.6 |
| José Altuve | .363 | 4,594 | 0.72 | 32.9 |
| Anthony Rendon | .366 | 3,927 | 0.83 | 32.7 |
| Freddie Freeman | .386 | 4,424 | 0.73 | 32.5 |
| Manny Machado | .349 | 4,533 | 0.71 | 32.0 |
The chart above, which includes Rendon's two weakest seasons — 2013 and 2015, when he combined for 2.1 WAR — actually hides how good Rendon has been since the beginning of 2017. Here's the same chart again, starting with that year instead of 2013. It's shorter:
What stands out to me about Rendon's 2019 (and, to some extent, the latter half of his 2018 campaign) is that he's been able to maintain his success despite pitchers' awareness of the damage he can do. Here is a chart of pitchers discovering, over the course of 2016, that they probably shouldn't throw half of their bullets against Rendon into the strike zone, and maintaining that awareness in the years since: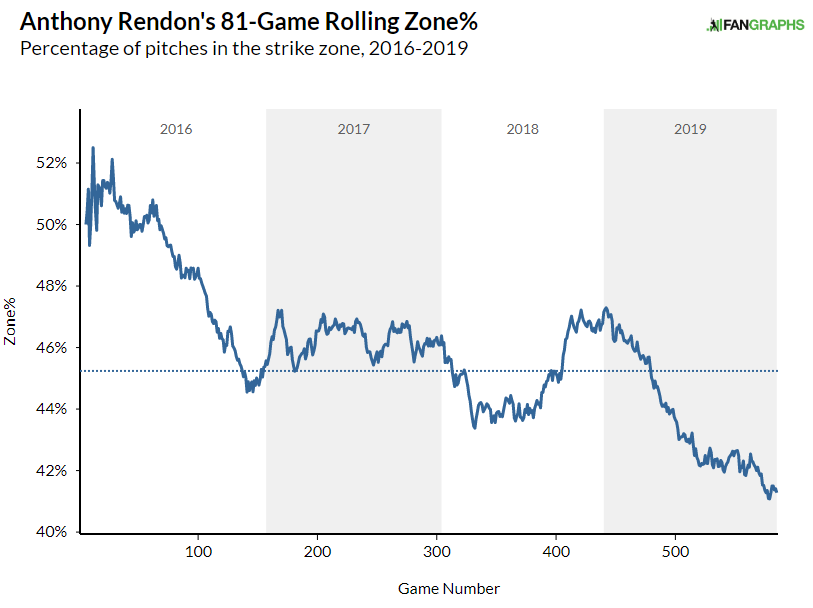 In response, as Ben Clemens noted in June, Rendon has become more likely to swing at pitches inside the strike zone than he had been before (63.6% in 2019; 57.9% in 2016 and lower before), and less likely to swing outside the zone (23.8% this year and 28.0% in 2016). That's had a small upward effect on his walk rate, but the big beneficiary has been his contact quality. This is still a tricky thing to measure, but any way you look at it — by Hard Hit% or by expected wOBA on contact (xwOBAcon) — he has hit the ball better every year since 2017:
Rendon Hitting Hard
| Year | Hard% | xwOBAcon |
| --- | --- | --- |
| 2017 | 37.9% | .393 |
| 2018 | 44.6% | .423 |
| 2019 | 46.6% | .438 |
It's hard to get better at your job when the opposition knows just how good you are, and adjusts accordingly, but that's precisely what Rendon appears to have done. He's addressed his weakness on inside pitches that briefly appeared at the end of the 2018 season (that Zone% spike you saw in late 2018 in the rolling graph above was a consequence of pitchers trying to exploit it) and made himself into a threat to go deep — or at least generate a line drive — in any part of the zone. That's the mark of a true professional at work, and it's been fun to watch these last three years.
Rendon flies under the radar in part because he has always played on a team with flashier stars — most notably ex-teammate Bryce Harper — and because the incredible wealth of third base talent in today's game makes his claim as the best at his position (usually a good way to get noticed) contested at best. I'm not going to wade too deeply into that debate, which I think requires better defensive metrics than we currently have to resolve conclusively, but I'll say this: No other third baseman has a higher WAR or wOBA than Rendon since 2017, and our best metrics suggest that he's at the very least a good, and possibly a great, fielder and baserunner. That's what our eyes tell us, too.
There's a tedious argument that comes up every time someone mentions the word "underrated," which has to do with the correct-but-obvious point that whether something is underrated depends on who's doing the rating in the first place. Fairly or not, Rendon has worn the label for much of his career. But the term simply no longer applies under any reasonable understanding of its meaning. That era of Rendon coverage is and should be over and done with. Rendon was an All-Star this year. He'll almost certainly finish in the top three in MVP voting when the World Series wraps up in a few weeks. He's the best position player, by far, for a National League champion squad with quite a few good young hitters, and he's hitting .375/.465/.594 in the postseason with a chance to add some jewelry to his collection. Anthony Rendon isn't underrated any more. He's a bona fide star with a chance to shine on baseball's biggest stage.
Rian Watt is a contributor to FanGraphs based in Seattle. His work has appeared at Vice, Baseball Prospectus, The Athletic, FiveThirtyEight, and some other places too. By day, he works with communities around the world to end homelessness.