The first round of All-Star voting comes to a close on June 26th, which means we're just over a week away from an annual tradition unlike any other: Anthony Rendon not getting the respect he deserves. He's sitting fifth among NL third basemen in the vote, below the top-3 cutoff for this year's final-day runoff. He's also sixth in the majors among all batters in fWAR, which likely means he'll make his All-Star debut this year. Yes, you read that right — Anthony Rendon has never been an All-Star.
All-Star results aren't everything, of course. They matter for arbitration payouts, as Tommy Pham will tell you, but they're not always (or even often) accurate reflections of who has provided the most value on the field. Still, it's remarkable that Rendon has never been an All-Star. Since he debuted in 2013, he's been the 12th-most valuable hitter in baseball, second only to Josh Donaldson among third basemen. If Rendon makes the team this year as a reserve, it will be fitting, because he's never been more deserving than he is right now; he's taken his offensive game to new heights from an already impressive baseline. He's been outright Trout-ian at the plate this year, fixing weaknesses while sticking with strengths.
When I looked into Rendon's 2018 this offseason, I focused on his newfound aggression. He increased his swing rate more than almost every other player in baseball last year, particularly on the first pitch of a plate appearance. Looking back a few more years, this seems like a change Rendon has been leaning into over time. He was passive to start at-bats at the start of his career, and he has been ramping it up over time, though he's dialed it back marginally this year: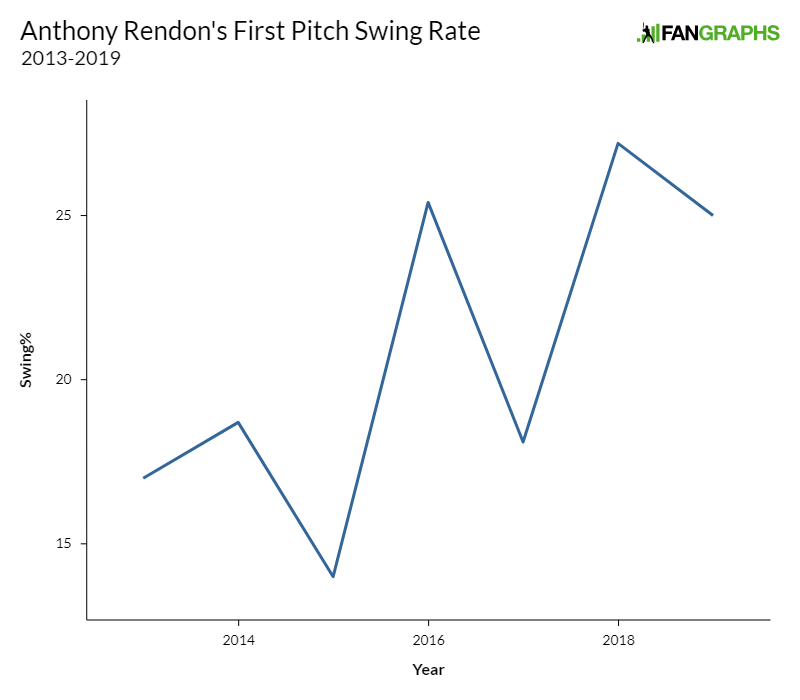 First-pitch swing rate is a blunt tool. Imagine a batter who is universally feared. Pitchers rarely attempt to challenge him. They throw him strikes on only 10% of first pitches. He's wildly aggressive, swinging at 80% of strikes and 10% of balls. Still, that's only an 17% swing rate, which sounds quite passive. Imagine another hitter, this one a patient sort with no pop whatsoever. Pitchers absolutely pound the zone against him — we're talking a 90% zone rate, completely unheard of. He's one of the most patient hitters in baseball, only swinging at 20% of strikes, and no balls whatsoever. This gets him to an 18% first-pitch swing rate. Clearly, we need to consider how pitchers attack Rendon to say anything definitive about his swing rates.
Pitchers are staying away from Rendon tremendously more than they have in the past (his 2019 zone rate on 0-0 is 4.5 standard deviations lower than 2018). He's responded to that by barely lowering his swing rate. Adjusted for how much pitchers stay away from him, Rendon has been more aggressive than ever. Indeed, his swing rate at first-pitch strikes is as high as it's ever been:
Anthony Rendon on the First Pitch
| Year | Zone% | Zone Swing% |
| --- | --- | --- |
| 2013 | 61.3 | 25.6 |
| 2014 | 53.1 | 29.6 |
| 2015 | 55.9 | 22.6 |
| 2016 | 57.9 | 37.3 |
| 2017 | 55.5 | 26.4 |
| 2018 | 58.6 | 42.8 |
| 2019 | 43.9 | 44.9 |
There's such a thing as being overly aggressive on first pitches, but that's not what Rendon has done. When he makes contact with a first pitch, he's absolutely mauling the ball (a .350 batting average with a .739 slugging percentage, good for a .434 wOBA), and his contact rate on first pitches has barely budged. In other words, he's getting more aggressive about swinging at good pitches without meaningfully sacrificing with whiffs or soft contact. Indeed, he's getting ahead in the count more often than in any previous season while also punishing the ball when pitchers try to challenge him. Think his production is a small sample size fluke? He's actually been the fifth-most unlucky batter in terms of first-pitch results relative to contact quality. His xwOBA on those first pitches he's put in play is a jaw-dropping .570, eighth in all of baseball for first-pitch contact.
One of the major advantages of getting ahead in the count is that you can be selective and swing at pitches you want to hit rather than having to defend the strike zone. To wit: while Rendon is swinging at roughly the same number of pitches in the strike zone this year as he did last year, he's swinging at better pitches in the strike zone. Take a look at his 2018 swing heatmap: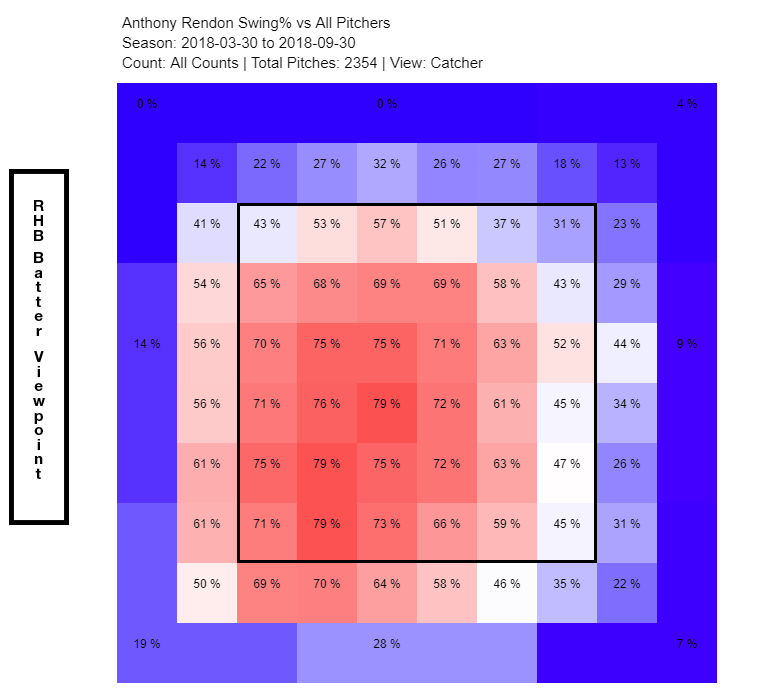 That's pretty good, but he still swung a decent amount at pitches on the lower inside corner. He's outdone himself in 2019 so far: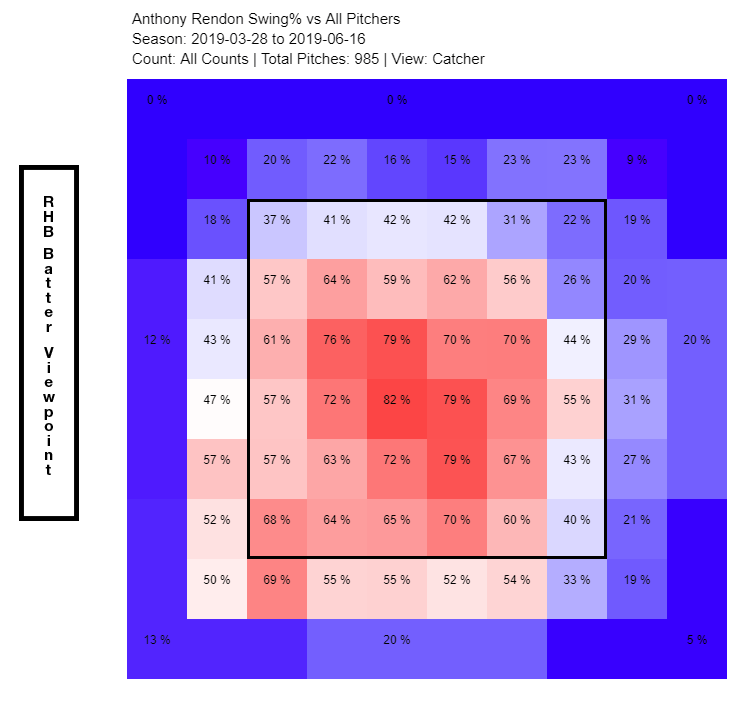 Being ahead in the count both lets him focus more on the center of the plate and forces pitchers to throw pitches there more often. When you swing at better pitches, you make better contact, and everything in Rendon's stats suggests that he's doing that this year. Pick a batted ball metric, and Rendon is at his peak in it. Hard-hit rate? Career high. Home runs per fly ball? Career high. Exit velocity on balls hit in the air? Yep, career high. That exit velocity comes with more barrels than ever before, too. Take a look at it in table form — it's glorious.
Anthony Rendon, Contact Quality
| Year | Hard-Hit% | Barrel% | EV (air balls) | xwOBA on Contact | xSLG |
| --- | --- | --- | --- | --- | --- |
| 2015 | 35.1 | 4.9 | 91.0 | 0.373 | 0.402 |
| 2016 | 41.5 | 5.9 | 91.1 | 0.393 | 0.459 |
| 2017 | 37.9 | 6.5 | 91.1 | 0.393 | 0.494 |
| 2018 | 44.6 | 10.3 | 91.6 | 0.423 | 0.548 |
| 2019 | 55.8 | 18.6 | 93.5 | 0.526 | 0.683 |
Though Rendon is putting the ball in the air more than ever, this isn't a swing change story. His open, backwards-leaning stance hasn't changed, and he's kept his quiet, kick-less swing. Watch him take Noah Syndergaard deep in 2018:
Maybe he's tinkered around the edges, but all the major components of the swing look unchanged to me on this Pablo Lopez pitch he deposited into the center-field bleachers in May:
No, Rendon hasn't tapped into some heretofore unseen power source. His best swing looks pretty much the same as always; he's just getting to it more often. Here's one way to think of it: when a batter hits a ball, they want to put it in the air without putting it too high in the air. Baseball Savant has a statistic they call Sweet Spot Rate that measures the percent of batted balls a player hits between 8 and 32 degrees of launch angle. Your exact mileage may vary in terms of which angles do the most damage, but let's use their definition for the sake of argument. Rendon is hitting the ball at optimal angles more often this year. Not only is his SwSpot% his highest ever, but he's getting more consistent results on balls in play: the standard deviation of his launch angles is the lowest of his career. These two say the same thing, but seeing it multiple ways makes it clear: Rendon is making his best contact more often this year than ever before.
Rendon Hits It Pure
| Year | SwSpot% | LA St. Dev. (deg) |
| --- | --- | --- |
| 2015 | 31 | 24.9 |
| 2016 | 33.8 | 25.8 |
| 2017 | 33.6 | 26.6 |
| 2018 | 38.9 | 26.1 |
| 2019 | 40.1 | 22.5 |
There's still not enough data to say that Rendon has definitively gone from an excellent hitter to one of the few best hitters in all of baseball, but the evidence is starting to look pretty compelling. He's never had a contact quality stretch like this. Take a look at his hard-hit rate over 57 game samples (the number of games he's played this year):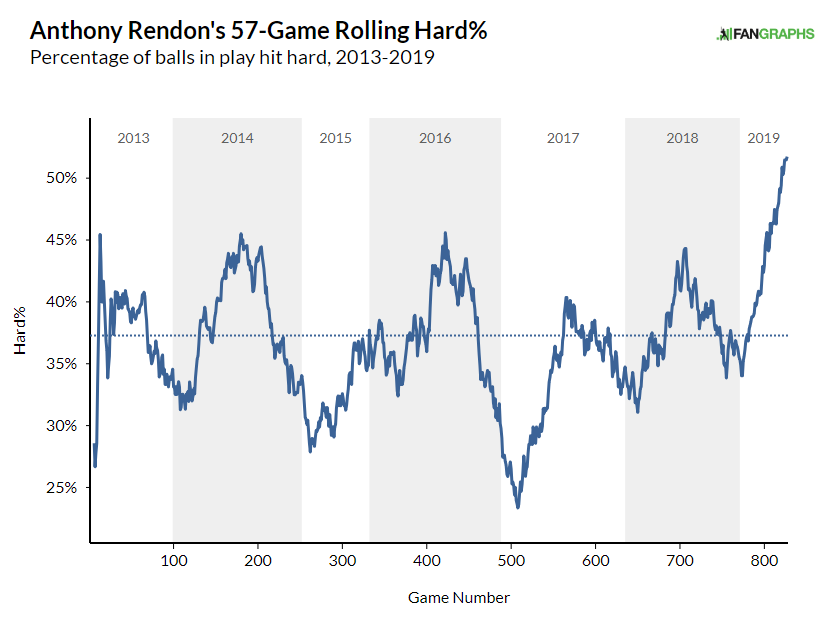 This is what establishing a new level looks like. Not convinced by hard-hit rate? How about his expected wOBA when he makes contact over every 173-batted-ball sample (the number of batted balls he's hit this year):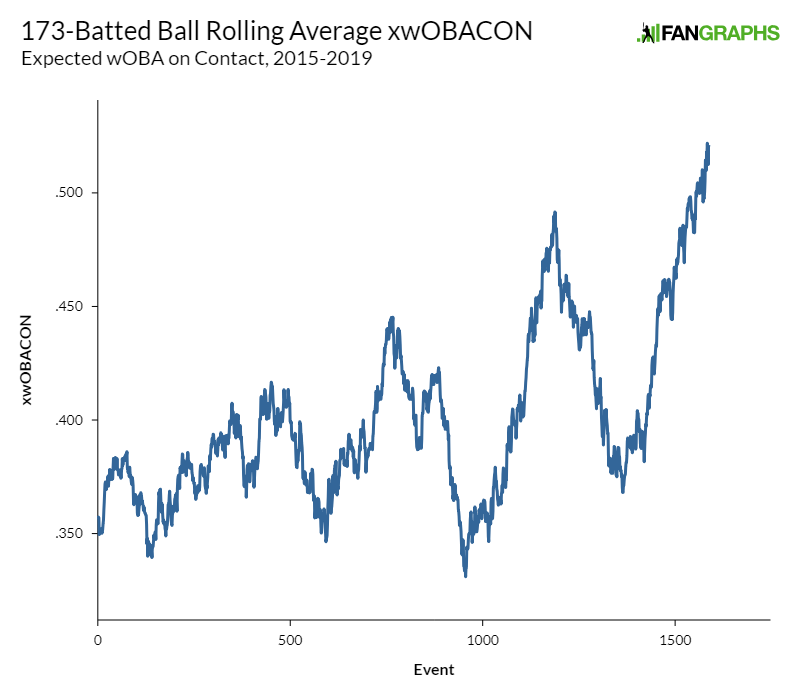 There are no two ways about it: Anthony Rendon is hitting the ball harder than he ever has, better than he ever has. Maybe it's a byproduct of his improved selectivity and aggression on the first pitch, and maybe not, but it certainly looks to my eyes like the two are connected. Some things with Rendon never change. He still has the same stance, the same keen eye and patient disposition at the plate. He still doesn't get the recognition he deserves as one of the best players in baseball. This year, however, things might be different. If he keeps hitting like he has and maintains his aggression on first-pitch strikes while getting ahead in the count when pitchers don't challenge him, he'll be impossible to ignore. That's the theory, at least. In his career so far, Rendon has been both excellent and underrated, and that's one trend that hasn't changed in 2019.
Ben is a contributor to FanGraphs. A lifelong Cardinals fan, he got his start writing for Viva El Birdos. He can be found on Twitter @_Ben_Clemens.