A year ago, warning bells rang out across the league as attendance dropped precipitously in April, down nearly 3,000 fans per game from the previous season and about 2,500 fans per game from the April average from 2014 through 2017. The rough April came on the heels of a 2017 season that finished rather meagerly as well. From 2014 through 2016, total average attendance at the end of the season gained over 1,300 fans on average compared to the April numbers. But in 2017, the league added fewer than 500 fans per game in the summer months, ruining a once-promising season at the gate. A lackluster summer followed by a disappointing April was worrisome, though the weather might have been a factor. As it turned out, the summer made up a lot of the ground lost in April, but attendance still fell by 1,237 fans per game. This April has been met by slightly better weather, but attendance has not improved, and without a great summer, we might see a pretty big loss at the end of the season.
Before comparing previous seasons, here's home attendance per game by team so far this season.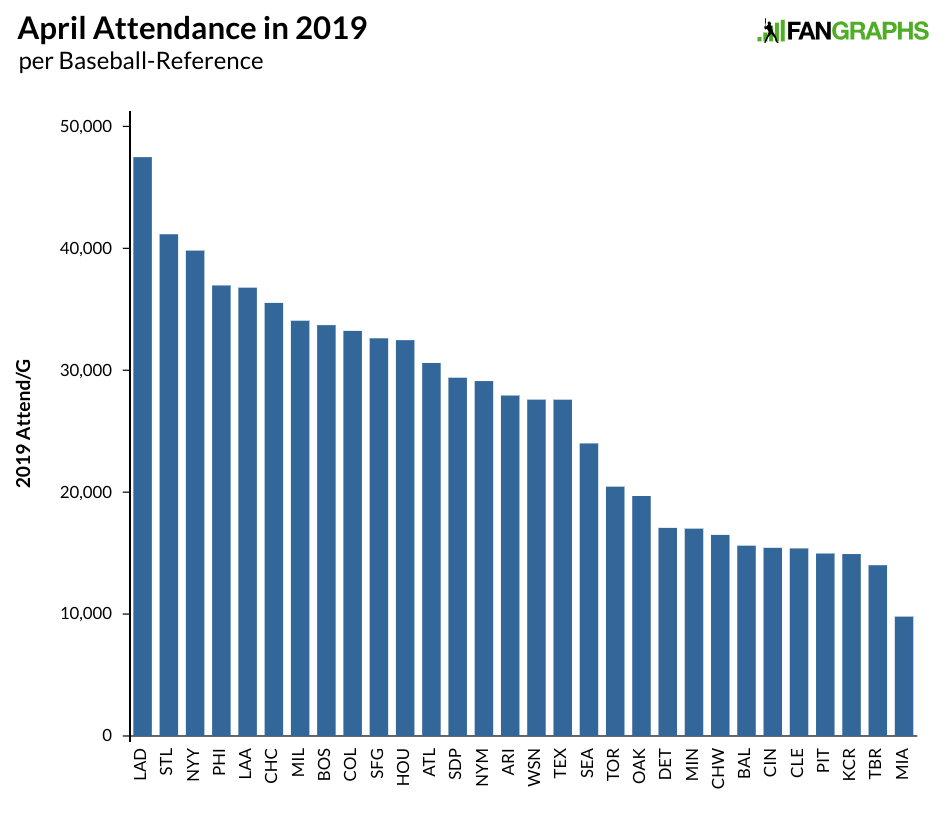 We see mostly what we would expect near the top, with the Dodgers, Cardinals, and Yankees checking in with the best attendance. The Dodgers and Cardinals have claimed the top two spots at the end of the season in each of the previous six seasons except for last year when the Yankees overtook the Cardinals for second-place. Philadelphia is benefiting from a decent record a season ago and a big offseason this winter, while the Cubs and Red Sox are still doing well, though they are limited by the size of their parks when it comes to attendance. They more than make up for it with the highest prices in the game. Milwaukee is hardly seen as a large market, but Brewers fans have long done a good job supporting their team, particularly when the team is successful. The most surprising absence from the top of this list is the Giants, who averaged over 41,000 fans per game from 2011 through 2017 and still had a fairly robust 39,000 fans last season but have dropped off pretty significantly. The Giants are coming off a very good run, and it is possible their fans and stadium might insulate them a little during a rebuild, but they will have to figure out how much losing they can stomach; the Phillies had half as many fans attend games in 2015 compared to 2010, and the Giants could be facing even bigger drops the next few years.
This next graph shows the change in attendance from last April.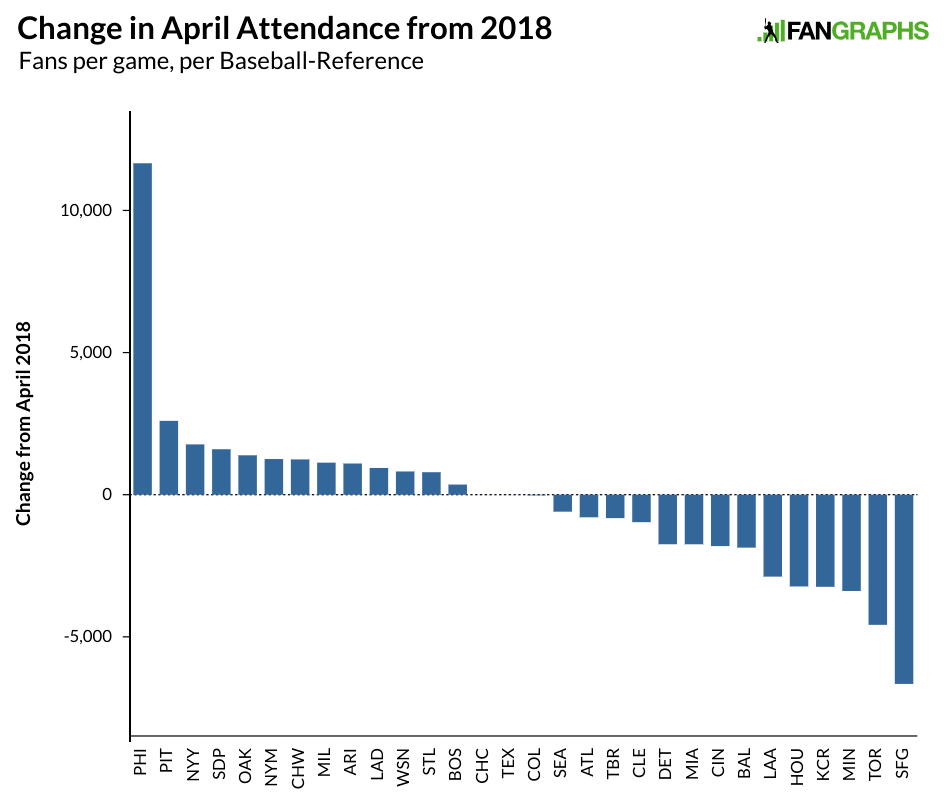 The Phillies created a fair bit of excitement in the offseason with trades and free agency, including signing Bryce Harper, and that excitement has translated to the box office. Nearly 200,000 more fans watched the Phillies this April compared to a year ago. The increase is bigger than the total attendance for five teams this season. A year ago, the Pirates traded away Andrew McCutchen and Gerrit Cole and saw a pretty significant attendance drop. Contending in July saw a decent increase as the season wore on and that has carried over to this season. The Yankees have seen more growth as they return to perennial contender status. Oakland and Milwaukee are seeing some gains after solid 2018 campaigns, while the Padres and Mets are seeing an uptick after making some big offseason moves.
At the other end of the graph, Houston is seeing a dip, but they were coming off a World Series win in 2017 that likely goosed attendance last year. Cincinnati not seeing more fans is a bit disappointing given their moves in the offseason. The Angels really need to start winning, though their overall attendance numbers are pretty good. Baltimore and Kansas City are seeing drops commensurate with their rebuilding status. The Twins were supposed to be good last season, but disappointed. They are off to a good start and it wouldn't be a surprise if they end up with more fans than they did a year ago. The Blue Jays drew extremely well when they were in contention, but do much worse when they aren't in the running. The team did see about 18,000 more fans during Vladimir Guerrero, Jr.'s debut weekend series compared to how they did for a weekend series against the Rays two weeks prior.
While the factors for attendance are numerous, it is possible that teams' plans for rebuilding are creating more big drops than in season's past. From 2013 through 2017, there were a total of six attendance decreases exceeding 5,000 fans per game over the previous season; there were six of those drops in 2018 alone, and we might be looking at two more this year. As for how much April numbers presage those at the end of the season, here's how last year's April attendance looks when compared to the end of the season.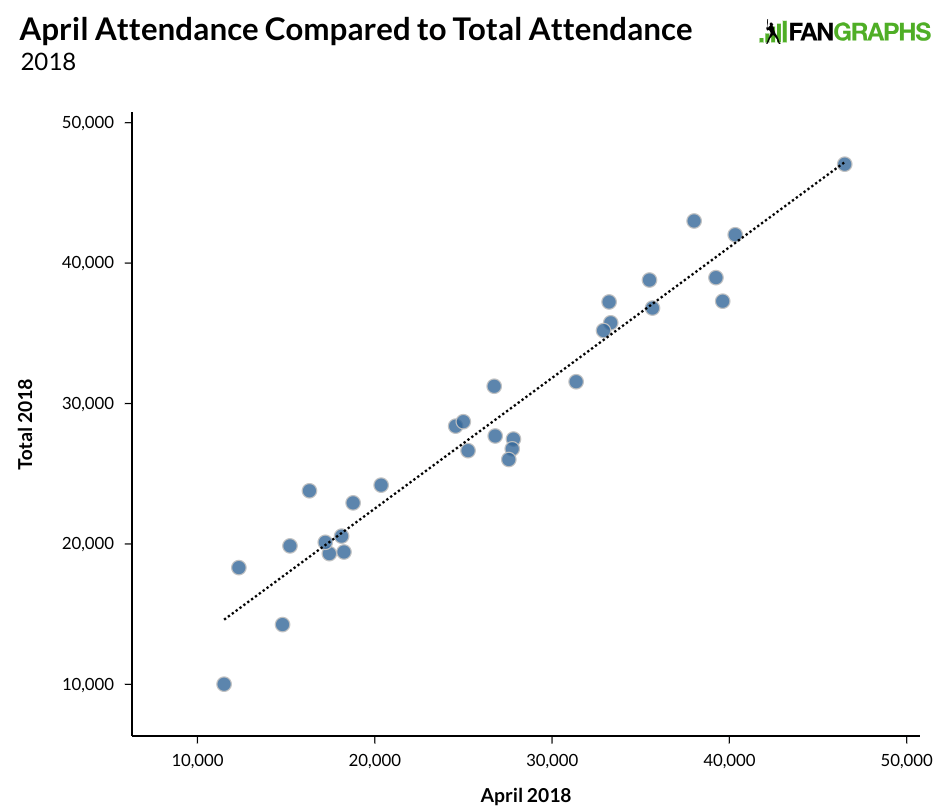 There are some minor outliers, but April numbers tend to do a pretty good job lining up with the rest of the year if you include a small increase from the April numbers. Last season's poor April attendance numbers were bailed out a little by good numbers the rest of the way, but that is a bit of an outlier compared to the last few seasons, as the table below shows.
Attendance Gains After April
| | April Per Game | End of Season Per Game | Change |
| --- | --- | --- | --- |
| 2014 | 28,900 | 30,346 | 1,446 |
| 2015 | 29,287 | 30,366 | 1,079 |
| 2016 | 28,,671 | 30,132 | 1,461 |
| 2017 | 29,430 | 29,909 | 479 |
| 2018 | 26,617 | 28,660 | 2,043 |
| 2019 | 26,361 | — | — |
If we only see an increase of 1,000 fans per game at the end of the season compared to April, baseball is going to lose more than three million fans in attendance. It's possible slow winters have dulled early-season excitement for some fans, though some of the most active teams have seen pretty big rises this April. Some teams' fans might be taking a wait-and-see attitude while others are simply staying away. Another factor in baseball's overall attendance lag could be the lack of new stadiums, which tend to send attendance upward for a few years. The graph below shows attendance per game, and the number of new stadiums over the past 30 years. As new stadiums have stagnated, so has attendance.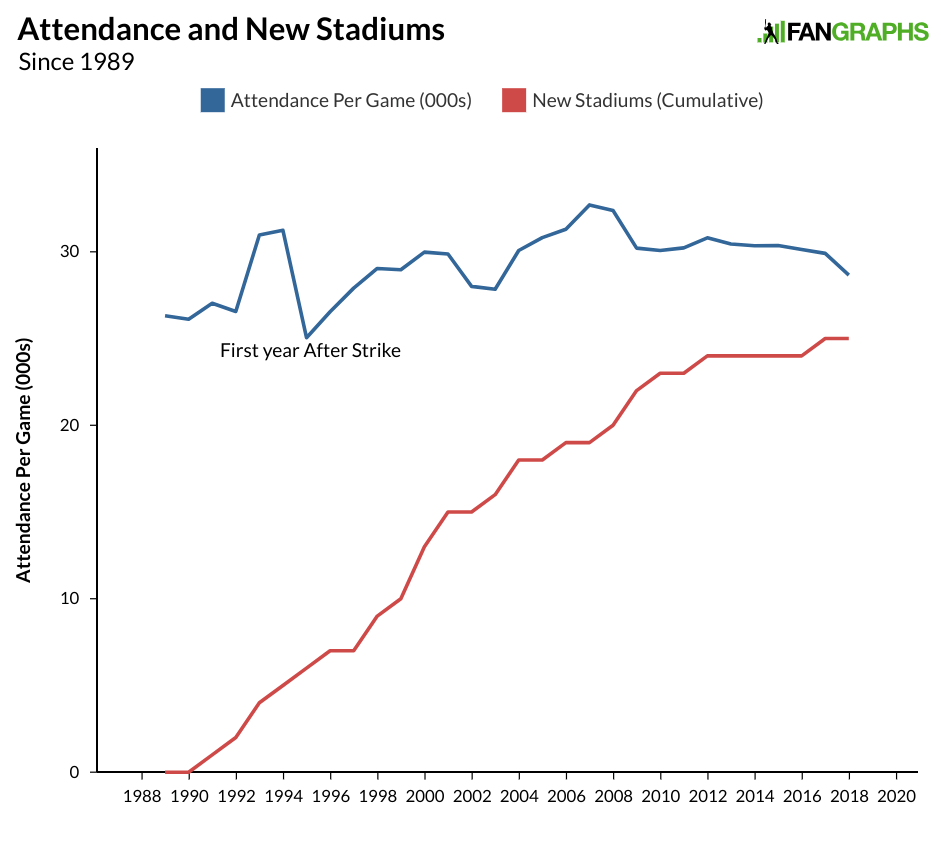 Attendance is still well above where it was in the 1980s, and it grew by 20% in the 15 years following the strike as a new stadium was built basically every year. But those gains have stopped, and are showing some signs of decline that very well could continue this season. Whatever teams are doing, whether it is the slow winters or the lack of expected competitiveness or the price of tickets, it isn't attracting more fans at the ballpark. The teams that are doing well this season compared to last had active winters or just won a bunch of games. The sport needs to do whatever it can to cultivate new fans and to get them out to the ballpark because without them, the television money that has made baseball less dependent on attendance will eventually dry up as well. Generating excitement about a team, through wins and activity in the offseason, is the best way to get more people to buy tickets.
Craig Edwards can be found on twitter @craigjedwards.