Things aren't going all that well for the Phillies. On Wednesday night, with Aaron Nola on the hill, the team looked to take their third consecutive game from the Reds, in the hopes of adding to their solid start to September. But after Nola gave up five runs in the first two innings, and their comeback was foiled by a bullpen implosion, Philadelphia's early-month momentum was stopped right in its tracks.
On Thursday afternoon, the story was different, but the result was the same. The Phillies couldn't get the clutch hit, and the team went 2-for-11 with runners in scoring position before falling 4-3 in 11 innings. With losses in back-to-back games to close out the series, Philadelphia had to settle for a split with Cincinnati. Things don't look better in the immediate future, either. The Phillies have the toughest remaining schedule, they do not have much depth, and their playoff odds have dwindled to just 1.9%.
Even as the 2019 outlook becomes bleak, there has been one major bright spot this year. If they do overcome the odds and make the postseason, this player could find himself receiving some down-ballot votes for NL MVP. No, I'm not talking about Bryce Harper; rather, I'm referring to J.T. Realmuto, who has officially solidified his status as baseball's best catcher.
The Phillies made the move to acquire Realmuto in early February, sending Sixto Sanchez, Jorge Alfaro, and Will Stewart to Miami. At the time of the deal, Jeff Sullivan considered the argument for J.T. Realmuto as baseball's catcher. This is what he had to say:
Realmuto probably isn't the best receiver in either league. We can't ignore that entirely. But based on everything we know other than framing, Realmuto's been the best catcher over the past three years. He's still young enough that he shouldn't decline yet. Whether Realmuto belongs at No. 1 depends on how much stock you put in framing metrics, but teams behave with a certain amount of skepticism. The numbers themselves are possibly, if not probably exaggerated, and teams think they can improve pitch-framing anyhow. Consider the fact that Grandal had to settle for a one-year contract worth $18 million. The league doesn't think of him as a six-win player.
Sullivan was clearly onto something there. Since this piece was written, framing metrics were added into FanGraphs' version of catcher WAR, and indeed, Realmuto was not a great framing catcher in 2018, ranking 37th out of 116 catchers in framing runs last year. That's not bad, but it also includes all of the catchers who received little playing time, perhaps because they were bad framers. Limiting our dataset to catchers with at least 500 innings last season, Realmuto ranked 20th out of 38 total backstops. Clearly, if there was one part of J.T. Realmuto's game that was lacking, it was pitch framing.
That has changed in 2019, and it may be a success story for the Phillies' player development department. Immediately following his trade, Realmuto was introduced to the "catching laboratory" installed at Spectrum Field, Philadelphia's spring training home.
"There's three different guys who told me they work with the catchers," Realmuto told Matt Gelb of The Athletic in February. "I'm like, 'Holy smokes.'"
It appears that this work done during the spring has paid off for Realmuto. It's certainly showing up in the numbers. After being worth just one framing run last season, Realmuto's already been worth +6.4 here in 2019, ranking eighth among the 40 catchers with at least 400 innings caught. That moves him from being a 47th percentile framer in 2018 to an 80th percentile framer in 2019, a monumental improvement.
Admittedly, Realmuto's offense has taken a slight step back this season. His season slash line of .277/.330/.493, while similar to his .277/.340/.484 line in 2018, has resulted in a 19-point drop in wRC+. This is likely due to two factors: his move to a more hitter-friendly ballpark in Citizens Bank Park and the league-wide increase in offense as a result of the juiced ball. He's been worth 10.1 offensive runs above-average, again a fairly significant step back from 2018 (+21.6). But his defense has reached a new level of excellence, and his 5.1 WAR is already a career-high.
And in the last month-plus, Realmuto's bat has been solid. Since August 1, he's hit for a .300/.362/.633 line and has been more valuable than Mike Trout, ranking fourth in the majors in WAR during this stretch.
Notably, Realmuto has been almost an entire win more valuable than the second-best catcher this season, Yasmani Grandal. Mitch Garver, who ranks third, is nearly two wins behind Realmuto. Here's what Realmuto's WAR advantage looks like graphically: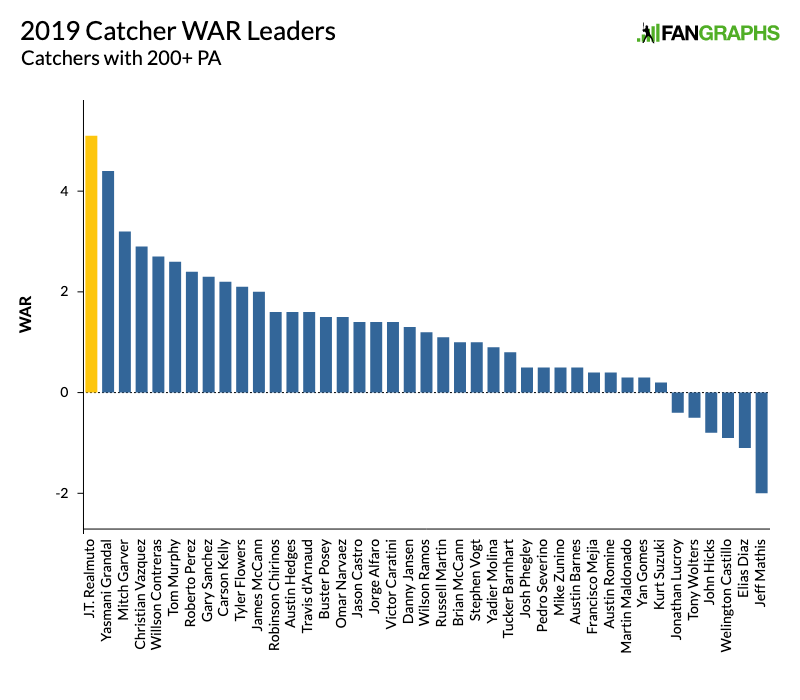 Let's just think about this for a second. Mariners catcher Tom Murphy, who has been really good this season, ranks sixth in WAR among all catchers, at 2.6. That's pretty good, but Realmuto has produced almost double that amount of value with his 5.1 WAR.
While all of this information is certainly helpful, calling Realmuto the best catcher in baseball requires more than just five months of data. Grandal has been his biggest competitor for this title over the past couple of years, and since he is currently second in 2019 WAR, let's compare the two further:
Realmuto vs. Grandal, 2019
| Name | PA | HR | AVG | OBP | SLG | wOBA | BB% | K% | wRC+ | BsR | Off | Def | WAR |
| --- | --- | --- | --- | --- | --- | --- | --- | --- | --- | --- | --- | --- | --- |
| J.T. Realmuto | 537 | 22 | .277 | .330 | .493 | .340 | 7.3% | 21.6% | 107 | 5.0 | 10.1 | 25.2 | 5.1 |
| Yasmani Grandal | 537 | 23 | .249 | .378 | .466 | .358 | 16.6% | 21.2% | 118 | -3.7 | 9.4 | 18.9 | 4.4 |
Though Realmuto has been the better offensive option of the two, and Grandal has been considered to be the better defensive option, their roles have been reversed here in 2019. This is good news for Realmuto's case because, as we can see, his excellent year behind the dish actually helps him make up some of the ground he's lost in prior seasons:
Cumulative Defensive Runs
| Year | Realmuto | Grandal | Difference |
| --- | --- | --- | --- |
| 2017 | 19.0 | 28.5 | -9.5 |
| 2018 | 27.9 | 47.8 | -19.9 |
| 2019 | 53.1 | 66.7 | -13.6 |
Grandal has been the better defender, and that's a score in his favor. But what about offense?
Cumulative Offensive Runs
| Year | Realmuto | Grandal | Difference |
| --- | --- | --- | --- |
| 2017 | 6.5 | -3.0 | 9.5 |
| 2018 | 28.1 | 6.7 | 21.4 |
| 2019 | 38.3 | 16.2 | 22.1 |
Here, Realmuto has reigned supreme. Interestingly enough, though, it's not his bat that has made the difference, it's his baserunning. Over the last three seasons, Realmuto has been 25.5 runs better than Grandal on the basepaths. Realmuto has actually been one of the best baserunners in all of baseball. He ranks 12th in baserunning runs this season and is 18th over the past three years. Since the beginning of 2017, Realmuto (11.4 BsR) has been almost as valuable on the bases as Elvis Andrus (11.5). In 2019, Realmuto's 54% extra-base taken rate — the percent of time a player moves from first-to-third on a single, or first-to-home on a double, for example — is 13 points above the league-average. Grandal's extra-base taken rate, to compare, is just 23%. That's added value that the average fan doesn't normally see.
This GIF isn't of him taking an extra base, but look at Realmuto's hustle on Thursday's triple:
Realmuto has legitimate speed. At 28.7 feet per second, his sprint speed ranks in the 90th percentile among all players and is second among catchers, just 0.1 feet/second behind Jorge Alfaro (funnily enough). And, speaking of speed on the defensive side of the game, Realmuto also has the fastest pop time of any catcher in baseball, while having the third-best average throw velocity.
With all of this considered, I think it's fair to call Realmuto a complete baseball player, let alone catcher. Catchers are often given leeway in terms of hitting and baserunning, as long as they are good behind the plate (See: Mathis, Jeff). But Realmuto has proven to be an above-average hitter, an elite baserunner, and one of the best defensive catchers in baseball to boot. With the small adjustments that he's made to his game this season, J.T. Realmuto has made one thing clear: he's the best catcher in baseball, a bright spot in the Phillies' lineup even as their high preseason expectations likely won't be met.
Devan Fink is a Contributor at FanGraphs. You can follow him on Twitter @DevanFink.