Pitchers learn and develop different pitches, and they do so at varying stages of their lives. It might be a curveball in high school, a cutter in college, or a changeup in A-ball. Sometimes the addition or refinement is a natural progression — graduating from Pitching 101 to advanced course work — and often it's a matter of necessity. In order to get hitters out as the quality of competition improves, a pitcher needs to optimize his repertoire.
In this installment of the series, we'll hear from three pitchers — Brett Anderson, Anthony Swarzak, and Jimmy Yacabonis — on how they learned and developed their sliders.
———
Brett Anderson, Oakland A's
"My go-to has always been my slider. I've evolved into more of a sinker guy now, but at the same time, my slider has kind of been my bread and butter for however long I can imagine. It's what I get my swings-and-misses with.
"I knew I had a chance to pitch on the varsity team as a freshman [in high school]. I wasn't going to go in there with a fastball and a changeup only, so I started throwing a curveball. It was a spiked curveball, because I have huge palms and short fingers. I've never really been able to throw a conventional breaking ball because of that; everything just kind of slipped out.
"I started off with that get-me-over curveball, just to have something that spun against varsity kids. It was like a 12-6. Then I started throwing one that was straighter and it cut a little bit. I kind of morphed that one into a slider. It's the same grip essentially, but two different pitches. I get on top for a curveball, usually just to get ahead, or to get back in the count; it's to steal strikes. The slider is more of my put-away. I spike both pitches, the slider and the curveball.
"My dad was a college coach, and we used to play catch in front of the house and at the field. I threw [the curveball] one day, and it was straighter, but then kind of went this way. Again, it kind of cut. I was like, 'All right, I kind of like that.' That turned into getting on the side of it and making it a little bigger. It kind of evolved into what I call my slider, although 'slurve' might be a better definition. It's just harder than a curveball. Regardless, it's what I've been throwing for 15 years now."
Anthony Swarzak, Atlanta Braves
"I first started throwing a slider in 2010, after I got sent down from the big leagues for the first time. Before that I was a four-seam, curveball guy. I brought a slider back to the big leagues in 2011, but it didn't really get better until probably 2013. Then, in 2016, my slider started getting a little harder; more velo. I started thinking cutter when I threw it — that was to make sure it didn't get loopy — but it's still a slider. It has depth. There's nothing funky about the grip, or anything like that. I just grab it and throw it as hard as I can.
"I started throwing it more when I got to the Yankees [in 2016]. I was trying to make that team. I did that; I made the team. That's when I started throwing it over 50% of the time. I was striking guys out with it, so they kept sending me back out there.
"The way I was doing things before hadn't working. I said, 'You know what? I'm going to throw more offspeed pitches.' That's really all I did. The more I threw my slider, the more I got comfortable with it. I developed a better feel and was able to start shaping it a little differently at times. Like anything else in the world, the more you do something, the more feel you get for it.
"My wife is actually who prompted me to start throwing more sliders. We were sitting at home, watching the playoffs, and she said to me, 'Anthony, these guys throw a lot more offspeed than you do.' So I started throwing more offspeed."
Jimmy Yacabonis, Baltimore Orioles
"I learned my new slider last year. The way I used to hold it… I throw a lot of two-seam fastballs that predominantly have tail and sink, and my old slider would start doing the same thing. It would have slider spin, but it would tail, or it would break straight down. I wanted more sweep to it. What I did was look up some videos and find some different grips that would make the ball sweep more.
"One of the things was hooking a seam. What I do now is hook the seam with my middle finger, and kind of almost throw it curveball-esque. I try to stay on top of the ball. From my arm angle, and the way I put pressure on my middle finger, I get that spin that makes it sweep. Throwing from low-three-quarters, I'm naturally going to get on the side of the ball, which makes for more sweep, and having my fingers more on top gets me depth to go with that.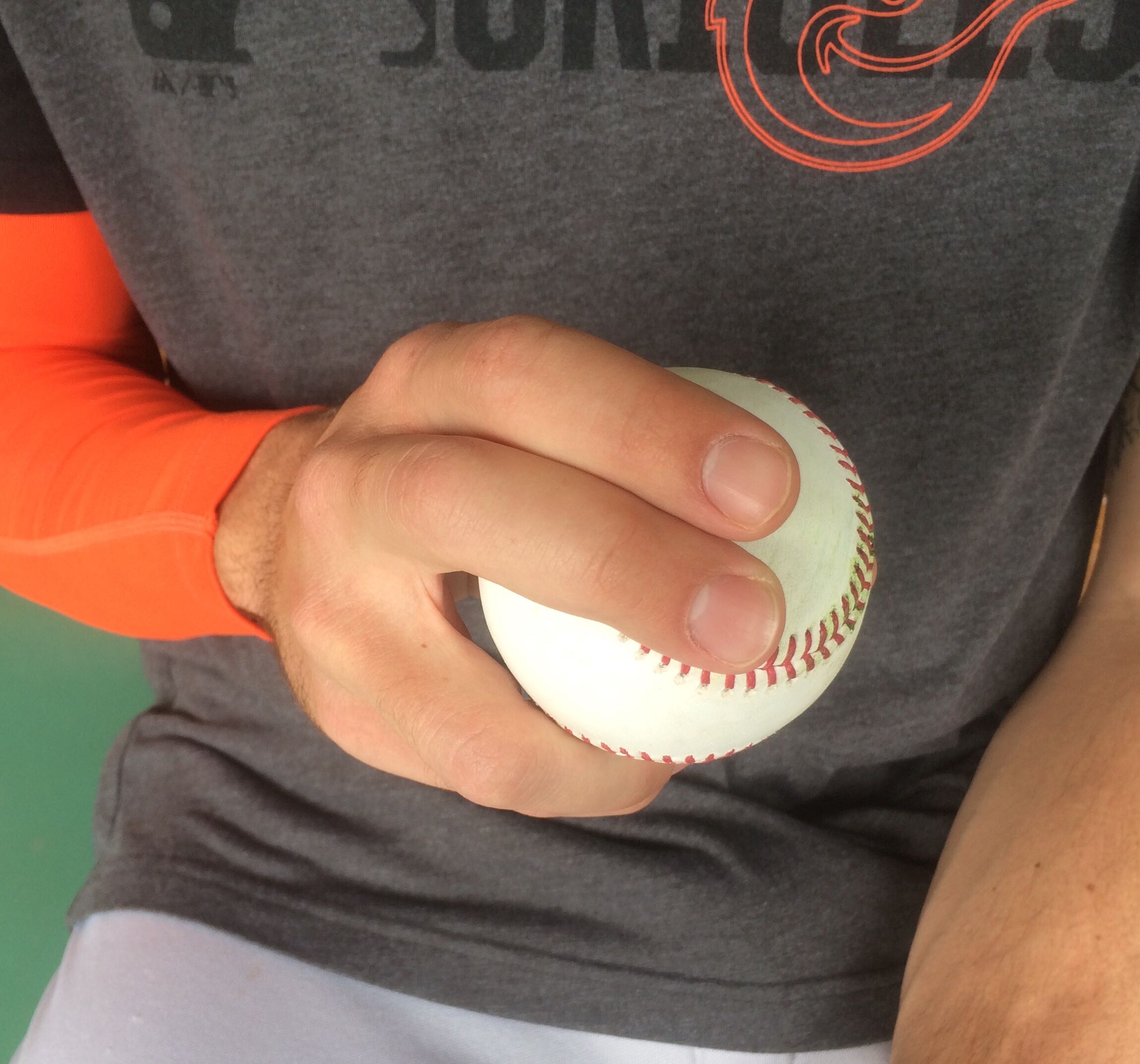 "I was a starter in Norfolk — I was up and down [from Triple-A] — and having that extra work day, that bullpen day, I was able to mess with grips. I finally found one that felt comfortable to me. It's predominantly two fingers, my middle and my thumb. When I have the thumb higher, I get more curveball spin. When I have the thumb more equilateral with the middle finger, it gives me more sweep. So I kind of have two sliders now.
"I look at my spin rate to see if I'm throwing a good slider, versus the one that's kind of a like a gyro and doesn't spin as much, or have that sharp break. I also look at where I release the ball. Another thing that's really helped me is looking at video of how other guys throw theirs.
"Max Scherzer's slider, I can't throw. I don't stay behind the ball enough. I kind of wrap the ball; I stay on top and wrap it a little bit. The one I try to make mine like is Adam Ottavino's. I saw Ottavino throw his slider and was like, 'I have to figure out how he gets that kind of break.' I saw him on MLB Network, talking about how he threw it. I tried it one day, and kind of modified my own grip to it. Of course, Ottavino has multiple sliders. He has the little cutter, the big sweeper, and the real hard sweeper."
——
The 2018 installments of this series can be found here.
David Laurila grew up in Michigan's Upper Peninsula and now writes about baseball from his home in Cambridge, Mass. He authored the Prospectus Q&A series at Baseball Prospectus from December 2006-May 2011 before being claimed off waivers by FanGraphs. He can be followed on Twitter @DavidLaurilaQA.