Brett Gardner's posted a walk rate north of 10% six times in his 11-year big-league career, including each of the last four seasons. He's racked up 2.5 WAR or better in every full season he's played, on the back of sometimes elite defense, consistently above-average offense, and the ability to knock a few dingers into the short porch in Yankee Stadium III. In other words, Gardner is a Very Useful Player, the kind of complementary piece every contending roster needs.
That's not Gardner's reputation, though. Instead, Gardner is regarded more as a "pest." Not because of his conduct as a person — I've never met him, though I'm sure he's a lovely human and fine conversationalist — but rather as a leadoff hitter. And the numbers mostly bear this out: this year, he's seeing 4.15 pitches per plate appearance, 10th best in the American League. Last year, it was 4.23 pitches per plate appearance, seventh best in the American League. In 2016, Gardner saw 4.09 pitches per plate appearance, 16th best in the Junior Circuit. You get the idea: Gardner is a tough out. Jeff Sullivan wrote about this last year during the playoffs.
Gardner's a pest in another way, too — namely, for how much time he requires between pitches. Consider: in 2018, Gardner has a pace of 24.8 seconds, placing him among the bottom-third of qualified batters by that measure. Last year, he was a bit slower (25.2 seconds), also among the league's slowest third of qualifiers. In 2016, he finished among the slowest bottom-fifth. That doesn't make him the most deliberate of hitters but still pretty methodical.
Whatever the case, it's enough to have caught the attention of Major League Baseball, which just fined Gardner for what it called "repeated pace-of-play violations" in May and June. The New York Post reports that the fines totaled $3,500 and are a result of six occasions, specifically, on which Gardner took too much time getting into the batter's box.
If you've ever watched Gardner get into the batter's box, you know that he doesn't exactly sprint out there. I couldn't find a whole lot of publicly available video of Gardner walking to home plate in May and June — with all due respect to Brett, it doesn't make for stimulating television — but there is some extant footage of Gardner's typical pre-at-bat routine. 
Here's Gardner from last year's playoffs, about to face Cody Allen of the Indians. I wouldn't be in a rush to face Cody Allen, either, but Gardner seems to need to clean the top of his bat in his armpit before he faces him, which, of course, takes time.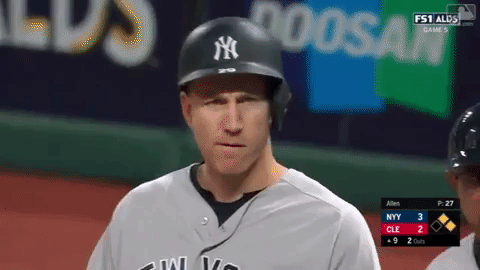 It's something like this that led to Gardner being fined. You see, Rule 5.04(b) says this:
The Rule states that a batter must take his position "promptly" but doesn't explicitly define that term. It does, however, get pretty specific about when a batter can and can't leave the batter's box:
And the Rule contains penalties for noncompliance, too:
Presuming that MLB followed this rule, Gardner was probably fined only after an umpire already warned him to stop taking so long to get in the batter's box. That assumes, of course, that all six fines weren't just levied because he didn't get to the batter's box from the on-deck circle quickly enough, but it stands to reason that the same previous-warning rule would apply; that's because this is the only penalty section in the whole Rule.
But Gardner, despite having presumably received a warning to hurry things up during each of the games in question, wasn't at all happy about the fines. Sportsnet New York passed this along:
"My agent started taking care of it," Gardner said. "I told them don't talk to me about it. I've got more things to worry about than taking three seconds too long to get to the box. Somebody else can [throw pickoff throws to first base] 27 times in a game and waste 15 minutes of everybody's time, and I get fined thousands of dollars taking three seconds too long to get in the box."
Gardner isn't the first to express this kind of displeasure. Adam Jones isn't a fan, either:
#Orioles Adam Jones (with @TinaCervasio) is not a fan of the pace of play initiatives pic.twitter.com/GCdg5LxRGw

— MLB Network Radio on SiriusXM (@MLBNetworkRadio) December 1, 2017
Because the exact instances weren't identified in either case and because Gardner saw 360 pitches in May and 345 pitches in June, there's really no way to figure out for which occasions Gardner was being fined pr whether they were, in fact, three seconds too long. But it actually stands to reason that Gardner wasn't exaggerating. The guys with the fastest pace at-bats in 2017 were basically all pitchers, believe it or not. Jered Weaver, Jeff Locke, and Dillon Peters top the list. Among players with 10 or more plate appearances last season, Travis Taijeron is the first actual position player in terms of pace, at No. 28. The first regular player was Cesar Hernandez, ranked 76th at 20.7 seconds.
Hernandez's number is significant, insofar as there's supposed to be a limit of 20 seconds between pitches, even if it's not in the Rule itself. The pace numbers suggest that basically no regular batter is working any quicker than that. Even if we account for the fact that the league's methodology for calculating pace differs from FanGraphs', we know there are still a bunch of batters working more slowly than Gardner. Are they all in violation, too? How many offenders are there?
So that's why Gardner might have a point here. The 20-second rule is supposed to relate to a pitch clock. Nothing in the Rule says "promptly" means "20 seconds." And pitchers aren't exactly complying with that either: of the 224 pitchers to have thrown 40-plus innings all but four of them currently have a pace mark of 20 seconds or more. Brad Hand is the worst offender, at more than 30 seconds between pitches.
In other words, Gardner's question is why hitters should be held to a Rule that basically every pitcher is ignoring, as well. And it's one worth asking, because it seems the overwhelming majority of MLB players are just not moving any faster. It's something about which Travis Sawchik has written eloquently here and here and here. And our July resident, Alexis LaMarsh, wrote about it here. In light of the kerfuffle with Gardner, they're all worth re-reading again. And from MLB's perspective, if they want to keep this pace-of-play initiative alive, they need to decide whether it's worth fining nearly every player in the game. It's just one more issue causing tension between MLB and the players as we move closer to the next labor showdown.
Sheryl Ring is a litigation attorney and General Counsel at Open Communities, a non-profit legal aid agency in the Chicago suburbs. You can reach her on twitter at @Ring_Sheryl. The opinions expressed here are solely the author's. This post is intended for informational purposes only and is not intended as legal advice.