Aroldis Chapman, most recently seen allowing a home run to José Altuve that sent the Astros to the World Series, has reportedly signed a contract extension with the Yankees that will keep him in New York through the 2022 season. The deal, as reported, adds one year and $18 million onto the two years and $30 million that were left on Chapman's previous contract, and answers the question — open since that Altuve home run — of whether Chapman would exercise the opt out in his contract and become a free agent this offseason.
Last week, Jon Heyman reported that Chapman, 32, planned to exercise his opt-out in the event he was unable to reach a deal with the Yankees for an additional year. That move would almost certainly have resulted in the Yankees extending Chapman a qualifying offer (this year set at $17.8 million), Chapman declining to sign at that price, and Chapman and his agent subsequently seeking a deal that involved the signing team giving up a draft pick.
Having no doubt watched the Craig Kimbrel experience play out last offseason, and presumably wanting no part of it, it makes sense that Chapman would pursue an extension in New York rather than test free agency with a QO hanging around his neck. This is now the second time the left-hander has chosen to return to New York (the first time, when he signed his current contract, came in 2016) and this extension guarantees him three more years in the city he calls home — not to mention a worry-free winter.
The Yankees benefit too. Retaining Chapman means that their excellent 2019 relief corps can return mostly intact, and in particular that Zack Britton, Adam Ottavino, Tommy Kahnle, and Chad Green can return to the roles they played last season, and are presumably comfortable with (that's especially true for Britton, who for obvious reasons threw in many of the same sorts of situations as Chapman). That's not to discount Chapman's contributions on their own terms, as they were excellent last year (a 2.28 FIP and a 36.2% strikeout rate over 57 innings pitched) despite modest declines in fastball velocity that began in the middle of 2018 and persisted in 2019: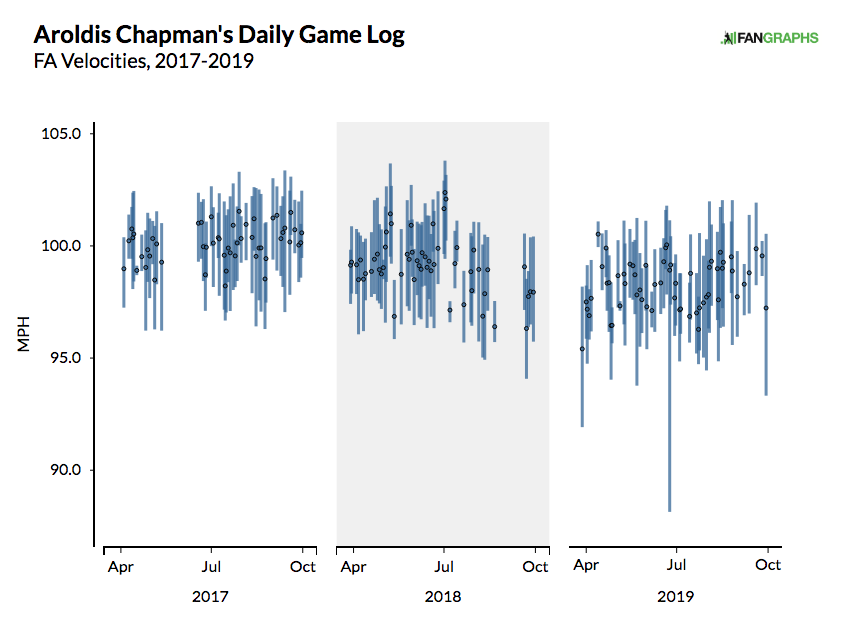 It's hard to know what to make of Chapman's velocity decline or what it augurs for his future effectiveness. As far as I can tell, the conventional wisdom on relievers is that they're good until they're not, except for elite relievers, who are good for longer until they're not. Chapman definitely falls into the latter category, and as Ben Clemen's wrote earlier this year, he's already demonstrated success in moving somewhat away from his fastball in favor of sliders inside the strike zone. Since Ben wrote that piece, Chapman has gravitated even more towards his slider, throwing it 31.1% of the time in 2019 against 19.7% two years ago and 19.3% on his career.
Perhaps most promisingly, Chapman has demonstrated a willingness to use that slider in most instances with the count even or behind, saving his fastball only for the first strike of the sequence (in the chart below, courtesy of Baseball Savant, his fastball is in red, his slider in yellow, and his little-used sinker in orange). That sinker only appears with two strikes and fewer than two balls, when Chapman uses it to try to generate swings and misses.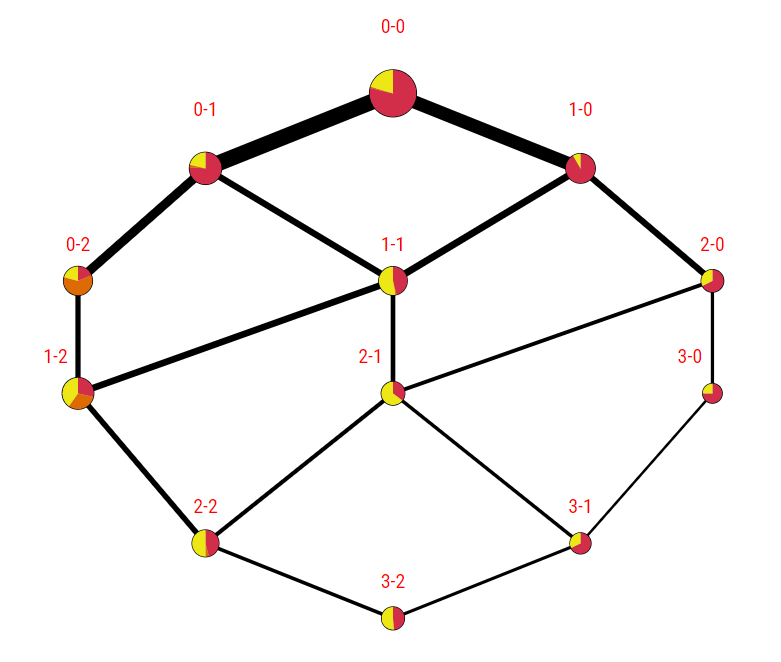 All in all, although I wouldn't personally want to be on the hook today for paying a generic 35-year-old reliever $18 million in 2022, I think this is the right move for the Yankees, whose owners are significantly richer than I. Chapman has convincingly demonstrated that he is anything but a generic reliever, and finalizing their bullpen this early in the offseason gives New York the cost certainty they need to pursue other, Gerrit Cole-shaped projects. What's more — and this is where it gets icky — the Yankees have clearly already decided that they're comfortable with Chapman's history and past suspension under the league's domestic violence policy (Hal Steinbrenner, their owner, was quoted in 2017, not long after Chapman signed his first deal with New York, as saying of the incident, "Sooner or later, we forget, right?").
Any other team that signed Chapman — save perhaps the Cubs — would no doubt have deservedly tarnished their reputation for doing so. For the Yankees, that decision was made three years ago, though that stretch hasn't dimmed our memories quite like Steinbrenner thought, or perhaps hoped, it would.
With Chapman's new contract will likely come ripple effects downstream in the relief market. Will Harris, Will Smith, Daniel Hudson, and Dellin Betances (not to mention Drew Pomeranz, Chris Martin, and Jake Diekman) are all available this offseason, and probably happy to see Chapman return to a team already rife with relief arms. There aren't quite as many sure bets on the market this offseason as there were, perhaps, a year ago, when Kimbrel, Britton, Cody Allen, Jeurys Familia, Kelvin Herrera, Andrew Miller, Joakim Soria, David Robertson, and Ottavino were all available. But there are still enough that the teams most in the market will find plenty to consider this winter.
Rian Watt is a contributor to FanGraphs based in Seattle. His work has appeared at Vice, Baseball Prospectus, The Athletic, FiveThirtyEight, and some other places too. By day, he works with communities around the world to end homelessness.