WAR isn't everything, and it can certainly be more variable year to year for pitchers than it is for hitters. Still, Charlie Morton — who has pitched in parts of 12 major league seasons and never before accumulated more than 3.1 WAR in a single year — has posted 4.7 WAR through 25 starts in 2019, and we're not even all the way to the middle of August. Here's how he compares to the league leaders in that category:
2019 MLB Leaders, WAR (Pitchers)
| Player | IP | K% | BB% | ERA- | FIP- | WAR |
| --- | --- | --- | --- | --- | --- | --- |
| Max Scherzer | 134.1 | 35.3% | 4.7% | 54 | 47 | 5.6 |
| Lance Lynn | 155.0 | 27.7% | 5.9% | 73 | 61 | 5.5 |
| Charlie Morton | 149.0 | 30.5% | 7.1% | 65 | 62 | 4.7 |
| Jacob deGrom | 143.0 | 31.5% | 6.1% | 67 | 66 | 4.6 |
| Gerrit Cole | 156.2 | 36.8% | 6.4% | 65 | 68 | 4.5 |
Through games played on Saturday, August 10th.
Morton, who signed as a free agent with the Rays this offseason after stints in Atlanta, Pittsburgh, Philadelphia, and Houston, has been a few different pitchers over the years. With Pittsburgh, where he established himself as a credible big league starter after a spotty minor league track record for the Braves, Morton threw two-seam fastballs nearly two thirds of the time and earned a reputation as a groundball machine, ranking 11th in the majors in GB% over the course of his seven seasons with the Pirates. In Philadelphia in 2016, and then even more markedly in Houston, where he won a world title in 2017, Morton raised his velocity by about two miles per hour across the board and added a cut fastball to complement his elite curveball.
This year for Tampa, Morton is throwing that curveball more frequently than he ever has before — 36.5% of the time, against a previous career high of 29.3% last year — and has found previously unknown levels of success in pairing that pitch with that cut fastball he first developed in Philadelphia and has been refining ever since. That pitch, in particular, has allowed Morton to make significant strides against lefties, who previously burned him to the tune of a career .344 wOBA against, but who are posting a substantially worsened .288 against him this year.
"[The cutter] has always been a pitch that I thought I could benefit from," said Morton, "especially against lefties, but when I started to throw it a little bit more last year, just in common counts, or if I was in behind, just to steal a strike, I kept missing bad glove-side — I was pulling it. I was trying to manipulate it, and I didn't want to get burned on it, so I wound up throwing them in the left-handed batters' box a lot, and they were non-competitive pitches."
"This year, I've tried to change my sights on it, and challenge hitters more with it, because I think that a lot of times I can get away with it. A true cutter is a lot harder than what I'm throwing. If I'm throwing 93-96, and I'm throwing an 83 mph cutter, that's not a cutter, it's a slider. But I try to have the mentality that it's a cutter, and against lefties especially I've tried to be a little more aggressive with it in the zone."
You can see that approach show up in the zone charts as clear as day. Against righties in 2019 (the chart on the left), Morton has buried his slider/cutter down and away, careful not to let it bleed up and into the zone where it can run into the barrel of the bat. That's the same as it ever was. Against lefties (the chart on the right), Morton has become far more willing to come in on the front hip or even dead center of the zone. At their best, those pitches are strikes — swinging or taken. At their worst, they're groundballs. Just five all year have turned in to line drives or fly balls.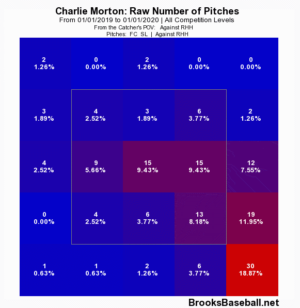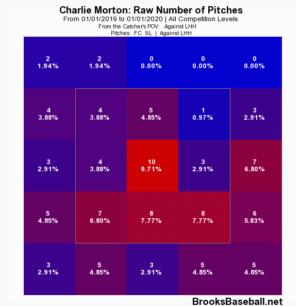 The obvious story of Morton's 2019 is, of course, his increased curveball usage, and I think it's fair to say that pitch continues to drive Morton's success against righties. But that curveball didn't do him much good against lefties while was his only breaking option early in counts and the put-away pitch. That's where the slider/cutter has come in: as a way to get ahead in counts against lefties. This year, the righty/lefty split against Morton is as good as it's ever been, and those lefty hitters are putting up only that .288 wOBA against him. "I think coming out of spring training," said his pitching coach, Kyle Snyder, "the real focus was on improving his numbers against lefties. Beyond the curveball, the breaking ball/cutter was good, and so we just looked at the zone rates last year and mentioned to him that it might work to throw earlier in the count a little more often. And he picked it up right away."
"I don't really pitch off my cutter," Morton said, in explaining his approach. "Maybe if I execute like a front-hip to a lefty, maybe I can go up and in with my cutter. Or maybe if I execute a backdoor cutter to a lefty, I can work off of that and maybe expand off that with another fastball. But I'm not using my cutter to set up other pitches simply because I don't have a great command of it, and I don't feel like the shape of it is very consistent. I don't really have a great grasp of what that pitch is doing, or what hitters are seeing out of it. It's there to steal strikes early in counts."
"[Snyder] is a really well-rounded pitching coach, anywhere from sequencing to mechanics, the PITCHf/x stuff, and Trackman. Houston and Tampa are very similar there. It's interesting that you mentioned and noticed Pittsburgh too, [as a team with a well-established pitching philosophy]. I'd say that the Astros and the Rays have a philosophy, but their philosophy is more centered around the individual and their strengths. The Pirates are more centered around a pitching philosophy that they want their pitchers to adhere to, more of 'We have a method here that we think you fit well; the method works for you.' For me it was throwing a lot of two-seamers, and getting a lot of balls on the ground. One's not wrong, and one's not right. But this approach [in Tampa] allows for the expansion of what kind of pitcher you can be."
This year, Charlie Morton — who established himself in Pittsburgh, took his game to another level in Houston, and is having the best year of his career this year in Tampa at age 35 — looks like he can be one of the best pitchers in baseball. Hitters around the game are noticing. So is his pitching coach, who like Morton is relatively new to St. Petersburg. "I've never met the likes of a guy like Charlie," said Snyder, "just given his reps and the life experience. When he starts talking about something, the conversation take on a life on its own. I'm not kidding when I say that I've learned more from Charlie than Charlie's learned from me. I'm still developing more in my role than Charlie is developing in his."
Rian Watt is a contributor to FanGraphs based in Seattle. His work has appeared at Vice, Baseball Prospectus, The Athletic, FiveThirtyEight, and some other places too. By day, he works with communities around the world to end homelessness.