As beef goes, the Chris Paddack–Pete Alonso back-and-forth wouldn't make the grade for even the sketchiest ballpark hot dog; Monday night's Petco Park matchup between Paddack and Jacob deGrom was of a choicer cut. In just his seventh big league start, the 23-year-old rookie dominated a flailing Mets lineup and out-dueled the reigning NL Cy Young winner, continuing a run that has produced some eye-opening numbers.
Paddack and deGrom matched zeroes until the bottom of the fifth inning, with the former, consistently attacking high in the zone, having struck out eight to that point while allowing just a pair of singles, and the latter punching out four while allowing just one single. In the bottom of the fifth, Hunter Renfroe — still basking in the glow of Sunday's walk-off grand slam against the Dodgers' Kenley Jansen — hit a solo homer. The Mets put two on base in the top of the sixth to no avail, and the slim margin continued until the bottom of the seventh when the Padres scored again on an Eric Hosmer single, a Renfroe double, and a Ty France sacrifice fly. That was deGrom's last inning, while Paddack continued until yielding a two-out single to Jeff McNeil in the eighth. He departed having struck out a career-high 11 while allowing just four hits and a walk; he went to a three-ball count just twice. The Padres cruised to a 4-0 win.
As you can see from the video, two of those strikeouts were of Alonso, who last week was named the NL Rookie of the Month for April, an award that generally flies beneath the radar. It didn't fly beneath Paddack's radar, however, and with Monday's matchup pending, the pitcher engaged in a bit of trash talk so innocuous it wouldn't have induced Ned Flanders to cover his children's ears. Via The Athletic's Dennis Lin:
"He's a great player, no doubt," Paddack said. "Does he deserve (the Rookie of the Month honor)? Absolutely. But I'm coming for him. We'll see Monday who the top dog is. That's something I'm looking forward to, for sure. And I'm not saying that in a cocky way. I'm saying that because I know what I want, just like I'm sure he knows what he wants. It'll be a fun little matchup.

"Do I wish it was me? Yeah. But the way I look at it is, do you want to be Rookie of the Month or Rookie of the Year? We'll see, man. We've got a long season and I'm looking forward to Monday, competing against him."
Oh my gosh, we'd better take the plastic cover off the fainting couch! Alonso wasn't happy about Paddack's words or his own 0-for-3 performance against his new nemesis, but this isn't exactly Trevor Bauer versus Alex Bregman, or Tim Anderson versus Randal Grichuk. In a city with multiple tabloids, this was nowhere close to back cover material, even if it did touch the sore spot of a Mets offense gone missing (28 runs in 12 games).
(For what it's worth, Alonso would provide a belated comeback on Tuesday night with a four-RBI evening capped by a 449-foot homer that put the Mets ahead for good.)
With his dominant performance, Paddack took over the NL lead in ERA (1.55), climbed to second in FIP (2.33) and WAR (1.4, tied with fellow changeup artist Luis Castillo), and fifth in strikeout rate (30.7%) and K-BB% (24.0%). Batters are hitting just .130/.193/.196 against him, a performance that uncannily resembles Cubs pitcher Jake Arrieta's .133/.188/.200 batting line from last year. All of Paddack's slash stats are NL lows, as is his .176 BABIP. Fleeting though they may be due to their small sample size, those are just ridiculous numbers that beg for investigation.
If you're not yet up to speed on Paddack, you're forgiven. The 6-foot-4, 195-pound righty didn't quite come out of nowhere, but he hasn't been on the radar to anyone besides astute prospect hounds and fantasy owners for long, for multiple reasons. A 2015 eighth-round pick by the Marlins out of Cedar Park High School in suburban Austin, Texas, he was already halfway past his 19th birthday on draft day, as our prospect team noted, and what's more, he "had no feel for spin (something modern pitching research has determined isn't a malleable trait)." Traded to the Padres straight up for Fernando Rodney on June 30, 2016 — hey, stop laughing! — he was derailed by Tommy John surgery after making just three starts in San Diego's system, knocking him out of competitive action for over 21 months. Thus, from 2015-18, he threw just 177.2 minor league innings, with 37.2 (in seven starts) at Double-A San Antonio last year, the highest level he'd attained; he threw 90 innings all of last season. As absurd as his minor league numbers were (1.82 ERA, 34.1% strikeout rate, and 3.0% walk rate, with a 154-to-9 strikeout-to-walk ratio spanning from 2016 through 2018), he didn't dent top prospect lists until the middle of last season. This year, he made our list at number 34, matching MLB Pipeline for his highest ranking.
As they did with Fernando Tatis Jr., the Padres refreshingly opted to forgo the service time shenanigans, including Paddack on the Opening Day roster and handing him the ball on March 31, the season's fourth game. Now, in seven starts, he's allowed more than two runs just once (versus the Reds on April 18), and walked more than one just once (versus the Cardinals on April 6, when he walked four in 3.2 innings, his only outing of fewer than five frames). Though the Padres have scored just 21 runs in those starts, they're 6-1 thanks to his run prevention skills, and a respectable 20-17 overall, third in the NL West.
What stands out upon watching Paddack, even before the quality of his stuff, is a relentless combination of working fast and getting ahead in the count, apparent manifestations of the intensity and focus that draw mention by writers who cover him directly. Among 97 qualifiers through Monday, he's tied for fourth in pace (21.3 seconds between pitches), and first in his rate of first-pitch strikes (75.3%). He's in a hurry to get rid of hitters, and he's got the weapons to do so.
Paddack's four-seam fastball averages 94.4 mph according to Pitch Info; he ranges from 92-96 and has maxed out at 98.6. He commands the heater well to both sides of the plate against batters of both hands, and isn't afraid to work up in the strike zone. Through Monday, his 12.9% rate of fastballs in the upper third of the strike zone ranked sixth out of the 110 pitchers who have thrown at least 500 pitches, and he was 10th among that group in total percentage of pitches in the upper third of the zone or higher. Unlike some of the other practitioners of the style, he's gotten very good results so far:
Highest Rate of Four-Seamers in the Upper Third of the Zone or Higher
| Pitcher | Team | FF Up | Total Pitches | Up% | Whiff/Up% | wOBA | xwOBA |
| --- | --- | --- | --- | --- | --- | --- | --- |
| Jacob deGrom | Mets | 240 | 710 | 33.8% | 18.3% | .193 | .258 |
| Tyler Glasnow | Rays | 195 | 600 | 32.5% | 11.3% | .276 | .229 |
| Justin Verlander | Astros | 220 | 717 | 30.7% | 14.5% | .473 | .444 |
| Tyler Mahle | Reds | 161 | 524 | 30.7% | 15.5% | .322 | .337 |
| James Paxton | Yankees | 199 | 658 | 30.2% | 17.1% | .340 | .267 |
| Gerrit Cole | Astros | 246 | 822 | 29.9% | 24.0% | .198 | .171 |
| Jake Odorizzi | Twins | 170 | 582 | 29.2% | 18.8% | .228 | .246 |
| Matthew Boyd | Tigers | 184 | 667 | 27.6% | 16.3% | .262 | .228 |
| John Means | Orioles | 162 | 587 | 27.6% | 15.4% | .213 | .250 |
| Chris Paddack | Padres | 165 | 607 | 27.2% | 13.9% | .068 | .160 |
SOURCE: Baseball Savant
500 pitch minimum through May 6. FF Up = Four-seam fastball pitches in Gameday Zones 1,2,3, 11, or 12. Whiff/Up% = swings and misses per pitch in aforementioned locations.
Batters are 0-for-28 on plate appearances that have ended with Paddack's high heat, with 13 swinging strikeouts (including five Mets on Monday) and two looking (one Met). When batters connect with one of his high fastballs, the average exit velocity is a piddling 78.0 mph, and only five batters have hit such a pitch with an exit velo of 95 mph or higher, never more than one in a start.
Paddack isn't afraid to go up and in with the fastball, either: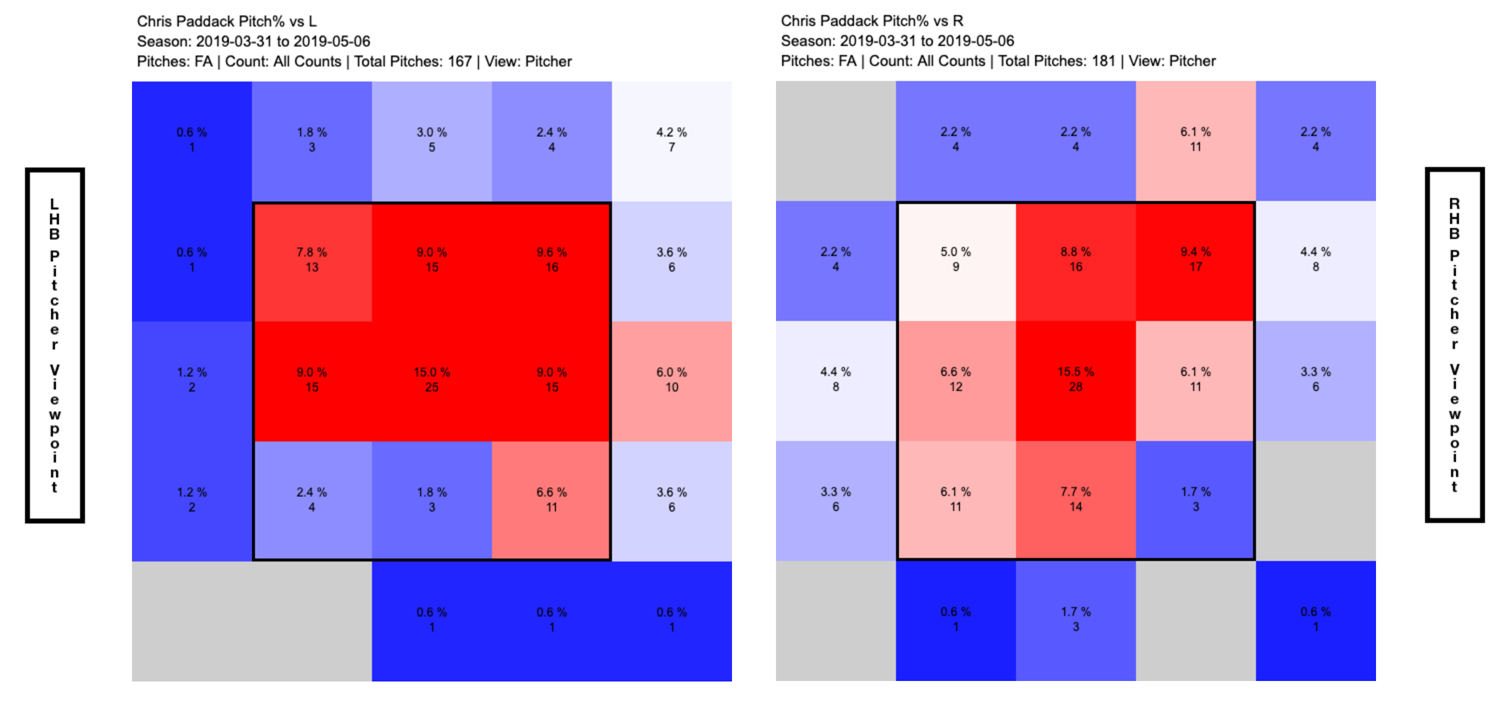 As effective as it's been thus far, Paddack's fastball — which overall has yielded a .176 wOBA and a 9.8% swinging strike rate thus far — might not be his best pitch. The competition is his changeup, which he throws with a Vulcan grip and sells with identical arm speed. It averages 84.2 mph, giving him over 10 mph of separation from the heater. He's thrown the change 32.5% of the time, the league's third-highest rate; he just overtook Castillo's 31.3%. His results aren't quite as impressive as those that Castillo has gotten this year, but compared to just about everybody else, look out.
Battle of the Changeups: Paddack vs. Castillo
| Pitcher | PA | AVG | OBP | SLG | wOBA | xwOBA | EV | GB% | O-Swing% | Zone% | SwStr% |
| --- | --- | --- | --- | --- | --- | --- | --- | --- | --- | --- | --- |
| Paddack | 63 | .138 | .206 | .155 | .172 | .219 | 83.5 | 66.7% | 51.2% | 36.6% | 21.3% |
| Castillo | 85 | .104 | .188 | .104 | .148 | .155 | 81.8 | 66.7% | 54.5% | 26.8% | 30.5% |
SOURCE: Brooks Baseball, Baseball Savant
wOBA, xwOBA and EV via Baseball Savant, all other stats via Pitch Info.
Paddack throws his changeup in the strike zone more often than Castillo, and doesn't induce as many chases, or swings and misses. Nonetheless, batters are getting absolutely nowhere against the pitch. By wOBA allowed, his is just below Castillo's on the leaderboard:
Lowest wOBA Allowed via Changeups
SOURCE: Baseball Savant
Minimum 100 pitches through May 6.
Mercy. As for Paddack's curve, he's thrown it 10.1% of the time, and it's nothing close to a go-to. It lacks deception; he has yet to strike out a single hitter with it, and has gotten swinging strikes just 4.9% of the times he's used it. Batters are hitting .222/.222/.333 in the nine plate appearances that have ended with it. Sooner or later, he's going to need a reliable third pitch, but right now, his other two have been so good that nobody has minded.
Overall, Paddack owns the majors' ninth-highest chase rate (36.2%) and 20th-highest swinging strike rate (12.9%). Per Statcast, his 86.3 mph average exit velocity puts him in the 80th percentile, his 30.1% hard hit rate in the 82nd — very good, not elite. His groundball rate is a modest 44.1%. But thanks to his exceptional command and ability to miss bats, his .238 xwOBA puts him in the 94th percentile, pretty much the same conclusion one can draw from his FIP.
Those silly, video game-like numbers aren't going to hold up in their extremity, and given last year's 90 innings, his workload will inevitably be limited, with low pitch counts (Monday's 91 pitches was his first time above 90), extra days between starts, probably some skipped turns, and, according to the pitcher's own words, a target of 130 to 150 innings. Maybe it won't be enough for him to win NL Rookie of the Year honors, or threaten the likes of deGrom and Max Scherzer in the Cy Young race, but that won't make him any less exciting to watch.
Brooklyn-based Jay Jaffe is a senior writer for FanGraphs, the author of The Cooperstown Casebook (Thomas Dunne Books, 2017) and the creator of the JAWS (Jaffe WAR Score) metric for Hall of Fame analysis. He founded the Futility Infielder website (2001), was a columnist for Baseball Prospectus (2005-2012) and a contributing writer for Sports Illustrated (2012-2018). He has been a recurring guest on MLB Network and a member of the BBWAA since 2011. Follow him on Twitter @jay_jaffe.