At the start of the 2019 season, the Padres went against conventional baseball wisdom. Chris Paddack, their highest-rated pitching prospect, and Fernando Tatis Jr., their best prospect, both looked ready for the big leagues. Most teams would have left them down in the minor leagues to start the year. They'd have thrown around "working on their defense" or "learning to be a pitcher, not a thrower," but the reason would be economics. Leave a prospect down for a few weeks, and there's an extra year of control in it for you on the other side.
The Padres, though, weren't in the mood for games. Their two highest-paid players lobbied the owner to have Tatis on the opening day roster. Paddack didn't need a promotional campaign: he struck out 24 batters in 15.1 innings of spring work. His changeup looked dominant. He was ready, and the Padres saw it: he started the fourth game of the season. Skipping service time games and letting your best players play was a revelation, if an obvious one. Paddack started the season with a 1.93 ERA over nine games, Tatis was the team's best hitter, and "your best players should play" looked like a new and exciting counter to the service-time doldrums.
On Wednesday, the Padres demoted Chris Paddack to the minors. It almost doesn't matter which level he's headed to (High-A Lake Elsinore), because he's unlikely to throw many innings on the farm. The Padres have been cautious with Paddack's workload this year, only his second season back from Tommy John surgery, and there's no reason to put stress on his arm against Cal League batters. Indeed, manager Andy Green was quick to mention workload management when describing why Paddack was being optioned:
"Rest is part of the equation. We've talked all year long about understanding that Chris had some limitations when it came from pitching from the first day of the season to the last day of the season. We're cognizant of that. This is a good time to get some work done and get some rest at the same time."
Sending Paddack to the minors looks odd at first glance. He has a 3.15 ERA and a 3.71 FIP, and he's probably the best starter on the Padres. Why send him down? Let's consider a few possible explanations before jumping to any conclusions.

Rest (and Performance)
It's right there in Andy Green's description. Paddack is going to a resort town in Southern California, after all. Given that 2018 was Paddack's first year back from a UCL replacement, he's on a workload limit this year. He threw 90 innings over two levels of the minors, and told AJ Cassavell he expected to pitch between 130 and 150 innings this season.
Paddack's 2019 suggests that the Padres are serious about managing his workload. He's eclipsed 90 pitches in a start just three times this year, topping out at 92 pitches on May 14; every Paddack start has lasted between 79 and 92 pitches. He's made three starts on extra rest already. Before being sent to the minors, Paddack was on pace to throw just over 150 innings on the year.
Still, is there any indication that Paddack could use a quick break? Take a look at his stats for a second, and it's clear he's hit a rough patch over the last three games. He's allowed six home runs. His 6.98 FIP over those starts is nearly as high as his 7.53 ERA, and even controlling for HR/FB, his 4.23 xFIP doesn't show a pitcher firing on all cylinders.
Results, though, don't necessarily demonstrate fatigue. Jacob deGrom had a three game stretch where he posted a 9.69 ERA and 7.53 FIP earlier this year, and no one thought about getting him more rest. If Paddack is truly tiring, we'd expect to see it in his fastball velocity. A quick look doesn't tell us much: his velocity was down for most of May, but ticked back up in his most recent start: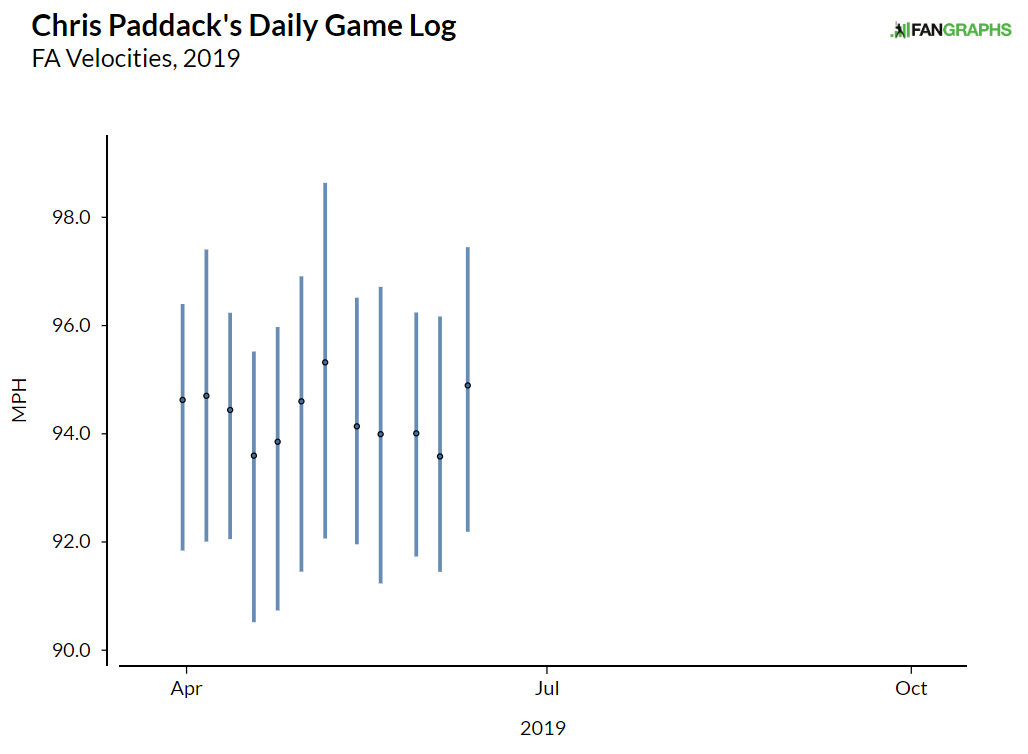 That's a blunt metric, though. There's a ton of variation within each start, and if Paddack threw a ton of fastballs to start one game and mostly changeups to start another, that could move the game average a bit. Let's do a slightly fancier check — this is, after all, a fancy-math baseball website. Take a look at how much juice Paddack has lost on his four-seamer from the first 25 pitches to the 51st-75th pitches in each start: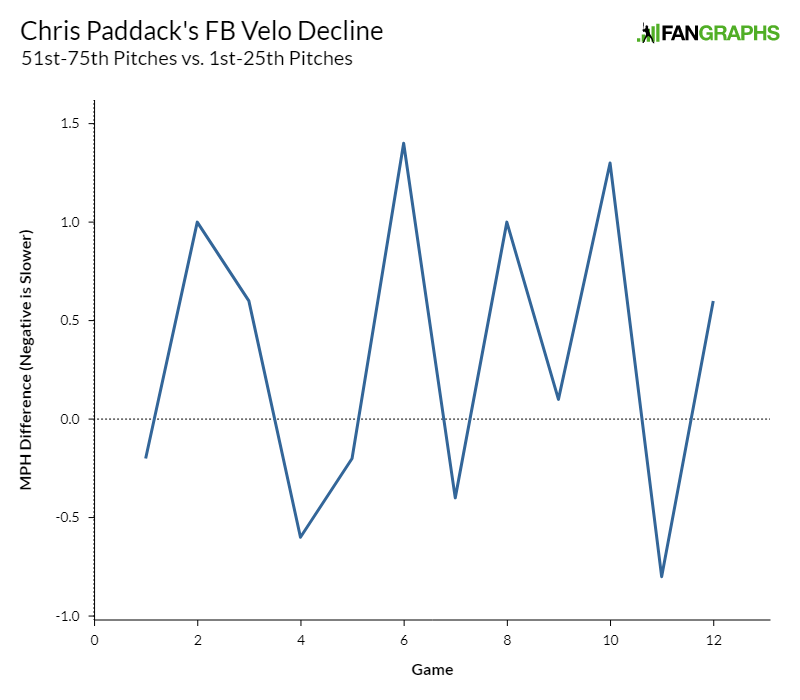 Honestly, there doesn't seem to be much here. Two starts ago, he undoubtedly lost a little velocity as the game went on. In the two starts surrounding it, however, he actually gained velocity as the game went on. Maybe the Padres always had a plan to give Paddack extra rest mid-season, but he doesn't appear to be tiring.
Getting Some Work In
This is the other aspect of the decision Green discussed. Paddack is going to Lake Elsinore to do some work. In case you were wondering, he's specifically going to work on his changeup. As Green put it when referring to the pitch, "I think we'll see him make some real adjustments." Now, that's a pretty bold claim, because Paddack's changeup has been his carrying tool throughout the minors, and it was downright nasty to start the year in the majors. I had to watch this strikeout twice to make sure Paddack wasn't throwing a Wiffle Ball:
Still, maybe something has changed about the pitch in the last few starts. In his most recent start, Paddack allowed a home run on a changeup and got only a single swinging strike with the pitch. When I looked closer, however, I didn't see anything out of place. His changeup velocity has hardly budged all year. The separation between his changeup and fastball release points is metronomic. He's getting the same sink on the pitch as always. In his most recent start, the changeup had about an inch less horizontal fade than normal, but prior to that, it was mostly indistinguishable from start to start. In short, nothing about the pitch's movement and release looks amiss.
Even if you don't limit yourself to just looking at his changeup, it's hard to see any convincing evidence that Paddack needs to do some tinkering. His swinging strike rate is down over the past three games, to 8.8%, but that's hardly an outlier given how much variance there is in the stat. His strikeout and walk rates have barely budged — his walk rate is even down a bit over the last three starts. Maybe batters are just crushing everything against him? Seemingly not — his hard-hit rate has declined over the last three games, and his exit velocity on balls in the air is right in line with the rest of his season.
If there's a worrying pattern over Paddack's last three games, it's a decline in groundball rate. He ran an above-average groundball rate in the minors, a rarity for a vertical arm slot, high-spin four-seam pitcher. Over the last three games, however, opponents have been elevating the ball quite a bit — over those three games, his GB/FB is 0.85, a far cry from his minor league career average of roughly 1.5. Even this evidence, however, is flimsy. Paddack ran even lower groundball rates over his first six starts, and he was tremendously effective then. It looks mostly like random variation, and it's no surprise that a pitcher who relies on a rising fastball allows some fly balls. Overall, it looks like Paddack has the stuff to be an effective pitcher right now, without going down to Single-A to work on his pitches.
Service Time
You'll be shocked, shocked to find that there might be financial motives for demoting Paddack. The current CBA provides a strong incentive to have rookies accrue less than 173 days of service time — the dreaded demarcation line that kept luminaries like Kris Bryant and Vladimir Guerrero Jr. in the minors to "work on their defense." The Padres' season lasts 186 days this year, and as the season-day calculations aren't perfectly known in advance, the team would probably need to keep Paddack down at least 20 days to ensure an extra year of arbitration and team control out of the deal. The Blue Jays, for example, kept Vlad Jr. down 30 days to start the season.
What do the Padres get out of an extra year of control? I'll do the bare-bones economic assessment here, though there's been plenty of debate across the internet about it already. At the most basic level, if Paddack gets less than a full year of service time this season, he'll receive a fourth year of arbitration-based compensation in 2025 rather than becoming a free agent after the 2024 season.
In the interest of figuring out the most this could possibly be worth to the Padres, let's be generous and say that Paddack will be a 3.5-WAR pitcher that year and that the Padres will only pay him $15 million. Both of these assumptions are pretty generous, but we're taking an extreme case here to prove a point. Using a cost per WAR of $10 million (again, we're being generous), the Padres could get a whopping $20 million in 2025 surplus value out of 20 days of minor league shenanigans this year. The actual number is probably substantially lower (Paddack's mean outcome is likely lower, and his arbitration salary is likely to be higher if he is that good), but $20 million seems like a realistic high end.
Money in 2025, however, isn't worth the same as money today. We need to estimate the time value of money to the Padres to understand the present value of this prospective arbitration windfall. Though the Padres opened some of their books in the offseason, we don't have a good estimation of what their borrowing rate is. Because we're just estimating here, I'm going to do some Bad Finance and assume they borrow at the BBB corporate rate. This is a huge hand-wavy approximation — trust me, I know that. I'm not even using a zero-coupon rate, like a heathen. Still, again — we're approximating.
The present value of $20 million in seven years is $15.4 million. Another way to think about this is that if the Padres took out a $15.4 million loan today to spend on the team, they'd owe $20 million in seven years. The team should be indifferent between receiving $15.4 million today (they could use that to spend on the team rather than taking out a loan) and $20 million in seven years (they could just pay off the loan when it came due). The maximum ceiling of the value the team is accruing, in other words, is large but not gargantuan.
In truth, keeping Paddack down is almost certainly worth less than that. In seven years, we have no idea how good Paddack will be, or if he'll even merit arbitration. Pitching careers are ephemeral, after all, and Paddack is already on a replacement ligament. Additionally, my cost per win is probably too high, and my estimate of Paddack's fourth-year arbitration salary probably too low. The team gets real value out of an extra year of Paddack, but I'd eyeball the present-day EV of the transaction below $10 million all-in. That's a third of a year of Machado, or nearly three months of groundouts from Eric Hosmer. Still, it's $10 million.
I hope that the Padres are just sending Paddack down for a single turn, and that he'll get a full year of service time this year. His pitching has been electrifying all season, and his overall swagger has been a boon to the game. Heck, this outfit alone has given me more enjoyment than some major league teams this year: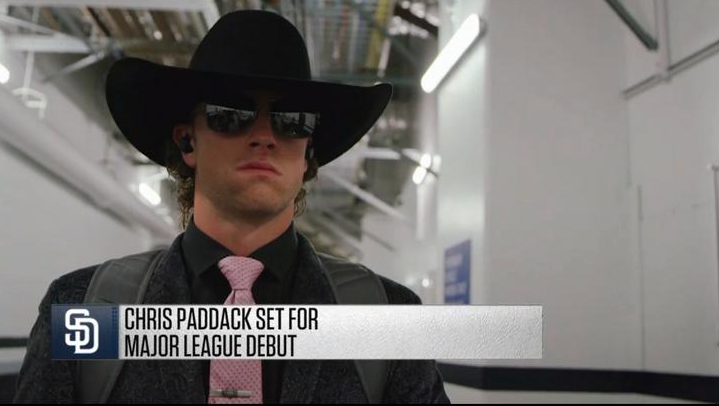 If Paddack does stay down more than 20 days, however, I hope we think long and hard about why. Maybe it's rest. Maybe it's work. Maybe at the end of the season, we'll look back on Paddack's rookie campaign and his full year of service, and think that the Padres, having really just given him rest and having had Tatis on their Opening Day roster, have fully embraced the idea that a team's best players should play. I hope we do. Sometimes, though, understanding a team's motivation requires us to follow the money. I don't want to believe it, and hope I don't have to come October, but I'm also a realist.
Ben is a contributor to FanGraphs. A lifelong Cardinals fan, he got his start writing for Viva El Birdos. He can be found on Twitter @_Ben_Clemens.