"I would tell you very quickly it was scaled down to, 'It's either July 26 or it's 2021," said Tim Mead, president of the National Baseball Hall of Fame in discussing the institution's decision to postpone this year's Induction Weekend due to the impact of the COVID-19 pandemic. "There's a standard and the quality associated with that ceremony and the Induction Weekend, and we weren't going to trim any of it for any reason just to make sure it happens."
I spoke to Mead on Sunday, May 3, four days after the Hall officially announced that there would be no induction ceremony this year and 370 days after he was announced as the seventh president in the institution's history. In the days before and since, I also spoke to Cooperstown's past and present mayors as well as a couple of local small business owners for whom the cancellation is just the latest of several blows suffered amid a shutdown that threatens to wipe out the entire tourist season.
The Hall itself has been closed since March 15, and the streets of the town of around 1,800 are deserted, that despite relatively few residents in the town and its surrounding areas falling ill from the virus. The underlying rural/urban tensions caused by the shutdown are playing out all over the country right now, but there may be no place where the contrast is as stark as this idyllic and storied village, which annually draws half a million visitors from all across the U.S., and even internationally, for its baseball-related attractions.
What Mead conveyed in our conversation is the Hall's sense of responsibility in announcing its decision just shy of three months ahead of the actual weekend. The handwriting on the wall is clear enough, particularly given the complex logistics that underly the celebration. At a time when public health officials are mandating social distancing measures and strongly advising against gatherings of even a handful of people, the thought of tens of thousands of people traveling long distances, convening, and then returning to their communities — potentially furthering the spread of the coronavirus or fueling the second wave of an outbreak — is a nonstarter.
After spending 40 years working with the Angels, the last 22 as the team's vice president of communications, Mead officially took over from Jeff Idelson, who had served as the Hall president since 2008, last June 24. Four weeks later, he presided over the induction of Mariano Rivera and five other honorees in a ceremony that drew an estimated 55,000 attendees, the second-largest in the institution's history behind only the Class of 2007, starring Tony Gwynn and Cal Ripken Jr.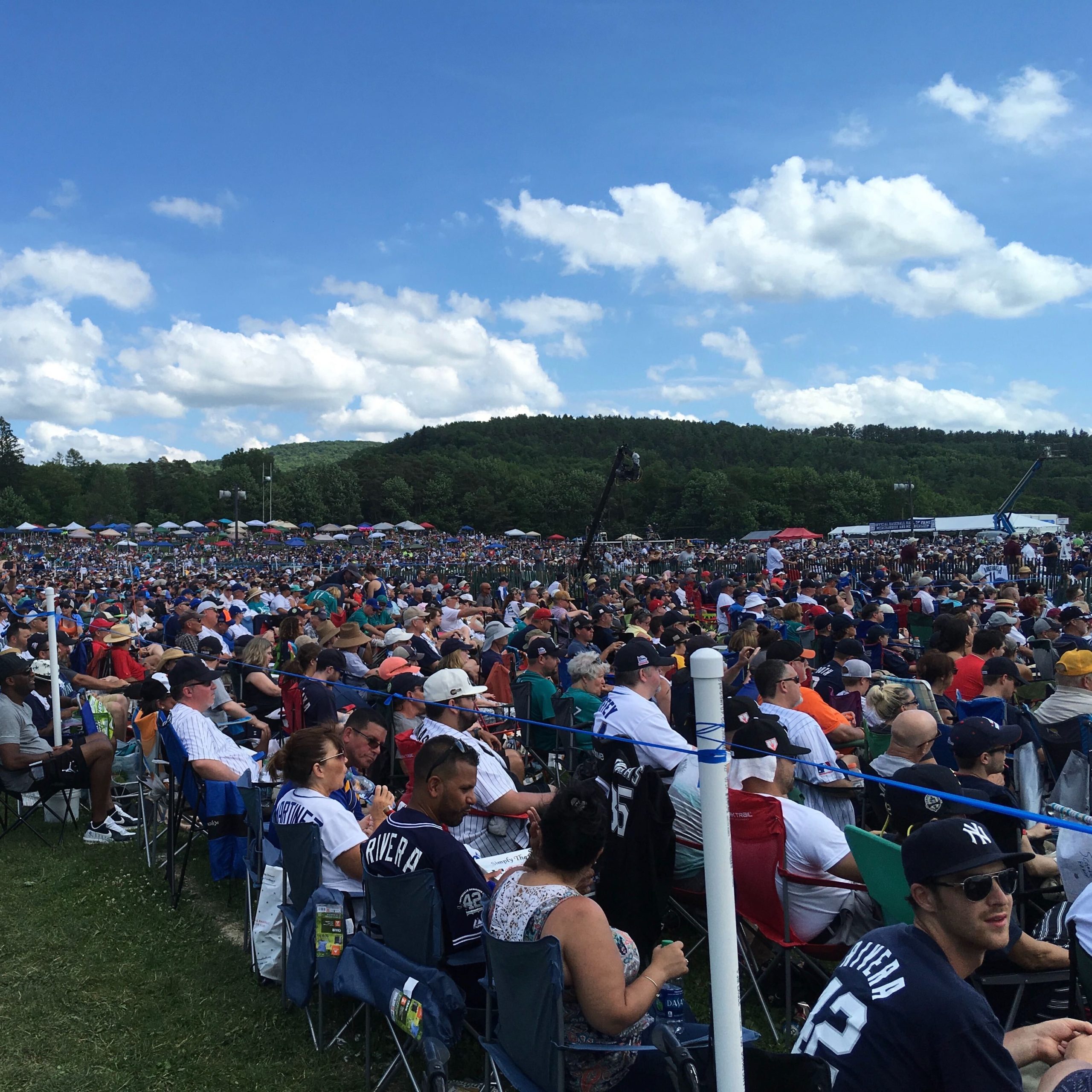 With Derek Jeter leading the Class of 2020 — which also includes Larry Walker, Ted Simmons, and the late Marvin Miller — this year's festivities were expected to challenge the 2007 record, but instead, history of a different type is being made. Because of the pandemic, the Hall will hold no induction ceremony for the first time since 1960, a year when nobody was elected by either the baseball writers or the Veterans Committee. The situation actually has more in common with the Class of 1942, when no induction was held due to travel restrictions related to World War II.
"I really didn't expect this," said Mead, his voice conveying an understandable mix of sadness, relief, and above all, empathy. "As disappointing as it is, it's just one of those few times in history where everybody basically is sharing the same thing. So our hardship, and our tough story, and our disappointment is [being] faced how many thousands, tens of thousands of times across the country, on a relative scale by individuals and entities."
The loss of Induction Weekend, which this year would have also included recognition for Frick Award winner Hawk Harrelson, Spink Award winner Nick Cafardo, and Buck O'Neil Award winner David Montgomery (the last two of whom are deceased) will cause a severe hit to Cooperstown. Between the baseball-oriented shops on Main Street, the area's restaurants, hotels, and rental properties — not to mention the cancellation of the Cooperstown Dreams Park season, which annually brings over 17,000 youth players for a series of weekly tournaments over the course of the summer — the economic impact has been estimated at $150 million.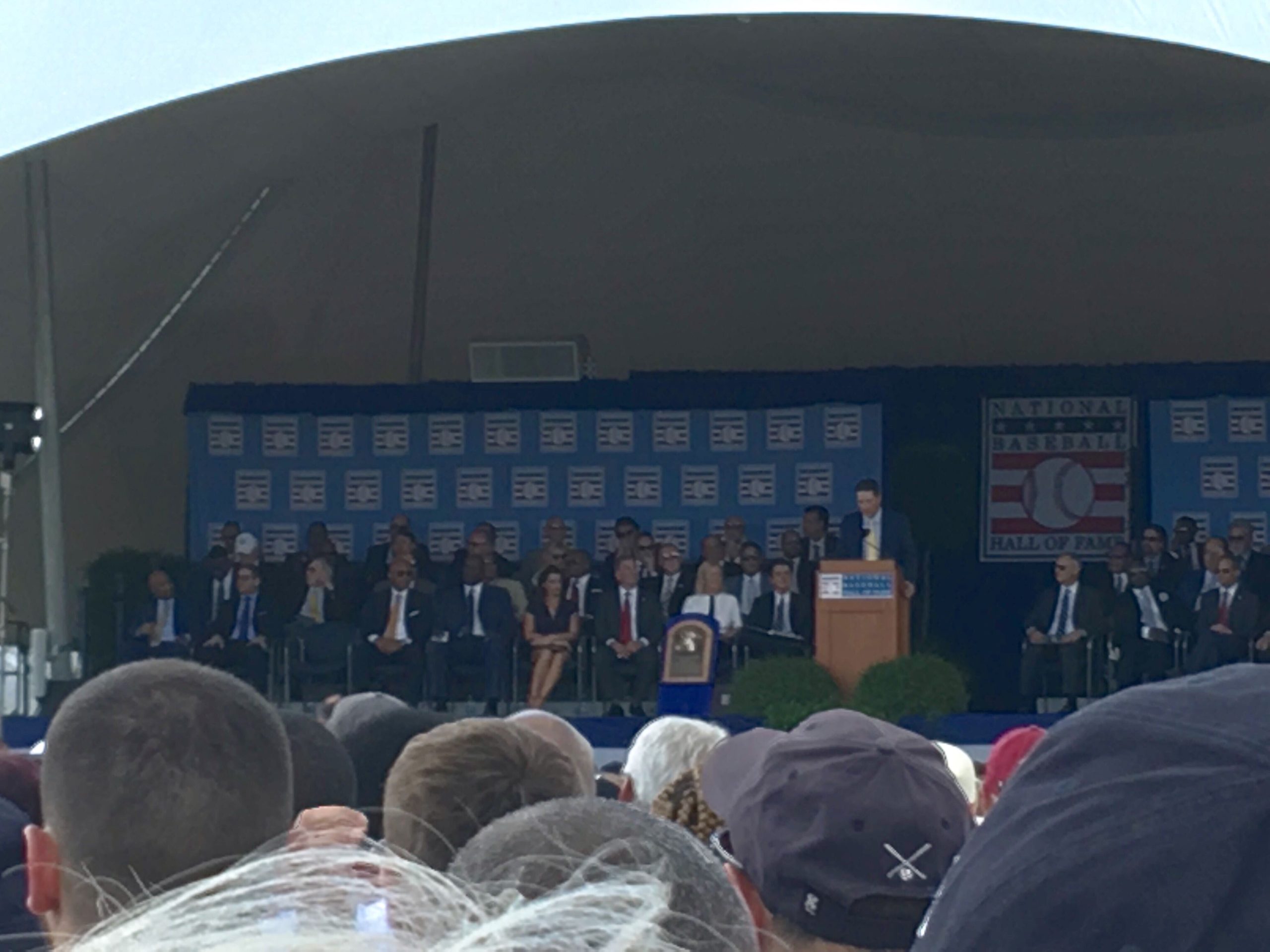 "They know for a fact that the ones that get hit the hardest, there's like three areas," said Ellen Tillapaugh, who has served as Cooperstown's mayor since 2018. "Tourism, that's us. Rural outdoor recreation, we've got nine mile pristine Otsego Lake, we're getting hit there. And the third, a lot of our revenue comes from our lodging industry. Decimated, absolutely decimated. Even when there's an induction, people stay in Albany, 75 miles away. They stay in Syracuse. So this is for the whole region, it's definitely a major blow to the restaurants, the lodging industry, and not just the tourist sites."
Tillipaugh was "kept in the loop" with regards to the likelihood of the Hall's decision to cancel the weekend. She did not play an active part in it, nor in the cancellation of the Dreams Park season, though she agreed with both moves.
Mead and his senior staffers began confronting the possibility of a postponement when New York City started to close down; the Hall itself shut its doors at 5 pm on Sunday, March 15, and hasn't reopened to the public since. He and the staff did their due diligence on the array of options available, including a scaled-down event and a virtual one, before presenting them to chairman of the board Jane Forbes Clark.
"I would tell you that virtual wasn't really even a discussion, it was just a concept that was thrown down," said Mead. "First and foremost in that regard was the magnitude of the event and what it means to so many, what it means to the inductees, the fraternity, those participants who drive or fly from across the country to to participate. It's a special, special event and we weren't going to change those standards or cut any corners to it. So that was never a possibility."
The idea of moving the weekend to a later date in the summer, or even the fall, in hopes that the outbreak will have abated by then, was quickly rejected as well. "There's certain events that you just have to have kind of a drop dead date for planning purposes, and Cooperstown, in the village, you know we obviously shut down the Otesaga Hotel from Wednesday through Monday morning." Built in 1909, the luxurious Otesaga, which overlooks Otsego Lake, is where this year's honorees, the returning Hall of Famers, and their respective families lodge during their stays. "To have a floating possible date really wouldn't be fair to the Hotel and all the planning that goes on," said Mead, likening it to the impact of keeping a floating date for a large wedding. "It's just not fair to people. It's not practical."
According to Mead, the Hall's board of directors, which met twice via conference calls before voting unanimously to postpone, didn't seek out any experts in public health before making the decision. The necessity was that clear, particularly with so many Hall of Famers (38, according to the count of USA Today's Bob Nightengale) 70 years old or older, and thus at an elevated risk of catching the virus. The logistics "were a distant second to health and safety, to the well-being of everybody involved, from the Class of 2020 to the returning Hall of Famers to the citizens of Cooperstown and of course everybody that would travel to see it."
While New York spent several weeks as the epicenter of the coronavirus outbreak and has had by far the most confirmed cases (318,915, according to the Centers for Disease Control) and deaths (25,779) of any state, as of May 4, Otsego County, which has a population of 62,000 with Cooperstown as its county seat, had just 62 confirmed cases and four deaths due to the virus. The contrast is one that the citizens of the town continue to grapple with, particularly given its economic impact.
"It's so bizarre, versus upstate and downstate," said Tim Haney, who with his wife Connie owns and operates the Cooperstown Bat Company, which makes game-use bats for amateurs of all ages as well as around 475 minor league players and 30 major leaguers while also creating collectibles for the tournament crowd, for schools, and for Induction Weekend attendees. "I don't know anybody personally with the virus. So it's sort of surreal. Like all of a sudden they told people not to drive around and go out. It's just really weird."
Haney, who bought the company in 2008 after working there since 1993, employs 18 people at his store and a factory nine miles away in Hartwick. All but five have either been furloughed or placed on family leave to take care of their children, who aren't in school.
"We had three cases, four cases [in Cooperstown] and we completely shut down," said Fred Schneider, who with his wife Robin owns the Landmark Inn, an 11-room bed-and-breakfast that's a nine-minute walk to the Hall of Fame. "And so I recognize the cause and effect — I'm not questioning that, I get it. The reason we only had three cases is because we locked down. We might have had 12, we might have had 24, but we were never going to have 60,000 or 100,000. And so to us, it seems as time goes on that it's just overkill, and that we in the small business world have become collateral damage. The math doesn't work for the sacrifice we're being asked to make."
The guests that booked the Landmark for March and April canceled, and he furloughed his five full-time employees. Currently, the Inn is providing free accommodations for traveling health professionals. "When we put [the offer] up, it was a big deal, because they didn't know where they were going to put all the people that were coming," said Schneider. "But as it's turned out, it was less demand than anybody anticipated — and that's a good thing."
"Up here, there's not a ton of activity disease-wise. However, there is certainly a sense that there's a safety to that, and that safety is jeopardized by having those tentpole events happening," said Jeff Katz, referring to the Dreams tournament as well as Induction Weekend. Katz preceded Tillapaugh as Cooperstown's mayor, serving from 2012 to '18, and has close ties to the baseball world. Katz has authored two baseball books, most recently Split Season 1981, is active on the SABR Baseball Card Research Committee (and thus well-connected to the Main Street businesses that traffic in such fare), and is the president of Friends of Doubleday Field, a nonprofit organization that has helped to bridge the funding gap for the renovation of the village-owned venue, which during the high season rents out its field to cover costs, hosts the Hall of Fame Classic exhibition, and during Induction Weekend plays host to the presentation of the the Frick, Spink and O'Neil awards.
"I think the feeling is that it's weird to be held to the same standards as the more densely populated places," said Katz, "but our spring-summer-fall business is driven by people from those places. That's the conundrum. If the Hall of Fame got 90% of their attendance from Ostego County, I bet they'd be open or they be prone to thinking about being open. But that's not where the people are coming from."
"It doesn't sound like a lot, 62 positive cases, but we're in a rural area and that one of the reasons we probably are not impacted as much," said Tillapaugh. "But it's not abstract because in a sense we all feel like New Yorkers and with the highest toll in the nation — it's our state and particularly with Derek Jeter [being inducted], I think there were probably some locals who thought, 'Oh my gosh, to have 70 to 80,000 people coming from New York, we would become another epicenter.' It's not abstract, and I think that you'd find that the majority of people, even those with economic Main Street concerns, recognize the impossibility of hosting an event like that."
Mead stressed the word "responsibility" in explaining the Hall's decision. "All we can control is trying to do our best to follow the protocols that have been outlined. Certainly there are many portions of this country that aren't experiencing things to the same degree New York has, and New Jersey, and California. But we all have a a big responsibility to try to fulfill our roles in stopping [the spread] in any form recommended by experts, of which most of us are not."
Asked if it is more painful to cancel this year's events given the potentially record-setting nature, he said, "Any postponement is gonna sting. The crowd this year will most likely or hopefully be the same crowd next year and maybe even expanded based on additions to the Class of 2021, but if it was 2,500 or 5,000, or 50,000 — whatever number you want to throw out, the responsibility and obligation doesn't change. "
While the Hall is closed, many of its employees are working from home, doing research for future exhibits and enhancing the Hall's digital offerings. Their website's Safe at Home section offers numerous digital collections, online exhibits, virtual field trips, a YouTube channel, and an assortment of free lesson plans that use baseball to teach math, social studies, and other subjects for students from grades 3-12. "I would tell you that our education department — Jon Shestakofsky, Craig Muder, Stephanie Hazzard — have been putting out a lot of programming and content, and continue to work on it," said Mead. "We've added an Instagram Live with Jon Sciambi and Chipper Jones on a weekly basis… It's really kind of satisfying that the brand continues to be pushed forward in a very helpful manner. From my perspective today, having not been there a full year, I see the passion, dedication, and commitment to this staff. To watch how they continue to work and their creativity from home is even more impressive."
Meanwhile, Mead and his staff are researching best practices for the eventuality of receiving guests when the museum does reopen, considering things like markings on the floor for the purposes of maintaining distancing, and figuring out which interactive areas can safely be reopened."It's going to be a little bit of a learning curve but that's part of our daily responsibility is to do a lot of research online for that," said Mead.
Outside the Hall, business owners such as Haney and Schneider are bracing for a rough ride. Haney says his company had its best January and February ever in terms of preseason sales, but the market plummeted as of mid-March, and business was just 30% of normal in April. "Right now we would be doing a huge online business and mail order," he said. "This time of the year is when we do all of our senior gifts and awards, and coaches bats for all the high schools and colleges that order gifts for their senior players that are leaving the program." With schools closed, such gifts have become afterthoughts, or cut from the budget since they were based on funds raised from selling concessions at games, which alas have been canceled.
The company's bats have been used in major league games since 2015 (the Rays' Rene Rivera was the first), and current high-profile clients include the Mets' Amed Rosario, the Royals' Adalberto Mondesi, and the Rays' Wander Franco, the game's consensus top prospect. Supplying the pros makes up about 15% of his business, as part of a planned slow growth that serves his clients well. He also owns the Sawyer Ridge Billet Company, which produces all the billets that get turned into bats, and sells some to other companies. Fortunately, he was able to get "about nine loads of logs sitting on the landing" processed and air-dried, so spoilage isn't an immediate concern the way it is for Hillerich & Bradsby, makers of the iconic Louisville Slugger bats. His company makes 65,000 bat billets and 40,000 bats a year, and he's been able to sell some of the former to companies in Nicaragua and Taiwan, the latter of which has one of the only two professional leagues currently in season, "but that's like a drop in the bucket."
"I'm doing a lot of things now that I used to do back when we first bought the company, like turning and finishing," said Haney, who stays busy fulfilling orders with a skeleton crew consisting of his wife, his brother, and his sister-in-law. "We tumble through emotions every day, or once a week usually, just like, 'What are we going to do?' … I would say that we're more shellshocked than anything else." Later, he added, "I'm hopeful and we're still trying to keep our spirits up."
For Schneider, Induction Weekend represents just a small slice of the business during high season, and unlike many of the area's B&Bs, the Landmark is not filled with VIPs assigned by the Hall: "We have a group of guests that come every year that fill our house and they have become among our best friends, and so we have very few rooms that change hands year over year, they just come here every year for inductions." The Inn gets a much more significant rate for that weekend, so losing it is a blow, but hardly the biggest one.
With the Hall's shuttering, spring tourism has been wiped out. The closure of Dreams Park "has been a nightmare for us, because they are long reservations, generally five to seven days. All of those have cancelled because most families have a 12-year-old boy. Once he reaches 13 he's no longer eligible for Dreams Park and so they're not coming back, and so naturally and understandably they wanted a refund. That has met with less success elsewhere in the village, especially some of the smaller properties, because they tend to live off of that money in the off season. But because we're slightly larger, we have the opportunity to take care of all of that."
"The way we look at it is, we're trying to skate to a vaccine, because we don't think that anything is going to meaningfully change in the hospitality world until there's a vaccine," said Schneider. "People will begin to come, and they'll wear masks and they will have a crappy experience at hotels and B&Bs because nobody can talk to each other, nobody can touch, and nobody can share a glass of wine."
Schneider's current financial plan carries the Inn until May 2021. Surviving until then "is all about how much debt are you willing to take on, because the only way you get through this is with a line of credit and whatever the government wants to do for you. If the government doesn't do something different than what it's doing right now, you will lose half of the small businesses in this country. They're all dying."
"I have my days," he said. "I woke up this morning at 4:30 and I crunched my numbers again, because I wake up in a bit of a sweat, but by 10 o'clock I get my myself convinced that we're gonna be all right and we move on."
According to New York Governor Andrew Cuomo's New York On PAUSE directive, regions such as the Mohawk Valley, which includes Cooperstown, must meet certain benchmarks before they can move on to various phases of reopening. Tillapaugh said that Otsego county currently meets all but two of them, but awaits the widespread availability of COVID-19 tests and contact tracing capabilities necessary to move forward — a familiar refrain all over the country.
If there's good news, it's that the Hall of Fame, the village, and its surrounding attractions will remain a draw once life returns to normal. Said Katz, "Cooperstown has tremendous qualities that are not going anywhere."
Brooklyn-based Jay Jaffe is a senior writer for FanGraphs, the author of The Cooperstown Casebook (Thomas Dunne Books, 2017) and the creator of the JAWS (Jaffe WAR Score) metric for Hall of Fame analysis. He founded the Futility Infielder website (2001), was a columnist for Baseball Prospectus (2005-2012) and a contributing writer for Sports Illustrated (2012-2018). He has been a recurring guest on MLB Network and a member of the BBWAA since 2011. Follow him on Twitter @jay_jaffe.