Congratulations to the White Sox for winning their first World Series since 1917. Before I go onto the usual daily graphing, I feel it necessary to rant about the headline pretty much everyone chose to use for the White Sox win, "Say it's So!" or its wordier cousin, "Say it IS So!" I actually saw this same headline being used when they made the World Series, and now it's being used again, and again, and again…. The worst part is, this play on the now famous cry of a small boy in reference to the 1919 White Sox scandal never actually happened. Rant over. Let's take a look at B.J. Ryan.
Free agent B.J. Ryan was given the Orioles closers job last year and he thrived in it. He converted 36 saves out of 41 chances, a solid 88% successful conversion rate. More importantly, he kept his strikeout rate ridiculously high for the second season in a row.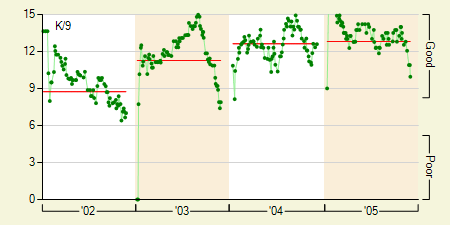 Of all active players, his 2005 K/9 of 12.79 is the 11th highest of any other single season. That puts him in the elite company of Eric Gagne, Brad Lidge, and Billy Wagner to name a few.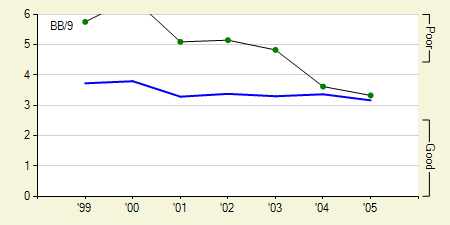 To go with a career high strikeout rate, he also managed to get his walks down to a career low. As you can see from the BB/9 graph above, there's still room for improvement here. The only weird thing is his high Batting Average on Balls in Play (BABIP) of .337. I don't exactly know how to explain it, but it could have to do with the Orioles defense. Whatever the reason may be, it's quite possible he hasn't reached his ceiling yet. Barring injury, he should be worth every penny he gets.