The Giants picked up Jason Schmidt's 2006 option yesterday for 10.5 million dollars. Over the past 4 or so years, he has been one of the better pitchers in baseball with a winning percentage of 69%. That puts him at the 6th best in baseball for that same time period. The only knock against him is that he can't pitch an entire season without getting injured at least once. It will come as no surprise then, if I tell you over the past 4 years he is 3rd in pitches thrown per start.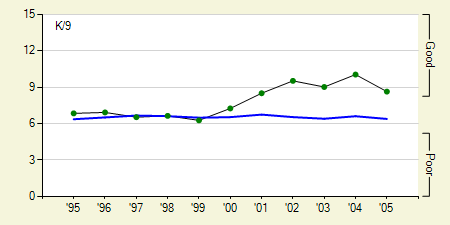 If you take a look at his strikeouts per 9 innings, he reached a 4 year low. I'm not too concerned about this since it still sits at an excellent 8.6. The real drop off came in the free base department.
As you can see, he allowed more walks per 9 innings last year than he had since the 2000 season. Why did he have such a down year in 2005? Could it be the fact that he threw the most pitches per start of any pitcher in all of baseball in 2004? In 21 starts before his injury that year, he averaged a whopping 120 pitches per start. He did have a decreased workload last year, down nearly 600 pitches from the year before. Hopefully he'll come back next year well rested, but the Giants might be wise to put him on a strict pitch count. I think if he can stay healthy and relatively fatigue free for an entire season he has the ability to be a serious Cy Young contender.