After batting .285 with 8 home runs in his first year in the majors, Chad Tracy had a breakout season in 2005 by batting .308 with 27 home runs. Now that Troy Glaus is out of the picture in Arizona, let's see if Tracy can continue to improve and become one of the premiere third-basemen in baseball.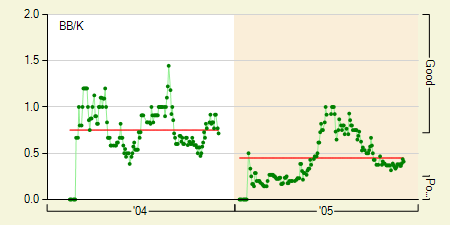 Taking a look at his walk to strikeout ratio (BB/K), it looks as though he has average plate discipline. He swings at pitches outside the strike zone 20% of time; basically the league average. I'd be more concerned, but he doesn't strike out all that much and actually makes excellent contact for a power hitter. Of all the players in baseball with 20 or more home runs, he made the third best contact, right behind Todd Helton and Hideki Matsui.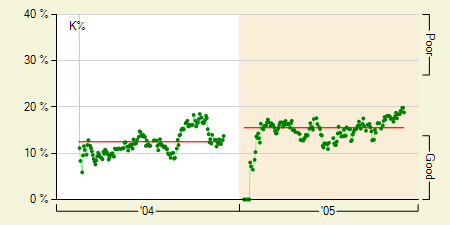 His isolated power (ISO) was elevated from previous levels the entire season, but he really started to mash the ball in the second half. He hit 17 of his 27 home runs after the All-Star break.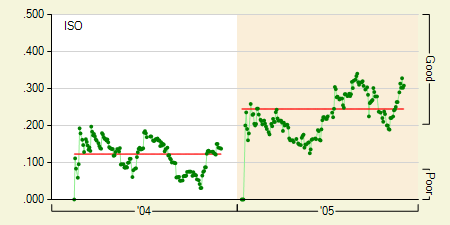 Chad Tracy's 2005 season wasn't a fluke. His exceptional contact ability coupled with his power is actually quite a rare combination only found in the very best hitters in baseball. If he can improve his strike zone recognition just a little he could be primed for an even bigger year. Either way, I expect him to match, if not exceed his 2005 home run total and hit for a similar average.