Typically when you think of the best sluggers in baseball, names like David Ortiz and Vladimir Guerrero come to mind. How about the Cubs' Matt Murton or the Cardinals' John Rodriguez? Probably not, but will they someday? Murton played in his first major league game on July 8th and just ten days later Rodriguez got his first major league at bat. From that point on, the two left fielders had remarkably similar seasons. Murton batting .321 with 7 home runs in 160 plate appearances and Rodriguez batted .295 with 5 home runs in 176 plate appearances. I believe one of these batters may one day be ranked amongst the best batters in baseball while the other will most likely not.
           PA	H	HR	BB	SO	BA
Murton		160	45	7	16	22	.321
Rodriguez	176	44	5	19	45	.295
Matt Murton was drafted in the 1st round of the 2003 draft by the Red Sox and a year later was sent over to Cubs in the four-team trade that sent Nomar Garciaparra to the Cubs and Orlando Cabrera to the Red Sox. He did quite well in the minors hitting above .300 in both AA and AAA before being called up.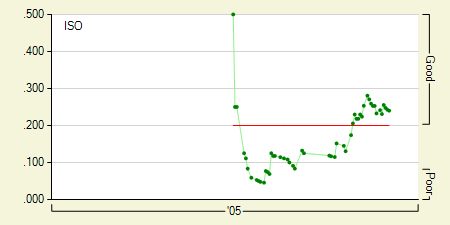 In his short time in the majors he's shown good power, which as you can see in the isolated power (ISO) graph above, really started trend upwards at the end of the season. Additionally he has above average plate discipline; only swinging at around 17% of the pitches out of the strike zone. Early in the season he couldn't seem to make contact against right-handed pitchers but it appears he quickly fixed the problem which may lead to an overall decline in strikeouts next season.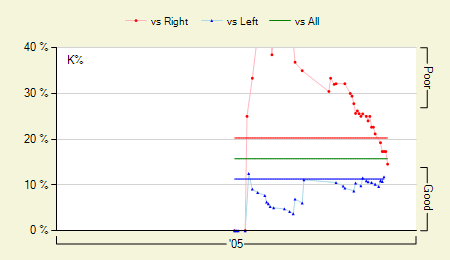 John Rodriguez was drafted in the 16th round by the Padres in 1995 and was later signed by the Yankees in 1996. It was looking like he might be a career minor leaguer, but managed to get his big break when Reggie Sanders had to go on the disabled list. After hitting .342 with 17 home runs in AAA that year, his bat stayed hot in the majors and by the end of July he was batting .333 with 3 home runs in 49 plate appearances.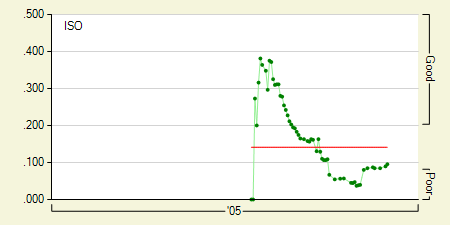 His power seemed to wane as the season went on. He continued to hit for good average as he finished off the season batting .280 but with just 2 additional home runs in his final 127 plate appearances. Furthermore, he struck out in 30% of his at-bats, only making contact when he swung the bat 66% of the time, making him one of the worst contact hitters in all of baseball.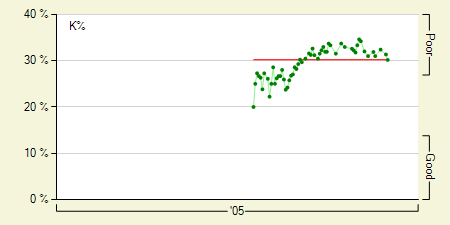 Needless to say, Murton is the batter I'm predicting will have a breakout season. His plate discipline is actually quite similar to the best power hitters in baseball. He essentially makes below average contact with the ball, but doesn't swing at a whole of pitches either, all while batting for a high average. While Rodriguez has some of the qualities of a great hitter, he swings nearly 30% of the time at pitches outside the strike zone. Unless you think he's the next Vladimir Guerrero (think again) his high batting average will very likely drop next year as pitchers will continue to exploit his poor plate discipline. Funny how two batters with such similar seasons can have such different outlooks.