After finish up the second half of 2004 with a 4-7 record and an ERA over 5, many thought it might be nearing the end for Tom Glavine who had been pitching in the majors for 18 years. 2005 started off just as 2004 ended, with Glavine posting a 5-7 record with a 4.92 ERA in the first three months of the season. He managed to get through July going 2-2 with a 3.43 ERA; were things starting to turn around? Building on his July performance, August ended with a 3-2 record and 2.50 ERA. Saving his best for last, in the final month of the 2005 season he posted an incredible 1.71 ERA with two complete games wins. Now entering what will be the start of his third decade of major league baseball, let's see if he can continue to pitch like he did in the second half of 2005.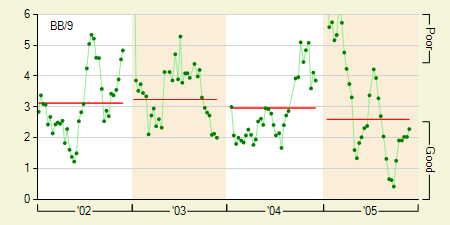 The thing which really separates his good moments from bad moments is his control. Looking at Glavine's walks per 9 innings (BB/9), you'll see that he ended 2004 and started off 2005 fairly wild while finished up the season quite in control. If you compare his first half and second half pitch location charts, you'll see that he was actually a much different pitcher during the second half of 2005.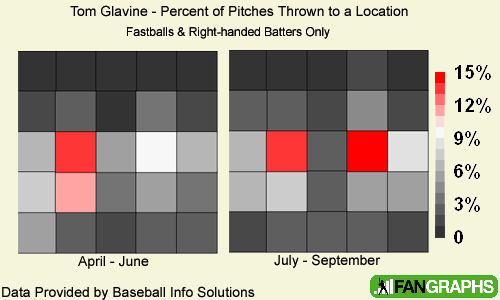 Not only did he locate his fastball better by throwing fewer pitches right down the center, but he really started to work the inside of the plate. Please note he didn't neglect the outside of the plate either. Furthermore, he changed his pitch selection by mixing in both his curveball and slider instead of his fastball. He only threw them about 5% of the time during first half of the season but managed to end the season throwing them both around 10% of the time.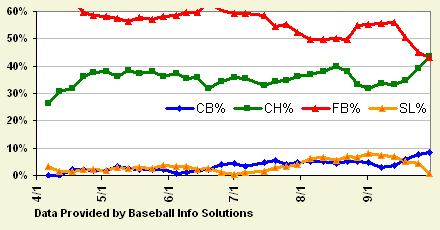 By the time the 2006 season starts, Tom Glavine will be 40 years old, but don't let that fool you. It's not like he's overpowering hitters with his fastball around 85 mph, so it's really going to be a matter of location and deception. With the changes he made in the second half, I'd expect him to have another season with an ERA under 4 and with the Mets being much improved, look for a few additional wins.