A little over a month ago, the Reds signed Ryan Freel to a two year, 3 million dollar contract. In his second full season, the utility man bat .271 with 36 stolen bases which is almost exactly what he did in his first full season. He probably would have stolen a few more bases, but he was slowed by a toe injury and missed some time with a knee injury that required mid-season arthroscopic surgery. Next year, he should have the second base all to himself; let's see if we can figure out how he'll do.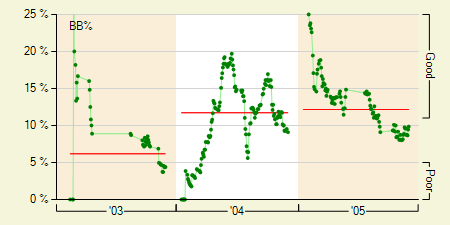 One thing that Freel is certainly no slouch at is taking a walk. He was actually one of the best at differentiating strikes from balls in 2005 as he only swung at pitches outside of the strike zone about 10% of the time. To put that into context, 20% is about the about average with upwards 35% being the most anyone will swing at pitches outside the strike zone. When he did decide to swing the bat he was a pretty good contact hitter, striking out in only 17% of his at-bats. Just under half of those strikeouts were done so looking, so it might do him some good to swing the bat a little more often considering when he did, he made contact a very good 93% of the time.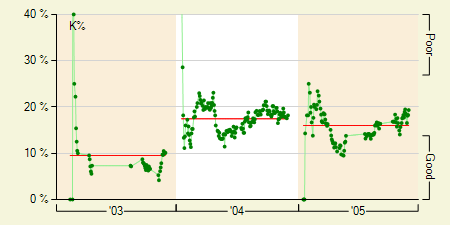 Looking at his isolated power (ISO), I wouldn't expect any more home runs, but whatever he lacks in power he makes up for in speed. He was right up there with the top base stealers in terms of the frequency he attempted to steal and he was successful in 78% of his attempts. If he was healthy the entire season, it wouldn't have been a shock to see him near the top of the stolen base leader board.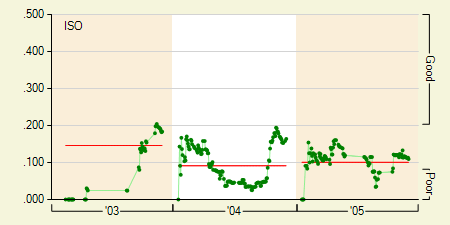 That's one of the biggest knocks on Freel, his durability is definitely something in question. If he can stay healthy, I'd expect him to have a real breakout year with improvement in both his batting average and his stolen base totals. With a little luck, I think his excellent batting eye gives him the potential to bat near .300 and as long as the Reds continue to let him run (he stole 5 bases in one game), I think he'll be able to top 40 stolen bases easily. If all that comes true, looks like the Reds got him cheap!