Apparently the Orioles were close to acquiring Corey Patterson from the Cubs for a minor leaguer but now it appears that several teams are in the running. In 2004 Corey Patterson returned from a torn ACL to hit an impressive 24 home runs while stealing 32 bases. Last year he hardly lived up to his 2004 numbers as he only hit 13 home runs with 15 stolen bases. He was even sent down to AAA in mid-July to work on shortening his swing to help him make better (any) contact. He returned to the majors a month later and showed no improvement, finishing off the season with a .175 batting average. Talk about ending the season on a low note. Let's see if there's any hope of a rebound in 2006.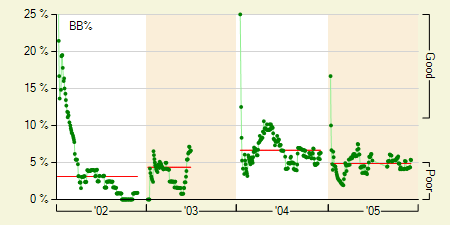 It really did look like he was learning to take a walk in the first half of the 2004 season but he reverted to his old ways in the second half and was even worse in 2005. Unfortunately, he strikes out a good deal too making his walk to strikeout ratio (BB/K) one of the worst in baseball.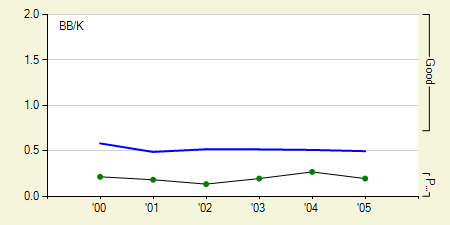 Furthermore his isolated power (ISO) was down significantly last year. His home runs per fly ball was down from 13.5% to 11.6% which isn't that much of a decrease, but his doubles and triples took much larger hits. Most of this was the result of poor line drive percentage of only 17%.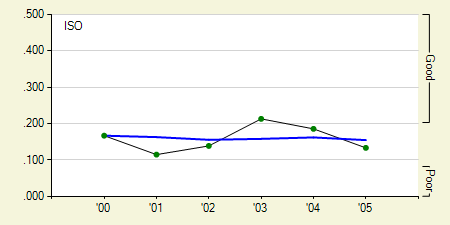 It seems highly unlikely that Corey Patterson will magically develop plate discipline next season and become a reliable batter. Apparently the Cubs had been trying to shorten his swing for quite some time and he was unwilling to make the necessary changes. Typically batters that exhibit such poor plate discipline do not show significant improvement later in their career, but it's probably too early to write him off at only 26 years of age. It's really too bad because if he were to just become a little more patient he'd have 30 HR/30 SB potential.