Rumor has it that the Cubs are close to trading for the Marlins' center fielder Juan Pierre. We all know about Juan Pierre's speed. He was second in the National League in stolen bases and over the past four years he led the majors in them. In 2004 he hit for an excellent .326, but this past year he had his worst season, hitting only .276. Should Juan Pierre be expected to rebound next season?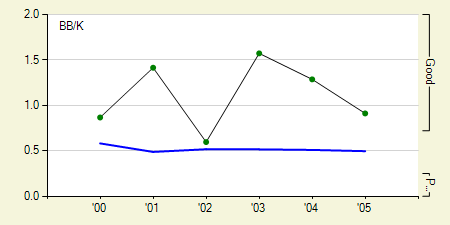 Despite the downward trend in his walk to strikeout ratio (BB/K), he's still in the top 20% of all batters. If it starts to dip any lower then we can start to worry. For now it looks like he just had an off year, much like the one he had in 2002.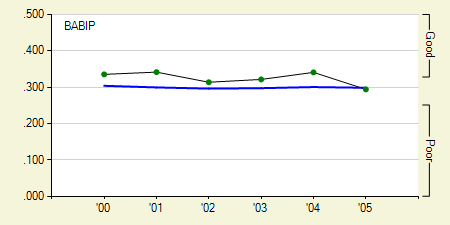 The area he dropped off the most was his batting average on balls in play (BABIP). Just like his batting average, his BABIP was the worst of his career. What I find most odd about this is that 25% of his balls in play were line drives. That's a pretty high line drive percentage.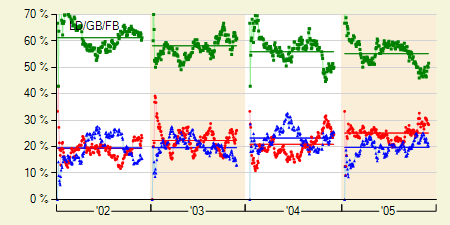 While it's not unusual for a batter to hit for a high line drive percentage and a lower batting average, I would consider it "unlucky". Taking that into account and his lower than usual BABIP, I'd say Juan Pierre had a fairly unlucky season altogether. I'd expect Juan Pierre to rebound nicely in 2006.