Scott Eyre did something incredible today. He received one 10th place MVP vote to become the first relief pitcher to receive a vote without recording a single save. Please feel free to use this gem of trivia to stump everyone you know. Someone in the Baseball Writers' Association of America is a huge Scott Eyre fan. He actually had a nice season, going 2-2 with a 2.63 ERA in 68 plus innings of work. Let's see if he has any hope of receiving a vote next year.
Last season, Scott Eyre was able to get his walks per 9 innings (BB/9) down to a career low 3.4. While this is not a spectacular number, when coupled with his solid strikeout rate of 8.6, it makes him a successful pitcher.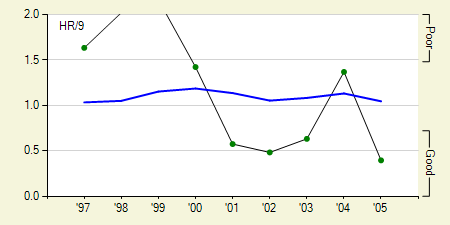 He was also able to get his home runs per 9 innings (HR/9) down to a career low. He only gave up 3 home runs the entire season. This is where I see danger flags. Over the past couple season, Scott Eyre has transformed himself from a groundball pitcher to a flyball pitcher.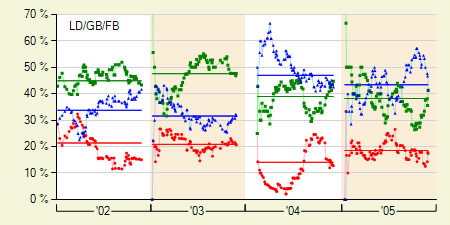 I think it's highly unlikely that he will be able to allow as few home runs as he did last season, especially with his increased fly ball tendencies. Even though this will lead to an increase in his ERA, I think he'll still be able to have a solid season. Unfortunately, I'd say the chances of Scott Eyre getting another MVP vote are just about zero.