Pitchers learn and develop different pitches, and they do so at varying stages of their lives and careers. It might be a curveball in high school, a cutter in college, or a changeup in A-ball. Sometimes the addition or refinement is a natural progression — graduating from Pitching 101 to advanced course work — and often it's a matter of necessity. In order to get hitters out as the quality of competition improves, a pitcher needs to optimize his repertoire.
In this installment of the series, we'll hear from three pitchers —David Bednar, Brandon Brennan, and Tony Gonsolin — on how they learned and developed their changeups/splitters.
———
David Bednar, San Diego Padres
"I never really had a great feel for a changeup. In 2017, after I first got drafted and was in instructs, I was kind of toying around with it when one of our pitching coordinators pushed me towards Hideo Nomo, who was one of our special assistants and helping out. The coordinator got me throwing in front of Hideo. He gave me a few pointers, and kind of switched up my grip in a way that worked better for me.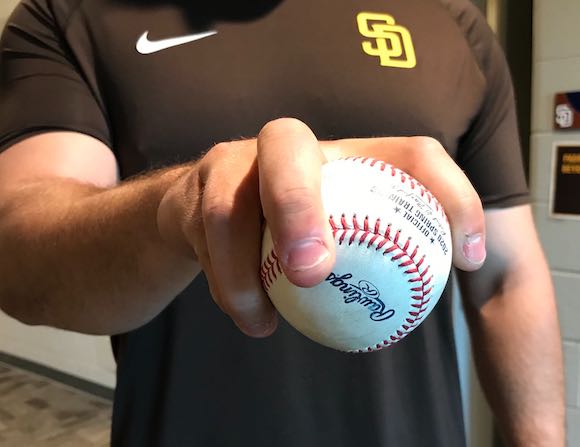 "The grip is a slight variation [from Nomo's splitter]. My two fingers are kind of offset on the seams, so that I have something to pull down on. There's a little bit of slider action to it at times, but for the most part it's either straight down, or has a little bit of cut.
"Something [Nomo] emphasized was to treat it like a fastball, and to just let it work. Let it do what it wants to do. So I just try to throw it to the bottom of the zone, and not try to do too much. I basically just throw the crap out of it, and let it eat. I try not to do things like [steal strikes with it]. I try to throw the same one every time, just because if you think about just landing it, it kind of flattens out.
"Obviously having Hideo, and now Kirby Yates here to talk to, is awesome. Kirby obviously has a really good one, so I'll pick his brain. Our grips are a little bit different, but the mindsets are basically the same. Throw it to the bottom of the zone and let it do its thing. It's evolved into one of my key out-pitches."
Brandon Brennan, Seattle Mariners
"I've always had a form of a changeup, but it wasn't until 2016 that I learned the one I have now. That was at the very end of the year, so the first time I used it for a full season was 2017. It's been the last three years that I've had this particular changeup.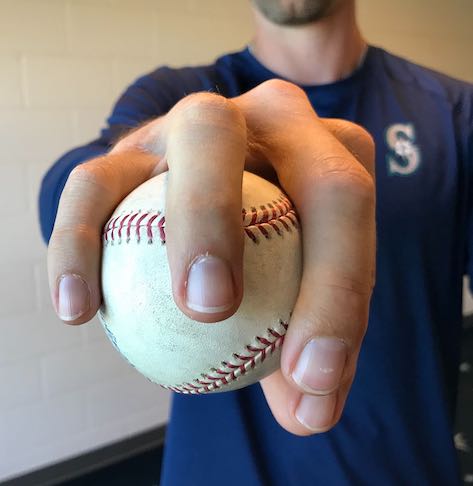 "Before, it was more thrown with these two fingers — my middle finger and ring finger — whereas now it's thrown with my ring finger and my pinky. There's a little bit more spin for the ball to drop on down. It also took some of the velo off. Before, it was anywhere from 87 to 89 [mph]. It was slower than my [95 mph] fastball, but not considerably slower. Now it's 84-87, with more movement — more depth — because I'm throwing with these two fingers.
"A guy named JR Perdew helped me with it. He's now the assistant pitching coordinator for the White Sox, but he was my Double-A pitching coach at the time. That was more of a struggling year for — I was trying to figure things out — so I worked with him a lot. We played around with a bunch of different grips, trying to see which one was going to be most efficient for my arm slot — I'm a three-quarter slot guy. We threw in bullpens, and in sides, and worked through it to the point where this one just kind of stuck. It's been what it is, ever since.
"There's a bit of arm-side to it — it's not like a splitter where it goes directly straight down — but it does have some significant drop to it. Releasing it… that's all about the hand angle. If you're looking at a clock, 2:45 is kind of where my hand placement is on it. That's where I want it to be coming through. And I'm throwing it just like I'd throw my normal fastball, except with a different grip. I'm not throwing it with my dominant fingers, but rather with my least-dominant fingers."
Tony Gonsolin, Los Angeles Dodgers
"I got drafted in 2016, and my changeup was not good. Period. So I went to instructional league at the end of '16, and I was put in this 'changeup-challenge group.' Basically, every outing we were encouraged to throw changeups. Use it first pitch. Use it behind in the count. Use it ahead in the count. Try to get swings-and-misses with it. All of that stuff. And I ended up doing reasonably well with it. I threw it a lot, and had a little bit of success with it. This was with a conventional two-seam circle changeup.
"Then I came into spring of '17 and met Joel Peralta. He used to pitch with the Rays, and a couple of other teams, and he's known for his splitty. He showed me a grip, and that kind of morphed into my own little split/change thing. I got a lot of reps with it in '17 — I tried to throw it a bunch — and there were definitely days where it was better than others. Then, in 2018, the feel kind of just clicked for me. Being a starter that year, I got the opportunity to throw it a lot.
"Our pitching coordinator [in 2017] was Brandon Gomes. He said, 'Hey, we know you're working on a changeup, have Peralta take a look.' He and Peralta had played together. It was kind of a, 'See if you want to throw a split' kind of thing. He gave me the idea to go talk to Peralta, I gave it a shot, and it kind of progressed from there. It's developed into a go-to pitch for me.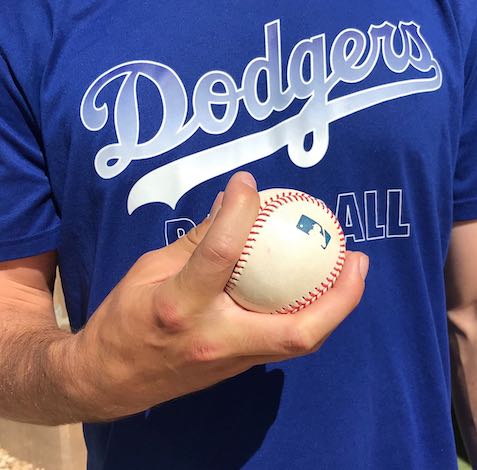 "I'm basically throwing it like a fastball. Same intent, same arm speed. I'm trying to make it look like a fastball until it isn't. I might be [pronating] a little bit, but I don't know if I'm physically trying to do that, or if it's more that my body is taking over naturally.
"I need to stay behind it. If my front side opens up to where I'm not behind the baseball — I'm more on the side of it — it becomes like a pushed, up-and-arm-side miss, rather than the nice 'straight out of the hand, looks like a fastball, then isn't.' When I throw it right, it has both drop and a good amount of fade."
David Laurila grew up in Michigan's Upper Peninsula and now writes about baseball from his home in Cambridge, Mass. He authored the Prospectus Q&A series at Baseball Prospectus from December 2006-May 2011 before being claimed off waivers by FanGraphs. He can be followed on Twitter @DavidLaurilaQA.