On Monday night, the Orioles — who last year lost 115 games, the third-highest total of the post-1960 expansion era — won their third game out of four in this young season, beating the Blue Jays, 6-5. The win itself was less notable than the pitching performance of David Hess, a 25-year-old righty in his second major league season. Hess no-hit the Blue Jays for 6.1 innings while the Orioles built up a 6-0 lead, but before he could pitch further, rookie manager Brandon Hyde gave him the hook.
It would be an exaggeration to say a large group of people lost their mind at this decision, in part because the game between a pair of rebuilding teams was being played in Toronto in front of just 10,460 paying fans, but there were those who took umbrage. "David Hess Got Pulled From His No-Hitter Because The Orioles Are Clowns" read one Apple News-driven tweet promoting a Deadspin piece by Tom Ley that apparently has since been retitled, "This Is The Face Of A Man Getting Pulled In The Seventh Inning Of A No-Hitter." USA Today's Ted Berg called it "one clear instance where the numbers suck the fun out of baseball." Somewhere a sports talk radio yakker probably turned purple and declared this The Downfall of America, though WFAN's Mike Francesa almost certainly slept through the start.
What Ley noted (but Berg did not) — and here I don't mean to pick upon either, because both are fine writers — is that Hess had thrown 42 pitches in relief on March 28. meaning that he was working on three days of rest, which helped to explain why Hyde pulled him after 82 pitches instead of pushing him further. Indeed, the manager cited a concern for the pitcher's health and the long season as primary in his thinking. To Berg's point, the fact that Hess was about to face the middle of the Blue Jays' batting order (Justin Smoak, Randal Grichuk, and Rowdy Tellez, admittedly not exactly Murderers' Row) probably entered into the manager's decision as well, given that the Cubs' former bench coach was chosen for this job in part because it was time to bring the Orioles into the 21st century, analytics-wise. For what it's worth, batters hit .299/.371/.612 for a .408 wOBA in 97 PA against Hess last year under such circumstances. That wOBA was the ninth-highest out of 131 qualifying pitchers. Not Great, in layman's terms.
But to an even larger point, it's worth noting that this particular move, pulling a starter with a no-hitter in progress, has become more common than ever (it was less than a year ago that I examined the phenomenon more closely). Even given the understandable sympathy for Hess, who had pitched very well (just one walk versus eight strikeouts), it's kind of puzzling that this generated more than a shrug. Last year, there were a record 11 starts in which a pitcher was pulled after at least five hitless innings with the no-hitter still in progress, up from just four the year before, and more than double the number of such outings in any other season except for 1991, when there were six. There were 29 such outings from 2014-18, about one per month. Here's the trend since 1998, when the majors expanded to 30 teams: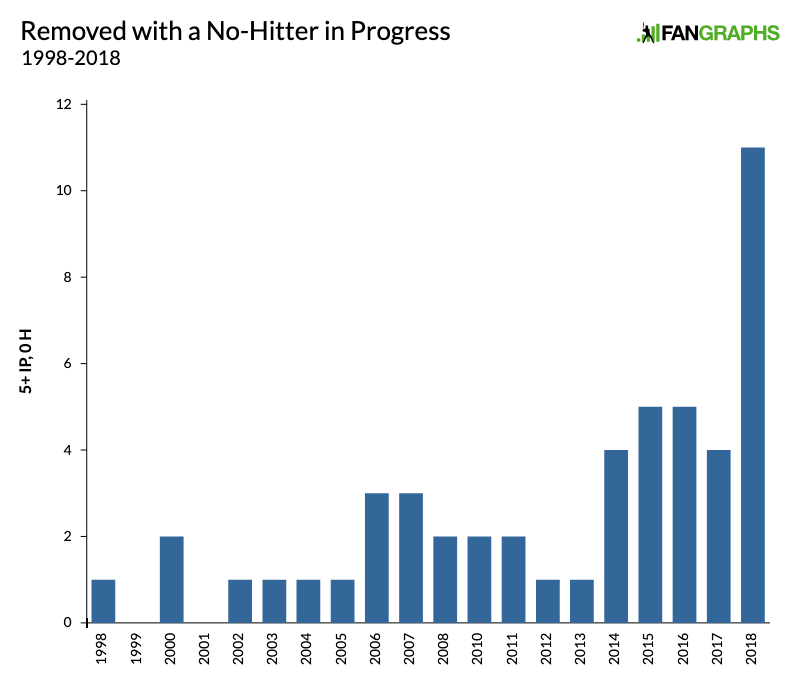 Pitch counts and other health concerns, the times through the order penalty, and the decreased novelty of the no-hitter — 27 since the start of 2012, about four per season — are all contributing factors in such decisions, and better pitchers than Hess (who finished with 0.0 WAR in 103.1 innings last year) suffered the fate last year, including AL Cy Young winner Blake Snell of the Rays (August 10 against the Blue Jays) as well as breakout performers like the Pirates' Trevor Williams and the Twins' Kyle Gibson. Those last two pitchers' hitless outings took place on March 31 and April 1, respectively. Indeed, five of the 11 outings occurred between Opening Day and May 6, amid a season in which rain and cold weather cut into attendance in the early months.
One of last year's early-season hitless outings — a six-inning effort by Dodgers rookie Walker Buehler, against the Padres in Monterrey, Mexico on May 4, in what was just his third big-league start — became a combined no-hitter, something unseen in the majors since September 1, 2014, when Cole Hamels and three Phillies relievers did the trick. Even with the mounting frequency of these hitless outings, there has been just one other combined no-hitter since the start of 2004, a June 8, 2012 start by the Mariners' Kevin Millwood against the Dodgers.
Hess's immediate successor, Pedro Araujo, wasn't up to the task of continuing the no-hitter; he walked Smoak on five pitches then served up a 426-foot homer to Grichuk. The next two relievers, Mike Wright and Richard Bleier, allowed runs as well, and the game got close enough that the latter was credited with a save. Orioles gonna Oriole.
As with the case of so many under-market contract extensions, to describe and analyze the increasing frequency of hitless-but-incomplete starts circa 2019 isn't necessarily to condone it. Hess's trip to the showers with his no-hitter in progress may have been a bit of a bummer for the pitcher and for Orioles fans watching from afar (I'm guessing few made the trip to Toronto). But anyone surprised that this is happening more often these days probably hasn't been paying close attention.
Brooklyn-based Jay Jaffe is a senior writer for FanGraphs, the author of The Cooperstown Casebook (Thomas Dunne Books, 2017) and the creator of the JAWS (Jaffe WAR Score) metric for Hall of Fame analysis. He founded the Futility Infielder website (2001), was a columnist for Baseball Prospectus (2005-2012) and a contributing writer for Sports Illustrated (2012-2018). He has been a recurring guest on MLB Network and a member of the BBWAA since 2011. Follow him on Twitter @jay_jaffe.