In a postseason field dominated by the league's foremost home run-hitting teams, the Tampa Bay Rays are one of a couple outliers. With 217 homers during the regular season, they ranked ninth out of the 10 playoff teams, and just 21st across all of baseball, one of just three playoff teams not to rank in baseball's top eight in dinger-mashing prowess. But on Wednesday, they proved to be as capable as anyone of leaving the yard.
Yandy Díaz smashed a pair of solo homers, while Avisaíl García launched a two-run shot and Tommy Pham added a third, solo bomb as Tampa Bay silenced Oakland 5-1 in the American League Wild Card game at Oakland Coliseum. The Rays will face the World Series favorite Houston Astros in the ALDS beginning on Friday.
The home run heroics got started before many fans in Oakland were probably able to find their seats. Leading off the game, Díaz worked a 3-1 count against A's starting pitcher Sean Manaea before getting a fastball high and outside, and hammered the pitch over the opposite field fence in right to push the Rays in front. Manaea settled in to strike out the next three hitters, but he wasn't able to hold off further damage for long. He surrendered a leadoff single to Matt Duffy to start the second, and after falling behind García 2-1, attempted to even the count once more with another fastball out and over the plate. García punished it.
With an exit velocity of 115 mph, Garcia's homer was the hardest-hit ball by a Rays player ever recorded by Statcast. And they were just getting started. Díaz made his second plate appearance of the game leading off the third inning, and made it look exactly like the first one.
He was the last batter Manaea faced. Of the 10 hitters to step into the box against him, five struck out, and three left the yard. The first reliever to replace him, Yusmeiro Petit, allowed a single to Tommy Pham immediately upon entering the game, but retired the next eight hitters in a row. Then Pham faced him again, and this time, he wouldn't settle for just another single.
The four-homer game was a good representation of the Rays' underrated thump on offense, as well as their preparation. Díaz, who came to Tampa Bay as part of a three-team trade also involving Cleveland and Seattle last winter, entered Wednesday having played in just one game since July 22nd. He'd missed more than two months because of a left foot contusion before going 0-for-3 in the last game of the Rays' season on Saturday, making it easy to forget just how exciting his first month in Tampa Bay was. After hitting just one home run over two seasons and 299 plate appearances with the Indians, Díaz launched seven homers in his first 24 games with the Rays, and finished April hitting .298/.395/.596 with 17 walks and 20 strikeouts. As Sung Min Kim pointed out during that stretch, Díaz has long been thought a breakout candidate if he could tweak his swing slightly, because of his track record of generating impressive exit velocities alongside a tendency to hit the ball on the ground. But as the season progressed and injuries began to mount — he also hit the Injured List at separate times for a left hand contusion and a tight right hamstring — that power waned, and when Tampa Bay manager Kevin Cash penciled him in as his leadoff bat Wednesday, it was difficult to know what to expect from him.
The Rays did, however, know what to expect from Manaea. The 27-year-old returned from a lengthy absence while recovering from surgery on his throwing shoulder to make five starts for Oakland in September, and did nothing but impress in his time back. He allowed just four runs in 29.2 innings, striking out 30, walking seven and allowing three homers. His fastball had performed particularly well in spite of its depressed, sub-90 average velocity, allowing a wOBA of just .225 to opponents and generating nearly double the whiffs it did a season ago. The slider and changeup had performed even better, especially according to peripherals, which meant the Rays needed to attack the fastball when they had the opportunity. And fortunately for them, Manaea had made it clear throughout his five starts where he planned to use his fastball against right-handed hitters.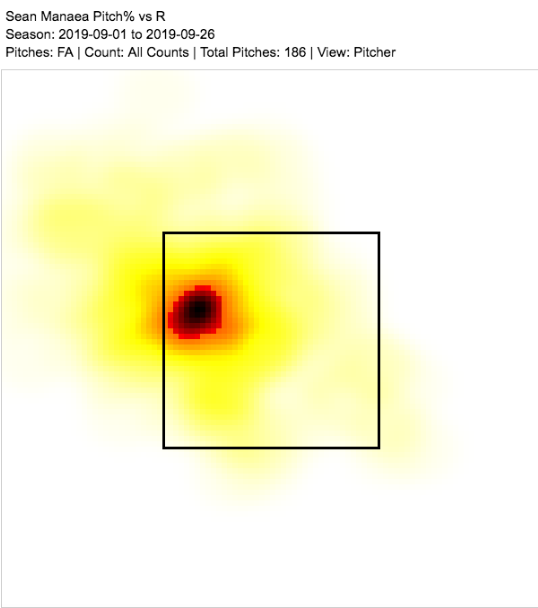 Tampa Bay knew to look for fastballs that were elevated and on the outer third of the plate, and drive them the other way. Of the three homers the Rays hit off of Manaea, each pitch was in the upper outside corner of the strike zone, and each one was hit to either center or right field.
They had less of a plan against Oakland's relievers, or at the very least, didn't execute one as well. Following the homer by Pham, the A's turned to Jake Diekman to get the last out of the fifth. Then they brought in tantalizing young lefty Jesus Luzardo, who shredded his way through three scoreless innings, allowing just one hit and two walks while striking out four, before turning the ball over to Liam Hendriks, who worked a scoreless ninth.
But the Rays' arms ensured that all of that work would be in vain. Charlie Morton, Tampa Bay's biggest free agent pickup and a Cy Young candidate, walked a tightrope throughout five innings of work, but always found a way to escape. He labored through a lengthy first inning to strand the bases loaded, and didn't allow his first run until the third. That run, though, barely qualifies as a blemish, coming as a result of a three-base error on a routine groundball by Marcus Semien toward a non-routine third baseman in Michael Brosseau. Ramón Laureano flew out to right field one batter later, and the A's trimmed the deficit to 4-1.
Morton pushed forward. Two hits in the first three batters of the fourth inning spelled trouble for him again, but two groundouts later, he was out of the jam. A Matt Chapman single in the bottom of the fifth set up a chance for slugging first baseman Matt Olson to cut the deficit in half with a ball over the fence, but he merely grounded into a double play instead. Morton registered seven groundouts and four strikeouts over five innings of work, helping him side-step five hits and three walks allowed.
When the bullpen was called upon, it was as good as you'd expect baseball's top bullpen by WAR and ERA, and second-best by FIP, to be. Diego Castillo used a dominant slider to weave through two scoreless innings with three strikeouts, and Nick Anderson used his devastating fastball-curveball combination to strike out four of the five hitters to face him. By the time Emilio Pagán was summoned to earn the final two outs, the A's and their home fans couldn't muster so much as a whimper to stop Tampa Bay from celebrating its first playoff victory in six years.
A's fans know this feeling well. This was the ninth-straight loss for Oakland in a do-or-die playoff game, with its last victory in such high stakes coming in their 1973 World Championship. It is the sixth straight playoff series/round that the A's have lost, dating back to their 2006 ALCS loss to Detroit, and their third Wild Card game defeat in the last six years. They won 97 games, and had two of baseball's top 11 position players by WAR. And in a few days, they will feel like a faraway memory.
Tampa Bay, having just won their 97th game of the season, are now staring down a gauntlet. The Astros await, winners of 107 games, armed with the two leading Cy Young favorites, the likely Rookie of the Year, and at least a top-two MVP candidate. They're used to this October thing by now, and they've got a look in their eye that suggests they're happy to do it again. Tampa Bay will be underdogs, but they did take four of the seven matchups the two teams played this season, so they're not exactly punching above their weight class. The Rays have a stingy enough pitching staff to be a worthy challenger to just about anybody. If they're also getting clutch power swings from guys like Yandy Díaz, Avisail García and Tommy Pham, they might be something more.
Tony is a contributor for FanGraphs. He began writing for Red Reporter in 2016, and has also covered prep sports for the Times West Virginian and college sports for Ohio University's The Post. He can be found on Twitter at @_TonyWolfe_.