NEW YORK — Thus far in the Division Series, a Yankees lineup whose relentless efforts to control the strike zone yielded an American League-high 5.82 runs per game despyte myriad injuries is treating the Twins with a familiar ferocity that has become their signature. On Saturday evening, for the second night in a row, two teams that looked quite evenly matched on paper and pixel, and far disconnected from a history that produced four Division Series pummelings by the Yankees from 2003-10, yielded a lopsided result. Grinding out at-bat after at-bat with their signature plate discipline, the Yankees staked themselves to an early lead against starter Randy Dobnak, then pounced when the 24-year-old rookie got into a jam. Didi Gregorius' grand slam off reliever Tyler Duffey was the coup de grâce in a seven-run third inning that backed yet another impressive postseason start from Masahiro Tanaka and carried the Yankees to an 8-2 victory. They've pushed the 101-win Twins to the brink of elimination as the series heads to Minnesota and have now won 15 of 17 postseason over the Twins dating back to 2003, including a major league record 12 straight. The Twins have lost a record 15 consecutive postseason games overall.
Of the Yankees' first 21 batters, 14 reached base, via 10 hits, three walks and one hit-by pitch. Amid that parade, every member of the lineup save for Giancarlo Stanton reached at least once, and Stanton, for his part, delivered a sacrifice fly. For the night, the Yankees collected 11 hits and eight walks — against a team whose walk rate was an AL-low 7.2% — while striking out just six times.
"Up and down the lineup, guys are hungry," said Aaron Judge, who while batting second walked and had two singles within that early span, and later added another walk.
"I absolutely do think it's contagious," said manager Aaron Boone regarding his team's plate discipline before the game. "It's something we preach ad nauseam… I do think those guys take that to heart and really, as a group, have some faith and trust in each other and take some pride in knowing that, when they do that as a group, it benefits all of them because it wears people down. It nets more mistakes over time, and more often than not, when we do that, we've been able to kind of break through at some point."
The Yankees quickly wore the Twins down, forced mistakes, and broke through in a big way. They made short work of Dobnak, a surprising choice to start Game 2 given a major league resumé just 28.1 innings long, most of them in the wake of Michael Pineda's PED suspension. The Fu Manchu'd righty's wild ride has taken him from a West Virginia Division II school (Alderson-Broaddus College), through an independent league so obscure its stats aren't even on Baseball-Reference (the United Shore Professional Baseball League), and then through High-A, Double-A and Triple-A this year after spending the past offseason driving an Uber. He was manager Rocco Baldelli's pick over Jake Odorizzi, who will start Game 3, based upon Baldelli's belief that his sinker-driven groundball tendency — a 52.9% groundball rate and a 2.42 groundball/fly ball ratio, both tops on the Twins, alongside a 1.59 ERA and 2.90 FIP — would play well in Yankee Stadium against a team that hit 306 home runs despite dealing with a record number of injuries. The more obvious choice, Odorizzi, ranked ninth in the AL in WAR (4.3) but produced just a 35.0% groundball rate, though he did allow just 0.91 homers per nine. Said Baldelli after Game 1 in announcing his choice, "It was not an obvious move in any way. I think in this ballpark, the guy that throws the ball, keeps it on the ground pretty well was a good guy to look to."
Dobnak needed to summon his groundballing acumen just to keep himself from getting chased even earlier. After DJ LeMahieu rocketed his third pitch of the game into the right field corner for a double and Judge worked a six-pitch walk, he retired Brett Gardner on a fly ball and was touched for a run when Edwin Encarnación bounced an RBI single over shortstop Jorge Polanco's head, scoring LeMahieu. He recovered to induce Stanton into an around-the-horn double play, limiting the damage.
In the second, Dobnak survived back-to-back two-out singles by getting LeMahieu to ground out, but loaded the bases with nobody out in the third on sharp singles by Judge and Encarnación, sandwiched around a walk of Gardner. Baldelli had no choice but to go to his bullpen, and unlike on Friday night, when he summoned arguably his fifth-best reliever, Zack Littell (who was charged with two runs), this time, he brought in his best non-closer, Tyler Duffey. Unfortunately for the Twins, Duffey had thrown 25 high-stress pitches on Friday. Per Baseball Savant, his velocity was down ever so slightly, from an average of 94.1 mph with several pitches touching 95 in Game 1, to 93.4, with none above 94 in Game 2. His location was lacking as well, and he simply couldn't finish off the Yankees' hitters. Inheriting a bases-loaded, no-out jam, he got to two strikes on five straight batters and retired just two, letting in five runs.
Duffey began by getting ahead 1-2 against Stanton, but the slugger took a borderline fastball for ball two, then put a charge into a hanging slider, hitting a 99.8 mph drive to center field. While it died short of the warning track, it was deep enough to score Judge. He went 0-2 on Gleyber Torres via a pair of foul balls, but left a 93 mph fastball in the middle of the zone that Torres turned into an RBI single to left field for a 3-0 lead. On 0-2 to Gary Sánchez, he hit the Yankees catcher in the back to reload the bases, and after going 0-2 to Gregorius, the Yankees' shortstop took a low slider and then fouled off a mid-zone 93.7 mph fastball. Duffey then left a 94 mph fastball high in the zone, and Gregorius drove it high into the evening in right field for a grand slam:
With just one out, the Yankees still had time to scratch out another run against Duffey and reliever Devin Smeltzer, who then sopped up three more frames. It was 8-0, and all over but the raucous shouting from the crowd of 49,277 and the inevitable procession from both bullpens.
"Duff has been a guy that's gotten us out of those types of jams all year long," said Baldelli afterwards, "and he's the guy that we turn to in those situations because he's been so good. His execution as a whole, I thought was okay. In those particular late in the count type situations, probably wasn't as good as it normally is, but, again, we're going to go to Duffey in those types of spots consistently. We're going to continue going to him."
Baldelli had no regrets about choosing Dobnak over Odorizzi — "Both were most likely going to be starting a game in this series regardless of anything else" — and had little issue with his performance. "He threw the ball well. A few pitches leaked out, caught probably a little bit too much of the plate, but he competed well. These are situations where in the regular season you might let him just keep pitching and see what he can do, see if he can get a groundball… but with today's situation being in this sort of game, we decided to go to our higher leverage relievers and go in that direction."
For all of Baldelli's plans to use his higher-leverage relievers, thus far his top five (Duffey, Littell, Trevor May, Sergio Romo, and Taylor Rogers) — who as I highlighted in my preview pitched at basically the same level as the Yankees' top five this year — have thrown just three out of the Twins' bullpen's 10 innings, with Duffy accounting for 1.2 of them; he and Littell have been charged with six runs. With no late-inning leads to protect, Rogers has yet to pitch.
On the other side of the ledger, Tanaka delivered the sixth good-to-great postseason start of his career in as many chances, allowing just one run and three hits in five innings while striking out seven – against a team with the AL's third-lowest rate (20.9%) — and walking just one. He owns a 1.54 ERA in those starts, with 32 strikeouts and just eight walks in 35 innings, and hasn't allowed more than two runs in any of those turns. The Yankees are 4-2 in those games despite scoring just 22 runs. But don't talk to Tanaka about any big-game reputation.
"I actually don't get too caught up on being good in the postseason and all that," said Tanaka through his translator. "Come to think about it, I think it's still a small sample."
Tanaka mixed his slider, splitter, and four-seamer to impressive effect in the early innings, with sliders on the inner half of the plate particularly bedeviling the Twins' left-handed hitters. He escaped a two-on, one-out jam in the first by getting Eddie Rosario to ground into a 3-6-1 double play off a slider that was inside, off the plate, rung up both the left-handed Luis Arraez and the right-handed Miguel Sanó chasing low sliders in the second. He then froze Jake Cave looking at a slider at the bottom of the zone in the third. When the lineup turned over, he got Max Kepler to chase another low-and-inside slider.
Only after sitting through the lengthy third-inning rally did Tanaka look less than sharp. With one out, he walked Nelson Cruz, then yielded back-to-back singles to Rosario and Mitch Garver, scoring a run. He recovered to strike out both Arraez and Sanó again on pitches low in the zone, the former on a splitter, the latter a slider, and pitched a clean fifth before departing. For the night, he allowed just two hard-hit balls, one a single, and the other a groundout. He got 16 swinging strikes on 83 pitches, including seven apiece on the slider (out of 37 total pitches) and splitter (out of 29).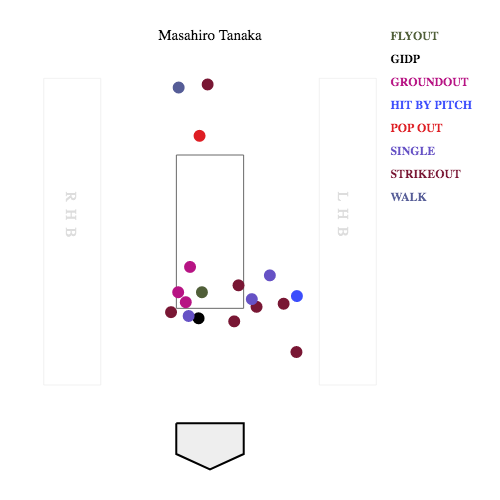 As you can see from the burgundy dots, five of the seven strikeouts came in the same general vicinity. Cave's was the only one of his seven that was in the zone. Mercy. Tommy Kahnle, Adam Ottavino, Tyler Lyons, and Jonathan Loaisiga each pitched an inning thereafter, with only the latter allowing a run.
The offensive hero of the night was Gregorius, who after returning from offseason Tommy John surgery on June 7, hit just .238/.276/.441 for an 84 wRC+, his lowest mark since his 2012 rookie season and the lowest of any Yankee with at least 100 PA. He particularly scuffled down the stretch, hitting .207/.250/.420 for a 69 wRC+ from August 1 onward. Boone felt that between his eight-pitch walk in the seventh inning of Game 1 and his infield hit in the second inning of Game 2, he was primed for big things: "Sometimes it takes one at-bat or a couple of good takes or one good swing to kind of settle you down a bit, and then your natural rhythm starts to take over."
Gregorius drew upon Friday night's plate appearance against Duffy, in which he struck out on a high fastball. "[J]ust thinking back to my at-bats that I had against him yesterday, and after I had two strikes, he threw me that fastball, so I was prepared for it this time after he threw me the curveball in the dirt. I was ready for it this time, so that's why my reaction was like that."
The Yankees are now in a commanding position. Per YES Network researcher James Smyth, teams that go up 2-0 in best-of-five series are 71-10 in the series, with the Yankees' 2017 ALDS win over the Indians the last comeback. At Target Field on Monday, Odorizzi will try to extend the Twins' season by squaring off against Luis Severino and a well-rested bullpen with "all kinds of firepower ready to go." Look out, Twins.
Brooklyn-based Jay Jaffe is a senior writer for FanGraphs, the author of The Cooperstown Casebook (Thomas Dunne Books, 2017) and the creator of the JAWS (Jaffe WAR Score) metric for Hall of Fame analysis. He founded the Futility Infielder website (2001), was a columnist for Baseball Prospectus (2005-2012) and a contributing writer for Sports Illustrated (2012-2018). He has been a recurring guest on MLB Network and a member of the BBWAA since 2011. Follow him on Twitter @jay_jaffe.