The New York Yankees are incredible. They control first place in a strong American League East division by seven games; our playoff odds project them as having an 88.3% chance of winning the division, with 16.2% odds to win the World Series. This, despite an astonishing volume of injuries suffered by key players over the first half of the season, a series of events that thrust bench bats and backups who once seemed somewhat redundant into the spotlight. DJ LeMahieu, for example, didn't have a clear starting spot when the team signed him to a 2-year, $24 million contract over the offseason. But a week away from the All-Star break, he's been the Yankees' best player, and it isn't particularly close.
At 3.6 WAR, LeMahieu is a full win better than the next-most valuable player on the roster. He leads his team in batting runs above average (20.8) and defensive runs above average (3.5). He is second in wRC+ (145) and wOBA (.389). He's the AL's leader in batting average (.345). The Yankees are an outstanding offensive team, ranking fourth in team wRC+ and hitting the fifth-most homers in baseball, despite the long absences of sluggers like Giancarlo Stanton, Aaron Judge, Miguel Andujar, Aaron Hicks, and Didi Gregorius. Yet, it is LeMahieu — he of the 94 career wRC+ and 61 total homers over nine seasons — who has served as the linchpin of the New York lineup.
LeMahieu has been popular around these parts for a while now. In early 2018, Travis Sawchik caught up with him to discuss his shift away from being an extreme opposite field hitter, and over this past offseason, Jeff Sullivan discussed his potential were he ever to unlock more power. This seems like a good time to check back in with LeMahieu, though, because he has spent the past few weeks setting the baseball world ablaze. Since going 3-for-5 against the Blue Jays on June 5, LeMahieu has hit .424/.467/.717, with six homers, eight walks, and 27 RBIs in 22 games. His production in that span gives him an absurd 213 wRC+ and 2.0 WAR, both of which lead the majors.
It's been a long time since LeMahieu was this hot: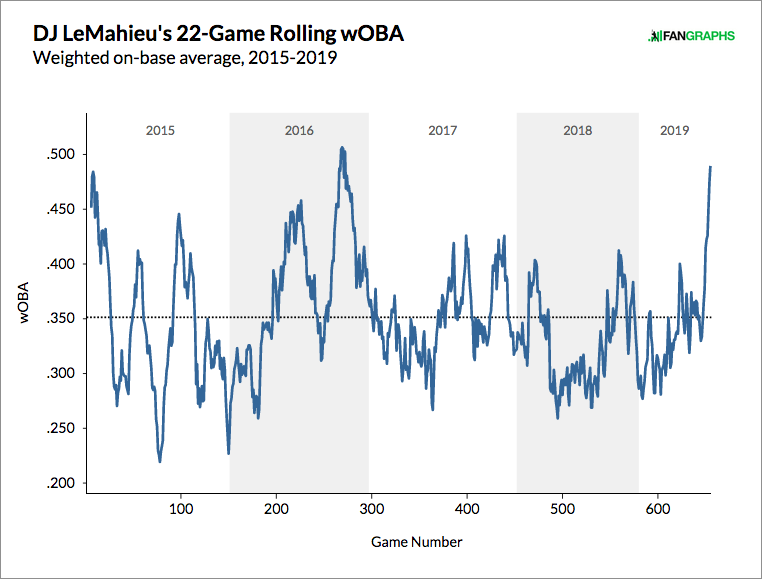 That previous spike came in August 2016, when LeMahieu rattled off a similarly torrid stretch. In 22 games from August 2-28, he hit .447/.544/.647 with four homers, 17 walks and just seven strikeouts. That happened to be his best year in the majors, as he finished with a .391 wOBA and 4.4 WAR as a member of the Colorado Rockies and won the NL batting title. Before that season, LeMahieu had always been a below average hitter; in the two seasons that followed, he was one again. Now, he's back to being a revelation, and continues to show an ability to adapt.
One of the knocks against LeMahieu during his free agency was his predictably uncomfortable home/road splits. During his tenure with the Rockies, he recorded an OPS of .834 and a wRC+ of 96 at Coors Field, but had his OPS fall to .681 when he played on the road, with his wRC+ taking a corresponding dip to 84. That makes a good bit of sense. Because his low number of fly balls limits his power potential, LeMahieu's offensive production relies upon him having a high BABIP, the way he did in 2016 when he hit .388 on balls in play. Coors' spacious outfield will serve players like that well — between 2012 and 2018, three of the top four home BABIPs in baseball belonged to Rockies hitters, with LeMahieu ranking at the top of that list at .374. Away from Coors Field, his BABIP was .310. Skepticism over how valuable he could be when calling a different ballpark home was reasonable. This year, however, LeMahieu has done all he can to put that criticism to rest. At Yankee Stadium, he's hitting a robust .335/.402/.555 with a BABIP of .357 and a wRC+ of 152 a tOPS+ of 108. His road numbers look pretty good too: .350/.375/.497, with a .385 BABIP and a 136 wRC+.
The matter of LeMahieu's home/road splits wasn't the only one he needed to address as a Yankee. He also needed to prove he could hit something other than a fastball. In 2018, LeMahieu was a solid fastball hitter, posting a wOBA of .356. That came honestly enough — from 2015 to 2018, only one hitter in baseball, Ben Revere, saw a higher percentage of fastballs than LeMahieu (65.8%). He struggled, however, against breaking and offspeed pitches, with wOBAs of .254 and .275 against them, respectively.
This year, opposing pitchers have begun to change the way they approach LeMahieu. Just 56% of the pitches he's seen in 2019 have been fastballs, down 11% from a peak rate of 67% in 2017. Slider and cutter usage against him has gone up a combined 6.5% from just one year ago, and he's seen about 2% more changeups and splitters. Added together, that's a notable change, and in response to seeing a more balanced repertoire, LeMahieu has made himself into a more balanced hitter:
DJ LeMahieu Pitch Values
| Year | wFB | wSL | wCB | wCH |
| --- | --- | --- | --- | --- |
| 2015 | -0.9 | 1.5 | -0.7 | 3.4 |
| 2016 | 22.5 | 3.9 | 4.7 | 5.9 |
| 2017 | -3.3 | -2.5 | 5.4 | 5.7 |
| 2018 | 3.5 | -1.3 | 1.8 | 0.1 |
| 2019 | 4.9 | 5.2 | 4.8 | 3.0 |
One of the keys to LeMahieu's great 2016 season was his ability to get positive results out of just about any pitch thrown his way. With his resurgence in 2019, it's no surprise he's seeing similar results. LeMahieu has been one of the 10 best hitters in baseball against both the slider and the curve this year, after struggling with each of those pitches in the past. At the same time, he continues to hit fastballs well. In 2016, LeMahieu recorded a .412 wOBA against the fastball. In 2019, that number is .394. As you might imagine, striking this kind of balance isn't easy. Across all of baseball, just two hitters have posted at least a wFB of 4.0, a wSL a 4.0, a wCB of 4.0, and a wCH of 3.0: LeMahieu, and former Rockies teammate Charlie Blackmon.
It's easy to evaluate a recent free agent signee in the midst of an unsustainable hot streak and say a bunch of teams missed out on him. But LeMahieu makes the impulse difficult to resist. Just two teams have gotten at least LeMahieu's 3.4 WAR out of their second basemen, and no team has gotten more value out of a position player free agent who signed this offseason:
2019 WAR for Position Player Free Agents
With the return of Hicks and Judge, as well as their trade for Edwin Encarnacion, the Yankees are closer to full strength than they've been in a long time. But they still have a long way to go. Stanton and Cameron Maybin are likely out until at least August, while Andujar won't return until 2020. Injuries persist on the pitching side. A deep postseason run remains very likely, but it will continue to require constant adjusting and refining for the team to reach its potential. Perhaps that makes LeMahieu the perfect player for the Yankees.
Tony is a contributor for FanGraphs. He began writing for Red Reporter in 2016, and has also covered prep sports for the Times West Virginian and college sports for Ohio University's The Post. He can be found on Twitter at @_TonyWolfe_.