Luke Jackson has blown six saves this season, tied for the major league lead. His struggles as the Braves closer have given rise to a play on the chorus from OutKast's "Ms. Jackson": Back in mid-May, after blowing two save opportunities in a row, fans on the Atlanta airwaves and Twitter started singing "I'm sorry Luke Jackson (oooh)." His problems — and the singing — only got worse in early June after he allowed runs in five of his first seven appearances in the month. But if you look at Jackson's peripherals outside of their game context, the next line in OutKast's song becomes a lot more appropriate: "I am for real."
A first-round draft pick by the Texas Rangers in 2010, Jackson never really lived up to his pedigree with his original organization. By 2015, he had transitioned to the bullpen full-time, though he did make his major league debut that year. He was traded to the Braves in an unheralded, change-of-scenery move in December 2016 for Brady Feigl (no, the other one) and Tyrell Jenkins. He was just as unremarkable in Atlanta, getting designated for assignment three separate times, each time going unclaimed on waivers. He made the Opening Day roster this year as a fall back option after injuries decimated the team's bullpen during spring training.
In his first appearance of the season, he gave up a grand slam to Rhys Hoskins. Luckily it was a low-leverage situation since the Braves were already three runs behind. With Arodys Vizcaino injured and A.J. Minter and Dan Winkler ineffective, Jackson found himself thrust into high-leverage situations by mid-April. But despite the aforementioned struggles, he's been the best reliever in the Braves bullpen this year. If you compare what he's doing this year to what he was doing before, he looks like a completely different pitcher:
Luke Jackson, 2015-2019
| Season | IP | K% | BB% | GB% | ERA | FIP | WAR |
| --- | --- | --- | --- | --- | --- | --- | --- |
| 2015-2018 | 109.3 | 17.7% | 10.1% | 44.4% | 5.19 | 4.51 | -0.2 |
| 2019 | 41 | 33.1% | 7.6% | 67.7% | 2.85 | 2.69 | 1.1 |
| Change | — | 15.4% | -2.5% | 23.3% | -2.34 | -1.82 | 1.3 |
Jackson has always had a pretty violent throwing motion, which led to issues with his command throughout his minor league career. When those problems persisted in Atlanta, he sought outside assistance to help him figure out what wasn't working. During the offseason, he visited Driveline Baseball where he corrected some of his throwing mechanics. Here's how he describes the adjustments he made to Eno Sarris in this piece from The Athletic:
"If I keep my head straight a little bit longer and drop my arm slot a little bit, I'll have the same stuff and be able to command it a little more. I fall off the mound still, but I used to fall off way more."
Here's what his vertical release point has looked like over the last three seasons: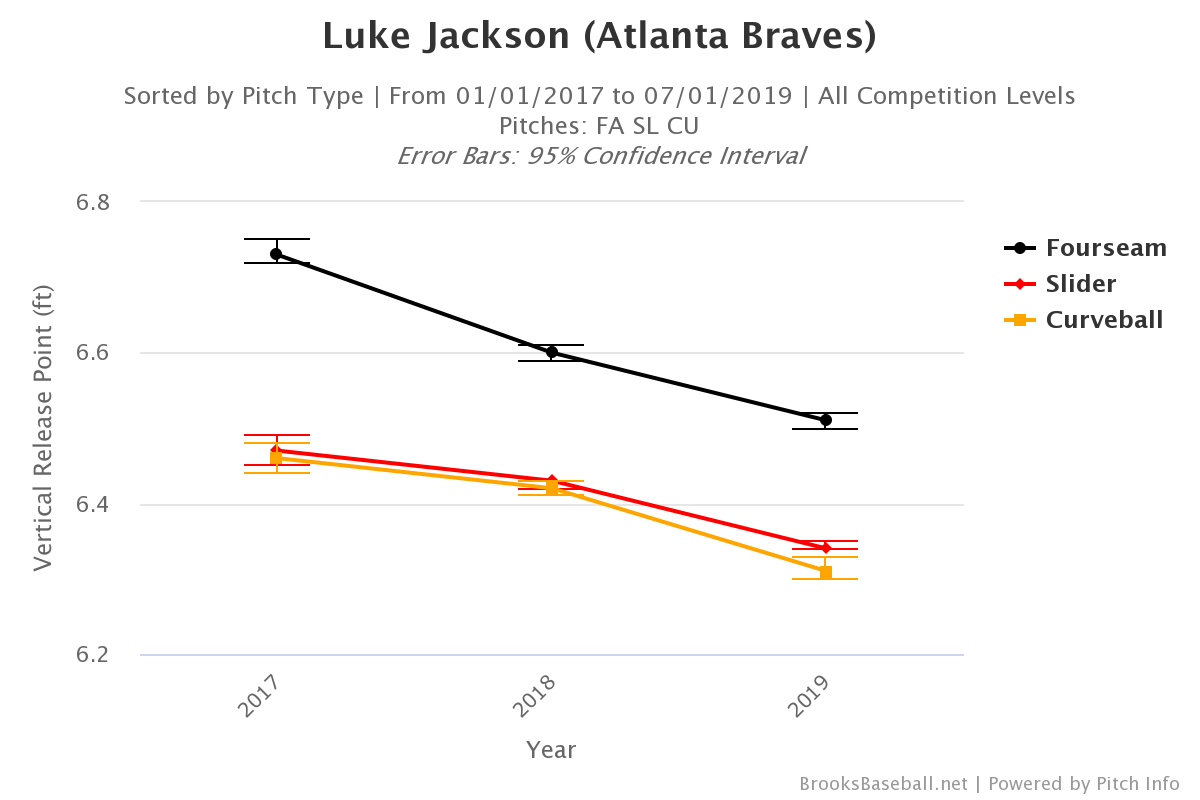 That mechanical change has helped him locate his pitches more consistently while also giving him a boost in velocity. He's added almost a tick and a half to his fastball, from 94.8 to 96.2 mph, and almost a full tick to his slider, from 87.3 to 88.2 mph.
He also learned a new grip on his slider in the minors last year, which has turned it into a deadly weapon. According to the Baseball Savant pitch movement leaderboards, his slider has 29% more vertical movement than similar sliders, the second best mark in the majors. The pitch has so much drop on it, it acts more like a really hard curveball than a traditional slider. The additional movement hasn't affected the pitch's excellent whiff per swing rate. But when batters do make contact with his breaker, they pound it into the ground. Almost three quarters of the balls in play off his slider are on the ground, the fifth highest rate among all sliders thrown more than 100 times this season. And since he's throwing it more often than ever, his overall groundball rate has jumped up to 67.7%.
With better command of his breaking ball, he's using it earlier in at-bats and in hitter's counts. Last year, when the count was even or the batter was ahead, Jackson would throw his slider 33.8% of the time. This year, he's using it 44.7% of the time in those counts, helping him to keep batters guessing. Using his slider more often has had the knock-on effect of increasing the effectiveness of his fastball. The whiff per swing rate on his heater has increased to just under 25%.
With so much more of the contact against him coming on the ground, one of the unfortunate side effects has been a high BABIP. He's cut his hard hit rate from 36.5% to just 24.8% this year but balls have continued to find holes in the defense. Poor batted ball luck can explain four of his blown saves. The back-to-back blown save opportunities in mid-May came on hits that looked like this:
The Lorzeno Cain double was preceded by a similar high chopper over Freddie Freeman's head that went for a single. The hits that came before Joe Panik's walk-off single were also the result of poor batted ball luck, including a Pablo Sandoval infield single. Jackson's most recent blown save came on a seeing-eye single off the bat of César Hernández:
There were two runners on because of an unfortunate throwing error by Jackson on a sacrifice bunt but the run-scoring hit was a result of some rotten luck.
Every pitcher has to deal with bad batted ball luck at some point. For a closer, that bad luck is exacerbated by the high leverage situations they're pitching in. But looking past that context and taking Luke Jackson's numbers at face value reveals a very effective reliever. He's striking out a third of the batters he's facing and more than two-thirds of the balls in play against him have gone on the ground. Those improved results are backed up by real changes to his pitch arsenal. That's a recipe for success and will hopefully pay off with a change of tune in Atlanta.
Jake Mailhot is a contributor to FanGraphs. A long-suffering Mariners fan, he also writes about them for Lookout Landing. Follow him on Twitter @jakemailhot.