Two years ago, 22-year-old Yoán Moncada, the White Sox's much-heralded return for Chris Sale, put up a 105 wRC+ and 1.1 WAR in his debut season in Chicago. Eloy Jiménez, this year's 22-year-old Southside rookie, has about a month left on the first year of his six year, $43 million contract. But his first year has looked familiar: His .259/.309/.489 line with 27 home runs translates to a 108 wRC+ and 1.3 WAR. Recurring hip injuries have limited his production, but it's still been a mostly successful debut. A key part of Chicago's future, Jiménez has played particularly well over the last month, and he just captured the AL Player of the Week award.
Long-time Jiménez watchers will recall that, as a prospect, he combined tremendous natural strength with unusually high contact rates, particularly during his years in the Cubs system. This year, he's hit for plenty of power but his contact rate is just 70%, which is in the league's 10th percentile among players with more than 450 plate appearances. It's certainly possible to succeed with a low contact rate — Bryce Harper and Nelson Cruz each make less contact and have a wRC+ above 120 — but you either to need to walk a lot or hit for big power to pull it off; Harper walks 15% of the time, while Cruz has an ISO of .323. Jiménez, meanwhile has a .231 ISO and a 6.1% walk rate. He's still a good hitter, if not yet a great one.
Fortunately, with his size and natural pop, he doesn't have to sell out for power. Instead, he can focus on keeping his hands behind the ball and try to hit line drives. This more compact approach is an adjustment from his time in the Cubs' minor-league system, where he used to hold his hands at helmet height and then need to torque his body violently around his upper half in order to reach pitches low away; typically, he'd either miss entirely or foul the ball off. Since coming to the South Side, Jiménez says he's lowered his hands in an effort to make better contact on inside fastballs, and to get to pitches down and away from lefties.
"I'm just trying to hit those ones with the barrel, like I'm hitting line drives to second base. Having the hands lower has helped me a lot, staying with those pitches. When I do that, if they come in with the pitch, instead of down and away, then I have a chance to hit it over the third baseman's head, or over the shortstop."
You can see the results in Jiménez's contact rate plot against lefties (below). As you'd expect, he's driving pitches that brush the center of the zone, but he's also making contact on pitches down and away that he feels were never accessible to him before.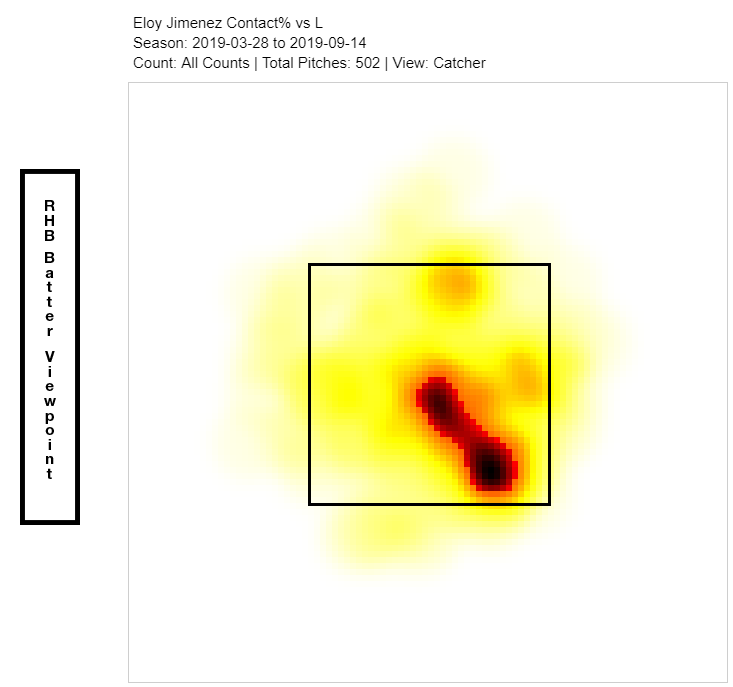 Four times this season, Jiménez has homered to right-center field on a low pitch from a lefty. In Jiménez's mind, that's the highest form of success as a hitter. He's already made good progress toward split-neutrality this year, posting a .314 wOBA against southpaws and .340 mark against righties, but he wants to go further in his sophomore season. He'd also like to improve against off-speed pitches (he's struggled in particular with changeups), which in his case is the other side of the same coin, as he tends to get those pitches late in counts and away from his powerful hands.
Jiménez has shown no signs of resting on his laurels. People around the White Sox rave about his work ethic and attitude, particularly in the face of the injuries that have dogged him since making his pro debut five years ago. Those injuries, and the hoopla surrounding his late-spring contract extension and subsequent debut, could easily have distracted him.
"Everything has been new this year," he told me this week. "Everything. It's been a totally new life for me. I signed that big contract in spring training, and since then it's been new fields, new stadiums, new computers and things around for me to get ready with. I've just tried to be focused on each game and not worry too much."
That's been difficult in a season where he hasn't had much chance to build up a rhythm at the plate. Jiménez started slowly, hitting just .241/.294/.380 over his first 85 big-league plate appearances, before landing on the IL with an ankle injury at the end of April. After returning in late May, Jiménez had a strong June, posting a 143 wRC+, before heading back to the training room with an ulnar nerve contusion in mid-July. That kept him out until the end of the month, and he looked rusty upon his return to the lineup. His September to date has been excellent, with five home runs and a 179 wRC+, but he hasn't yet managed to produce big numbers in consecutive months.
At some point soon, the White Sox could be pretty good. Tim Anderson is swiftly becoming a star, albeit one with a 2.5% walk rate. Moncada is currently putting the finishing touches on what should end up as a five-win season. José Abreu has 33 home runs and a 119 wRC+. If the Southsiders actually go out and get some pitching to support Lucas Giolito, they could threaten the Cleveland-Minnesota chokehold on the division that's played out since the Royals made their last run to October four years ago. Right there in the middle of will be Eloy Jiménez, the young man who came into adulthood believing he'd one day be playing playoff baseball in Chicago. If things go right next year for him and his club, he absolutely will be — just a few miles south of where he expected.
Rian Watt is a contributor to FanGraphs based in Seattle. His work has appeared at Vice, Baseball Prospectus, The Athletic, FiveThirtyEight, and some other places too. By day, he works with communities around the world to end homelessness.