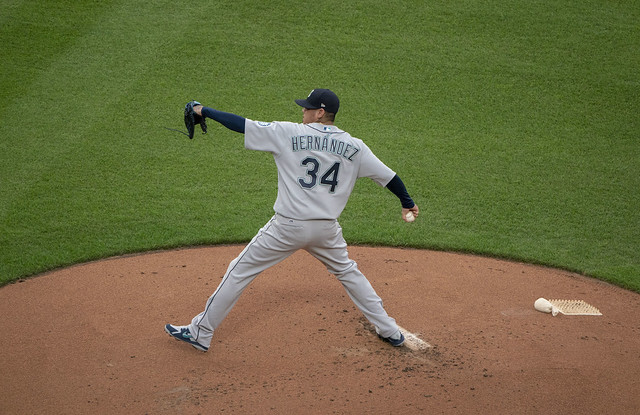 For the first time in a while, the Mariners weren't playoff-adjacent in 2019. Depending on your point-of-view, over the last decade the Mariners have either been the worst playoff contender or the greatest also-ran in baseball. Rarely a thoroughly dreadful team, the mid to late 2010s Mariners were a fringe playoff threat in most seasons, typically flirting with contender status before staying home to listen to old Morrissey albums. It's now been 18 years since the last time Seattle played postseason baseball. Team executive VP/GM Jerry Dipoto is banking on the notion that the organization can remedy that state of affairs with a quick retooling, initiated before the team reached the direst of straits.
The Setup
The 2018 Seattle Mariners played baseball quite adequately, winning 89 games, the team's most since 2003. It wasn't enough to punch a ticket to October, thanks to the Houston Astros winning 103 games and it taking a 97-win season merely to tie with the second wild card team, the Oakland A's. The Mariners made it interesting and were able to stay close to the Astros for most of the year. The team's divisional deficit didn't permanently stretch to more than five games until late August. They scared Houston for a while, grabbing sole possession of first-place for part of June. Perhaps most impressively, the Mariners did it with bandaids and duct tape; former cornerstone players Félix Hernández and Kyle Seager were no longer stars, and second baseman Robinson Canó missed most of the midseason thanks to an 80-game suspension for a banned substance.
After the season, the Mariners made a rare decision for an 89-win team: they blew it up. The decision to enter a rebuild is a hard one, typically resulting in multiple years of struggle. But one of the advantages of going this route is that the Mariners were better able to control their destiny. Unlike the Orioles or the pre-Luhnow Astros, Seattle wasn't forced to take a long view by having a system devoid of talent at the major and minor league levels.
For an extremely active executive like Jerry Dipoto, having a lot of options is important. The 2018-2019 Mariners were still able to find someone interested in Canó, and rather than treating a closer as a player you build around *coughRedscough*, they bundled Edwin Diaz with some cash and were able to land Jarred Kelenic and Justin Dunn. In addition to getting two of their top five prospects from the Mets — both ranked 50 or better by THE BOARD — the Mets picked up some spare baubles in Anthony Swarzak and Gerson Bautista. Even Jay Bruce, mostly brought in to make the cash work, has been occasionally useful in recent years.
In the space of just a couple of weeks, the Mariners shipped out James Paxton, Jean Segura, Juan Nicasio, Alex Colomé, and Carlos Santana. Santana may be the best example of the velocity with which the Mariners made moves over the winter; his brief stint in Seattle was even shorter than the notorious Piazza-as-Marlin week. Santana never played a game as a Mariner, the equivalent of one of those Star Trek episodes where they accidentally change history and then someone disappears from the timeline because, well, they have to get everything back to normal because the hour is up.
Seattle's general strategy was to start a quicker retooling and keep fan interest up, though the fans have been unusually supportive of a team that has largely treaded water and gone so long without October baseball. While a lousy 2019 was inevitably going to hurt attendance that had stayed relatively steady, turning it around quickly could mean the team only experiences a slight blip in terms of fan support.
The Projection
ZiPS saw the Mariners as a much-weakened team coming into 2019, but at a mean projection of 76-86, they were still close enough to have a 1-in-25 chance of making the playoffs. A 3.9% postseason probability isn't the most exciting thing by any stretch of the imagination, but think of it this way: in the majors in 2019, a home run has been hit in 3.7% of plate appearances. Are you shocked and awed when someone hits a home run in 2019? Well, unless you're a Marlins fan?
Despite the trades, Seattle's 2019 position wasn't immediately bleak, and I maintain that the playoff hopes were as reasonable as the projections thought. 2018's outta-the-blue star, Mitch Haniger, was still on the team, and Bruce, Edwin Encarnación, and Domingo Santana all had the potential to make up at least some of the missing offense. Kyle Seager and Félix Hernández weren't so far removed from productive years, and the Mariners also added NPB veteran Yusei Kikuchi to help counteract the loss of Paxton.
This team wasn't obviously doomed going into the season.
The Results
For a brief, shining moment, it looked like the Mariners were going to crush expectations. They swept the two-game series in Japan against the Athletics on the back of an emotional farewell to Ichiro Suzuki, and started the year winning 13 of 15 games. That was good enough to establish a four-game lead in the AL West, and, as I always remind people, there's a starting position at which anyone can beat Usain Bolt in a footrace. Through these 15 games, the Mariners had seven hitters with a wRC+ north of 120 (and typically by a significant amount), and a team ERA below four.
As you may have surmised if you've looked at the standings at any point in the last three months, it didn't last. From the team's high-water mark in April until June 2, when Bruce was sent packing in the first of a long series of June trades, the team went 12-36. April's playoff hopes were a faded memory by the end of May. During this stretch, nearly a third of an entire season, the team's ERA of 5.74 was the worst in baseball. The pitching staff even managed to allow more home runs than the Orioles over that span, squeezing out a 92-90 edge. The offense didn't experience quite as stark of a breakdown, but a triple-slash of .225/.300/.414 and a bottom-third in the league finish in runs scored isn't a highlight for the newsletter.
With a long shot playoff run not coming together, Dipoto started trading off some of talent that was unlikely to be around in the long-term. Bruce, Encarnación, Mike Leake, Hunter Strickland, and Roenis Elías all moved on to sunnier climes in July.
Despite the record, the Mariners found out a lot of interesting things about their talent in 2019, so even the losing has been relatively productive. Omar Narváez might be a good enough hitter to compensate for his rather bland, ineffective defense behind the plate. Daniel Vogelbach might not be the second coming of Matt Stairs after all, but Tom Murphy and Austin Nola are looking like amazing scrap-heap additions, and Kyle Seager actually isn't done. Seattle became the latest team to rob a solid reliever from the Nationals, bringing in Austin Adams after the Nats couldn't be bothered to take a real look at him.
In the end, the Mariners can hang their heads high that unlike other teams residing in baseball's dark, moist cellar, doom wasn't preordained.
What Comes Next?
Seattle's been slowly moving money off the books and now only have around $80 million already accounted for in 2020. Felix Hernandez is their only significant free agent — Arodys Vizcaíno, like Carlos Santana, was only a "paper Mariner" — and as sad as it is, King Félix is no longer a significant major league contributor. Most of the team's arbitration-eligible players are in their first year, and the ones who aren't non-tendered won't break any banks. Additional cash comes off the books in 2021 with the Jay Bruce deal disappearing and Mike Leake's payoff decreasing. While we can argue that most teams in baseball can spend more than they claim to be able to, the Mariners will likely be able to spend quite aggressively a couple of years from now, even with their self-imposed constraints.
Ranked eighth on the board, the Mariner farm system is in better shape than at any time I can remember. Kiley and Eric had the Mariners 15th in an earlier 2019 report. Going back further, and using Keith Law as a stable long-term reference for Seattle's rank, that was already up from 22nd. Law ranked the Mariners 30th before 2018, 28th before 2017, and 28th before 2016. In other words, there's far more young talent on the Mariners' farm than there has been at any point in recent years.
That the team has reached this point with only one year (so far) in the wilderness is a testament to the work Dipoto has already done to repair the flaws of the Jack Zduriencik regime.
The Absitively, Posilutely, Way-Too-Early ZiPS Projection – Kyle Lewis
In the decade since drafting Kyle Seager, the Mariners have had little luck drafting hitters, with the best-drafted hitter since then being current Dodger Chris Taylor. Thanks to tearing most of the things in his right knee after a 2016 home plate collision while playing for Low-A Everett, Kyle Lewis's prospect status looked in real danger. 2018's comeback season wasn't a thrilling one, with Lewis hitting .244/.306/.405 after his May return. 2019 was encouraging, as Lewis stayed healthy and continued to develop as a hitter; this was in the Double-A Texas League, so his improved offensive numbers aren't due to the Triple-A leagues now using the flubberball. And since joining the big league roster, he's been on a homer tear, hitting four long balls in his first six games as a Mariner. Lewis will have to continue to improve his plate discipline and develop his power, but he now has a real chance to succeed where other Mariners middle-order prospects haven't. This is especially important as it's unlikely Lewis plays centerfield all that often in the majors.
ZiPS Projection – Kyle Lewis
| Year | BA | OBP | SLG | AB | R | H | 2B | 3B | HR | RBI | BB | SO | SB | OPS+ | DR | WAR |
| --- | --- | --- | --- | --- | --- | --- | --- | --- | --- | --- | --- | --- | --- | --- | --- | --- |
| 2020 | .246 | .309 | .388 | 529 | 62 | 130 | 29 | 2 | 14 | 65 | 47 | 164 | 3 | 90 | 7 | 1.2 |
| 2021 | .243 | .310 | .390 | 515 | 61 | 125 | 30 | 2 | 14 | 64 | 49 | 166 | 3 | 91 | 6 | 1.3 |
| 2022 | .243 | .312 | .396 | 515 | 63 | 125 | 30 | 2 | 15 | 65 | 51 | 167 | 3 | 93 | 6 | 1.4 |
| 2023 | .237 | .311 | .386 | 510 | 62 | 121 | 29 | 1 | 15 | 65 | 53 | 169 | 3 | 90 | 5 | 1.2 |
| 2024 | .236 | .312 | .388 | 369 | 45 | 87 | 21 | 1 | 11 | 47 | 40 | 125 | 1 | 91 | 4 | 0.9 |
| 2025 | .237 | .312 | .387 | 380 | 46 | 90 | 22 | 1 | 11 | 48 | 41 | 124 | 2 | 91 | 4 | 0.9 |
While I wouldn't call this projection "good," it also represents a significant change in outlook for ZiPS from its preseason forecast. Before 2019, ZiPS saw Lewis as a player who likely wouldn't peek far above replacement-level at any point. Now it sees him as a realistic, if limited, contributor to a winning team. He now peaks as a 15-homer hitter instead of one who hits around 10, and ZiPS thinks he's made enough progress in his plate discipline to walk 50 times a year. That's real progress.
Dan Szymborski is a senior writer for FanGraphs and the developer of the ZiPS projection system. He was a writer for ESPN.com from 2010-2018, a regular guest on a number of radio shows and podcasts, and a voting BBWAA member. He also maintains a terrible Twitter account at @DSzymborski.