Over the past few seasons, fans of the Cincinnati Reds have gotten used to watching third baseman Eugenio Suárez improve year after year. When he was acquired from the Detroit Tigers in December 2014 with former first-round pick Jonathon Crawford in exchange for Alfredo Simon, he was a glove-first shortstop who had a decent track record of hitting in the minors but lacked any loud offensive tools. After arriving in Cincinnati, he began to piece his game together one season at a time.
In 2015, he showed modest power but walked just 4.3% of the time and was a liability in the field. In 2016, he kept that power but improved his glove and doubled his walk rate, finishing with a 93 wRC+ and 1.3 WAR. In 2017, he boosted his power as well as his ability to walk while becoming a plus defensive third baseman, and he finished with a 116 wRC+ and 3.9 WAR. Last year, his power once again took a great step forward, and his wRC+ swelled to 135 while his WAR stayed at 3.9.
That kind of exponential growth was exciting to see out of Suárez, who signed a 7-year, $66-million extension before the 2018 season. He clocked in at No. 32 on our Trade Value rankings last year, and he appeared to be just a step away from the game's elite third basemen. This season, however, the 28-year-old hasn't provided quite the same value.
Eugenio Suárez 3B Offensive Ranks
| Statistic | 2018 | 2019 |
| --- | --- | --- |
| WAR | 7th | 14th |
| wRC+ | 6th | 12th |
| HR | 4th | 1st |
| BB% | 7th | 8th |
At 33 homers, he's one away from tying a career high with six weeks left on the schedule. But aside from another precipitous increase in power, his numbers elsewhere have deteriorated from where they stood last year. His wRC+ is down 16 points, and his typically consistent strikeout rate is up four points. Those aren't concerning figures on their face — he's still well above average in terms of cumulative offensive production thanks to a 10% walk rate in addition to his power — but it's his underlying contact stats that tell an unpleasant tale.
Eugenio Suárez MLB Percentiles
| Statistic | 2018 | 2019 |
| --- | --- | --- |
| Exit Velocity | 89th | 60th |
| Hard Hit% | 88th | 65th |
| xSLG | 92nd | 60th |
| xwOBA | 91st | 58th |
Again, Suárez remains above average across the board, but a notable decline has taken place in terms of the kind of contact he's making. Now, if a player's plate discipline numbers remain consistent while his quality of contact falls off a bit, I might suspect there's an injury hampering him. Suárez, however, hasn't missed any time this season, even after getting removed from a game after being hit by a pitch in May. The last time he was on the injured list was early in 2018 after getting hit by a pitch on the thumb, and he still turned in a career year. This season, he's played more games than anyone else on the Reds. He seems healthy.
There is little to speculate on in terms of Suárez's health, but there are some interesting pieces of data in his batted ball profile. Despite his rapid transformation from fringe offensive contributor into middle-of-the-order slugger, his underlying batted ball data remained incredibly consistent. In 2017 and 2018, Suárez posted identical fly-ball (37.1%) and pull rates (42.7%). The difference in offense between those seasons simply came from how much stronger he was — his HR/FB% increased by nearly six points, and his hard-hit percentage went up nearly 15 points. Similar jumps were going to be incredibly difficult to achieve again in 2019, so in order for Suárez to make another surge with his power numbers, he's changed where he hits the ball.
Eugenio Suárez's Batted Ball Data
| Year | LD% | GB% | FB% | Pull% | Cent% | Oppo% |
| --- | --- | --- | --- | --- | --- | --- |
| 2016 | 21.6% | 40.5% | 37.9% | 39.5% | 35.1% | 25.4% |
| 2017 | 24.0% | 38.9% | 37.1% | 42.7% | 30.2% | 27.1% |
| 2018 | 24.6% | 38.4% | 37.1% | 42.7% | 35.8% | 21.5% |
| 2019 | 21.4% | 38.2% | 40.5% | 53.3% | 25.7% | 21.1% |
The flyball increase is notable if only for how consistent it remained for the previous three seasons, but there is no concealing an 11-point increase in pull percentage. A year ago, Suárez posted the 53rd-highest pull rate in baseball. This season, he ranks fourth. That's a decisive change, and one you'd expect to see from someone who wishes to hit more homers. From that standpoint, this approach has worked — Suárez is on pace to challenge 40 home runs, an enviable number even in the juiced ball era, with just three players meeting that threshold in 2018. But it has hurt his ability to make consistent quality contact. A year ago, Suárez had the lowest soft-hit percentage among all qualified hitters at 8.4%. That rate has nearly doubled this year, slipping him all the way to 64th on the list at 15.1%.
A peek at Suárez's 30-game rolling average doesn't show a definitive relationship between his pull rate and his overall production before 2019, but this year, the two do seem to run in opposite directions for extended periods of time.
Suárez's solution to adding power this season doesn't appear to stop at pulling the ball more, either. It also has come from zeroing in on fastballs. Last year, Suárez was remarkable in his ability to hit fastballs, breaking balls, and offspeed pitches with the same vigor. This season, that's no longer the case. (Data courtesy of BaseballSavant.com.)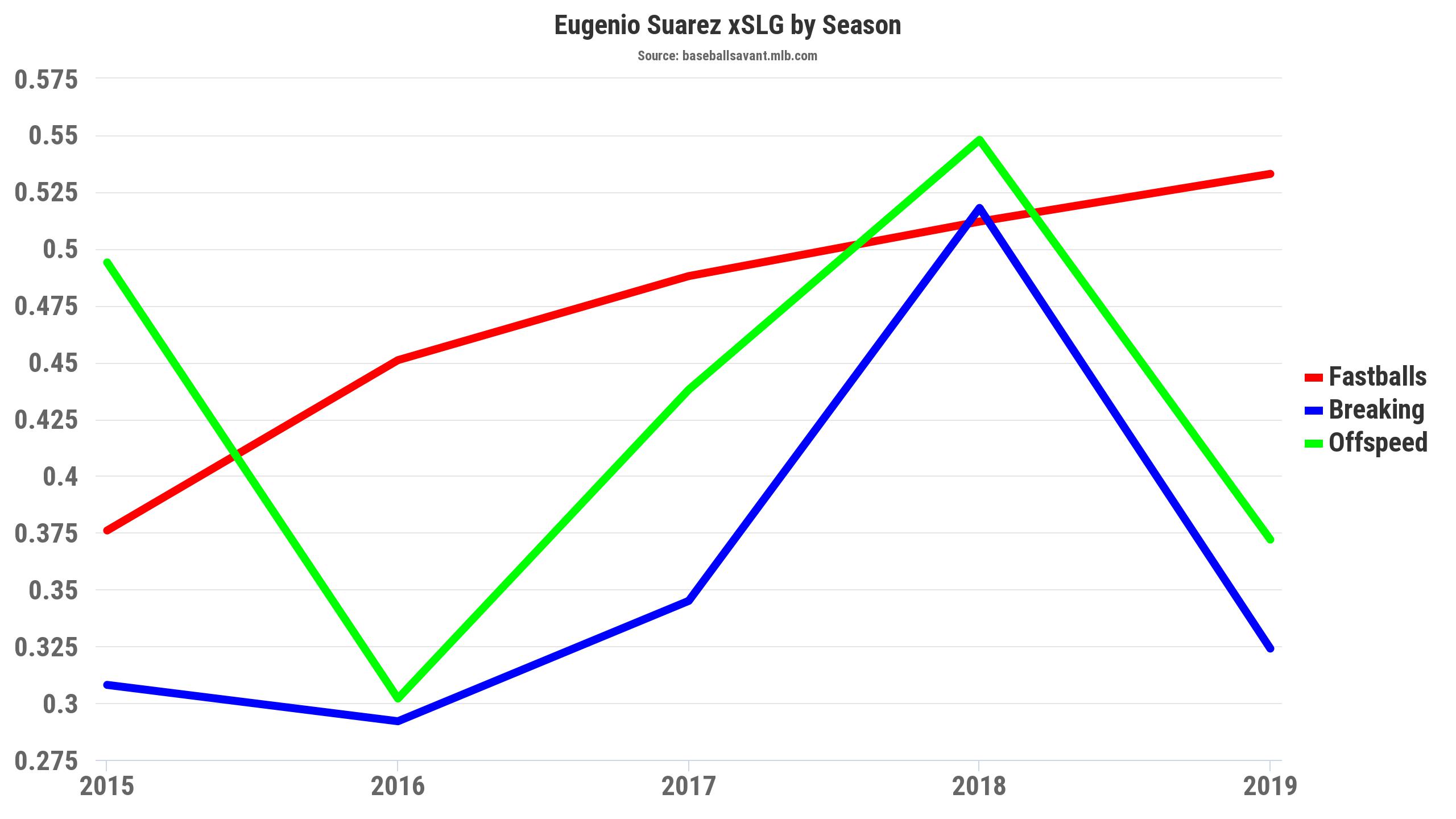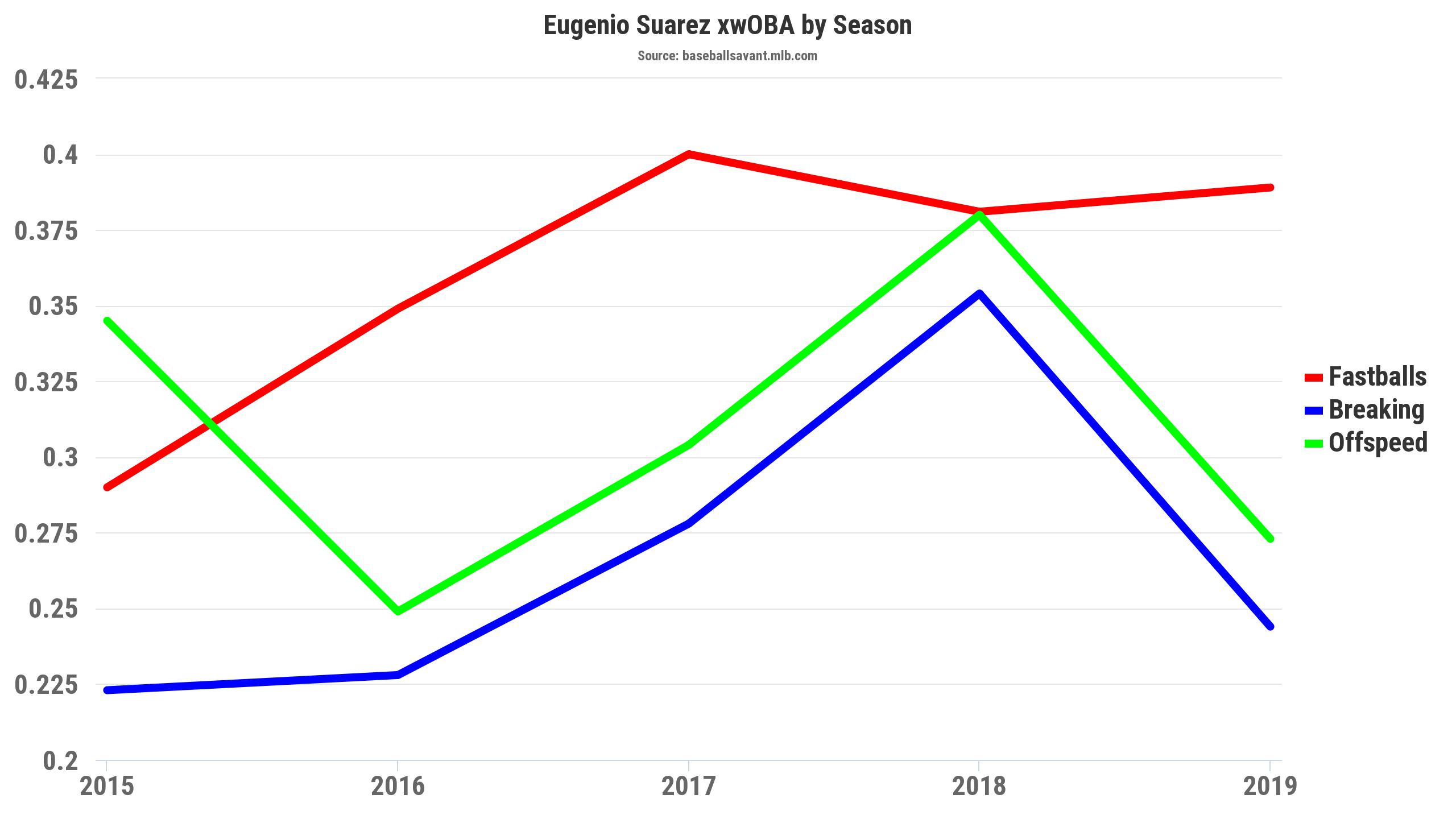 In 2018, Suárez didn't have an xSLG worse than .512 against any group of pitches, and he didn't have an xwOBA worse than .354. If you're trying to post the elite numbers he did in those categories last season, that's the way to do it: Have no weaknesses. He hit 18 homers against fastballs and hit 16 more against non-fastballs. He was as balanced at the plate as you could expect someone to be. Now he sits dead-red. His wFB of 21.7 is the best of his career, and 10th-best in the majors, but it's coming at a cost. His performance against curveballs, changeups, and cutters — all of which he finished 4-7 runs above average against in 2018 — has been below average, while his already-mediocre eye for sliders has taken another dive.
While Suárez's numbers aren't quite where they were last season, Reds fans can take solace in knowing he is on the upswing. As recently as June 28, Suárez was a below-average hitter, staring at a .241/.325/.455 line, a 98 wRC+, and just 0.8 WAR through 79 games. Then he collected seven hits over his next three games, and ever since, he's torn up opposing pitchers to the tune of a .292/.373/.688 line. His robust 160 wRC+ is 14th in baseball in that span, his 1.8 WAR is 17th, and only Nelson Cruz has hit more homers than his 17.
For about seven weeks now, Suárez has once again looked like one of baseball's very best players. That might not be enough for him to improve his wRC+ for a third year in a row, but if this is what a down year looks like for him, the Reds will be content with it. The lingering question, for the rest of this season and beyond, is whether Suárez's approach will continue to favor homers over balance, and whether that's a fair trade-off. For most hitters, that choice is probably a no-brainer, because they haven't shown the ability to hit every pitch with authority the way Suárez has while spraying them all over the field. But in this case, the decision is much tougher.
Tony is a contributor for FanGraphs. He began writing for Red Reporter in 2016, and has also covered prep sports for the Times West Virginian and college sports for Ohio University's The Post. He can be found on Twitter at @_TonyWolfe_.