We are still about seven weeks shy of the trade deadline, but the list of teams trying to add to their rosters (and their counterparts willing to move quality players) is beginning to show its form. And as they are very July, teams are on the lookout for starting pitching, with the list of pitchers who might be available also beginning to take shape: Madison Bumgarner of the Giants, Marcus Stroman and Aaron Sanchez of the Blue Jays, the Rangers' Mike Minor, the Tigers' Matthew Boyd, and perhaps Mike Leake and Marco Gonzalez of the Mariners are all potential targets. Inevitably, some of these players will be traded and make a difference for teams down the stretch, but beyond simple availability, it is probably useful to know why a pitcher is desirable in the first place. Marcus Stroman is a good pitcher having a good year, and with another season of team control after this one, he might be the best starting pitcher traded this season.
Stroman is a bit of a throwback in today's game, relying on a sinker and posting pedestrian strikeout totals. He challenges hitters with the sinker, as evidenced by his heatmap against right-handers using the pitch this season: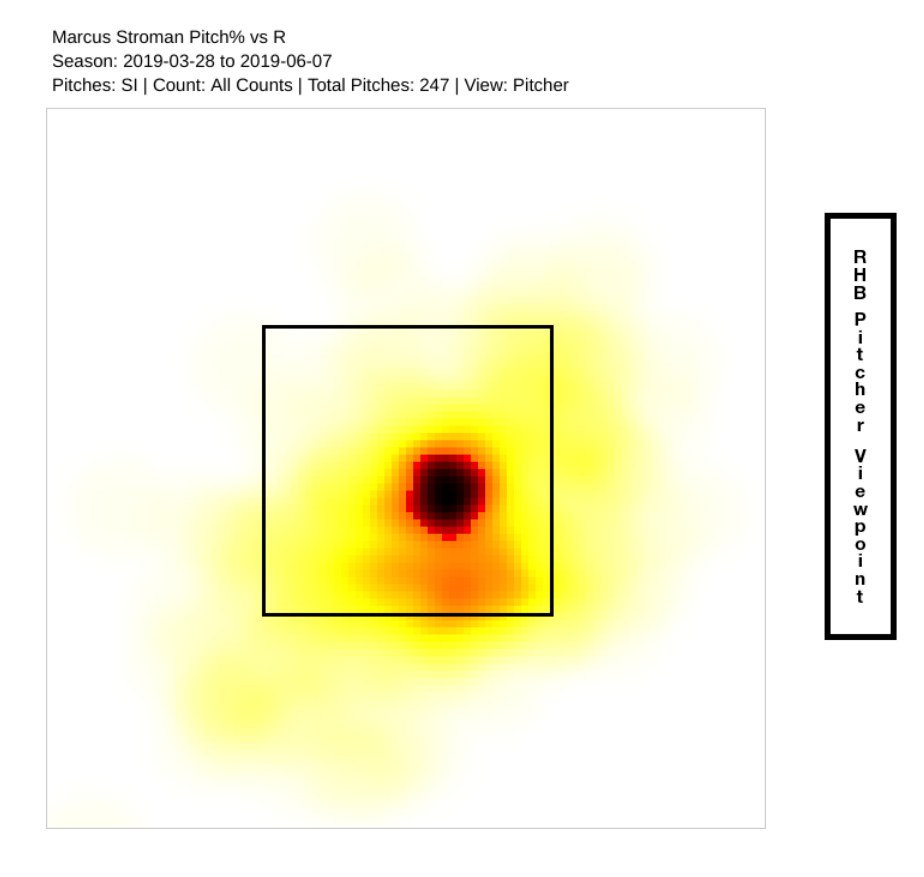 It's not right down the middle; the pitch goes inside a bit. When it works, it looks like this:
That's probably not overly exciting, so here's more of the pitch, this time when it works against lefties:
He throws his sinker to the same spot against lefties and righties, in to the righties and away to the lefties. On the season, he's induced groundballs on 68% of batted balls off the two-seamer, right in line with his 70% career number. The simple explanation for those numbers is that his sinker sinks. Below are the 38 pitchers who throw a two-seamer at least 10% of the time, and the movement they've gotten on the pitch. The view is from the catcher's point of view, so all right-handers will see their spot on the left side of the graph while left-handers will appear on the right side: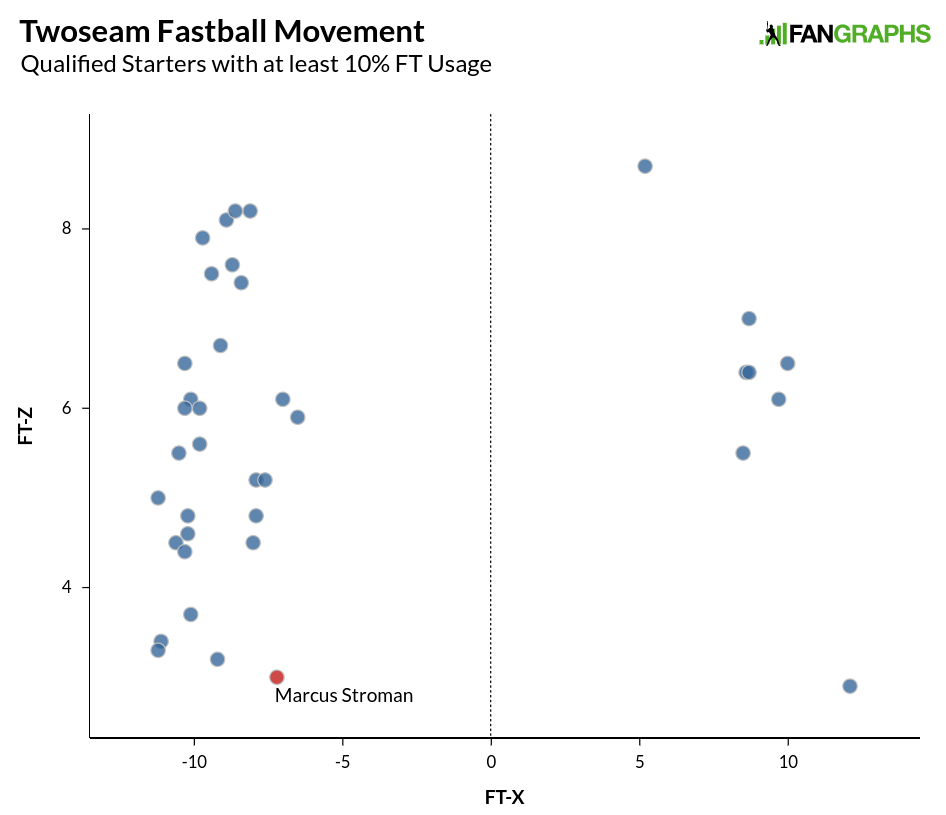 Stroman's sinker moves down more than any other right-handed pitcher in baseball, which allows him to get a lot of groundballs on the pitch. But Stroman doesn't throw just a sinker. He also throws a cutter. This is what that cutter looks like when it is working:
Stroman's career groundball rate on his cutter is at 59%, though it is about 10 percentage points lower this season as he has thrown the pitch a bit higher in the zone than he has in the past. Looking at individual pitch splits might tell you his cutter has been hit around this season, though it appears to be BABIP-based and likely the result of luck, which is also supported by the xWOBA on the pitch.
The only other pitch Stroman throws at least 10% of the time is his slider; this is what the slider looks like when it is working:
Aren't you glad it wasn't another groundball? Stroman has to use one of his offerings to strike out one out of five batters, and the slider is his weapon of choice. Earlier on this season, he went heavy with the slider, throwing it nearly 40% of the time in his first eight starts and getting great results from it. After Minnesota roughed up the pitch a little on May 6, Stroman has gone back to a 27% usaged, in line with his career norms, and not gotten the same good results. After beginning the season with a 2.41 FIP and 2.20 ERA through seven starts, his last eight outings have been unimpressive, with a 5.09 FIP and 4.43 ERA.
While the performance of late might be worrisome, it looks a lot more like normal fluctuation than a sign of something wrong. While Stroman's wOBA jumped from .257 to .348 from his first seven starts to his most recent eight, his xwOBA hasn't moved as much, going from .283 to .304. Stroman is perhaps more prone to fluctuation than other pitchers due to the number of balls put in play against him. A quick look at his FIP and ERA paints a picture of consistency and inconsistency: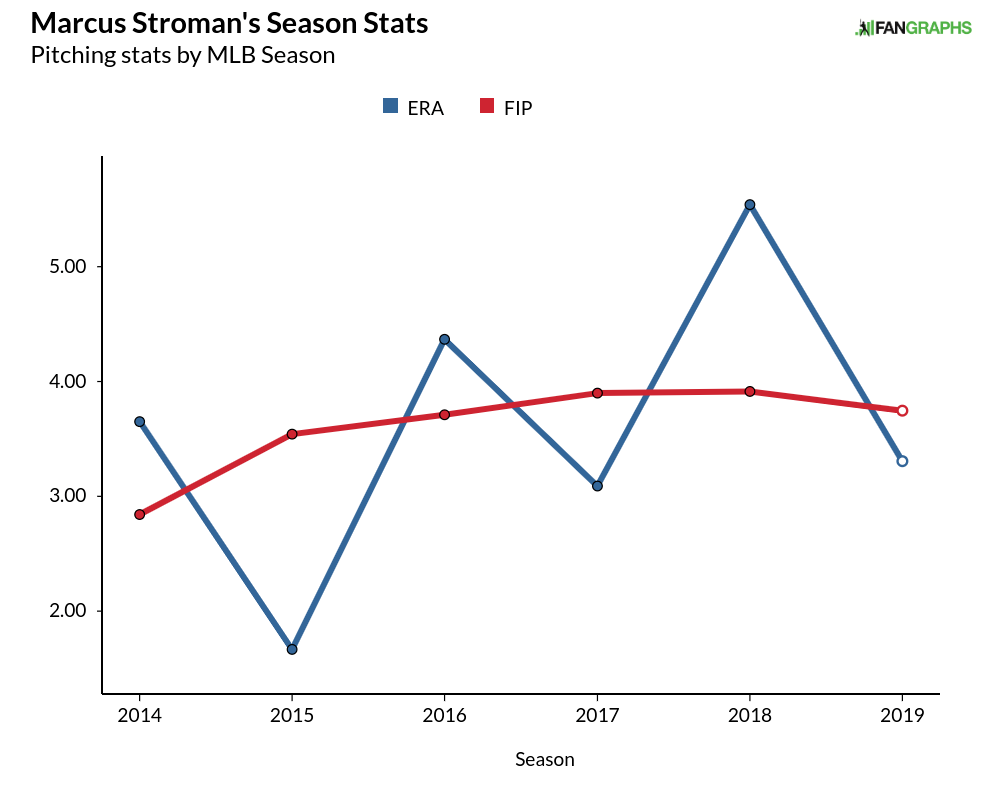 Stroman's FIP has remained relatively constant, but he has been prone to ERA ups and downs, with fluctuating luck due to sequencing and the varying quality of the defenses behind him in Toronto. That 2018 season, which was abbreviated due to injury, was marked by a 60.5% left-on-base rate. While we might assume that Stroman broke down and pitched poorly with runners on base, his strikeout and walk rates under those conditions were in line with his normal performance. According to Baseball Savant, Stroman's xBA was about 50 points lower than actual results with runners on base. Stroman's 5.54 ERA last season was ugly and seems to show some inconsistency, but the results appear to have been mostly random and undeserved.
As for why Stroman's recent run is more blip than pattern, here's his five-game rolling FIP over the last few seasons: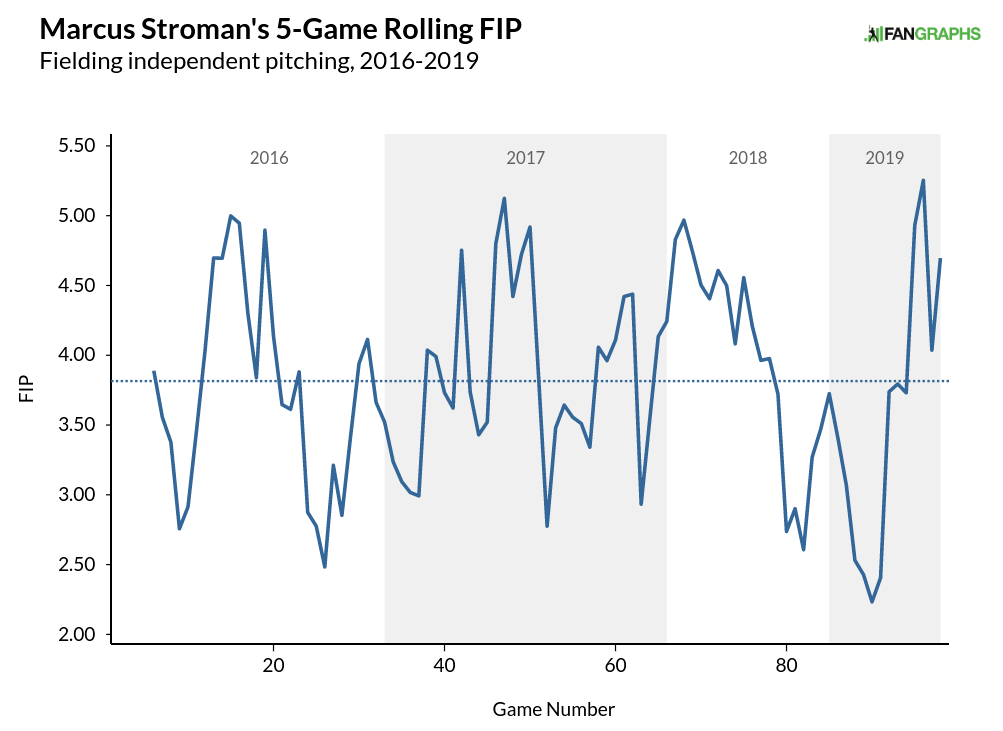 The recent run of poor pitching is a fairly common occurrence for Stroman. Despite these stretches, he always ends the season with solid numbers, so there's little reason to think this year will be any different. Stroman is a good pitcher in the middle of a good year. He might fare better with a good defense behind him, but the massive number of groundballs he generates ensures that his home run rate will be low, limiting the damage. He's pitching at his normal velocity in the low-90s, and his blister and shoulder issues from last season appear to be behind him.
As for which team might be interested in Stroman? Maybe the title exaggerates a bit, as the Cubs, Marlins, Tigers, Royals, Giants, Mariners, and Orioles might not be great fits for Stroman. But otherwise, the answer is pretty much every team. Stroman has one more year of team control, so cost-conscious teams can deal for him without fear of a huge salary, and give up prospects knowing he will be on the roster for another potential playoff run. These are teams like the Rays, Twins, A's, and Brewers. There are a lot of teams, particularly in the National League, that might be on the fence about adding players when their fate this season is uncertain. These are the teams like the Padres, Diamondbacks, Pirates, Reds, Rangers, and White Sox, that are perhaps on the verge of competing, but don't want to go all in this season. Teams that are struggling this year but want to keep their window open, like the Cardinals, Red Sox, Angels, Nationals, Rockies, and Mets, should be involved. Teams that are already doing well, but want to add more to win a division or in the playoffs, like the Braves, Dodgers, Yankees, Phillies, and Astros, should take notice. And if the Blue Jays are thinking about competing next season, it wouldn't be a terrible decision to keep him.
Nearly every team in the league should be after Marcus Stroman, and some of them might be a lot better off if they tried to jump the gun and add him now, before they miss another 10 starts from a quality pitcher.
Craig Edwards can be found on twitter @craigjedwards.