A number of years ago, when I had reason to watch the Tigers, I got to see a bit of a young Avisail Garcia. From a young age, Garcia was referred to as "Mini Miggy," that being a reference to regular Miggy, Miguel Cabrera. Garcia is from the same country as Cabrera, and he played for the same team as Cabrera, and he had a build and swing somewhat reminiscent of Cabrera. You probably know how it's worked out to this point. Garcia was Mini Miggy in the same way so many small Dominican righties have been Mini Pedros. Cabrera will eventually end up in the Hall of Fame. Garcia was non-tendered by a bad baseball team at the age of 27.
But today is January 15, and these are trying days to be a baseball writer. The start of the season still feels ages away, and there's only so much one can write about Bryce Harper and Manny Machado. And so, here we are. Garcia is finalizing a contract with the Rays, a one-year contract worth at least $3.5 million and at most $6 million. Garcia doesn't seem ticketed for a starting role — he'll probably bounce around, getting opportunities to hit against lefties. The better he does, the more he'll play, but he's joining a team with too many talented players for there to be a long leash. Just because Garcia will start the season in Tampa Bay doesn't mean that's where he'll end it.
The Rays have wanted a right-handed hitter. I assume they wanted a better right-handed hitter. But this is the right-handed hitter I've been given a reason to write about right now. So if you'll join me, I have three things I'd like to share with you. Three fun facts, if you will, three ways in which Garcia is unusual.
One
I'm sure you know that listed player weights come with significant error bars. They're almost always rounded, and they tend to try to be flattering. I don't know if Avisail Garcia is actually in the vicinity of 240 pounds. That's just what the internet tells me he is. Garcia's a big dude, and he's never been much of a stolen-base threat. Yet there's the image of Garcia, and there's the reality. I've seen Garcia described as "plodding." Sometimes, I suppose, he might plod. But what about when he doesn't? Here's a plot, using 2018 information from Baseball Savant. On the y-axis: sprint speed. On the x-axis: listed player weight. Garcia's in yellow.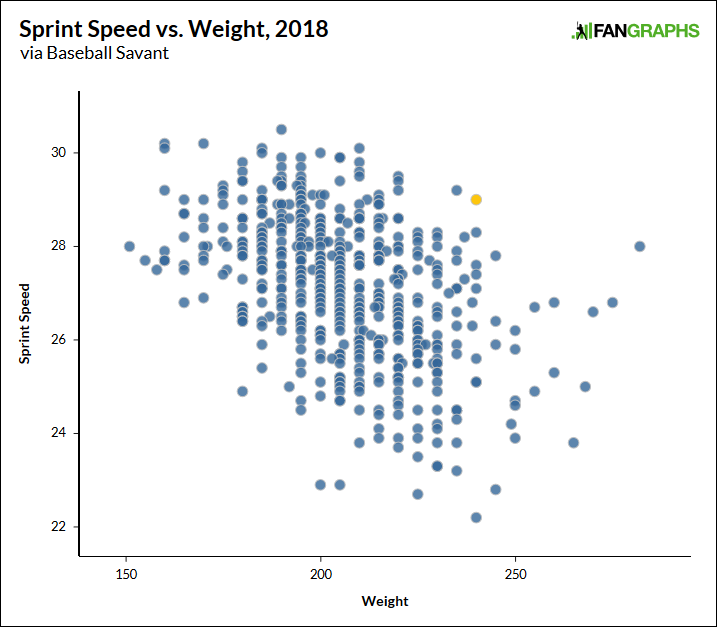 Garcia isn't exactly a burner — he's no Billy Hamilton — but in sprint speed, he's right around the top 10%. And then, by listed weight, he's right around the top 5%. Obviously, based on that, you can see that Garcia is pretty far from the norm. That one dot close by is none other than Mike Trout, with a sprint speed of 29.2, and a listed weight of 235. Both Trout and Garcia are atypically quick for big boys. This doesn't say anything about, say, Garcia's acceleration, but his top speed is pretty fast.
Presumably related to that, Garcia is a surprisingly adequate defensive outfielder. Again, the impression is that he's slow, or clumsy. But going off of three years of Statcast's Outs Above Average, Garcia ranks in the 64th percentile among guys with at least 1,000 innings, and he ranks in the 57th percentile among guys with at least 2,000 innings. This considers only his range, and not his arm, which has been decently valuable in the past. Some names around Garcia in OAA per 1,000 innings, between 2016 – 2018: Brett Gardner, Tommy Pham, Alex Gordon, and Mallex Smith. I had thought of Garcia as a DH candidate. I underrated this part of his game.
Two
What we've established is that Garcia can be fast, when he wants to be fast. What he's really known for, though, is his bat speed. Here's another plot that's based on 2018 Statcast information. On one axis, we'll keep sprint speed. On the other, you're seeing maximum exit velocity. Garcia, again, is in yellow.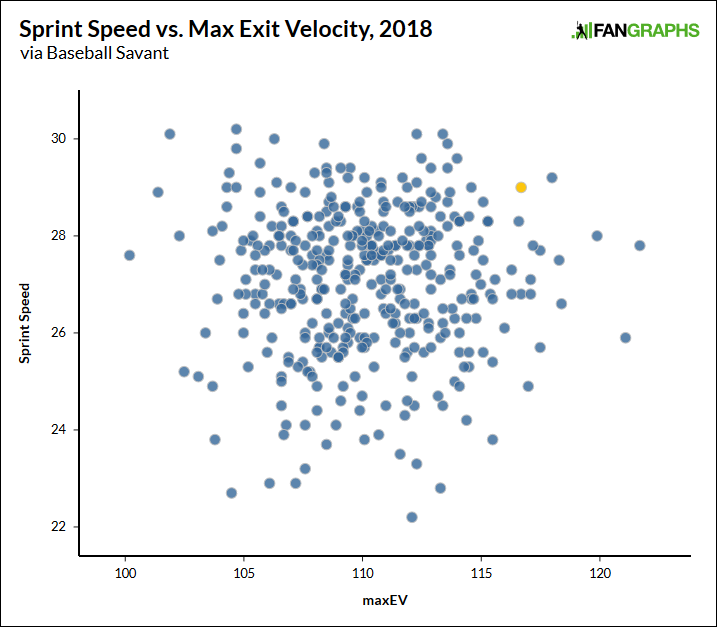 That one dot to the right of Garcia is…Mike Trout again. Last season, Garcia's exit velocity topped out at 116.7 miles per hour. Out of everyone with at least 100 batted balls, there were just a dozen guys who reached a peak exit velocity higher than that. Garcia reached a higher peak than, for example, Jorge Alfaro, Yasiel Puig, and Bryce Harper. Looking over the past four years now, Garcia has hit three balls at 116+. He's one of just 17 players with two or more. That shot at 116.7 came off of J.A. Happ last April, and this is what it looked and sounded like:
Hitting the ball hard is neat. Garcia's former teammate Daniel Palka can hit the ball even harder. But then I'll remind you of the sprint-speed component. Garcia can run. Palka plods. Garcia, in this way, reminds me a little of when I got excited about Franchy Cordero. Cordero runs better and is the superior defender, to say nothing of his younger age, but this is why scouts have drooled over Garcia's tools. He has some very exciting tools.
Three
Garcia runs surprisingly well for a big man. His defense seems to be better than his reputation. Of course, we know he can hit some moonshots. Since Garcia's going into his age-28 season, you might think I'm laying out a case for why the Rays got a steal. And, absolutely, Garcia comes with no shortage of upside. But let me show you a table.
To me, the funnest fun fact about Avisail Garcia is that in 2017 he was worth 4.2 WAR, and over his career he's been worth 4.2 WAR. Okay, so, related to that: Since 1900, there have been 2,422 non-pitchers who've batted at least 2,000 times. In Garcia's best season, he was worth 4.2 WAR. In his next-best season to date, he was worth 0.4 WAR. That's a difference of 3.8 WAR. Here are the players with the biggest differences between their best and their second-best seasons:
Biggest Outlier Good Seasons, 1900-2018
Minimum 2,000 career plate appearances.
Garcia is tied for 19th. He's tied for 19th out of 2,422. That puts him in the top 1%. Interestingly, you can spot a few representatives from this offseason's free-agent market, in Garcia, Pollock, and Harper. And it should go without saying that all of them will have future chances to get away from this group. Garcia could still have a season where his WAR is higher than 0.4. Pollock could still have a season where his WAR is higher than 2.9. Harper could still have a season where his WAR is higher than 4.8. For those three players, these numbers and positions can change.
But the point here is that you shouldn't assume the Rays stole a good player without anyone noticing. The Rays added a talented player, and he's young enough to be close to his peak, but he's frustrating, and he's been injury-prone, and his offensive approach is ultra-aggressive. Last year, only two players swung at a higher rate of pitches. Both of them made a higher rate of contact. An optimist would point out that Garcia just had the same plate-discipline numbers as Javier Baez, but Baez was the better actual player. And Baez is volatile, himself. His 2018 might've been Garcia's 2017. Garcia, for whatever it's worth, is one of baseball's very most vulnerable hitters against elevated fastballs. His swing has at least one hole.
At the price, there's hardly real risk. That's why this is appealing to the Rays. They have the chance to try to get the best out of a 28-year-old premium athlete. If it all goes smoothly, maybe Garcia is like a better defensive C.J. Cron. If it doesn't, however, Garcia might be out of a job by June. It's one thing to be in possession of a skillset. It's quite another thing indeed to put a skillset to positive use.
Jeff made Lookout Landing a thing, but he does not still write there about the Mariners. He does write here, sometimes about the Mariners, but usually not.