FanGraphs loves Mike Trout. FanGraphs has always loved Mike Trout. FanGraphs isn't unique in this regard — Mike Trout is the best player in baseball, and, generally speaking, people are aware of that. But FanGraphs is the home of WAR, and it's by WAR that Trout dominates the competition. Trout is a frequent subject of articles. Trout is also a frequent subject of search queries. He's commonly atop the list of the most-searched players.
Indeed, today, Trout is way up there, yet again. Although he's not in first, and he's not in second. Trout has been the third-most searched player of late, behind Manny Machado and Bryce Harper: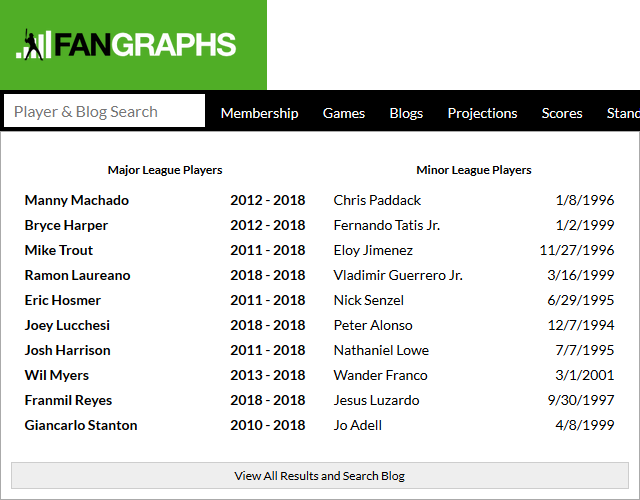 It makes sense. Machado and Harper have been two of the most desirable free agents in the history of free agents. Both players are 26 years old, and both players are among the best at their respective positions. Both players are among the best players, period. For that reason, the Padres just signed Machado for $300 million. Harper and Scott Boras are looking to top that number. Machado's contract is already setting a free-agent record — or at least it will, once it's official. There shouldn't be any more significant obstacles.
Machado and Harper are great. We've written plenty about them, because they're great. You've repeatedly been looking them up, because they're great. But, remember how Trout is also great? Trout is so great he's been as good as Machado and Harper combined. I am not making that up, and this is not some manufactured hot take. The numbers are just sitting right there.