Last week, Jeff Passan wrote about talks between Major League Baseball and the MLBPA. As part of those talks, both sides proposed a series of changes that would alter the way the game works, both on the field and off of it. I was able to identify ten discrete proposals — some of them well-defined, and some of them a little more vague. Still, there was more than enough information to proceed to a polling post, where I gave the entire FanGraphs audience a chance to weigh in. The proposals are out there. Some of them might be scrapped; some of them might be pursued. What do you think about each? Good idea, or a virtual non-starter?
Whenever I run a polling project, I never actually specify exactly when the polls close. In part, that's because most people tend to vote right away. In part, that's because, once enough votes have rolled in, nothing that happens later on meaningfully changes the results. And in part, that's because every polling project on FanGraphs is completely inconsequential. There are no stakes. Only opinions. So with all of that said, let's now take a look at the crowdsourced data. I've gathered all the information I needed, and I've created a couple of plots.
For each of the ten proposals, I included two polls. One was a basic yea-or-nay. The other asked how much you actually cared. You might feel strongly negative about, say, the universal designated hitter, while you might feel weakly positive about, I don't know, the pitch clock. Ideally I would've been able to link each person's vote in each poll, but that exceeds our polling capabilities, so I'm left with group data. Here's the first plot of that group data! Approval/disapproval results for all ten proposals: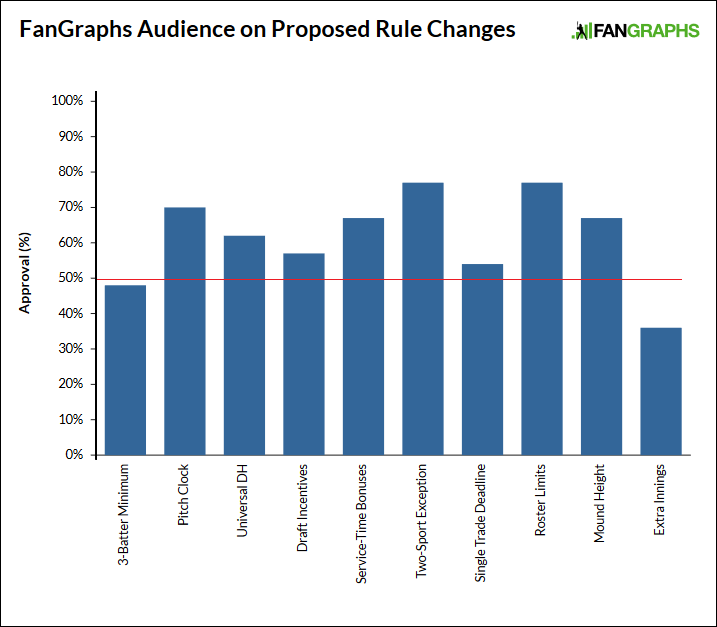 Using 50% as a cutoff, the FanGraphs audience approves of eight of the ten proposals, as understood. If you were looking for a two-thirds supermajority, however, then we're at four, and very nearly five approvals. That's still a pretty high number, reflecting either the progressiveness of the FanGraphs readers, or the need for baseball to implement certain adjustments. Probably, it's both. It's usually both.
As for the second plot, here's the landscape for what I've lamely termed the Passion Rating. The polls asked how much you cared about each proposal, from 1 to 5, with 5 being the most and 1 being the least. This plot shows each proposal's overall average: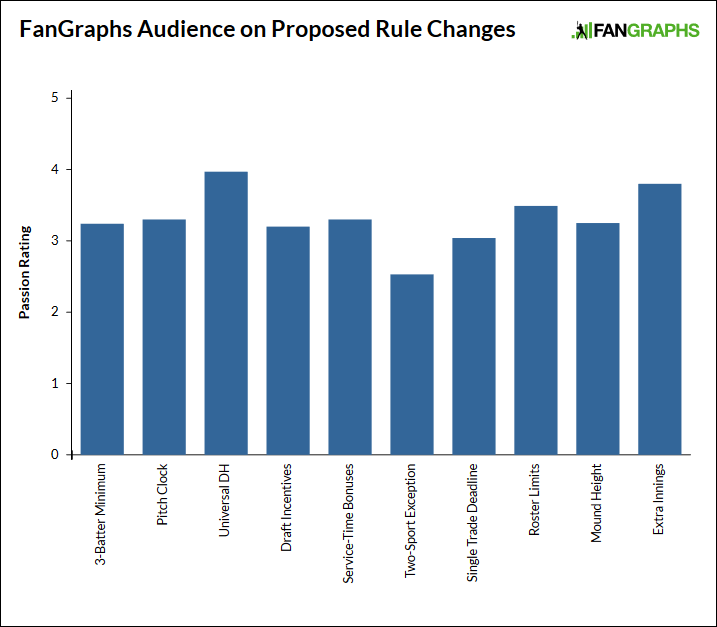 There's only one result below 3.0, and only two results above 3.5. Of the latter, one would make a big immediate difference in the game, and the other would not. In the case of the other, I believe this to be an expression of fear of the slippery slope. For a little further discussion, I've broken out the individual proposals and results below. I thank you all for your participation and for your vibrant dialogue below the original post.
1) Three-batter minimum
Approval: 48%
Passion Rating: 3.24
This proposal called for a three-batter minimum for pitchers, unless they were to get injured or end the inning. It's a proposal aimed at reducing the number of mid-inning pitching changes, which can be a drag on the viewers. By a very slight margin, the audience is opposed, with many commenters suggesting a two-batter minimum instead. The rule would have to be written with precision so as not to be open for fake-injury-related abuse. Perhaps an injured pitcher would need to be subsequently placed on the injured list. Or, perhaps no rule at all needs to exist!
2) 20-second pitch clock
Approval: 70%
Passion Rating: 3.30
People here are largely in favor of a pitch clock. Especially a pitch clock that might be turned off with runners on base. Granted, the latter condition might defeat the purpose. I think one reason the audience is in favor is because we've been told to expect a pitch clock for years. Many of us have just gotten used to it. It's used in the minors, and most pitchers say they're okay with it. Still, some big-league pitchers are opposed for seemingly legitimate reasons, like between-pitches rest. And as one commenter pointed out, catchers might just start to take longer to return a pitched ball to the mound. Nothing in baseball will ever be easy.
3) Universal DH
Approval: 62%
Passion Rating: 3.97
Bringing the DH to the National League? You might've expected this to be 50/50, with AL fans on one side and with NL fans on the other. But either AL fans are overrepresented here, or a chunk of NL fans are willing to go the other way. The fact of the matter is that pitchers are dreadful hitters. The fact of the matter is that pitchers do sometimes get injured trying to hit or run. The fact of the matter is that the DH is used in most baseball leagues in existence. But still, if the DH spread to the NL, there's presumably no going back. It does change the strategy, and it does mean the end of a specific style of baseball. Unsurprisingly, this proposal finished with the highest Passion Rating.
4) Draft incentives for winning
Approval: 57%
Passion Rating: 3.20
This proposal called for successful low-revenue teams to get draft bonuses, and for teams to receive draft penalties in the event they were unsuccessful two years in a row. The proposal is vague as far as I can tell, so we can't say much as to the specifics. Still, four in seven FanGraphs readers like the idea of incentivizing winning by way of the draft. It's far from perfect, but I'm guessing the opinion is that it's better than nothing. The league has already introduced bonus draft rounds, and draft penalties tied to the CBT. More changes wouldn't be a stretch.
5) Potential extra service time
Approval: 67%
Passion Rating: 3.30
This proposal called for players to be able to earn extra service time should they play well, make the playoffs, or receive award support. Two-thirds of you are on board. In theory, this would allow the best rookies to reach arbitration and free agency sooner. They'd end up getting more money in their better years. But it might also incentivize non-competitive teams to leave talented rookies down longer. Service-time manipulation does unquestionably need to be addressed. This would by no means solve the whole problem.
6) Two-sport athlete exception
Approval: 77%
Passion Rating: 2.53
This proposal called for two-sport athletes to be eligible to receive major-league contracts out of the draft. This is a fun set of results — tied for the highest approval, easily the lowest Passion Rating. You all don't care much, but you'd still like to see the door opened, so that MLB could try to lure more premium athletes. The Passion Rating is presumably low because this would apply to a very small number of draft-eligible players. The timing of the proposal is not coincidental, with Kyler Murray having just today decided to focus on football. Baseball doesn't want for that to happen.
7) Single trade deadline
Approval: 54%
Passion Rating: 3.04
This proposal called for a single, earlier trade deadline. Instead of having one deadline at the end of July and another deadline at the end of August, this would introduce one single deadline, perhaps even before the All-Star break. A problem, I think, is that this is effectively two proposals in one: moving to a single deadline, and moving that deadline up in the calendar. That's why the approval margin is narrow. My hunch is that people are on board with having just one deadline, but that they don't want it to be too early, before more teams have a chance to separate themselves in the standings. There's no guarantee having an earlier trade deadline would do anything to increase activity or incentivize winning.
8) 26-man rosters
Approval: 77%
Passion Rating: 3.49
This is another multi-part proposal in one. It called for an expansion to a 26-man roster, but it also set a September roster limit at 28, and it set a non-September pitcher limit at 12. This is tied for the highest approval rate, at seven out of nine FanGraphs readers. It is interesting to consider this along with the proposed universal DH — you'd be expanding the number of hitters, while reducing, by a large margin, the number of normal pinch-hitting opportunities. Say hello to more platoons? The Dodgers would be thrilled.
9) Mound-height study
Approval: 67%
Passion Rating: 3.25
This proposal called for a study of the potential consequences of lowering the mound. As was later reported, it also called for a study of the potential consequences of moving back the mound. Two-thirds of you support the idea, in light of the increasing league-wide strikeout rates and velocities. Of course, it's easy to support a study when there's no guarantee of implementation, but then, consider the results from the final proposal below.
10) Extra-innings adjustment
Approval: 36%
Passion Rating: 3.80
This proposal called for ending spring-training games after ten innings. It also called for using spring training and the All-Star Game to test beginning every tenth inning with a runner on second base. Two-thirds of you are opposed, with the second-highest Passion Rating. Now, I can't imagine you collectively care that much about spring training, or the All-Star Game. It's the fear of the slippery slope — baseball would be trying this with the intention of later applying it to meaningful games. Maybe it would never actually get there. Collectively, you don't want to even open the door a smidge.
Jeff made Lookout Landing a thing, but he does not still write there about the Mariners. He does write here, sometimes about the Mariners, but usually not.