As far as FanGraphs is concerned, we're just wrapping up Prospects Week. But as far as Major League Baseball is concerned, it's just wrapping up Extensions Week. Aaron Nola signed an extension with the Phillies. Both Max Kepler and Jorge Polanco signed extensions with the Twins. And now, as of Friday, Luis Severino has signed an extension with the Yankees. You'll remember that Whit Merrifield had already signed an extension with the Royals. Other players are surely going to sign extensions with other teams. That's what happens this time of year.
Severino is a Super Two player who was looking at a 2019 salary of at least $4.4 million in his first of four arbitration years. That's all wiped out now, with the Yankees having bought out all four arb years for $40 million. There's also a fifth-year club option, that would have this contract max out at $52.25 million. The terms are similar to what Nola got from the Phillies, although Nola signed away two would-be free-agent years, while Severino signed away one. This shouldn't be his last opportunity to make a splash.
The explanations tend to mirror one another. Teams like these contracts because they provide cost certainty. Teams also like these contracts because they usually end up looking club-friendly. Players like these contracts because they're opportunities to become financially stable and secure for the rest of one's life. How could Luis Severino possibly turn down a chance to make forty million dollars? Especially as a pitcher in the age of Tommy John. Severino's set. His family is set. You know how all this goes.
This still looks club-friendly. So many players just don't want to chance it.
Given a thousand opportunities to repeat the same future, Severino would frequently make more than $40 million through arbitration. And then he'd hit free agency a year sooner. Given a thousand opportunities, then, most of the time, Severino would come out looking good. But of course, some of the time, Severino would get hurt, or otherwise sidetracked. Pitching, and pitching hard, is a dangerous business, so you can't get too mad at anyone for just taking the money. Just like that, Severino's career is a success story. He's achieved the stuff of his wildest childhood dreams. It's just also relevant to understand how good Severino already is.
I know that he struggled in his sophomore campaign, and I know that 2018 was something of a roller-coaster. But, over the past two years, 197 starting pitchers have thrown at least 100 innings. Here are some of Luis Severino's ranks among them:
Innings: 10th
WAR: 5th
K-BB%: 9th
ERA-: 16th
FIP-: 6th
xFIP-: 5th
Severino has pitched like an ace. Not all of the time, but enough of the time. It's reflected in his statistics. Because of inconsistencies, because of a challenging second half, and because of the nature of the Yankees' media market, Severino feels like he's still an unfinished product, but he's incredible. He's a top-five or top-ten starting pitcher in the game today. He has some things he wants to work on, but even peak Clayton Kershaw went to camp every spring trying to learn to throw a changeup.
You wonder what might've happened had Severino's 2018 season been flipped. Had his second half been better than his first. Maybe he wouldn't have been so willing to sign an extension. Maybe he would've been looking for more. Or maybe it all would've been exactly the same. We've already talked about this, but the conversation is spreading: More and more people believe young players are going to jump for extensions. In particular, extensions that buy out some years of free agency. The free-agent market has been devalued, and players have unified in complaining about the conditions. The idea of becoming a free agent now doesn't seem so appealing. So, in theory, players will be more willing to sign away free-agent years in advance. I can get behind the idea. I believe we are likely to see a trend.
I also think it's worth examining the history. So, to gather some numbers, I turned to the MLB Trade Rumors Extension Tracker. I narrowed to extensions given to players with less than six years of service time. I further narrowed to extensions that bought out at least one year of would-be free agency. I then split every year between October and November. I've prepared two plots. This first one shows the number of qualifying extensions per season: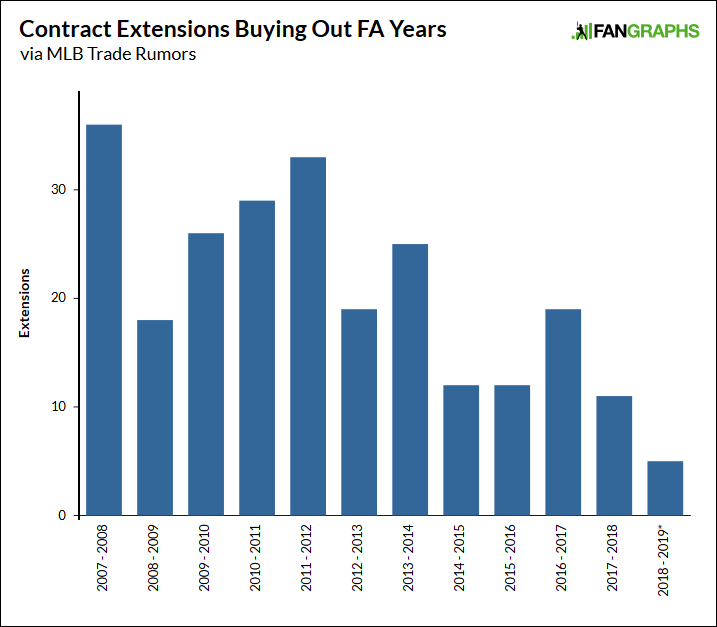 The last bar doesn't matter that much yet, because of course the time period is incomplete. For the previous November-to-October 12-month period, there were 11 qualifying extensions. From 2007 through 2018, each year, there was an average of 22 qualifying extensions. We'll see where this current period goes, and in just a few days we've seen the Nola, Kepler, Polanco, and Severino deals. But, for a comparison, flash back to 2013-2014, before anyone thought there was a major problem developing. There were 25 extensions. In just over a one-week period, there were extensions given to Starling Marte, Jose Quintana, Mike Trout, Yan Gomes, and Chris Archer. Each bought out at least two years of free agency.
That takes us to the second plot. This is based on the same information, except instead of counting up the number of extensions, I've counted up the number of free-agent years bought out (including option years, which are virtually always club options):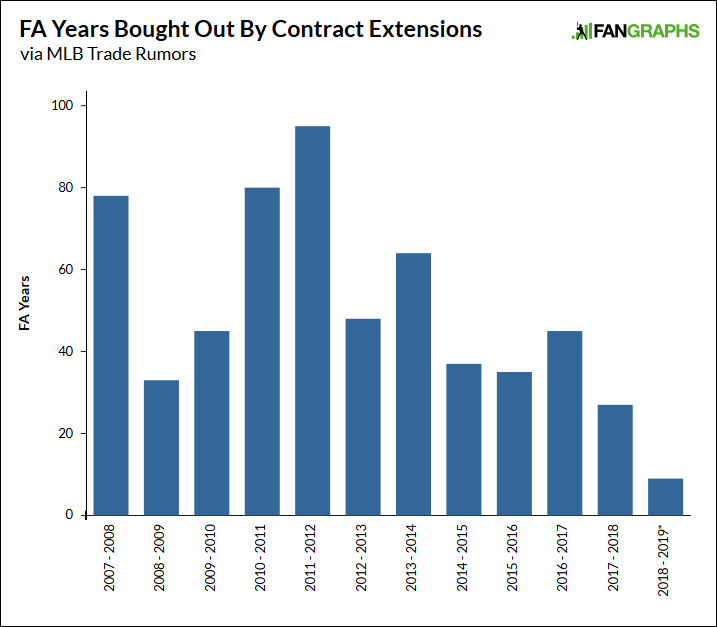 So far, five players have signed away a total of nine free-agent years. This doesn't count Carlos Carrasco's extension, since he has more than six years of service. I didn't have to use the six-year cutoff — older players have to think about giving up free-agent years, too — but I wanted to keep the focus on the younger guys, who haven't had a real chance to cash in. In the previous 12-month period, players signed away a total of 27 free-agent years. The overall annual average from 2007 to 2018 was 53. For whatever it's worth, the average qualifying extension has bought out 2.4 free-agent years. This current, early period is sitting at 1.8. Only Polanco has signed away three seasons.
It's possible, if not probable, that we're going to see a run of extensions. You could say we already have, and it's only the middle of February. There are still several weeks to go until the opening-day soft deadline. The free-agent market lately hasn't made itself very appealing. But we'll have to see where the numbers end up, because if anything, these kinds of extensions were recently in a down cycle, relative to five or ten years ago. And so, if they come, it'll be more like they're coming back. Between 2007 and 2014, there was an annual average of about 27 qualifying extensions. So far this period, we have five. It could just be that what's old is new again. It'll take a lot of contracts in the next few weeks for this current period to make history.
Which doesn't mean free agency doesn't seem worse than it used to. Players hear about it and talk about it every day. It's why Severino got extra money up front, instead of taking something backloaded — he's trying to protect himself in the event of a work stoppage. We all have an understanding of the market conditions. Just, remember that contract extensions have always been somewhat common. We see them every spring. There were a lot of them, and then there were fewer. It could be we'll see a return to an old norm. I'm not yet sure we'll see baseball blow past it.
Jeff made Lookout Landing a thing, but he does not still write there about the Mariners. He does write here, sometimes about the Mariners, but usually not.