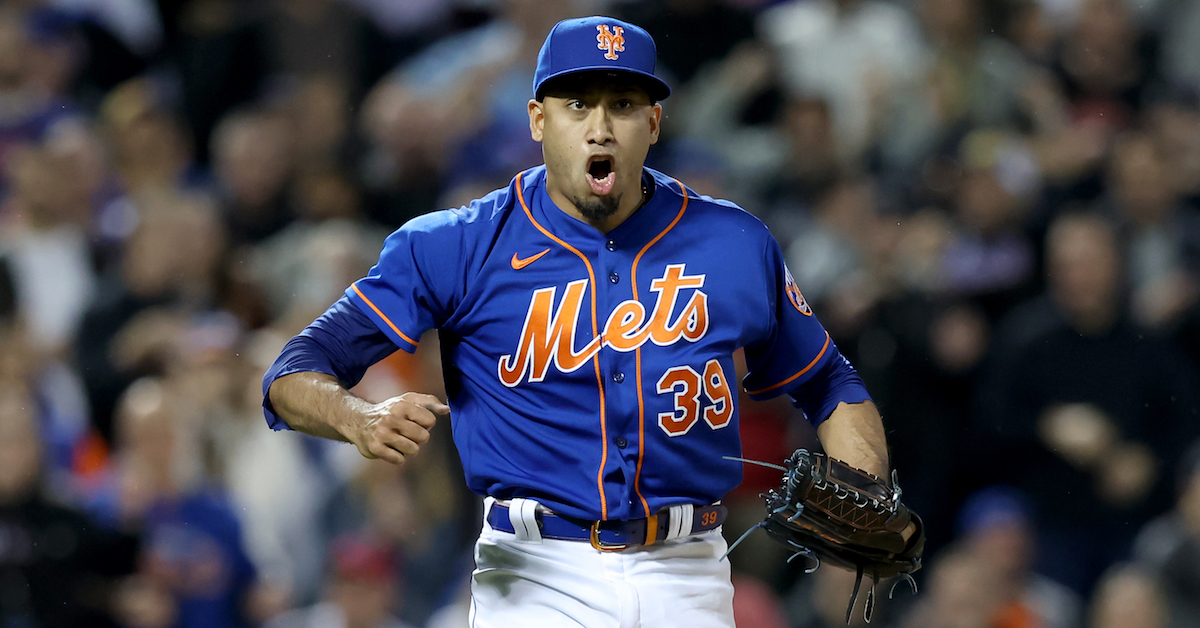 For years, the baseball offseason had a predictable rhythm. When the World Series ended, we'd hit a lull. Around the Winter Meetings, a few Scott Boras clients would sign while he spouted strange, vaguely nautical similes. A few more marquee names would get caught up in Boras' wake (see what I did there?) and sign as well. Then we'd have a lull around year end, and contract activity would pick up again in the new year.
That pattern hasn't held even a little bit this winter. As of this writing, 45 of our top 50 free agents have signed, including the entire top 30; many guys who just missed the cut have signed as well. Four years ago, plenty of teams were still looking for free agent help in the first week of January. This year, your options are Johnny Cueto, Jurickson Profar, and then tumbleweeds.
This feels different than previous years of free agency, but I wanted to put some quantitative rigor behind that. I set out to compare this offseason to each previous one. I'll spend plenty of time going through my methodology below, but first, let's give the people what they want. This year really is different. Here's the percentage of all free agents, weighted by previous year WAR, that had signed new deals by December 31 of each offseason since the conclusion of the 2000 season, excluding last year's lockout weirdness: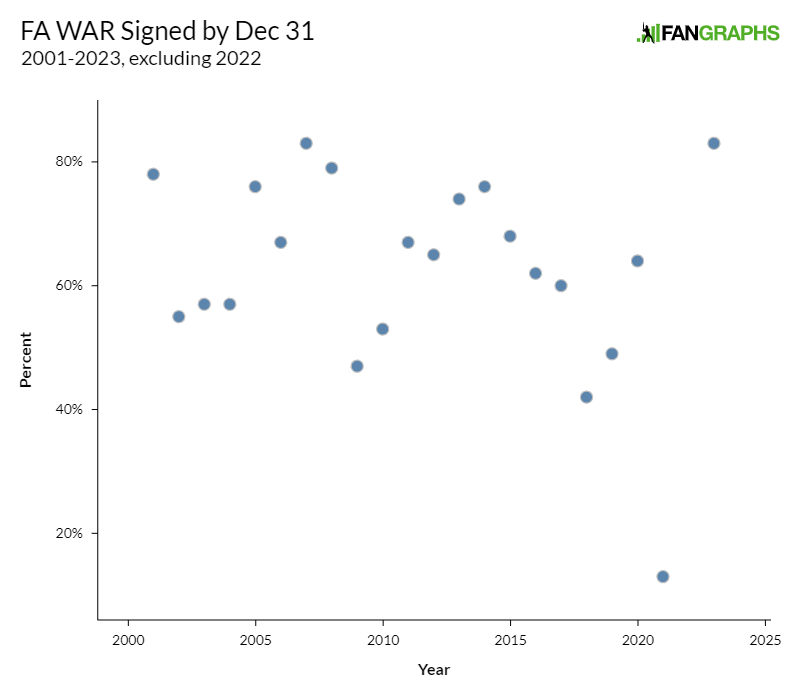 The 2022-23 offseason (which I'll be calling 2023 for simplicity's sake for the remainder of the article) is tied for the most front-loaded offseason of this millennium. Given that offseasons had been getting progressively slower, that's a meaningful change. Now, let's talk about how I got to this conclusion, and come up with a few takeaways about the new landscape of free agency.
I started with a simple idea: gather a record of every free agent signing of each of the past 20-odd offseasons, including who the player was and when they signed. That was easy enough (depending on your definition of easy): Retrosheet maintains a file that contains every baseball transaction ever. I downloaded that file, which stops in early 2022, then added our own transaction tracker for this year's crop.
Next, I downloaded a list of the WAR that every player accrued in each season of their career. I linked these two databases (if you're doing this at home, you'll need a database that links Retrosheet IDs to FanGraphs player IDs) and added up their pitching and hitting WAR for each season. That gave me a giant file of free agent signings, with the date each player was signed and the WAR they accrued in their previous season.
Oh yeah, one complication: not all free agency signings happen outside the season. I'm only interested in offseasons, so I did some pruning. I took only signings that happened between November 1 and February 29 each offseason. This might trim some signings in March and April, but I decided that those months were often in the regular season and didn't often have huge signings anyway (Phillies fans might recall that Bryce Harper is a notable exception here). My cutoffs were in the service of consistency, but if you're trying to replicate my methodology at home, you could use your own cutoff.
From there, I added up the WAR of all players signed in each offseason. I floored everyone at zero, since signing a player with -0.8 WAR shouldn't decrease the percentage of the free agent pool that has signed, but again you might want to include those, or even use different WAR estimates. I'm not here to tell you that my methodology is best, though I do think it's solid. In any case, that let me take any given day and work out what percentage of the free agency class had signed before then. For this offseason in particular, I also added up the 2022 WAR of all the unsigned players in our free agency tracker to produce the total available free agency WAR, since using only the players who have signed is obviously wrong.
As an example, teams had signed players who comprised 12% of this offseason's available talent pool by November 15, a group highlighted by Edwin Díaz, Clayton Kershaw, Tyler Anderson, and Martín Pérez. That's the biggest percentage of the free agency class that has been signed by November 15 in the entire 21st century. In last year's comparable window, only 4% had signed by then, even with the looming lockout.
I repeated this analysis for every season, using cutoffs of November 15, November 30, December 15, December 31, and January 15 to give my data some structure. With the caveat that the 2020-21 and 2021-22 offseasons were absolutely bizarre, here's the cumulative percentage of available WAR that teams had signed as of each of those dates:
Available WAR Signed by Date
| Year FA WAR | 15-Nov | 30-Nov | 15-Dec | 31-Dec | 15-Jan |
| --- | --- | --- | --- | --- | --- |
| 2001 | 1% | 14% | 58% | 78% | 86% |
| 2002 | 1% | 1% | 23% | 55% | 75% |
| 2003 | 1% | 2% | 31% | 57% | 74% |
| 2004 | 1% | 5% | 27% | 57% | 83% |
| 2005 | 0% | 13% | 41% | 76% | 91% |
| 2006 | 1% | 17% | 50% | 67% | 86% |
| 2007 | 8% | 39% | 77% | 83% | 87% |
| 2008 | 11% | 35% | 69% | 79% | 82% |
| 2009 | 3% | 7% | 30% | 47% | 70% |
| 2010 | 0% | 3% | 40% | 53% | 65% |
| 2011 | 5% | 21% | 58% | 67% | 81% |
| 2012 | 6% | 17% | 52% | 65% | 74% |
| 2013 | 9% | 29% | 59% | 74% | 81% |
| 2014 | 6% | 15% | 53% | 76% | 82% |
| 2015 | 8% | 23% | 56% | 68% | 78% |
| 2016 | 7% | 15% | 48% | 62% | 69% |
| 2017 | 1% | 19% | 48% | 60% | 69% |
| 2018 | 0% | 2% | 28% | 42% | 47% |
| 2019 | 4% | 9% | 25% | 49% | 61% |
| 2020 | 6% | 11% | 36% | 64% | 79% |
| 2021 | 3% | 6% | 13% | 13% | 21% |
| 2022 | 4% | 39% | 100% | 100% | 100% |
| 2023 | 12% | 16% | 61% | 83% | 84% |
Cumulative % of previous year WAR officially signed as of each date, 2001-2023
In other words, almost no matter which time period you're interested in, this year has been one of the fastest free agency periods of the past decade, right in line with the early-2000s seasons. You can throw 2022 out, more or less: thanks to my cutoffs and the fact that the lockout persisted into March, 100% of the signings in the November-February period I'm interested in happened before the lockout by definition.
That table can be overwhelming, so I repeated it in graphical form as well. Here's the 2023 offsesaon compared to the average of all other 21st century offseasons, excluding the previous two years (COVID chill and lockout weirdness):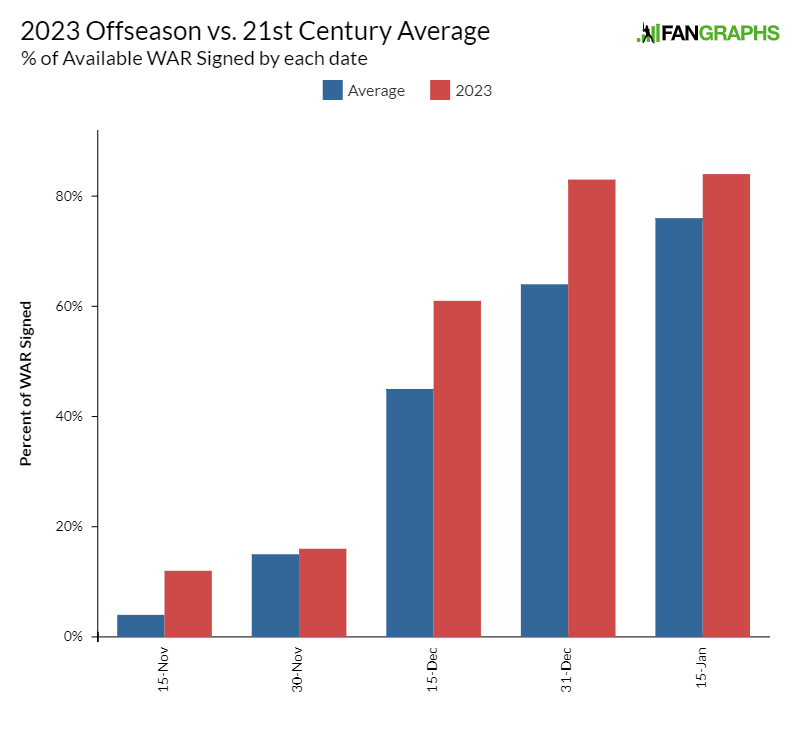 In other words, it was a wildly busy December for free agents. If you compare it to the five offseasons preceding the two I've excluded (2016-20 offseasons) to approximate the recent trend in free agency signings, the acceleration is even more obvious: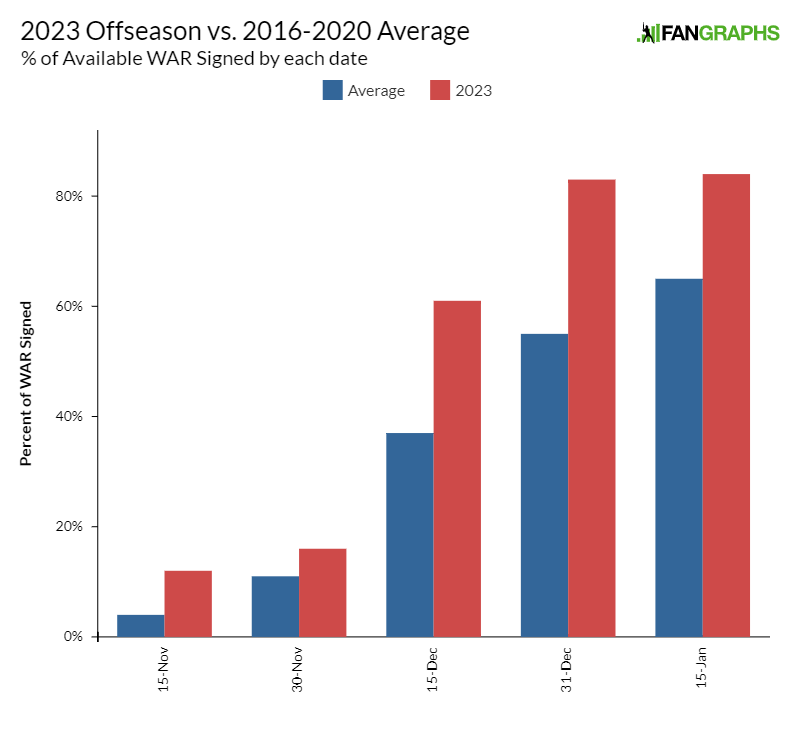 In other words, it's not just your imagination. This is a noteworthy season when it comes to the speed with which teams have signed free agents. No matter how you slice it, the best players are finding new homes faster than ever. The once sleepy month of December is now the time to pounce.
Why is that? That's beyond the purview of this analysis, but I have a few guesses. Last offseason's lockout-imposed transaction freeze led to a frenzy that featured Max Scherzer, Javier Báez, Marcus Semien, Marcus Stroman, and Kevin Gausman all signing in a single day, exactly one day after Starling Marte, Robbie Ray, and Alex Cobb signed. That's a big pile of above-average players who all pre-empted the normal free agency dallying and picked a team promptly.
Sure, that was motivated by the lockout, but it sounds pretty nice to me. If I were going to find a new home for the next five or so years, I'd prefer to do it early in the offseason. That way, I could find a place to live in the new city and learn a bit about it before departing for spring training. Sure, athletes can live anywhere they want, but they spend a big chunk of time every year in their team's home city, and a little familiarity sounds nice if it doesn't cost anything.
This works for teams, too. Increasingly, clubs are signing free agents because they want to work with that player to further develop skills. Maybe they want to talk about different pitch usage, or get a player used to the training program, or just want to incorporate an offseason workout plan the team believes in. Maybe they just want to do some offseason planning while knowing who will be on their roster. There's no reason that either teams or players should prefer to sign right before spring training starts; both sides benefit from certainty.
The better question might be why free agency lagged so significantly in recent years. My sense is that it was largely player-driven; players held out for more money from increasingly budget-conscious teams or didn't set deadlines in their negotiating windows. That's fair enough – getting the best free agent deal possible is a decision worth taking time on – but it inevitably leads to brinkmanship. In other words, if you know a player will take bids until January 18, there's no reason to show your hand before then. The player might use your bid as leverage with someone else, or other teams might get wind of it by other channels. That's why negotiations always drag out to the deadline, not just in baseball but in pretty much everything.
My guess, then, is that players simply set earlier deadlines, or told teams they were looking to decide early. It goes both ways, of course, depending on team and player: a team could give a player a contract offer with a deadline in an attempt to figure out their plans earlier in the offseason just as much as a player could ask teams for serious bids earlier. Without talking to those involved, it's impossible to say which side is driving the shift in timing.
Regardless of the answer, I think this pattern makes a ton of sense, and I think future years will generally see fast-paced free agency signings. I doubt it's going to be like this every year going forward. You can easily imagine a scenario where a few marquee free agents don't find contracts that interest them early in the offseason and thus extend their negotiating windows, freezing the market behind them as teams wait to see where the biggest chips fall. The more players hold out hoping for better offers – and similarly, the more teams that make low-ball bids, either because they've tightened their budgets or because they don't believe the deadline – the slower the market will go. We won't see this year's fast pace every year forever.
Overall, though, I think that faster free agency is here to stay. I don't see a lot of downsides on either side, and I think that a busy December does a good job of giving people the offseason baseball content they're looking for. Late December is for bowl games. January is for the NFL playoffs. The first half of December is a bit of a sports dead zone, and I love that baseball is increasingly stepping into it. There's pretty much nothing to dislike about it – unless you're a team looking for a shortstop in mid-January, or a writer looking to take a mid-December vacation.
Ben is a writer at FanGraphs. He can be found on Twitter @_Ben_Clemens.