This is the second half of a two-part interview with four foreign-born players in the Korea Baseball Organization. Part 1 can be found here.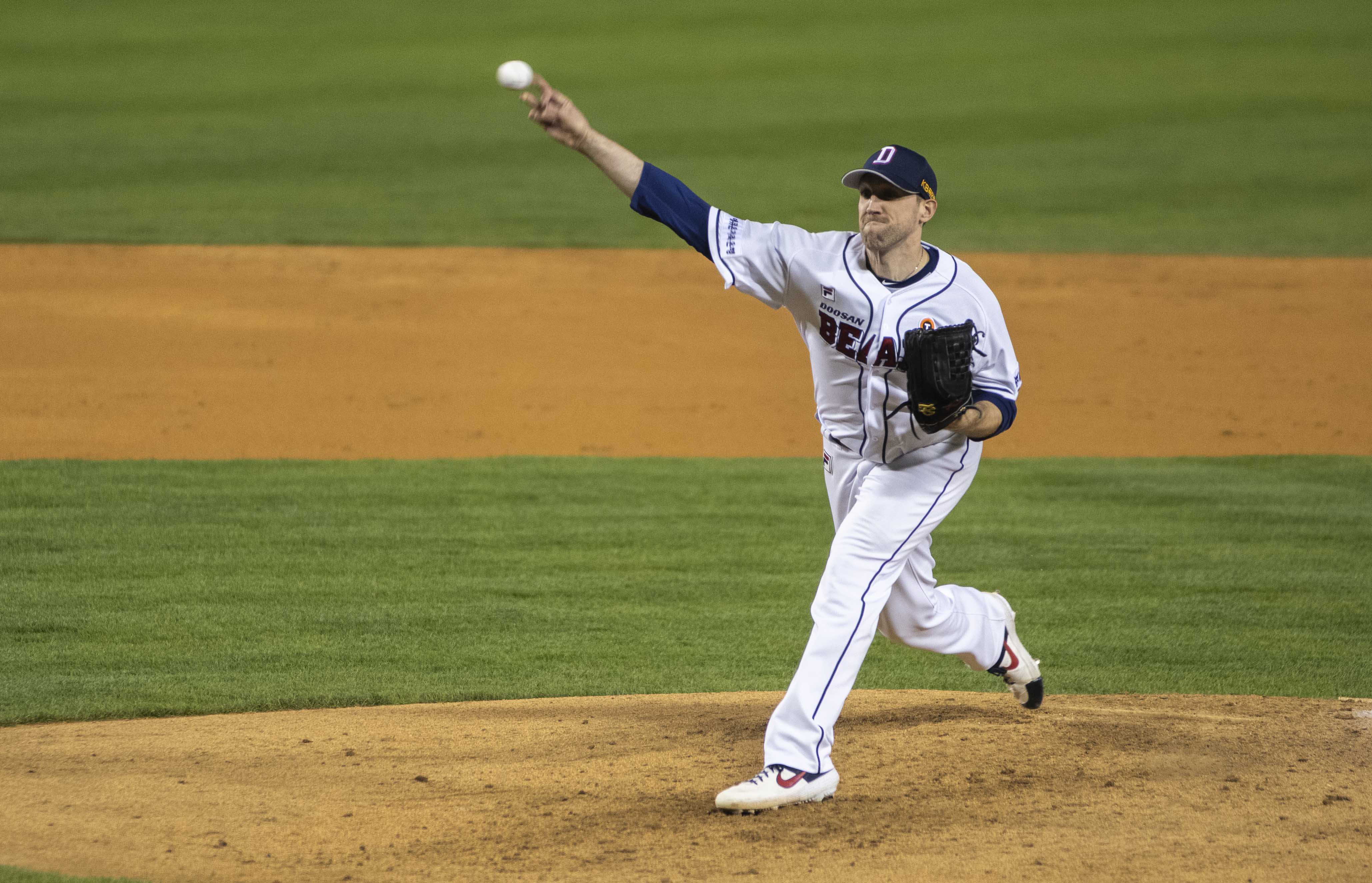 Any Korean food that grew on you?
Josh Lindblom: All of it. I love Korean food. The best soups I've had in my life are here in Korea. Maybe my favorite Korean cuisine is Chinese-Korean food: Jjajangmyeon [noodles in black bean sauce], jjajangbap [rice in black bean sauce], tangsuyuk [sweet and sour fried pork] – all that stuff. That was one of the things that new guys worry about but I'm really lucky to be here in Seoul. When I go to my apartment basement, I've got McDonald's, California Pizza Kitchen, On The Border, Cinnabon, etc. There's also a Taco Bell in a train stop away. If I start missing home, I just go down and get some Mexican food. I'm really lucky to be where I'm at.
Jamie Romak: I'm a huge barbecue guy. Sogogi [the Korean term for beef] for sure. Every now and then, I'll order jjamppong [spicy mixed-up noodle soup] to the clubhouse. I like the seafood one. The guys make fun of me for how much kimchi [spicy fermented cabbage side dish] I have during our team dinners. I eat plates of kimchi. The food transition has been seamless. When I'm back home in Canada during the offseason, I seek Korean food. I wish I could have more of it there.
Tyler Wilson: I actually really like all the food. I would say that the LA Galbi [Korean BBQ beef short ribs] is my favorite. I like galbitang [short ribs soup] a lot. I like kimchijjigae [hot kimchi soup]. I don't know if there's one food I didn't like and now that I like. Just in general I think I'm more comfortable knowing what to order and how to go into a Korean restaurant and know what to expect. I've always enjoyed it all. When we were in the States, Hyun-Soo and I would always go out do dinner. On road trips, we would go to Korean restaurants and he introduced them to me before I got here.
Chad Bell: Just your normal Korean barbecue stuff, I love it. Pork kimchi soup – pretty good. Most of the soups here, I've enjoyed them. Most of them are spicy and I like spicy stuff. Sometimes the coaching staff or players will walk by, see me eating something, they get surprised and ask me, 'You like that?' I'm like, 'Yeah, it's good!' There's nothing that I really hate. I'm not really big on naengmyeon [Korean cold noodles in chilled broth]. I've only tried it once. Maybe I don't know what I'm doing with it, but I gotta get the thought of it being weird out of my head. That's something I haven't gotten into yet.
How do you interact with your Korean teammates?
Lindblom: Obviously, through a translator. I think making the effort to learn at least a little bit of Korean is very helpful. Learning the language a little bit goes a long way here. I think it can break the ice with your teammates where you aren't afraid to make mistakes with Korean, and that can open them up to speak English and they're not afraid to make mistakes. They are your teammates and you have a common goal together. The other amazing thing is that, which is also neat about baseball and sports in general, is that baseball is a universal language. You're able to talk with your teammates with baseball and not really need a translator because a lot of the words have carried over from English.
Romak: Konglish [Korean-style English in which English terms are appropriated into Korean]. As you know, Korean baseball has taken some English words to use them as their own. A lot of my teammates speak a little bit of English and I have learned some Korean. We just find a way one way or another. We don't seem to have too much of a problem. There's been times where I go out to dinner with teammates without a translator. We eat together, find a way. Sometimes we use Papago [translation app] if we get stuck.
Wilson: Body language is critical. When you're in a country where you can't communicate with your language efficiently, body language, facial expressions, physical interactions, etc. is everything. My teammates know certain English words. When they hear them, it dictates the tone that I'm speaking. If I'm cursing or if my voice is raised really high, it implies to them that I'm frustrated with something. If I'm calm or not making many expressions with my face and they can't understand any words I'm saying, they think I'm just chilling out. If I'm happy, I'm smiling.
Obviously, I have a translator who communicates all of the ideas, but a lot of the syntax or inflections get lost through that translator. It's not his fault. It's just a natural being of it. Even when I'm pitching on the mound or I'm working out with guys, my energy and the way that I carry myself is the most important language to share.
Bell: Obviously, there's a language barrier but it's been fun talking to others. They are all very intelligent. On the baseball field, they all have something that you can learn from. I talked to multiple people and we got a couple of guys like Song Eun-Beom [a 35-year old RHP who has pitched for the SK Wyverns, KIA Tigers, and Hanwha Eagles], our reliever who throws a heavy sinker and good slider. I like to talk to him because he pitches based off need. Does he want to run it more? Does he want to sink it more? Does he want his slider to be more of a cutter or a slider? He figured out how to manipulate his pitch. It's fun to interact with them and we learn a lot from each other. That's what it's all about. Everybody gets better.
What has your experience with the fans been like?
Lindblom: I'll never forget my first game I pitched in Korea. It was against the LG Twins and it was their home opener. There was a sellout crowd here in Jamsil Stadium. I thought, in the first inning, that my heart was going to beat out of my chest. I had never experienced anything like it. Music blaring, drums, it's unbelievable. I've heard you can compare it to college football games. It's a fun atmosphere to play baseball in.
I went back to the States in 2017 [with the Pirates] and the first thing I recognized is how quiet the games are in America. Fans cheer when there's a run scored or a home run, but it is non-stop here in Korea. I think interacting with the fans off the field, for me, is a lot of fun too. You're one of the 30 foreign guys in the league in the nation's most popular sport. You're kind of hard to miss when you're walking around. It's a little easier for me in Seoul because of the population here. When you're in a smaller city, it's a little harder because you stick out a little more. A lot of people recognize me right off the bat.
Romak: Korea has really taught me that, as baseball players, our number one purpose is to entertain the fans. Really, I had never thought of baseball like that until I came to the KBO. And then, once I saw the style of play – stuff like bat flips – and how interactive it was with the fans… It was uncomfortable for me in the beginning because I was never in that environment. When I came up in the States, it was very much like a keep your head down, run hard, swing and run, don't celebrate, don't show any emotion sort of thing. It's really changed me for the better. I enjoy baseball more. I love playing in this environment. I certainly try to engage with the fans any time I have an opportunity to sign autographs. It's cool – people know who you are when you walk around. On off-days, people approach you and want a picture, and I'm happy to do that. I'd say it's a good relationship.
Wilson: I love it. I tell the fans all the time that they give me a ton of energy. You feed off of the atmosphere in the stands. Even when I'm on the road, I love that palpable energy from the stands. Every game, fans make every moment so special and it breathes life into the game. Sometimes, in the States, it can be boring. In Korea, I think the fan experience is fantastic. It's probably my favorite thing about the KBO. I really enjoy interacting with fans off of the field. That player-to-fan interaction is special to me because one, if there are no fans, I don't have a job, and two, it's an opportunity to create relationships that I would've never had before. It's a chance to love and serve a stranger that I've never met before just because we share a passion for baseball.
Bell: It's unbelievable. It's something that other leagues can look at and build off of to make the game of baseball better. If you go to a game in the States, somebody hits a home run and people cheer. If somebody hits a double, people cheer. If somebody strikes out two in a row, people cheer. But here in Korea, in the main fan sections, they are on their feet for the entire game. I've compared it to your elite college football atmospheres and World Cup soccer. You're yelling, blowing whistles, slapping thundersticks, waving flags. It's a very cool environment. There's been times on the field where a play is going on and I'm trying to say 'Home!' or 'Two!' and I can't even hear myself. I know who I'm yelling at but they can't even hear it. It affects the game. The fans are so loud that it makes a difference. I feel like there are sure advantages if you're a home team.
What is your advice to any players looking to play in Korea?
Lindblom: There's a misconception that, if you come to Asia, your career is over. You look at guys like Eric Thames, Merrill Kelly, and Miles Mikolas, and there's been a few relievers that came back from Japan. You can come to Asia and get better. There's opportunity here. Not only do they provide for your family financially, but there's an opportunity as a pitcher to get the ball every five to six days. That's what a lot of those Quadruple-A guys need. They need opportunities. When you don't get consistent play, and play the up-and-down game, it makes it really hard to get over the hump. It's a small detour for some guys.
This is my fifth year here. My family and I love it. And I can honestly look back and say that it was the best decision I've made in my career to come to Asia. It's scary because you don't know what you're getting into. There are horror stories that guys tell. I think that those, for most guys, are few and far between.
Romak: First and foremost, you gotta play well. There are very limited spots and a lot of guys want to come. The second would be having an open mind and being respectful. When you come here, you're not in the States anymore and it's different. They think about baseball differently than we do. This a culture built on age-based perspective. Be respectful to your coaching staff and the umpires. Resist the urge to speak. Listen and learn first, and speak second. Just try to learn as much as you can about the culture and ultimately you can enjoy yourself and have some success here. That's been my approach, and for that reason, I think my teammates are more welcoming to me because I'm making efforts.
Wilson: I think that the perception of playing in Asia has changed a lot over the last five to 10 years. It's a fantastic opportunity. I have always wanted to come over – even when I started to play baseball professionally – I've always wanted to experience baseball in Asia and play on the other side of the world. I'm so grateful that I've had the experience. I absolutely love playing here.
My advice would be to just be open-minded. Keep in mind the fact that it's a different culture. You're gonna have to adapt to things you're not accustomed to. It would be prideful to think that you're going to come over and do the same things you've always done all your life, because it's a different culture, country, peers, teammates, and coaches. So be truly be invested in that, because not only is it going to make you a better teammate, but also it gives you an opportunity to grow as a person. And when people get set in their ways and refuse to change is when the game passes you by and you miss out on an opportunity to learn something that you maybe would have otherwise.
Bell: It's a great atmosphere. I've been honestly looking for an opportunity for a couple years. But there's only spots for 20 pitchers total in the league. That's a small group. I was able to get a spot and hopefully do what I need to do to hold onto it. It's a place I've been able to get some consistency. In the States, I was always coming up alternating between relieving and starting. It's not the easiest thing to do. You don't have a routine. You start getting built up as a starter, somebody gets moved around and you get placed in the bullpen. It's hard to get your stamina, routine, and schedule right. Over here, I'm a starter and I'm going to be a starter. It's been easy to build up my arm strength. I can throw 100 pitches without any problem.
After my elbow surgery [in 2013], I wasn't a prospect anymore. I was just a number. Just the way the business side of baseball works is that I was a guy who went up and down constantly. I didn't have any problem with that. My dream was to pitch in the major leagues and I did it. But you come over here and you're the No. 1 or 2 starter. You're gonna get the attention you need. You're gonna get the experience you need. You're gonna get the chance to figure it out. You're gonna know how to pitch over here to succeed. If you're a guy in the states going up and down constantly, you sometimes don't get that chance. You fail one time, and you'll get sent down. Whereas here, you get a chance to figure it out because you're the guy. They need you to succeed. They brought you over here to win. They want you to succeed. They're putting in time to make you better from both an analytics and performance standpoints. I think that's the biggest difference.
Sung-Min Kim writes for River Ave. Blues, and has written for MLB.com, The Washington Post, Baseball America and VICE Sports. Besides baseball writing, he is also passionate about photojournalism and radio broadcasting. Follow him on Twitter @sung_minkim.