In a matchup between the two best lineups in baseball, you don't expect to see a pitching duel. In a matchup between the team with the best starting rotation in baseball and the team with the best bullpen in baseball, you don't expect to see many runs scored. This series was hard to characterize before it started, but last night's Game 1 of the ALCS between the Astros and the Yankees felt neither like a pitching duel nor a shootout; it felt like a regular season game between two mismatched opponents, the last thing we expected from this much-anticipated series.
Soon enough, the games will be dominated by high velocity and overpowering four-seam fastballs. Justin Verlander and James Paxton face off today, followed by Gerrit Cole and Luis Severino. The flames the broadcast shows on the score bug for the fastest fastballs will get a workout. But yesterday, we got the kitchen sink; Zack Greinke, who sometimes throws his fastball more slowly than his changeup, took on Masahiro Tanaka, who pitches off of his slider and threw the fifth-lowest rate of fastballs among all starters.
Tanaka stuck with the blueprint that has served him well throughout his time in the majors; an even split of sliders, splitters, and fastballs. The slider was on point all night, and it's a good thing; all eight of the swinging strikes he generated came on sliders, and it also got more called strikes than any other pitch.
Now, eight swinging strikes isn't an overpowering amount; Tanaka struck out only four batters. Even with the deadened postseason baseball, allowing that much contact is no way to live for a pitcher. How did Tanaka make it work? He controlled the count to great effect. He allowed 13 balls in play, and exactly one of them came with the batter ahead in the count (a pop up off the bat of Kyle Tucker).
But just because you don't strike out doesn't mean being behind in the count doesn't hurt as a batter — this year, batters put up a .416 wOBA when making contact while ahead in the count, and a mere .356 when behind. That's not the difference between unhittable and batting practice, but every edge matters, and Tanaka worked hard for his edge. He reached a 1-0 count only three times all night, and he didn't do it by lobbing BP fastballs in there; the Astros only put two balls into play on the first pitch.
The closest Tanaka came to trouble was the fifth, when he walked Alex Bregman to lead off the inning. He got ahead of the next batter, Yordan Alvarez, with his trusty slider, but left a fastball over the plate on 0-1. Alvarez, as he is wont to do, crushed it. He hit a 110 mph line drive into right field, at a velocity and angle that Statcast calculates becomes a hit 74% of the time.
But this one didn't. Aaron Judge was on it the whole way, and the best chance the Astros had all evening for extra bases became a double play when Bregman stumbled on the basepaths. Aside from that, Tanaka danced through raindrops all night and never got wet; one of the best lineups in the history of baseball mustered only a single and a walk through six dominant innings.
Greinke, on the other hand, didn't show up with his rain-dodging best. Though he throws more fastballs than Tanaka, he varies the remainder of his pitches more; there's the changeup, the slider, the curve, the slow curve; heck, sometimes he mixes in a cutter or splitter. The Yankees didn't line up well for his changeup, with seven righties, but he's willing to throw a wide array of pitches against right-handers too: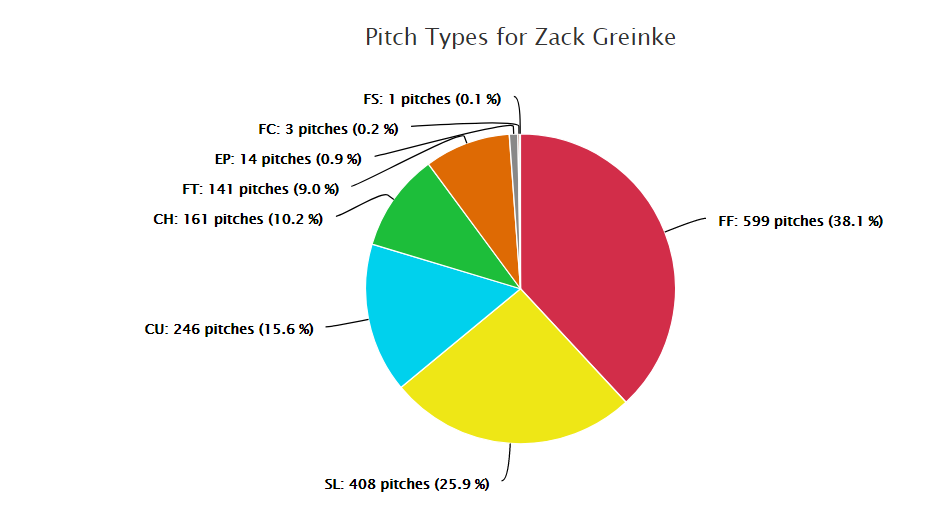 Last night, he strayed from that plan. He threw 65 pitches to righties; 32 were fastballs and another 24 were sliders. He rarely went to his curve, almost never used his changeup, and threw just a single slow curve. And it could have worked! It almost worked! He would have gotten away with it, if it weren't for that meddling kid.
Gleyber Torres, to be clear, is the meddling kid. He tattooed a first pitch slider for a run-scoring double in the fourth. Greinke had been cruising until then, allowing only two groundball singles, but Torres's double changed all that. After a bumpy fifth inning (two line drive singles), Greinke was holding on for dear life in the sixth. Get three more outs, turn the ball over to the bullpen with a one-run deficit, and Greinke would have turned in an excellent night.
Gleybered again! Torres came up with one out and the bases empty, and golfed a first-pitch fastball into the Crawford Boxes. It was a uniquely Houston home run, the kind of ball that's a lazy fly out in most parks in baseball and a double in Fenway. Here, it was a home run, one that must have left Greinke cold. He'd pitched well enough to survive, scattered singles and limited loud contact, and Torres hits a double the first time a runner reaches second base and then a can of corn home run to put the Yankees up 2-0.
It got worse for the Astros from there. Giancarlo Stanton hit a Greinke fastball into low earth orbit for a 3-0 lead, Torres (that kid again!) added a two-run single in the seventh, Gio Urshela inside-outed a solo home run to right, and Torres drove in a run on a groundout to cap the scoring. It was a typical Yankee game, dingers and runs and hits everywhere you looked, and in the end it probably didn't matter that Greinke couldn't quite dodge catastrophe for his entire start.
As for the Astros, Tanaka's six innings of mastery were more than enough to doom them. Facing the Yankees bullpen is the baseball equivalent of being covered in spiders; everything feels wrong, and there's nothing you can do to change it. Adam Ottavino allowed a couple singles, Zack Britton gave up a walk, and Jonathan Loaisiga threw a perfect inning. Good luck chaining together three runs out of that, never mind seven.
Some Astros struggled more than others, of course; George Springer went 0-4, Alvarez was 0-3 with two strikeouts, and Bregman was doubled off on Alvarez's rocket before hitting into a double play of his own. Still, you couldn't flip one of these players' struggles to success and find a victory; the Yankees were simply too relentless.
When the Astros and Yankees are winning, it can feel like an inevitable cascade of runs and outs. Every name is more impressive than the last, without fail, whether it's a rotation filled to the gills with Cy Young winners or a bullpen made entirely of closers. This series figured to be an unstoppable force meeting an immovable object on both sides of the ball, with the resulting scores middling, offenses held below their gaudy numbers by brilliant pitching while the pitching was likewise stymied by great hitting.
For one night at least, that didn't happen. The Yankees won 7-0, and it could have been an August game against the Rangers or a July tilt against the Blue Jays. Tonight the Astros will look to counter, and the game will feel totally different; James Paxton is nothing like Tanaka, and Justin Verlander is nothing like Zack Greinke. We've seen what the Yankees can do, though, and now the Astros are in desperate need of some fireworks of their own.
Ben is a contributor to FanGraphs. A lifelong Cardinals fan, he got his start writing for Viva El Birdos. He can be found on Twitter @_Ben_Clemens.