On Thursday, Jay Jaffe examined the terrible injury luck the Yankees have suffered through this season. Twenty-five players have been sent to the injured list—with 17 active stints—for a combined 1,748 days lost to injuries. Still, despite being so banged up, the Yankees are a virtual lock to make the playoffs as the American League East champion. A big reason why they've posted the best record in baseball is the unexpected contributions from their replacement players. The most impressive breakout has been from Gio Urshela. The 2.4 WAR he's accumulated this year is the third highest mark on the Yankees. For a player who was seen as a glove-first utility man at one point, it's been a remarkable transformation.
Yesterday, Urshela launched two home runs against the Blue Jays, his fourth and fifth in his last three games. That gives him nine home runs since the All-Star break, almost tripling his season total. Since the midseason break, few hitters have been as hot as Urshela. He's posted a .380/.402/.848 slash line in the month since the All-Star game, a 221 wRC+ that ranks second in the majors. This current hot streak surpasses the good run he had to start the year.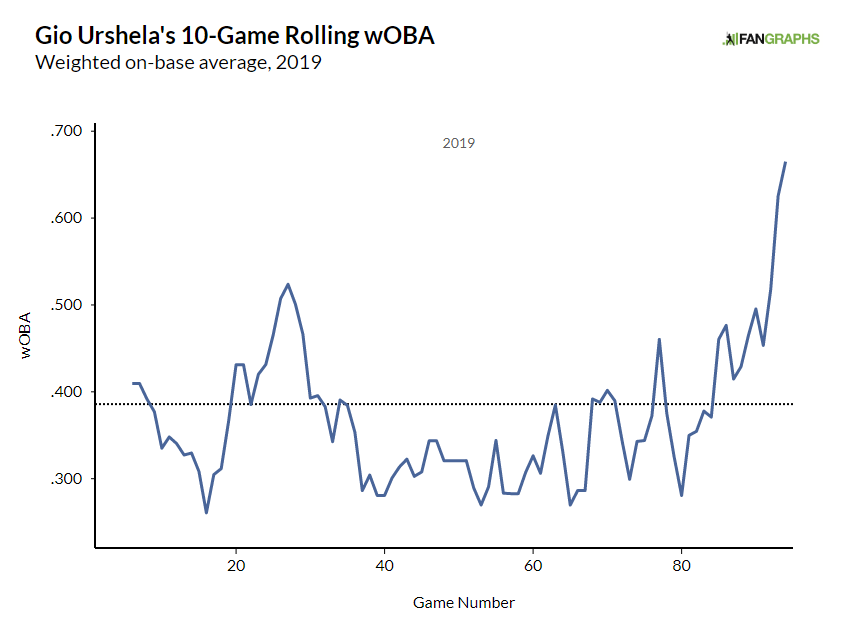 Through the end of May, Urshela had posted a .338/.390/.482 slash line and a 131 wRC+, both excellent marks. But he accumulated just 14 extra-base hits in 154 plate appearances during that early season bender. Since the All-Star break, he has 19 extra-base hits in a little more than half the plate appearances. His isolated power has ballooned to a ridiculous .468! In the minors, the highest ISO he had ever posted was .267 in fewer than 100 plate appearances in Double-A back in 2014. He had never hit for much power until this season — and only just recently.
Back in May, former FanGraphs author and current MLB.com analyst Mike Petriello investigated the adjustments Urshela made to fuel his breakout. Here's how Urshela described how he had changed:
"I got to the Yankee organization last year, went to Triple-A, and worked with the hitting coach, Phil [Plantier]. We talked a lot about hitting, about a lot of stuff. We basically talked about using my legs more. … Right now, that's what I'm doing."
The easiest thing to spot was a change in his batting stance. This year, he's holding his hands a little lower and his stance is a little more open.
I keep reading about how Gio Urshela has made changes since coming to the Yankees. Not hard to see how his stance has changed since his rookie year, is it. pic.twitter.com/gU3iuCs2Dl

— Mike Petriello (@mike_petriello) May 6, 2019
It certainly seems like these adjustments to his swing mechanics have unlocked a new level of production at the plate for Urshela. But that doesn't really explain why he's suddenly hitting for extreme amounts of power. Let's go back to the video.
Here's Urshela's swing from early May, right in the middle of his early season hot streak:
And here's another swing, taken from a game last week:
Before the pitch is thrown, the stance looks the same. But as the pitch comes in, his once-pronounced leg kick has become a little less pronounced. In fact, his whole swing looks a little more fluid later in the season. Here's another example where the leg kick is almost non-existent, but a toe tap is used as a timing mechanism instead:
With the bigger leg kick earlier in the season, Urshela was activating his leg muscles like he talked about in the quote above, but the exaggerated motion caused his hands to drop a bit as he began his swing. That loss of separation didn't hurt his ability to make contact regularly, but it might have affected his swing plane. With his smoother swing motion in July and August, his hands aren't dropping as much, helping him stay back and generate additional power.
These changes to his swing and his intent at the plate have affected his batted ball profile significantly. Urshela has always run solid line drive rates throughout his career, but his groundball rate was rather high. Before, that wasn't necessarily a problem since he wasn't hitting for much power anyway. But with his swing changes, a change to maximize the hard contact that he's making now would make sense. Here's how his batted ball profile has changed over the course of the season:
Gio Urshela, batted ball
| Year | LD% | GB% | FB% | Pull% | Hard% |
| --- | --- | --- | --- | --- | --- |
| 2015–2018 | 22.6% | 43.4% | 34.0% | 34.1% | 22.8% |
| 2019, Pre All-Star | 26.6% | 38.3% | 35.2% | 37.9% | 45.3% |
| 2019, Post All-Star | 24.6% | 33.3% | 42.0% | 46.4% | 50.7% |
Since the All-Star break, not only is he making hard contact a little more often but he's lifting the ball as well. And much of that additional elevated contact is coming to his pull side. During the first half of the season, his average launch angle was 13.4 degrees and his average exit velocity on fly balls and line drives was 94 mph. Both of those marks were above league average but Urshela has been even better in the second half. He's increased his average launch angle to 16.9 degrees and his average exit velocity on fly balls and line drives is up to 95.5 mph, a jump from the 70th percentile to the 87th for that metric.
The adjustments Urshela made last year gave him a strong foundation to build on as the season went on. He broke out early this season but continued to make changes to his swing and approach to take advantage of the new found power he was generating. All that tinkering has paid off since the All-Star break. He's been one of the hottest hitters in the majors over the past month and he doesn't show any signs of slowing down. If the Yankees ever get healthy again, Urshela has done more than enough to claim a permanent spot in their lineup as they make their run towards the playoffs.
Jake Mailhot is a contributor to FanGraphs. A long-suffering Mariners fan, he also writes about them for Lookout Landing. Follow him on Twitter @jakemailhot.