The Camden Yards did not constitute what I would call a particularly inspiring work environment. The Orioles lost 108 games one season after it lost 115, with a pitching staff that set records for futility and an offense that was near the bottom of the majors as well. When the team initiated its rebuild in 2018, it did so by trading away its most sought-after talent — starting with Manny Machado, and later including Zack Britton, Brad Brach, Kevin Gausman, Darren O'Day, and Jonathan Schoop. Baltimore was finished pretending it could compete with the rest of the AL East and was going all-in on a scorched-earth plan in hopes to build the next 100-loss-team-turned-dynasty, giving away all the talent it could in the process. If you still found yourself on the Orioles' roster at the start of the 2019 season, it's probably because no contending team believed you could meaningfully improve their squad.
In many cases, those teams were right. They were right about Chris Davis and Mark Trumbo, and they were right about Dan Straily and Alex Cobb. There was good evidence to suggest those players, all of whom were once considered assets to teams trying to win, were not going to be of any value in 2019. Jonathan Villar, however, posed a more puzzling question. Contending teams might have seen his abysmal 2017 and continued struggles early in 2018 and concluded his skills were deteriorating. Instead, Villar then had the best season of his career.
Playing all 162 games for Baltimore, Villar finished with a .274/.339/.453 batting line with a career-high 24 homers, good for a 107 wRC+. He led the majors in baserunning runs with 10.5, and he stole 40 bases, good for third in baseball. All told, he finished the season with a career-best 4.0 WAR, ranking him fifth among all second basemen behind only Ketel Marte, DJ LeMahieu, Max Muncy, and Ozzie Albies.
Villar's turnaround began shortly before he was traded from Milwaukee to Baltimore at the deadline last summer. His offense had been stagnant for much of the season as an everyday second baseman for the resurgent Brewers, never finishing a day with a season OPS above .745. But from June 5 to July 3, he really bottomed out, hitting .176/.218/.297 in 78 plate appearances, striking out 24 times and drawing just four walks. He regrouped to hit .333 and draw four walks over his next 11 games, but it was clear the Brewers were in need of offensive upgrades. Villar hit the injured list with a sprained thumb on July 15, and just before he could return, he was included in a trade that landed Schoop from the Orioles.
Schoop was a disaster in Milwaukee, compiling a 50 wRC+ in 46 games. Villar, meanwhile, stabilized as a roughly league-average hitter in Baltimore. After finishing his Brewers season with an 87 wRC+, he raised that to 101 with the Orioles thanks to a better walk rate and a slight uptick in power.
The 2019 season carried the same early-and-middle-third inconsistencies as the previous year, but the final third of the campaign's highs were even greater.
Jonathan Villar, 2019
| Date Range | PA | AVG | OBP | SLG | BB% | K% | HR | wRC+ | WAR |
| --- | --- | --- | --- | --- | --- | --- | --- | --- | --- |
| March 28-July 24 | 432 | .251 | .314 | .399 | 8.1% | 24.3% | 11 | 87 | 1.1 |
| July 25-Sept. 29 | 282 | .311 | .377 | .538 | 9.2% | 25.2% | 13 | 138 | 2.8 |
Across all of baseball, only Alex Bregman, Marcus Semien, Anthony Rendon, and J.T. Realmuto compiled more WAR after July 24 than Villar. The first three of those players were in the middle of playoff chases, and the fourth was on a team that certainly believed themselves to be in the mix this season, while Villar was on a team that was playing out the string on a year that was over before it started. The mental fortitude it has to take to find an extra gear like this playing for a team most of us would rather forget seems like no small thing, and the timing of his breakout might not be an accident. In a story for the Baltimore Sun, Jon Meoli speculated that Villar took a lack of buzz surrounding his name at the trade deadline as a "wake-up call," and he played the rest of the season like someone trying to play himself onto a more competitive roster.
Should Villar's response to being passed over in July invite greater interest from teams this winter? That answer is still somewhat difficult to parse. This was Villar's best ever season by xSLG and second-best season by xwOBA. It featured his best walk rate since 2016, lowest strikeout rate since 2015, and his best ISO of his career. Those are all encouraging signs, but in many cases, they're buoyed by his torrid month of August. From a plate-discipline perspective, his whiff rates in August improved dramatically but regressed again a month later, while his chase rates also trended upward.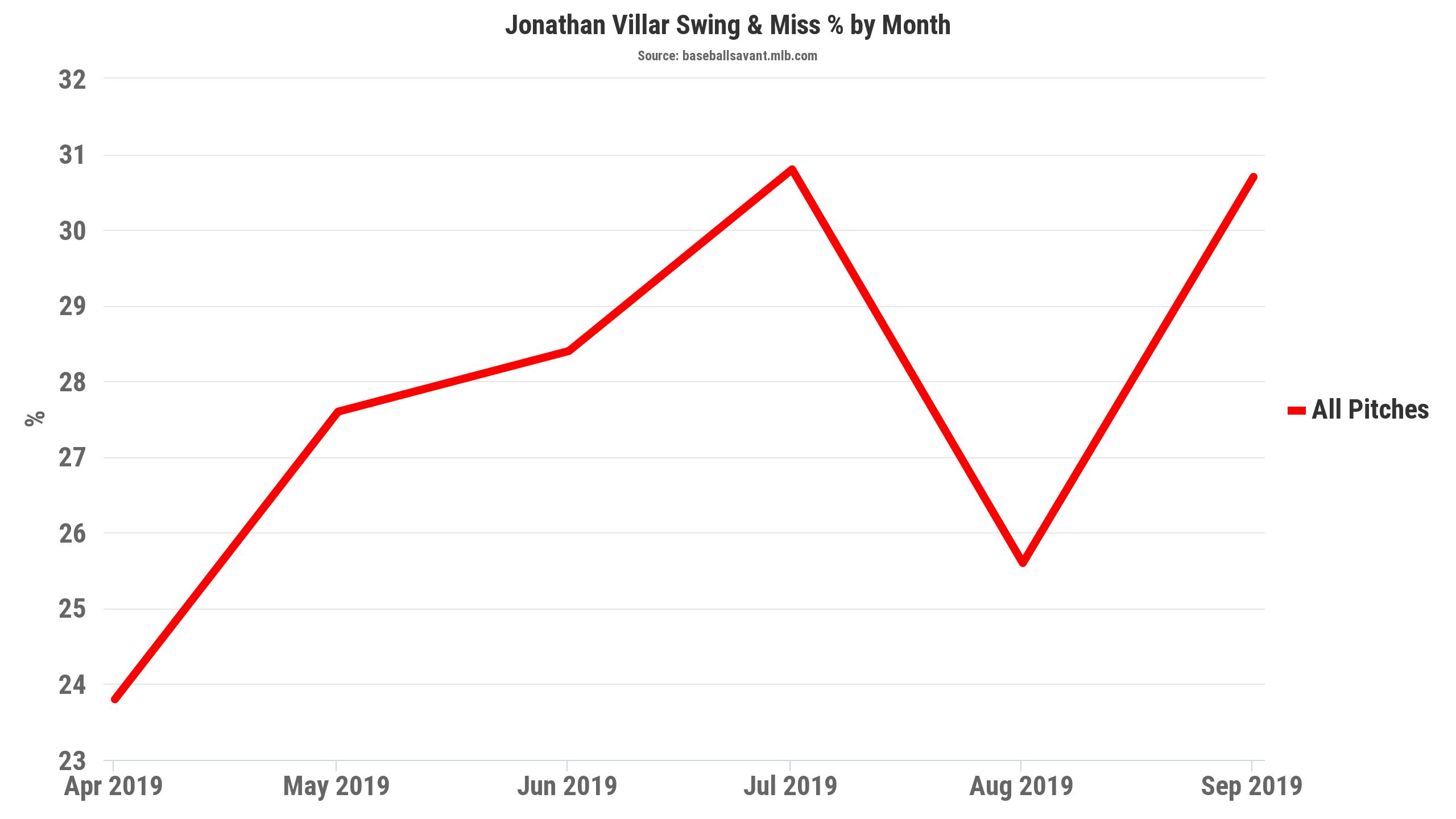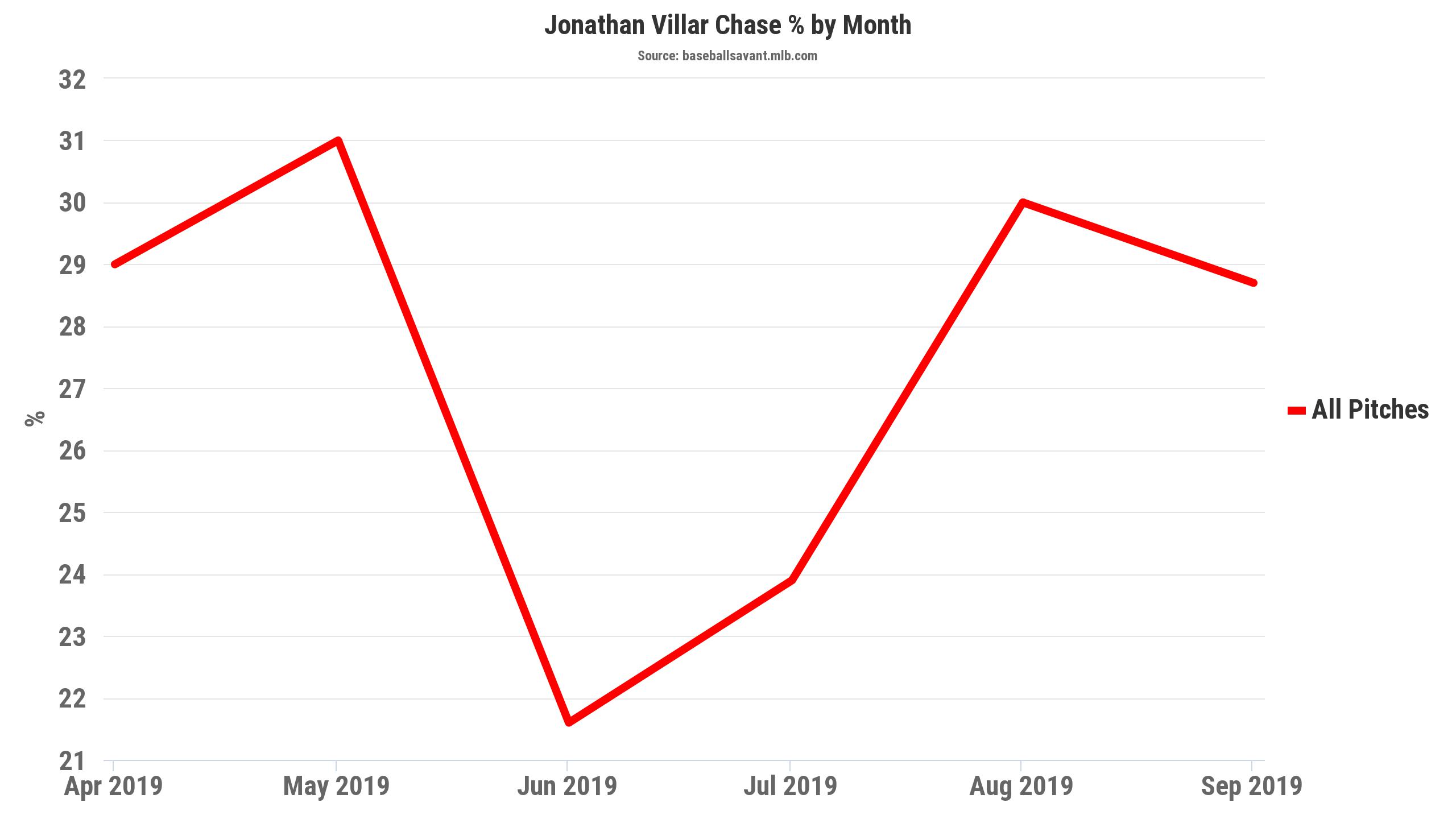 His xwOBA also reversed course in the last month of the season thanks to a decline in walk rate. His expected slugging numbers, however, did suggest that he continued to hit the ball hard when he did make contact.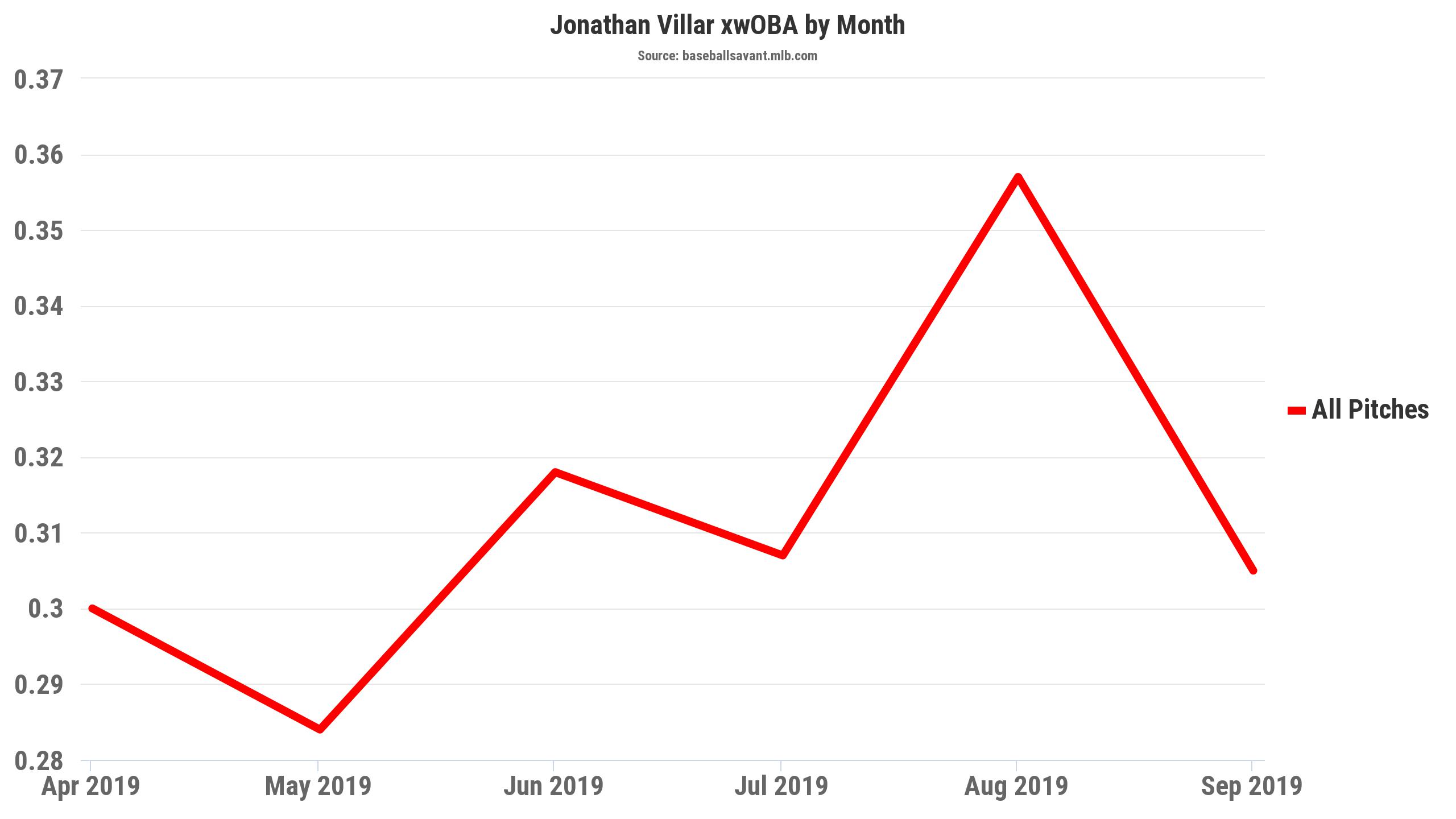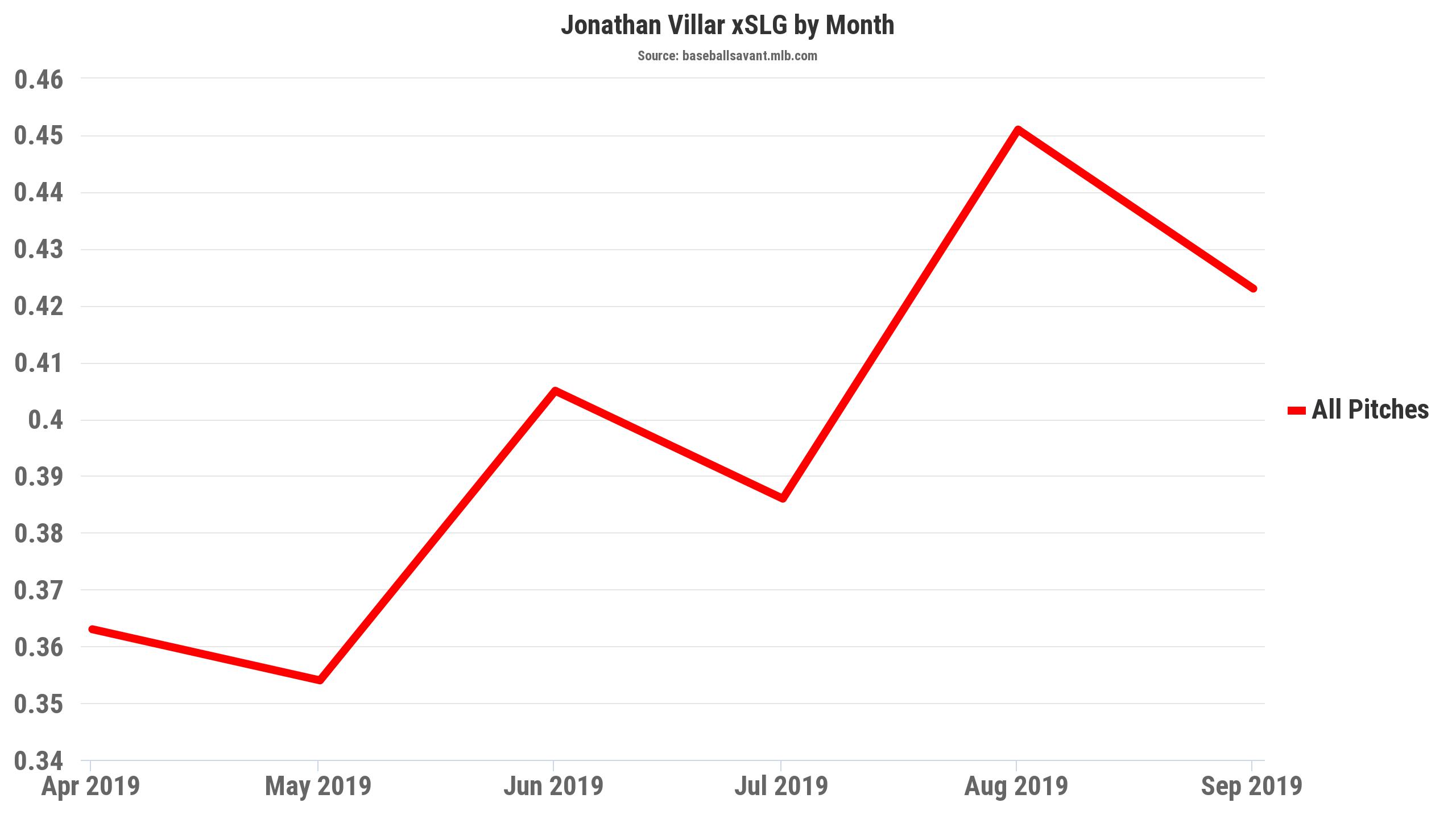 Making a case that the last two months of the 2019 season showed a new and improved Villar is misguided because hidden within those two months themselves were two different versions of the Baltimore infielder. The chances that you're going to get a full season of his August are very slim. But trying to talk yourself into the possibility of Villar slugging like Joc Pederson over the course of a full season would be to ignore the things he already does well enough to make him a quality player.
Villar was baseball's best baserunner this year, despite the fact that he isn't one of the game's fastest runners. He only ranked in the 72nd percentile this year in sprint speed, and he has maintained roughly the same speed since Statcast began tracking it in 2015. He's also held a perfectly fine walk rate over the past two seasons accompanied by a steadily declining strikeout rate. And if you take away his ghastly 2017 performance, you'll see a hitter who, even with inconsistent power output, has been an above-average hitter more often than not over the past five years. Put all of it together, including his mediocre first half of 2018 and his brilliant last third of 2019, and he's been the 11th-most valuable second baseman in baseball over the past two seasons, sandwiched in between Kolten Wong and Gleyber Torres.
And the Orioles would likely prefer he play somewhere else. MLB Trade Rumors estimates Villar's arbitration salary to hit $10.4 million in 2020, a large sum of money for a team likely gunning for a third-straight 100-loss season to pay an infielder whose contract expires after next year, as noted in Meoli's piece linked to above. Simply non-tendering him seems unthinkable after a four-win season, so it stands to reason Baltimore would shop him aggressively this winter. That larger salary will likely limit which teams are willing to trade for him, which could make the ultimate prospect price even lower than it initially would have been. A move for Villar won't change anyone's offseason, but considering his age (he won't turn 29 until May), his effectiveness at his position, and his recent wink toward becoming a more well-rounded offensive contributor, he would be a smart low-risk addition for any team looking to improve up the middle.
Tony is a contributor for FanGraphs. He began writing for Red Reporter in 2016, and has also covered prep sports for the Times West Virginian and college sports for Ohio University's The Post. He can be found on Twitter at @_TonyWolfe_.