One area of potential weakness for the 2020 New York Mets is their bullpen. Even the seemingly strong backend of Seth Lugo, Dellin Betances, and Edwin Díaz leave more questions than answers. Lugo has been the most stable, but he may be competing for the fifth spot in the rotation. The Mets took a chance on Betances, who pitched in one game last season before going down again with a "freak injury" — what he'll be capable of in 2020 is anyone's guess. Díaz, whom the Mets traded for back in December 2018, and who was once one of the most dominant closers in baseball, ended up becoming a major liability for the bullpen.
The supporting cast of Brad Brach, Robert Gsellman, and Justin Wilson present some uncertainty as well. Brach pitched well after being released by the Chicago Cubs, but projects for less than a win. Gsellman is an average reliever, and Wilson is an injury concern after missing 10 weeks in 2019 with elbow soreness.
And if things do go south for the bullpen, the Mets' reinforcements are limited. Among them is 29-year-old righty Paul Sewald, who might be an option in 2020, but there are some adjustments he'll have to make before he can be a meaningful contributor. As it stands, Sewald may not even make the 2020 Opening day Roster. Sewald possesses good command of his three-pitch arsenal, which consists of an average four-seamer and changeup, with an above-average slider. Sewald mainly goes to the fastball and slider, with some changeup cameos from time to time:
Let's examine Sewald's arsenal and how it performed in 2019. Despite the fact that he threw just 19.2 innings last year, we can still glean some useful information; his inclinations didn't vary much from his previous two seasons with the Mets.
Sewald's four-seam fastball has below-average velocity with above-average spin. His above-average Bauer Unit score of 25.6 indicates that, because of the Magnus Force acting on a pitch, it's best to keep it elevated. His design of the fastball, thrown with a 1:30 spin direction at 93% spin efficiency, creates a small amount of arm side run due to the angled tilt. There's a bit less rise than an average four-seamer due to a small imbalance of back and sidespin, and a slight amount of cut that can kill additional lift.
Here's how Sewald located his four-seamer in 2019: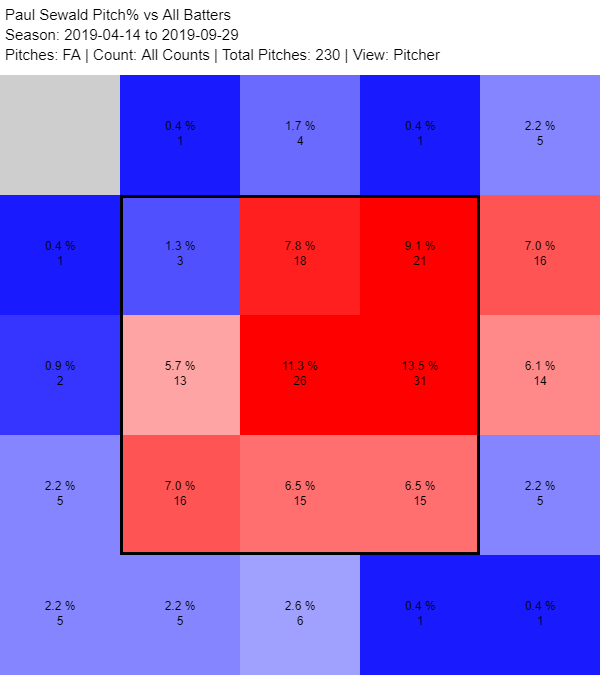 One issue with Sewald's four-seamer is his heavy reliance on the pitch when facing left-handed hitting. He goes to the fastball four out of every five pitches he throws, and lefties have the luxury of sitting on it, given that the other 20% of his options are divided between the changeup and slider. Those secondary options appear mostly early in the count and/or when Sewald falls behind the hitter. Given the lack of control to left-handed hitter he exhibits with these options, Sewald can get into a lot of trouble; the ride he produces can pull the pitch back into the middle of the zone if not properly located.
Sewald's slider has the potential to be a dominant pitch. It's gone through a few minor changes shape-wise, and he'd do well to settle on one design. In 2019, Sewald changed the spin direction from 9:20 in April and May to 10:00 in August and September, which imparted more backspin and produced less depth. The pitch has some heavy sweep (6.65") and a bit more rise than the average slider (1.85"). Sewald used it about a third as much as his four-seamer, mainly when ahead or with two strikes. That made sense, as he was able to draw strikes 37% of the time.
Sewald locates the pitch down and away from righties, but also hung the pitch from time to time: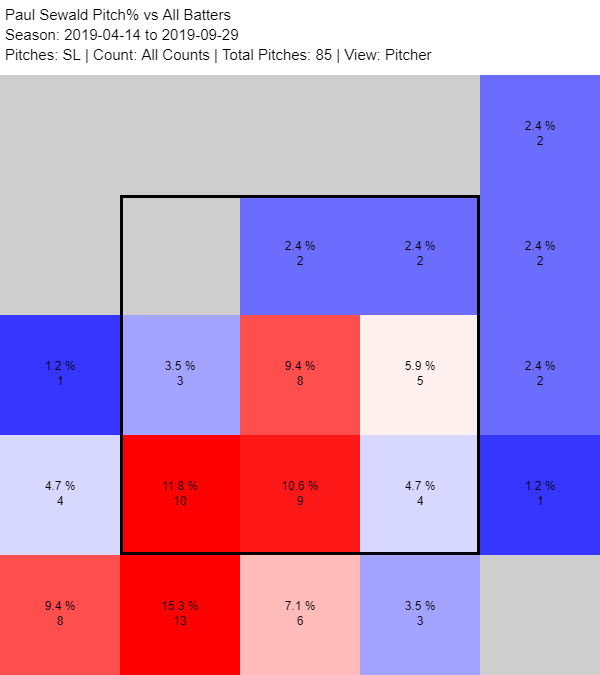 Sewald also has a changeup that he rarely throws. Mostly used early in the count or when behind hitters, its 2:40 spin direction and 90%+ spin efficiency gives the pitch heavy fade with a small amount of rise.
Being that Sewald is basically a specialty reliever, his pitch options don't have to be elaborate. However, there is some benefit to mixing in additional changeups and electing for a small bump in slider usage at the expense of the four-seamer. This will be important if Sewald is forced to deal with lefties, as might be the case given the new three-batter minimum rule. In 2019, he threw his four-seamer 64% of the time, his slider 31%, and his changeup 5%. In 2020, he might consider reducing his four-seam usage to closer to 50%, with his slider going to 35% and his changeup to 15%.
Right now, Sewald doesn't have a pitch with depth; all three of his options are backspin-oriented, giving them all an element of lift. This is a detriment to the slider especially, because Sewald isn't breaching the edges of the strike zone enough with the pitch.
Here is an example of the type of movement each pitch creates. The top-right is the fastball, the middle-right is the changeup, and the middle-left is the slider:
Sewald should make a change to his slider design to better match his four-seamer and changeup, as well as maintain a spin direction of 8:40. This is pretty doable — the standard deviation of the slider spin direction is about 80 minutes (about 40 degrees). This is largely due to the variance in gyro components, and given that volatility, it's not unreasonable for Sewald to make this adjustment.
Here is the comparison between Sewald's "old" slider (Pitch 1) and his "new" slider (Pitch 2). We can see the sweep is still the same (about 12") but it has much more depth (about a 7.5" difference), which fully extends the pitch out of the zone and creates a greater likelihood of chase swings:
Depending on his current comfort level, an arm slot change may be required. If Sewald loses his command on the pitch by altering his mechanics, it's possible that some cues could be given that allow him to release the pitch in a different manner. For example, we could suggest that Sewald move his fingers farther towards the front of the ball; this may allow him to impart more pressure on top of the ball, giving the slider the tad bit of topspin needed to create extra depth to make the pitch more two plane. Since we are asking for roughly a one-hour spin direction change, this may be the simplest route.
The other option would be to have Sewald move his arm slot, perhaps an inch down and maybe adding around an extra inch of extension. It would appear that his more over-the-top arm slot might be inducing a bit more backspin on the slider than is necessary, depending on where he's putting pressure on the ball.
Adjusting the slider to an 8:40 spin direction creates a symmetrical mirroring with the four-seamer (1:30). It's not a true mirror, as the gyro orientation creates more of a perpendicular mirror as opposed to a parallel mirror created by a 12:00 curveball and a 6:00 fastball.
First, we see the gyro contrast at release: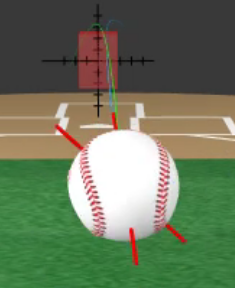 Here, we see the large ratio spread from tunnel point to home plate, indicating a pretty even horizontal contrast with much better lift versus depth:
This slider adjustment would also benefit from a pairing with his changeup. First, we have identical velocities, which creates greater deception as the pitches have the potential to break off at the tunnel point much later. Then we have the axis pushing them apart, resulting in a larger horizontal spread than the four-seamer, with even depth/rise splits. This is advantageous in that a lefty could see a slider move down and in, followed by the changeup (vice versa for righties) that fades heavily in the opposite direction. The expectation is that the tunnel keeps them together just long enough for the hitter to face a dilemma of splitting the difference between the two.
Yet again we have a spin direction mirror, but more of a perpendicular axis as opposed to parallel: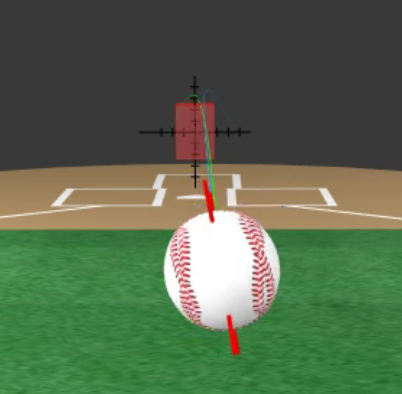 Here's what they can look like in motion:
Sewald hasn't displayed the dominant stuff that makes him an obvious force out of the bullpen. His fastball velocity might be an issue, though that could potentially be addressed through conditioning or refining of the design (improving efficiency, working on additional shear force at release). He's got decent secondary options, but his arsenal should be spread out a little more, with less reliance on the fastball. This can be facilitated by an adjustment to his slider design, allowing each pitch to play off of each other better than they currently do. It might not make Sewald elite, but it could turn him into a very valuable asset to the Mets pitching staff, and a more dynamic option in the bullpen.
Pitching strategist. Driveline Baseball pitch design-certified. Systems Administrator for a high school by day, I also provide ESPN with pitching visuals and am the site manager for SB Nation's Bucs Dugout.