When describing the swing changes that have rekindled his career at the age of 36, Hunter Pence made sure to mention what will remain the same, even despite all the differences.
"It looks different and feels different," Pence told Jon Taylor of Sports Illustrated in April. "The bat path is totally different, and the muscles I'm firing with are different. But because it's me and my genetics, you're going to see similar movements."
Indeed, Pence's 2019 swing — responsible for a .316/.389/.658 slash line (168 wRC+) through 90 plate appearances as of May 13 — doesn't look drastically different when compared to his 2018 swing. And yet, Pence is currently in the midst of his most successful 26-game stretch since 2014, back when he was contributing to the Giants' third World Series title in five years.
Much like the hitter himself does, the "similar movements" certainly stand out in the 2018 version of Pence's swing versus its 2019 upgrade. Pence has always had one of baseball's more unusual swing paths, and his personal style and feel — due to what Pence referred to as his "genetics" — are still clearly present.
Here's a Pence single from 2018:
And here's a Pence single from 2019:
The movements are the same, but how and where Pence makes contact is completely different. I am not a hitting coach, but I am going to do my best to break down Pence's 2018 and 2019 swings into four different parts, in order to demonstrate the possible differences I am seeing in his swing: stance, load, contact, and follow-through.
(I apologize in advance for the lack of consistency among camera angles in the following screenshots. Because Pence switched both his team and his league in the last year, it was tricky to find ballparks that had comparable angles.)
The Stance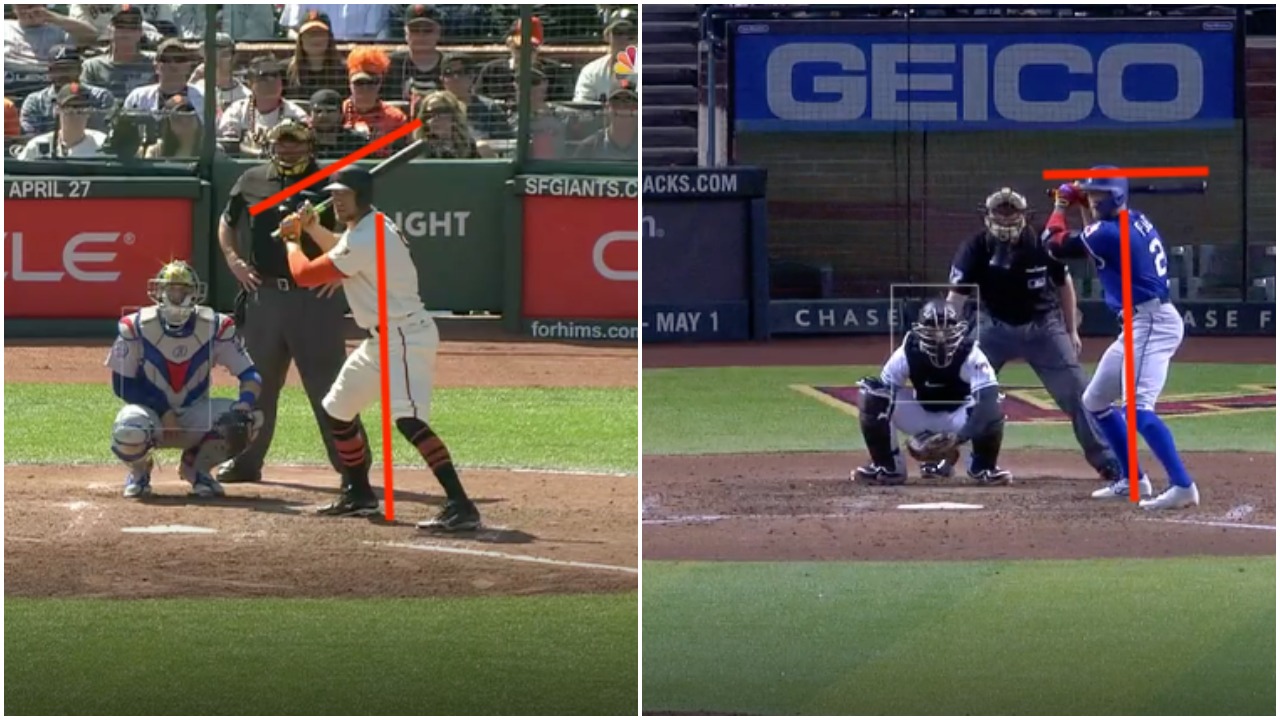 Pence's 2018 stance is on the left and his 2019 stance is on the right; the red lines drawn are all by me. Pence is starting his bat more parallel to his shoulders this season than last, and he also appears to be standing up straighter at the plate. Certainly, his legs are closer together; Pence seemingly has each of his feet on two opposite corners of the batter's box in 2018, while centering both towards the middle here in 2019. These are relatively minute changes, but as you'll see in the following screenshots, they do make a big difference in Pence's ability to get the bat through the zone.
The Step and Load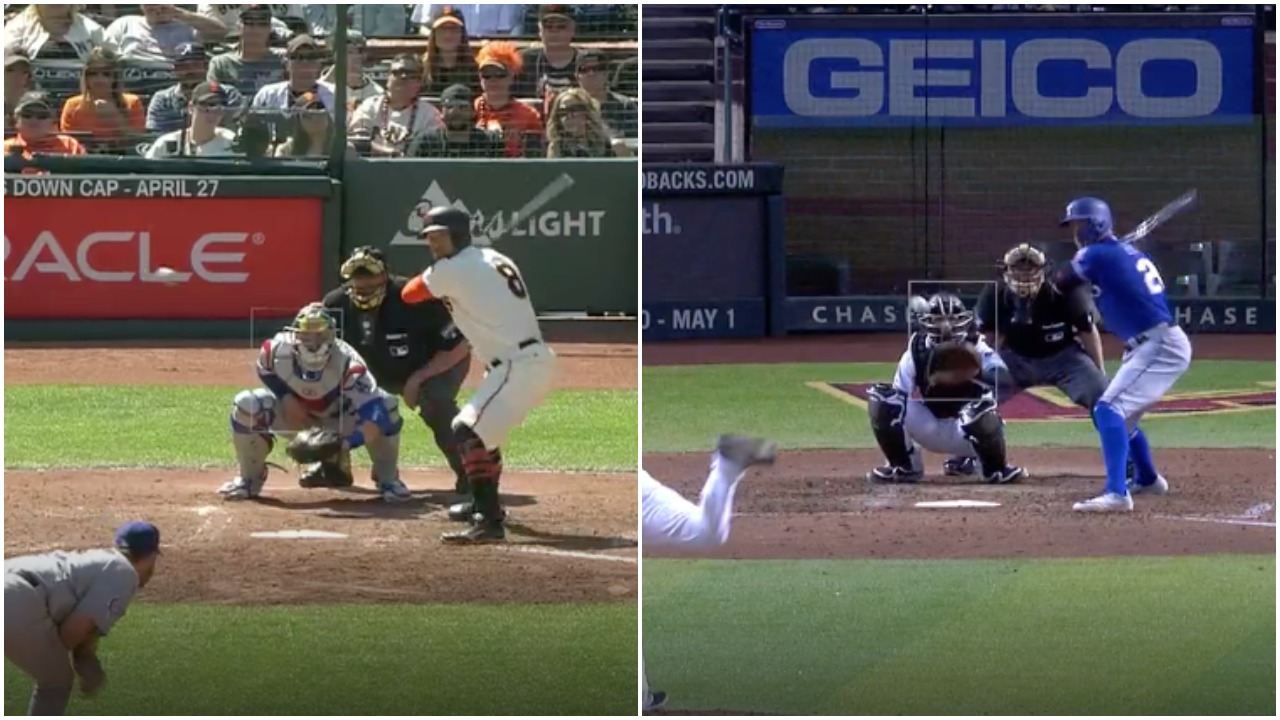 Interestingly, with the step and load, Pence gets himself to what appears to be the same point. With that said, Pence does seem to be coiling his body further backward in his 2018 swing than his 2019 update. Take a look at Pence's jersey. In the 2018 picture, you are able to see Pence's No. 8 nice and clear; in the 2019 picture, though, the only number of his No. 24 that you can make out is his "2," and even that is still not fully visible. And, knowing how jerseys work — with numbers being centered on the back — it's clear that Pence is much more coiled in his 2018 swing than his 2019 swing. This is true even as the pitch is slightly further from the strike zone, as evidenced by the catcher's mitt not even being opened yet on the left versus him being ready to receive the pitch on the right.
The Contact Point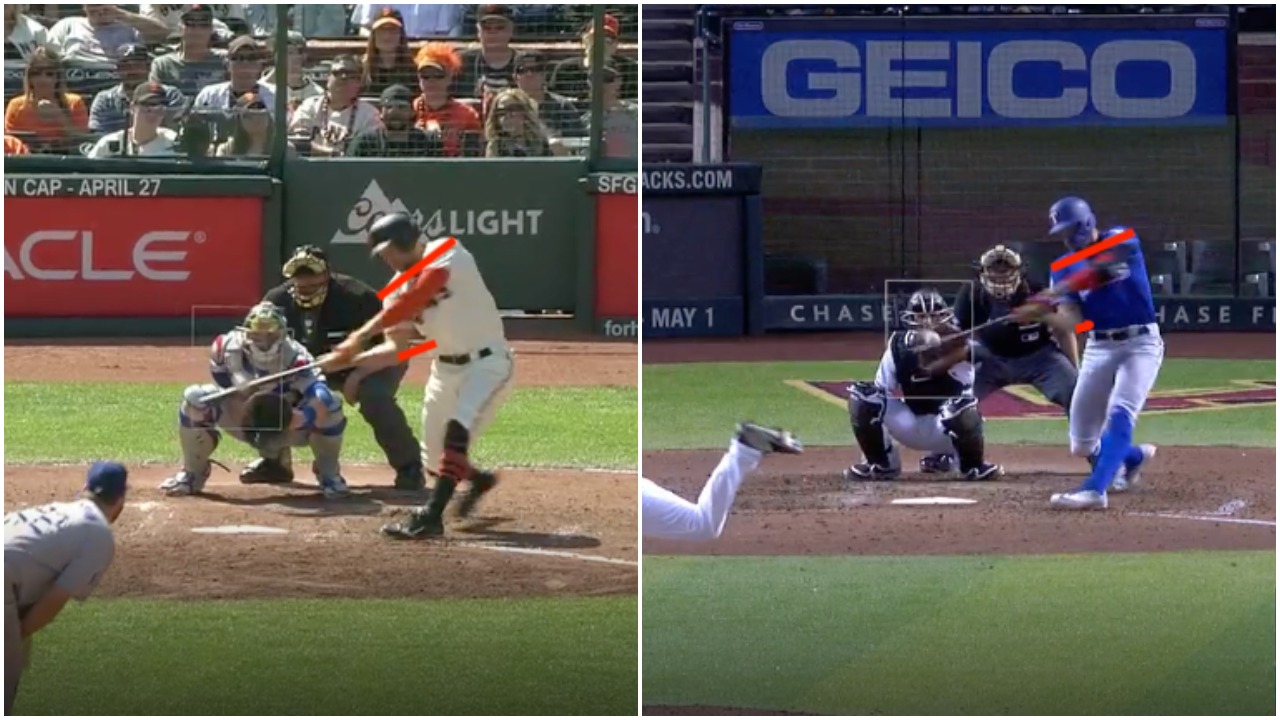 This is where Pence's big changes are present. I want to point you to two main areas of Pence's body: his elbow and his shoulders. In the 2018 photo, Pence is reaching. Check out just how far his elbow is from his body — the space there is less conducive for driving through the ball and hitting for power. Further evidence that he's reaching for the pitch, despite it being in the center of the zone, is his shoulders. They're completely dropping here.
That is a swing path that, while not shown here, would theoretically lead to more popups and less hard-hit balls. And that's exactly what happened for Pence; his infield pop-up rate reached a career high (19%) and his average exit velocity dropped (88 mph). He also posted a .130 wOBA against pitches up in the zone, a huge drop off from his career mark of .380 (2008-present, from Baseball Savant). His xwOBA also experienced the same large drops.
So far this year, the high pitch has been no problem for Pence — he has a .483 wOBA against high, inside-the-zone pitches with a .448 xwOBA. Even in an admittedly small sample size, these results are encouraging.
In the 2019 photo, the reaching isn't there. Pence's shoulders are much more level, and his elbow stays much closer to his body. He's driving through the baseball, and the data certainly backs that up. His 93.1 mph average exit velocity is in the 95th percentile so far this year, and his .339 xBA is in the 99th percentile. Pence is crushing the ball — his 26-game rolling hard-hit rate hasn't been this high ever before.
It's important to point out that these changes are likely just side-effects of the larger, more approach-based changes that Pence is making. What Pence is actually doing here is staying inside the ball by keeping his hands closer to his torso. This requires less movement to get the barrel on plane and gives him more bat control. As a result, Pence doesn't have to compensate as much with other parts of his body, so his shoulders end up being more square as he makes contact with the pitch.
The Follow-Through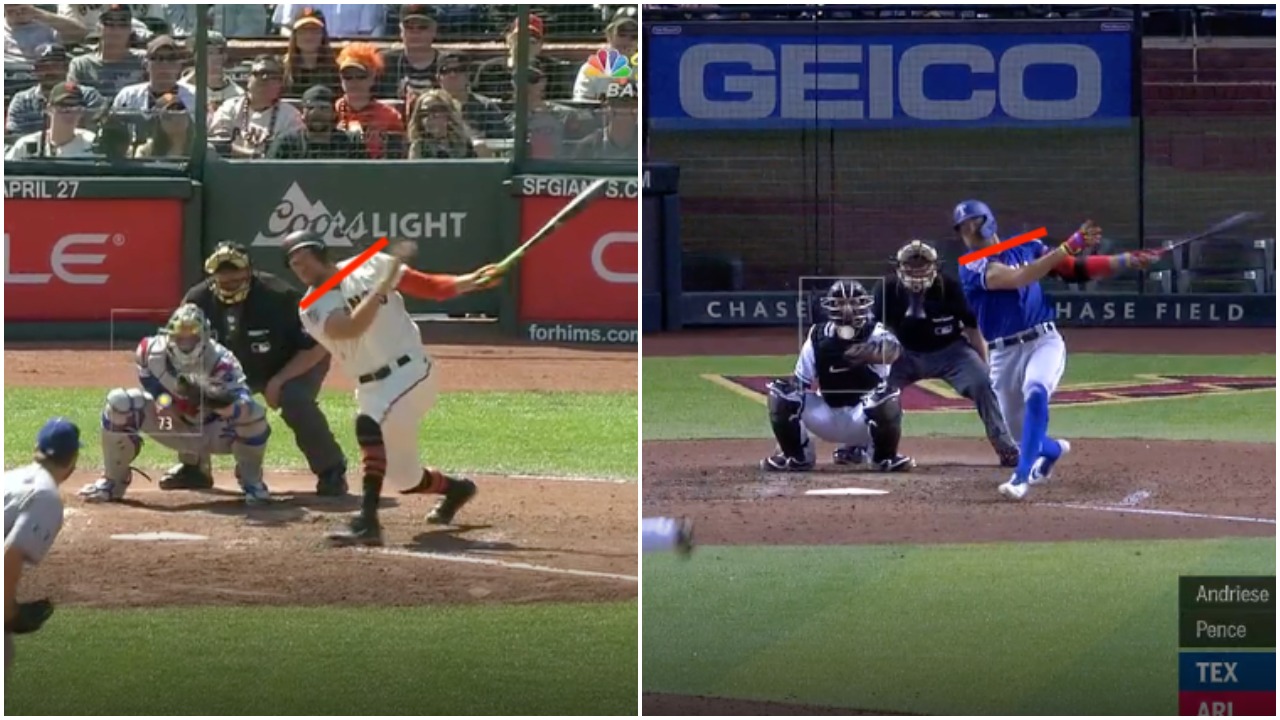 As Pence drives the ball, I'm able to drive my point home. His shoulders remain much more level in the 2019 image than the 2018 image, and there's a lot less dive to his swing. Pence is hitting the ball really well right now, and these changes are clearly showing up in the results, too. The characteristics of Pence's 2018 versus 2019 swing are not just limited to these two individual plate appearances, obviously. Across numerous swings, Pence displayed the issues I've laid out for his 2018 results and is displaying the fixes I've described for his 2019 results.
To make these changes, Pence worked with Doug Latta this offseason (who famously helped revive the careers of both Marlon Byrd and Justin Turner; Sung Min Kim talked to him in March) and even played winter ball in the Dominican Republic. The changes that Pence described — the idea that his swing looks effectively the same, while creating a new bat path — appear to show up in his at-bats. Hunter Pence might actually be back, and if this remains true, it's great for both Rangers fans and, really, baseball fans everywhere.
Devan Fink is a Contributor at FanGraphs. You can follow him on Twitter @DevanFink.