In the past few years, we've seen instances of hitters improving their production and changing their fortunes by learning new swing mechanics that were once deemed unconventional but that are now fueling change. If you have followed this trend, you may have heard of Doug Latta, a hitting instructor who works out of his facility, "The Ballyard," in the Los Angeles area. FanGraphs has written about Latta's work in the past (as have many other publications), and how he defines efficient swing movements (setup, balanced move to the pitch, longer swing path in the zone) and their desired results (increased exit velocity, better launch angle).
Latta's name first surfaced on the professional baseball mainstream's radar back in 2013. Beginning in July of the 2012 season, Latta worked with outfielder Marlon Byrd on revamping his swing while Byrd was serving a 50-game suspension for testing positive for Tamoxifen. Byrd was coming off a season in which he had posted a paltry 26 wRC+ in 48 games with the Chicago Cubs and Boston Red Sox. After working with Latta, he burst back onto the scene with a .291/.336/.511 line, 25 home runs, and a 137 wRC+ in 147 games in 2013. (His performance after declined, and following another PED suspension for 162 games in June of 2016, Byrd retired.) Not long after Byrd's swing started to see success, Latta helped engineered another notable career breakout in Justin Turner.
This part of the story is well-documented. Turner, originally a 2006 seventh-round pick by the Reds out of Cal State Fullerton, made it to the major leagues with the Baltimore Orioles in 2009. But after a .111/.226/.111 slash line in 17 games for Baltimore, he was designated for assignment in 2010. He was then claimed off of waivers by the Mets. He would spend the next three seasons in Queens, hitting .265/.326/.370 with only eight home runs in 301 games. Following the 2013 season, he was non-tendered by the Mets, making him a free agent. During that offseason, Byrd, who was teammates with Turner in 2013, shared how the swing overhaul from Latta was doing wonders for his career. The pair worked together at the Ballyard that winter, and the result showed right away.
In February 2014, Turner signed a minor league deal with the Los Angeles Dodgers and earned a spot for the Opening Day roster by hitting .389/.477/.528 in 19 Cactus League games. He proved the performance was no fluke, hitting .340/.404/.493 with 7 home runs (158 wRC+) in 107 games. And Turner has continued to hit. As a Dodger, he has posted a .305/.383/.505 line with 85 home runs in 619 contests. He also earned a four-year, $64-million contract after the 2016 season and was named an All-Star in 2017, a stark and positive contrast to his position just a few years prior.
Turner and Latta still keep in close contact and work together, Latta says. "We talk or text often, and we'll hit together as needed at my facility or at Dodger stadium."
Part of Latta's overall fame came from the term "fly ball revolution." In a 2013 interview with FanGraphs alum Travis Sawchik, Latta and Byrd emphasized "getting the ball in the air," as opposed to swinging down and minimizing the chance to match the swing plane to the pitch trajectory.
"Everything we talked about was almost taken to be sacrilege – completely contradicting conventional thought and many years of hitting instruction," Latta recalls. "[Sawchik] coined the phrase 'the fly ball revolution,' which was a lot more fan-friendly than 'we're trying to get ball in the air.' We simply never trained to take a swing aimed downward or have the ball come off the bat in a downward angle.
"The term 'fly ball revolution' is misleading because it makes people think hitters are trying to jack every pitch and promote lazy fly-ball misses. 'Getting the ball in the air' is actually about the balls just shooting into the outfield grass, to line drives, to balls driven to gaps, and to balls that are driven out of the park. Hit it over players, not at them. You're not trying to make everyone swing for the fences or swing up to the ball — that's not what we are doing. We are training hitters to be more efficient and develop a swing that allows them to have more effective contact in a bigger zone by being able to keep the bat through the hitting zone longer."
Whatever the semantics, the intrigue of the "fly ball revolution" caught on, and it has impacted hitting instruction across the league. Some six years later, many major league teams are working to hire coaches and develop instruction methods to replicate the swing Latta endorses.
As Latta's reputation increased, so did his number of clients. In May of 2017, Korean journalist Lee Youngmi of Naver talked to Latta for a two-hour interview on swing mechanics, hitting instruction, and player development. Latta recalls that "[the interview] opened the door to KBO players and Korean players in MLB. Some agents contacted me, but it was primarily the players reaching out directly to open up the dialogue."
This ultimately led to Latta working with other Korean players in the major leagues such as third baseman Jae-Gyun Hwang, who played for the San Francisco Giants (2017) and outfielder Hyun Soo Kim, who was with the Baltimore Orioles and Philadelphia Phillies (2016-2017), as well as outfielder Shin-Soo Choo of the Texas Rangers. The list did not stop here, as Latta began receiving emails from players thousands of miles away back in Asia.
One player in particular, second baseman Oh Jae-Won of the Doosan Bears in South Korea, showed persistence in his desire to learn from Latta. As a then-32-year-old who faced a lot of question marks over his future, Oh decided to contact Latta for a swing overhaul. He had had a decent career up to 2017, hitting .270/.347/.367 in 11 seasons. As the Bears' starting second baseman since 2010, Oh was respectable enough to be chosen for the Korean national team for tournaments like the Premiere 12 and the World Baseball Classic. But at the time, he only had 41 career home runs, with 11 in 2015 being his single-season high. And his 2017 production was among the worst in the league: .237/.332/.353 with seven home runs in 127 games.
Here is Oh's swing from 2017:
And his swing after working with Latta: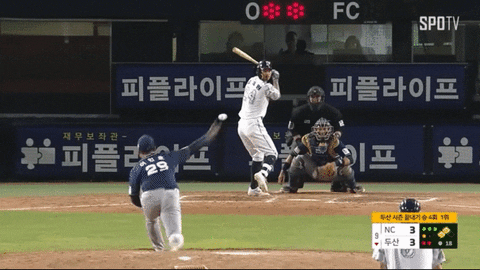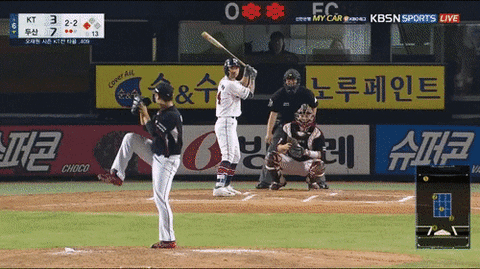 Following his work with Latta over the winter, Oh's production made huge strides. He hit .313/.369/.463 in 132 games with a career-high 15 home runs in 2018. His slugging percentage was the highest of his career and his .832 OPS was a major improvement over his .763 career mark. This past offseason, several other Korean players joined him in another trip to California. One of them was first baseman and fellow teammate Oh Jae-Il, a 32-year old slugger who's been with the Bears since 2012. He has hit .274/.359/.496 with 110 home runs in 768 games in his career and had two of his finest seasons in 2016 and 2017, when he hit 27 and 26 home runs respectively, with batting averages over .300. He saw a little drop-off in production in 2018, hitting .279/.373/.539 with 27 home runs in 123 games. Striving to improve, Oh Jae-Il flew to Los Angeles to get lessons from Latta. Little did he know, he was about to receive a pleasant surprise at the facility.
While instructing Oh Jae-Il, Latta had one of his well-known major league clients join the session: former All-Star first baseman Adrian Gonzalez. "One thing that stands out the most [from this past winter] was when Oh Jae-Il got to meet Adrian Gonzalez," Latta says. "Gonzalez was one of the major leaguers that Oh really respected and admired. Getting to meet him face-to-face, to be able to see how he worked, and working together were definitely positive influences for him."
Not only was it cool to see a KBO-MLB interaction in front of him, but Latta also believes that the athletes found solidarity in working to improve themselves while facing some difficulties. "It was a feeling that 'Okay, we are all in this together.' And at the end of the day, they are trying to get better. They are trying to improve themselves and make the team better by being a better player."
Korean players can face difficulties when learning new things from American instructors. There's an obvious language and cultural barrier. There's also the travel — players pay their own way for flights, training, housing, transportation, and translation. Costs add up quickly, especially considering that many KBO players' salaries are much lower than the major league minimum. On the top of that, the coaching culture in the KBO can also make it more difficult for them to embrace new ideas. Through working with Korean hitters, Latta has observed that players have had to deal with a more traditional, old-school viewpoint that is not necessarily open to changes.
"They've been in an environment where if they were asked to do something, they were expected to do it," Latta says. "Whereas my work is much more interactive — it has to be. The difference is more cultural — where the traditional coach-to-player relationship in the Korean team environment is more of not questioning the coach and his directives.
"The culture seems to basically magnify that relationship a bit stronger than we do in America," Latta adds. "The Korean players came to me and said that they are told 'You do that,' and you never question the coach. Whatever coach tells you to do, you do it… even though I know some American coaches can get a little upset that a player goes to an outside instructor, and some more personally — that seems a lot worse in Korea in terms of coaching relationships."
What Latta has done — not only for MLB clients but also for his KBO ones — probably would not have been as possible 10 or 20 years ago. With the information spreading as quickly as ever, Latta can message his Korean clients through KakaoTalk (a popular Korean messaging app) if they need quick mechanic reminders or fixes. He does note, however, that it's not the same as talking to them on the phone or meeting them one-on-one and not worrying about translation issues while trying to "sound right." "There's always that little element of confusion when we translate," Latta says. "But we gotta do the best we can."
Latta emphasizes that developing a new swing takes time. Some of his clients face barriers back home, which presents some problems to the process. "I believe there are coaches who are not supportive of the changes and that becomes a tremendous obstacle for players. It's a setback." Latta believes that it is difficult enough for major league baseball players to maintain their swing and training routine. It is harder for the KBO players because the coaches, in general, have little understanding — and in some cases, little acceptance — of the swing changes. "The hitters being hitters, if you are the only one on the team trying these moves or trying the execute swings in this manner — and I'm sure some of their teammates are supportive — but some are trying to convince them that what they are doing is what the player should be doing rather than 'trying the new swing.'"
Luckily for Oh Jae-Won, Latta's prized student who saw big improvements in 2018, he is the captain of the Doosan Bears squad. "Oh was already a respected individual for the team," Latta says. "I think that allowed him to stay focused on the changes and resist drills and instruction that contradicted the new swing."
Latta does feel optimistic about the outlook for Korean players. He feels that Korea is adapting just as quickly as MLB has. "There's no doubt that they are getting better," Latta says. "That's the game, and being able to have an efficient swing in a bigger zone is a plus you want every hitter to have. The only stumbling block I see now is potentially language clash, cultural clash, and player-to-coach relationships. It would be interesting to see if Korean coaches and players can get together and have less of an authoritarian relationship and more of a working one."
Latta is also optimistic because of Korean hitters' mindsets and great work ethic. He notes that they are very open-minded and eager to learn the new methods, despite the issues posed by the language barrier and travel. They share the exact same focus as American players when they come in, a commitment to work to improve their swings and their careers.
Success breeds publicity, and Latta's name has become well-known among Korean baseball fans. Latta has experienced the consequences of that notoriety despite never having been to the country. Recently, while at spring training, Korean fans wanted to take photos with him, which was humbling. "It really puts me in a place where you understand hitters everywhere want help, and Korea's passion for baseball is not only for the players, but the fans too. It's pretty impressive," Latta said. "The fame and celebrity are things I would have never thought about. American coaches here are usually in the shadows, under the radar. To receive such acclaim in Korea is quite unique, but again, very humbling."
All in all, Latta is satisfied with the progress. To him, Korean players' desire for and acceptance of change mirrors that of what has taken place in America. "It's something we've passed before," he says. "We have so much information available across channels, which is wonderful. Ten years ago, we could not have gotten this to the degree it has. The world is evolving and so is hitting. It's nice to have the partnership that ties all of us together. Not only the players, but the fans are in this too — they are also interested in what's going on."
Sung-Min Kim writes for River Ave. Blues, and has written for MLB.com, The Washington Post, Baseball America and VICE Sports. Besides baseball writing, he is also passionate about photojournalism and radio broadcasting. Follow him on Twitter @sung_minkim.