The Rays and Jays pulled off a minor trade on Sunday, sending utilityman Eric Sogard to Tampa Bay for a player or players to be named later, or a player or players to be named soon.
Sogard is a good example of a player who wrings the most out of limited physical tools. You won't often see him crushing deep homers with drool-worthy exit velocities. Like David Fletcher of the Angels, Sogard's game is a bit of a throwback to a more contact-oriented game. Of active players with at least 500 plate appearances, Sogard has been the second-best at making contact with pitches in the strike zone, behind only Michael Brantley.
Contact Rate for Active Players (min. 500 PA)
Sogard's .300/.363/.477 triple-slash line (and 123 wRC+) this season is surprising, though not nearly as surprising as the 10 homers he's hit. While 10 homers doesn't exactly put Sogard into Pete Alonso territory, it's an impressive total through the end of July for a 33-year-old who entered the season with just 11 career round-trippers. He may be an example of a player who is getting the most out of MLB's different-but-not-different-swears-Rob-Manfred baseball; Statcast's xSLG number gives Sogard just a .346 slugging percentage. The culprit is that Sogard still isn't hitting the ball hard, with an 84.4 mph exit velocity and only three barrels. Despite that, more of his balls than usual have snuck over the right field fence.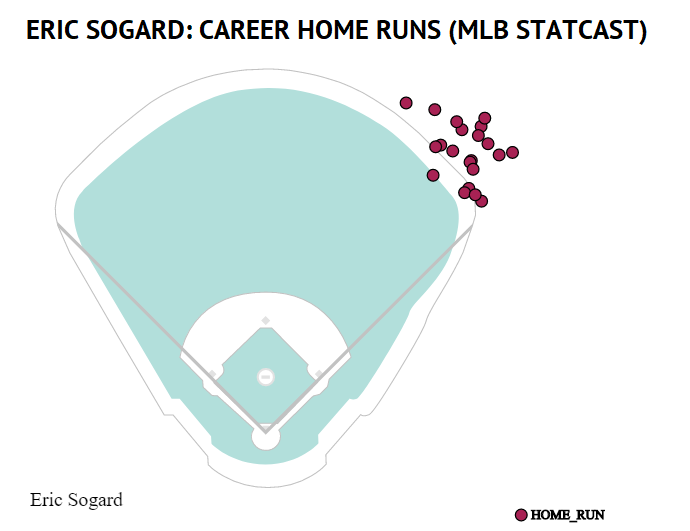 After knee surgery cost Sogard his 2016 season, he was forced to settle for a minor-league contract and the chance to compete for a bench spot with the Brewers in 2017. Sogard posted pleasantly surprising production while filling in for Jonathan Villar when the latter was dealing with back pain in June of that year; his .273/.393/.378 line was enough to get him a major league contract with the Brewers in 2018, but he played poorly and was released by Milwaukee in July.
Neither Steamer or ZiPS were excited about Sogard coming into 2019, projecting a wRC+ of 79 and 69 respectively. The rest of baseball wasn't much more excited; Sogard signed a minor-league contract with the Blue Jays in December. The projection systems now see him as a .250-.260 hitter with an OBP around .330 and a high .300s slugging percentage, which is a promising enough line for him to have value for a contender looking for depth. Sogard is an excellent fit for the Rays; they don't need him to play much shortstop, a position where Sogard is stretched, but with many of the team's second and third base options currently injured (Brandon Lowe, Yandy Diaz, Daniel Robertson, Christian Arroyo), Tampa will find a lot of use for him in coming weeks. I might be inclined to promote Kean Wong from Triple-A Durham, but this is a short-term addition, and the Rays have good reason to pick the safer option in a pennant race.
The cost for adding Sogard is likely to be a minimal one. While there have been conflicting rumor-inations about the players in return, it strikes me that no matter who's ultimately identified, it's likely that we're talking low-level organizational players. If there were prospects of significance involved, I suspect the Rays would have considered promoting Wong more seriously.
Sogard's acquisition is a low-key signing, but he'll provide value to the Rays for the next two months, and the trade seems likely to be reasonable for both sides. While I reserve the right to change my opinion if the Rays give up Wander Franco or Brendan McKay, they're not going to give up Wander Franco or Brendan McKay.
Dan Szymborski is a senior writer for FanGraphs and the developer of the ZiPS projection system. He was a writer for ESPN.com from 2010-2018, a regular guest on a number of radio shows and podcasts, and a voting BBWAA member. He also maintains a terrible Twitter account at @DSzymborski.